Betting on Conor McGregor's Next UFC Opponent in 2021

The top UFC sportsbooks have released odds for Conor McGregor's next UFC opponent, and there is some great value on offer.
Speaking of betting value, Dustin Poirier was a steal to beat "The Notorious" last Saturday, coming in at just under +300 with many online sportsbooks. Could "The Diamond" make shrewd bettors even more money with his odds in this market?
Both men are one apiece from two UFC fights. They have history. So it should come as no surprise to learn that Poirier is one of the favorites for McGregor's next opponent. But there are other names on the list that could also be worth a bet.
Who will McGregor fight next? Let's see if I can answer that question for you.
In doing so, I will be providing you with the latest odds for McGregor's next opponent in the UFC in 2021. I'll be looking at each potential candidate for the Irishman before concluding with who the smart bet in this market.
Let's get started.
Odds for McGregor's Next Opponent in the UFC
BetOnline has released odds for McGregor's next opponent, which you can find above.
Nate Diaz is the favorite to fight McGregor next, with Poirier just behind him. There are two rubber matches on offer for McGregor with these two, which could help their chances of the next "Red Panty Night."
I'm going to take a look at each of these fighters and their odds before coming to a conclusion on who McGregor fights next and why.
Will Conor McGregor fight Diaz next? Here's my take on things.
Nate Diaz +200
Diaz handed The Notorious his first UFC loss at UFC 196 in March 2016.
McGregor's odds were -585 on the night but was submitted in the second round. It was considered an upset among fans, but kind of forgivable due to McGregor fighting at welterweight for the first time.
The Irishman bounced back to win the rematch at UFC 202, which was also fought at 170-pounds. A contentious decision, McGregor scraped past the Stockton bad boy on the judges' scorecards.
A third fight has been on the cards since that night and will almost certainly happen at some point. But I don't believe the chances of it happening next are as strong as the odds suggest.
If you're looking to take a gamble on McGregor's next opponent, I would avoid Diaz. Yes, there is the appeal of a rubber match, but I believe more factors are working against this happening after UFC 257.
Odds of +200 do not represent good betting value. So, if you think who McGregor fights next is an old foe from California, consider the following points.
Why McGregor Won't Fight Diaz Next
McGregor wants to fight for the UFC lightweight title
Diaz is not conditioned to fight at 155-pounds
Diaz would likely want a trilogy fight at 170-pounds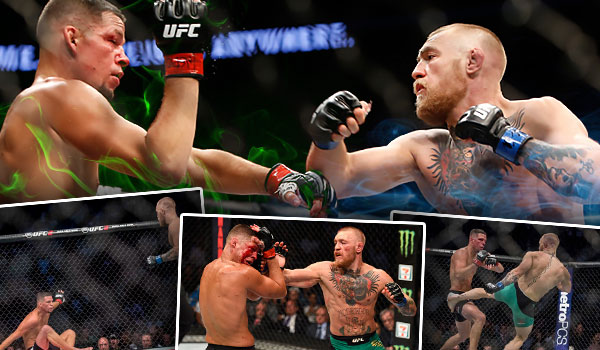 Dustin Poirier +300
I spoke about how underappreciated Poirier was ahead of UFC 257, and I was delighted to see him get the win.
The Lafayette-native is a phenomenal fighter and such a good dude. In contrast to his loss to Dubliner in 2014, he shared humble pre-fight and post-fight exchanges with the former "Champ-Champ."
At the UFC 257 post-fight presser, Poirier said he would be up for fighting McGregor a third time. But, he also mentioned fighting Nate Diaz, so…
"A rematch with Conor interests me. Always wanted to whip Nate Diaz's ass. That interests me. In fighting, I'm sure something will make sense. But just right now, I don't … me and Conor are one and one. Nate Diaz got away and likes to talk a lot of (expletive) online. I just gotta go back home and we'll see."
Poirier vs. McGregor 2 Striking Stats
Fighter
Knockdowns
Sig. Strikes
Sig. Strikes %
Total Strikes
Dustin Poirier
1
48/91
52%
53
Conor McGregor
0
29/66
43%
52
I'm not saying don't bet on Poirier vs. McGregor 3 happening in 2021. But I do think that McGregor needs more cage time before he gets back in with Dustin.
So, odds of +300? Hmmm. I'm not too sure.
But, if you're wagering on Poirier vs. McGregor 3 being the next fight for the Dubliner, here are a few reasons why it could happen next.
Why McGregor Could Fight Poirier Next
Poirier vs. McGregor 3 would be a BIG sell
McGregor will want revenge for a humiliating defeat
Both men appear to want it
It could be for the UFC lightweight title (if Khabib relinquishes the belt)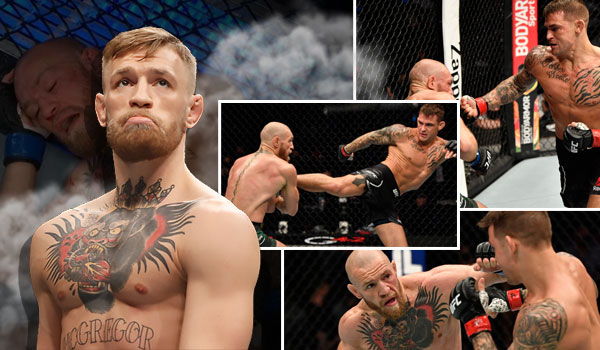 Justin Gaethje +400
I don't like this bet at all.
First, the odds for Gaethje vs. McGregor next are poor. I can understand why the bookies have priced him at +400, and that's because he's just below Poirier as the #1 contender to the title.
Yes, wagering on Gaethje vs. McGregor in 2021 would be as much of an exciting prospect as a potential fight between the two. But I see likelier candidates in the pipeline.
Will Gaethje Fight McGregor Next? No. He won't.
Why Gaethje vs. McGregor Doesn't Work
Gaethje's leg kicks make him the worst candidate for McGregor at 155
His knockout power is a serious threat to this version of the Irishman
He has wrestling that could trouble the former champ
In a nutshell, he is a nightmare matchup for McGregor
Tony Ferguson +600
The odds for Tony Ferguson to fight McGregor next scream value at +600.
Now, this is a wager that I really like. For many reasons.
I can see this fight happening because McGregor's stock is the lowest it has ever been. Is McGregor even elite anymore? Even the staunchest of his own fans have turned on the former lightweight king, which has put him in a very delicate position.
If McGregor loses his next fight, he's all but done. The promotion is hardly going to pay through the nose for a star that has lost three of his last four fights. So the next one has to be a big performance, right?. And preferably a win over a big name.
Enter Tony Ferguson. This is a man that terrorized the division and had, until recently, been considered the only lightweight capable of beating Khabib Nurmagomedov.
But Ferguson is on the decline. His abilities have clearly eroded, and he is 0-2 from his last two fights.
But many of the casual fans don't know that, do they? With the UFC PR team working overtime with the Ferguson montages and letting him loose to talk smack, they could build "El Cucuy" to live up to his cage name.
Casual fans will lap it up, a lot of money will be made, and a win for McGregor would put him back where he wants to be.
Gambling on McGregor fighting Ferguson next is worth a shot.
Why McGregor Fights Ferguson Next
Ferguson is a big name on the decline, so he fits the bill
McGregor's style would work well against the aging fighter
The risk to reward ratio is more favorable compared to most other candidates
The reputation boost that would come from a victory would restore McGregor to a favorable competitive and commercial position
Betting On the Other Fighters McGregor Could Fight Next
I think we can officially rule Jorge Masvidal out of this one.
I think there's more chance of Masvidal vs. McGregor being next than there is of Fedor Emelianenko joining the circus. So gambling on Masvidal vs. McGregor is like throwing your money into the wind.
The "BMF" titleholder is too big and too powerful for Conor. There is simply no value in these odds, either.
Avoid.
I'm not in love with Michael Chandler or Charles Oliveira's chances of fighting McGregor next, either.
Neither guy is a big enough name to make sense for McGregor at this point, nor the UFC.
This is a shame, as Chandler looked awesome in his UFC debut, while Oliveira is an animal.
Who Else Could McGregor Fight Next?
Here are a few other guys who have found themselves linked to McGregor fight rumors since UFC 257.
There are a few possible fights, but Felder is the most likely of this bunch to get a shot. Especially as there is a little bit of history between the pair.
Other Fighters McGregor Could Fight Next
Fighter
Weight Class
Chances of Happening
Paul Felder
Lightweight
Very Possible
Dan Hooker
Lightweight
Possible
Al Iaquinta
Lightweight
Possible
Rafael dos Anjos
Lightweight
Possible
Diego Sanchez
Welterweight
Unlikely
Who Will McGregor Fight Next?
I believe Conor McGregor's next fight will be against Tony Ferguson.
You can get odds of +600 for Ferguson via the top UFC sportsbooks. But don't expect those odds to be hanging around for much longer.
Former interim-lightweight champion, Ferguson, seems the pick of the bunch. He's where the smart money is, most definitely.
Whether you are wagering on the next opponent for Conor or betting on his next fight when it is announced, make sure to bookmark the following pages.
I'll be back with more news on McGregor's next fight when I hear it.