Hide Bonus Offers
| | | | | |
| --- | --- | --- | --- | --- |
| #1 | Bovada Sports | 50% Up To $250 | Visit Site | Bovada Sports |
| #2 | BetUS | 125% Up To $2,500 | Visit Site | BetUS |
| #3 | MyBookie | 100% Up To $1,000 | Visit Site | MyBookie |
| #4 | Everygame | 100% Up To $500 | Visit Site | Everygame |
| #5 | BetOnline Sports | 60% Up To $1,000 | Visit Site | BetOnline Sports |
Betting on Black Panther 2 – Will Rege-Jean Page Be Cast for the Sequel?

Wakanda forever. That mantra echoes through the brain of every fan of the movie Black Panther, and it'll keep bouncing around in our heads as we get excited for the sequel.
Yes, even with the tragic passing of Chadwick Boseman, Black Panther 2 is still happening.
It's only right, too, since it's a terrific superhero and amazing setting. Boseman wouldn't have it any other way, but the story won't continue exactly like it was.
That'd be literally impossible, since the 43-year-old Boseman is no longer with us. The studio is honoring his epic portrayal of T'Challa by not recasting the role, either.
That means someone else will have to step up and become the next Black Panther. It's the big question surrounding Black Panther 2.
It's the question as Black Panther 2 production gets going.
The sequel is still in the early stages, but it could pay to get ahead of things and gauge who will don the black suit. To get you ready for the film, let's analyze who will be cast in Black Panther 2.
Will Rege-Jean Page Be in Black Panther 2?
There isn't an official prop asking who will be cast as the next Black Panther, but this is as close as it gets.
Bovada is the lone entertainment betting site even broaching the debate, and if you check the rumor mill, the only name remotely attached to the Black Panther sequel is Rege-Jean Page.
It's common knowledge by now that the late Chadwick Boseman won't be featured in the new film out of respect, and the sequel also won't be recasting the role of T'Challa.
Obviously to move ahead in the story, however, someone has to pick up T'Challa's mantle.
That reality doesn't make it any easier, of course.
Ryan Coogler says making 'Black Panther 2' without Chadwick Boseman is "the hardest thing I've had to do in my professional life"

Filming reportedly begins this summer

(via @JHillUnbothered) pic.twitter.com/DrNFJmXWfq

— Culture Crave ? (@CultureCrave) March 11, 2021
It is wide open as to who that could be, and it's likely it will be a brand-new character introduced to us in Black Panther 2.
The top entertainment betting sites presently circle Rege-Jean Page as the top contender, although this prop just asks if he'll simply be in the movie.
And for me, that's the kicker.
Are you betting on Rege-Jean Page simply being cast in the sequel, or does he have to be cast as the new Black Panther? I like the buzz and talent combination, regardless, but it could be good to clarify before betting.
Before coming to a Black Panther 2 casting prediction, of course, let's explore why Rege-Jean Page could be a good fit, as well as other viable options to be cast as Black Panther.
Would Page Be a Good Fit as Black Panther?
The important thing to remember is that Rege-Jean Page as the next Black Panther is pure speculation at this point. No casting has been announced, and there really haven't even been concrete rumors to go with.
It's only fair, considering the great Chadwick Boseman only died in August, and the finishing touches on the Black Panther sequel are still pretty far off.
That said, you can bet on who will be the next Black Panther, and the first name to pop is Rege-Jean Page.
So, would he make a good Black Panther? As far as acting chops, I don't see why not. You've already gotten a terrific taste of his drama ability in Bridgerton, after all.
On top of the raw acting talent being there, Rege-Jean Page has the look and demeanor to crush it in this role. He's also just enough of a "no name" hire to not overshadow the legend of Boseman too much.
That, and how cool is that name?
Other Actors That Could Play Black Panther
While I am all for Rege-Jean Page being cast in the Black Panther, whether it be in a different role or the leading role, it only makes sense to cast a wide net here.
Maybe the studios are already fixated on this being the guy, but keep in mind that actors get swapped out for a variety of reasons.
Scheduling, other projects, compensation, and screen testing (among other things) can toss little wrenches in the plans for studios.
With that, I've come up with a nice little list of actors who could make a convincing Black Panther in the sequel.
John David Washington
Kingsley Ben-Adir
Lupita Nyong'o
There are other actors and actresses to be considered to play Black Panther, but why list a bunch of options I'm not passionate about?
Instead of wasting your time, I'll focus on the three options (that aren't Rege-Jean Page, that is) that would be perfect.
The first is John David Washington, who got the heart pumping in Tenet this past year.
That movie is the bee's knees, I tell you.
John David Washington grows on you, and he's already one of my favorite actors. From ironic work in BlackKklansmen to more emotional work in Malcolm & Marie, this guy has done it all.
He also has the demeanor, toughness, and grit to lead Wakanda. It doesn't hurt being the son of Denzel Washington, either.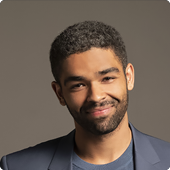 I'll cast a secondary vote for Kingsley Ben-Adir, who really got his name out there by playing Malcolm X in Amazon's massive hit, One Night in Miami.
That isn't where he won me over, though. Instead, it was his tireless detective work in cult classic The OA.
Ben-Adir doesn't scream "action star" on the surface, but if you can successfully play a cerebral detective and one of the greatest civil rights activists the world has ever seen, I think you have the chops to lock down this part.
Of course, it's always possible the Black Panther 2 producers don't outsource their Boseman replacement.
Since the sequel isn't recasting the role of T'Challa, it would simply need to find someone else who can take over as leader of Wakanda and also don the Black Panther suit. Perhaps those two things end up being separate, too.
You might want to consider a pretty cool twist; a woman being the next Black Panther.
The best route may be via Lupita Nyong'o, who is about as versatile and powerful of an actress as you'll find. She's already turned heads in 12 Years a Slave and Us, but she also is literally in the Black Panther cast.
Elevate Lupita to Black Panther status, and you break another major barrier in the comic book movie world.
Predicting the Next Black Panther
This is a tough one. I'm torn between what actually feels right and what is potentially just a rumor. I also have a soft spot for John David Washington.
If I were able to just pick from all of the actors out there, he'd be the next Black Panther. He hasn't really been mentioned in the same breath as Black Panther 2, however, and his career is taking off to the point where he may not be free to take on a role so demanding.
Future Black Panther films will be required, surely, while the character will also likely be featured in other Marvel movies and TV shows.
Due to that, starting fresh with someone a little less in demand makes sense. And if you're going to start over, it probably also seems right to bring in an outsider.
It will be interesting to see what direction Hollywood goes in here, but where there is smoke, there tends to be fire.
Ultimately, I think this is Rege-Jean Page's role to lose.
Rege-Jean Page is a talented actor on the rise, and if he weren't already slowly becoming a household name, this role would ensure he does.
At -160, the price is good enough to take a stab at him at least being cast in the movie. If that happens, it's quite likely you're looking at the next Black Panther.