Betting Advice and Top Sites for Miss America 2022

Things are finally back to normal in the pageant world. Kind of. Miss Universe 2021 was crowned recently, and next up is Miss America…2022.
Yes, it's weird to be crowning Miss America 2022 in December of 2021, but a global pandemic has messed with just about everything. Pageants haven't been immune, it seems.
The competition must go on, however, and 50 women – one from each of the United States – will contend for the crown. A competition that produced a superstar like Vanessa Williams can launch brilliant careers and will be must-see TV.
You also can potentially bet on who will win Miss America 2022. With that added nugget of interest, let's dive into my Miss America 2022 betting guide to see how and where you may want to bet this year.
Where to Bet on Miss America 2022
Above is a list of the best Miss America betting sites you'll find online. All of these sites are probably best known for their payout speeds, competitive odds, and sports betting.
However, they all offer a variety of entertainment wagers, and one of them is betting on the Miss America winner.
In the interest of full disclosure, I haven't seen any 2022 Miss America prop bets ahead of putting together this Miss America betting preview. Sites often wait until the last minute for special events like this due to a general lack of information.
However, even though the odds are sometimes a little late to come out, the pricing is still very appealing, and the props do usually come.
Here are a few to keep an eye out for.
Who Will Win Miss America 2022?
Which State Will be Runner-Up?
How Old Will the Winner Be?
There are countless more Miss America betting props that the top betting sites could dream up, but these are the tried-and-true staples we've seen in the past.
In the event you're able to bet on Miss America in 2021, hopefully the entertainment betting sites above can help you out.
Key Details for Miss America 2022
When: Thursday, December 16, 2021, at 7:00 pm CT
Where: Mohegan Sun Arena in Uncasville, Connecticut
Channel: Streaming on the Peacock App
If you're wondering when the Miss America pageant is, where it's being conducted, or where you can watch it, look no further.
The above information should help you out there. The pageant has locked up a three-year contract with the Mohegan Sun, so that venue will be hosting the festivities through 2024.
This was also traditionally a live event – and part of our rich television history – but that's now a thing of the past. Peacock has taken over with exclusive rights to the broadcast, and the event will be shown on the streaming service.
The Miss America Pageant will be streaming only on Peacock – it won't be on traditional television https://t.co/cH1P2UHxQX via @variety

— Todd Spangler (@xpangler) November 22, 2021
If you're wondering why a December 2021 edition of Miss America is referred to as Miss America 2022, you have the global pandemic to thank for that.
Technically this would be the 2021 Miss America pageant, but that event was canceled in May of 2020. Instead, Miss America celebrates its 94th installment – and 100th anniversary – in December, officially regarded as Miss America 2022.
Who Won the Last Miss America Pageant?
If you're looking to bet on who will win Miss America 2022, it's not a bad idea to start with what's gone down in the past.
Part of that process is first looking at who won the most recent Miss America competition. That's none of that than Camille Schrier, who claimed the 2020 title.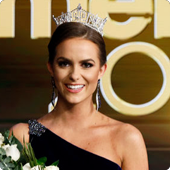 Schrier wasn't your usual pageant winner, which was a great thing for the competition.
The Richmond, Virginia native became the first Miss America contestant to perform a scientific demonstration and win the contest, while at 24 she is among the older contestants to have won the crown.
Schrier first won Miss Virginia back in 2019, as well as Miss Dominion in that same year. She edged out Miss Georgia to get the win at the last Miss America competition, winning a $50,000 scholarship.
The win allowed Schrier to be the fourth winner from Virginia, and she'll be back on hand for this year's pageant, ready to crown her successor.
Who Are the Miss America 2022 Contestants?
Now that the key details, where to bet, and the most recent winner is out of the way, it's time to look at who is competing in this year's Miss America contest.
Here's a quick look at all 50 women vying for the Miss America 2022 crown on December 16.
| | | |
| --- | --- | --- |
| State | Contestant | Age |
| Alabama | Lauren Bradford | 21 |
| Alaska | Emma Broyles | 20 |
| Arizona | Amber Barto | 23 |
| Arkansas | Whitney Williams | 23 |
| California | Jazmin Avalos | 24 |
| Colorado | Maura Spence-Carroll | 21 |
| Connecticut | Sapna Raghavan | 22 |
| Delaware | Sophie Phillips | 25 |
| District of Columbia | Andolyn Medina | 25 |
| Florida | Leah Roddenberry | 22 |
| Georgia | Karson Pennington | 23 |
| Hawaii | Courtney Choy | 25 |
| Idaho | Ayriss Torres | 21 |
| Illinois | Isabelle Hanson | 25 |
| Indiana | Braxton Hiser | 24 |
| Iowa | Grace Lynn Keller | 23 |
| Kansas | Taylor Clark | 21 |
| Kentucky | Haley Wheeler | 23 |
| Louisiana | Julia Claire Williams | 22 |
| Maine | Mariah Larocque | 25 |
| Maryland | Lydia Sohn | 25 |
| Massachusetts | Elizabeth Pierre | 23 |
| Michigan | Vivian Zhong | 24 |
| Minnesota | Gabrielle Louise Mark | 25 |
| Mississippi | Holly Brand | 21 |
| Missouri | Callie Cox | 21 |
| Montana | Jessica Criss | 24 |
| Nebraska | Morgan Hope Holen | 23 |
| Nevada | Macie Tuell | 24 |
| New Hampshire | Ashley Marsh | 26 |
| New Jersey | Alyssa Marie Sullivan | 25 |
| New Mexico | Sienna Mascarenas | 20 |
| New York | Sydney Park | 25 |
| North Carolina | Carli Batson | 21 |
| North Dakota | Reyna Bergstrom | 25 |
| Ohio | Lora Current | 20 |
| Oklahoma | Ashleigh Robinson | 23 |
| Oregon | Abigail Hayes | 20 |
| Pennsylvania | Meghan Sinisi | 26 |
| Rhode Island | Leigh Payne | 21 |
| South Carolina | Julia Herrin | 19 |
| Tennessee | Tally Bevis | 24 |
| Texas | Mallory Fuller | 23 |
| Utah | Sasha Sloan | 22 |
| Vermont | Danielle Morse | 22 |
| Virginia | Tatum Sheppard | 22 |
| Washington | Maddie Louder | 23 |
| West Virginia | Jaelyn Wratchford | 20 |
| Wisconsin | Jennifer Marie Schmidt | 25 |
| Wyoming | Mikkayla DeBolt | 21 |
I'm giving you the bare bones here. This is all 50 women, which state they represent, and their age. That will hardly give you enough information to formulate a bet.
However, you can get to know all 50 Miss America 2022 contestants a bit more by checking out the Miss America candidates page.
That said, a few things do stand out.
It's good to note how past pageants have gone, if there are any unique talents or social impact initiatives, and how successful contestants tend to be based on age and the state they represent.
Here are three things worth mentioning going into Miss America 2022.
There is one contestant under 20 years of age
The talents are boring
The social impact initiatives are fantastic
Age is just a number, but as Kramer once said in Seinfeld, poise counts.
Experience and refined approach can really help you in this competition, while Miss America has been crowning older winners in recent years.
Just one teenager is in this competition, and Miss America hasn't named a winner younger than 21 years old since 2011. In fact, just four times since 1976 has a contestant younger than 20 won this thing.
Of course, a little wrinkle that could disrupt that? There are 14 contestants aged 21 or younger.
Still, that's just 28% of the field, so it may pay to continue with the older winner trend.
I'd also pay mind (or fall asleep) to some of these talents. There are a lot of violin, vocals, and baton performances here. Seriously, that trio of talents accounts for nearly half (24) of the show.
That doesn't mean a ho-hum category can't deliver a "wow" performance, but it doesn't push the needle in terms of creativity and shows a lack of risk-taking.
Even so, execution is a heck of a thing. After all, Illinois representative Isabelle Hanson took home Prelim Night 2 honors for her violin performance.
That said, I'd be inclined to think a bit outside the box here, especially after seeing New York's Sydney Park get the Prelim Night 1 talent win.
Congratulations Sydney Park (NY) on being named our Prelim Night 1 talent winner. She was awarded a $2,500 scholarship courtesy of Kawai Piano.
?: Jenn Cady pic.twitter.com/dEneoIUpG7

— The Miss America Org (@MissAmerica) December 13, 2021
The other big thing is the social impact initiatives are really intense.
Every contestant is being judged on their intelligence and articulation, as well as their ability to exact change in society.
Their social impact initiatives are all worth discussing, and it's subjective which one is best.
Of course, a focus on military mental health (Colorado), diversity awareness (Connecticut), human trafficking awareness (District of Columbia), and a warning on the negative impact of technology on our youth (Wyoming) could be some of the more important topics covered at this year's competition.
So far, it's been Mallory Fuller (Texas) and Emma Broyles (Arkansas) impressing with their words, however.
Best Bets to Win Miss America 2022
There are no official odds out for who will win Miss America in 2021. Hopefully that changes in due course, and you can apply what you've read in this Miss America 2022 betting guide to win some money.
All things considered, there are a few contestants I think could be worth betting on. Due to there not being any Miss America odds, of course, I can't tell you if I am talking about legit favorites, sleepers, or total long shots.
Regardless, these women look like solid bets going into December 16, 2021.
Sydney Park – Miss New York
I already mentioned that Park made her presence known at Prelim Night 1, and I don't think she's about to slow down.
She's from the winningest state in Miss America history, she's incredibly seasoned at age 25, and she carries with her a powerful message of confidence, inclusivity, and determination.
Her professionalism and poise were on full display in this fantastic interview back in November.
Andolyn Medina – Miss District of Columbia
This is another seasoned 25-year-old who has a terrific shot at being the 2022 Miss America winner.
Medina is advocating for human trafficking awareness, and she brings a strong vocal talent into the competition. She's also been absurdly prolific in her pageant journey to this point.
Miss Virginia Outstanding Teen 2012
Top 10 at Miss Virginia Outstanding Teen 2013
District of Columbia Sweetheart 2019
3rd Runner-Up at National Sweetheart 2019
Medina has a strong resume, but it's only boosted thanks to her status as an officer in the U.S. Navy.
From top to bottom, Medina looks like a fantastic threat in this year's competition.
Tatum Sheppard – Miss Virginia
Having an elite pageant resume is one thing, but what about top shelf pedigree?
One of the few pageant contestants that can say that is Sheppard, as she happens to be the daughter of Kellye Cash, who won Miss America back in 1987.
Obviously, that doesn't guarantee Sheppard a thing, and it's arguable the judges would grade her more harshly because of it.
However, Sheppard has the best coach possible as she enters the competition, and bettors can't rule out the potential impact it has.
Mallory Fuller – Miss Texas
Lastly, I can't bypass Fuller, who joined Park as one of the standouts, but made her impact on Prelim Night 2.
Congratulations Mallory Fuller (TX) on being named our Prelim Night 2 social impact pitch winner. She was awarded a $1,000 scholarship courtesy of IT Help, Inc.
?: Jenn Cady pic.twitter.com/nKAtUONl59

— The Miss America Org (@MissAmerica) December 14, 2021
Fuller hails from another successful state in Miss America history, and she aims to be the fourth winner from the state. If she's successful, she'd move Texas into a three-way tie for fourth place.
There's a chance she can make it happen, as she plays a unique instrument for her talent (fiddle), and she's shown herself to be incredibly poised and articulate.
Being the younger sister of Madison Fuller (2018's Miss Texas) can't hurt in the way of pedigree, coaching, and experience, either.
There are literally 46 other contestants that can win the 2022 Miss America competition. I could be overlooking your favorite contestant, and no, I'm not considering looks at all here.
It's a beauty pageant, featuring 50 elite pageant contestants that outlasted stiff competition in their respective states.
They're all beautiful women, so spending time on comparing their beauty feels trivial at best, and insulting at worst.
These four contestants stand out for the reasons given, but I'd consider adjusting my outlook if/when Miss America betting odds come out.
Betting on Miss America 2022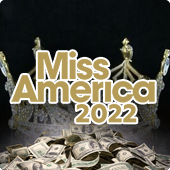 It's anyone's guess if there will be Miss America props to target in the coming days.
All I know is there have been ways to bet on Miss America in the past, and the top entertainment betting sites would be wise to issue a few.
There are several different ways to potentially place bets, but the big one is predicting the Miss America 2022 winner.
While I've gone over four contestants that I think have a great shot, my pick to win this year is New York's Sydney Park.
Well-spoken and articulate, Park has already made quite an impression in the Prelim stage, and I think she's the total package.
It doesn't hurt that history is on her side, either. New York leads the way with seven wins in this competition, winning four times since 2013.
While I like Park to take it home, there are so many talented women in this competition, and there could be more than one way to bet on Miss America 2022.
For additional advice, should odds pop up, be sure to check out our entertainment betting strategy page below.
Tips & Strategies for Entertainment Betting