Betting on the 2021 Super Bowl National Anthem – Eric Church and Jazmine Sullivan Prop Bets

There's a bit of a wrinkle when it comes to betting on the National Anthem at the 2021 Super Bowl.
For the first time in 15 years (since Super Bowl 40 in Detroit), a duo will sing "The Star-Spangled Banner" as opposed to it being sung solo. Acclaimed country singer Eric Church will team up with Jazmine Sullivan, the ultra-talented 33-year-old artist responsible for hits such as, Pick up Your Feelings and Lost One.
In addition to the duet, H.E.R. has been tabbed to bring "America the Beautiful" to life. The 23-year-old charismatic musician rounds out the audio portion of the pre-game festivities.
With the "stage set," we can now shift our focus to betting on the Super Bowl National Anthem in 2021. Specifically, the top National Anthem prop bets.
You'll find National Anthem prop bets for the 2021 Super Bowl at all of the following online betting sites.
You can check out my favorite National Anthem props for 2021 below.
Length of the 2021 Super Bowl National Anthem
Of all the Super Bowl prop bets for the National Anthem, the most popular one by a landslide is how long will the singing last.
This bet is offered every year at the Super Bowl, and a quick glance at the past performances can help lend some perspective.
Super Bowl National Anthem – By the Numbers
Game
Performer
Length of Anthem
Super Bowl 54
Demi Lovato
109 seconds
Super Bowl 53
Gladys Knight
109 seconds
Super Bowl 52
Pink
113 seconds
Super Bowl 51
Luke Bryan
124 seconds
Super Bowl 50
Lady Gaga
129 seconds
Super Bowl 49
Idina Menzel
124 seconds
Super Bowl 48
Renee Fleming
114 seconds
Super Bowl 47
Alicia Keys
155 seconds
Super Bowl 46
Kelly Clarkson
94 seconds
Super Bowl 45
Christina Aguilera
114 seconds
From Kelly Clarkson nervously rushing out the lyrics to Alicia Keys taking her sweet old time, we've seen a bit of everything. The difference with the Super Bowl National Anthem in 2021 is that we have two artists performing. Are they going to sing harmoniously as one unified voice, or will they take turns a few lines at a time, ultimately extending the overall length?
After a bit of digging, I stumbled upon this video of the last time two singers performed the National Anthem at the Super Bowl. It's Aretha Franklin and Aaron Neville taking turns, deliberately going through their routines. The back-and-forth chanting lasted 129 seconds.
With a little data to fall back on, let's now assess this year's composers.
Eric Church has headlined countless live performances, but he's never sung "The Star-Spangled Banner" in public nor has he been on a stage as grand as the Super Bowl. On the flip side, Jazmine Sullivan has sung the National Anthem in front of a live audience on more than one occasion.
The iteration above from an NBA game in her hometown of Philadelphia took 109 seconds from start to finish.
Moving along to her second attempt at an outdoor NHL game in early 2016, Sullivan sang the Anthem in 98 seconds. Keep in mind- it was freezing that day in Minnesota – a far cry from the warmth she'll experience in Tampa Bay.
Taking everything into account, I think this Anthem gets dragged-out. After shopping my lines at the best Super Bowl betting apps, I latched on at 119.5 seconds. For comparison, the line is set at 123 seconds at MyBookie.
Will Any Scoring Drive Take Less Time Than the National Anthem?
This National Anthem prop bet can be found at most of the top betting sites, but there is a significant price discrepancy at one in particular.
| | | | |
| --- | --- | --- | --- |
| | BetOnline | BetUS | XBet |
| Yes | -350 | -300 | -190 |
| No | +225 | +225 | +145 |
While we don't know exactly how long the 2021 Super Bowl National Anthem will be, we know it will be in the two-minute range. It's highly unlikely it's anything shorter than 110 seconds.
Well, three of Tampa's five scoring drives in the NFC Championship took less than 104 seconds. In their previous matchup against New Orleans, four of the Bucs six scoring drives occurred in fewer than two-in-a-half minutes.
The point is – the Buccaneers can light up a scoreboard in a hurry. Staying on theme, no offense in the league is more capable of a quick score than the Kansas City Chiefs. KC's first touchdown drive against Tampa Bay in week 12 took all of 10 seconds – thanks to this 75-yard strike to Tyreek Hill down the sideline.
It's bets like this that make Super Bowl props betting so much fun. I'm heading to XBet to lock "yes" in.
Will Jazmine Sullivan's Outfit Show Cleavage?
I must continue hammering home the idea of shopping your lines when you're betting on National Anthem prop bets. Check out the disparity for this Jazmine Sullivan prop bet.
| | | |
| --- | --- | --- |
| | SportsBetting.ag | MyBookie |
| Yes | +110 | -220 |
| No | -150 | +155 |
As a foundation, we can start with the fact that if Sullivan shows cleavage at the Super Bowl, it wouldn't be her first time.
On the other hand, she isn't afraid to tone it down and go for a less revealing look. Jazmine had her upper body covered up in the following Tiny Desk Concert.
Pink was "buttoned up" in her National Anthem performance in Super Bowl 52, as was Gladys Knight in Super Bowl 53. After accounting for Demi Lovato's outfit during last year's National Anthem that didn't show cleavage either, my hunch is that the NFL opts to exhibit Sullivan in similar attire.
The moral is – this isn't some private concert or a tv special being aired on HBO late a night. We're talking about a professional woman singing the National Anthem during the Super Bowl in front of millions and millions of viewers.
Bet "no" on this National Anthem prop.
Will Eric Church Be Wearing Sunglasses?
It's possible to track down photos of Eric Church not wearing sunglasses – you just have to scour the internet accept that it's probably a really old picture.
The dude is literally wearing shades in 95+% of his images – including during all of his performances.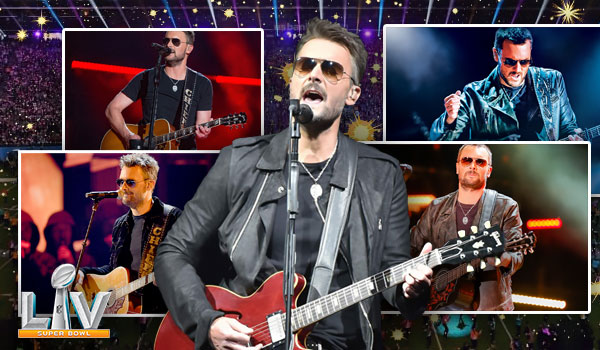 It's always dark, Ray-Ban aviator sunglasses too, no matter the setting.
You might think presenting a trophy at the CMA Awards Show would call for exposing his beautiful dark brown eyes, but no. This man seemingly never takes them off.
Now for the piece of evidence that should really put your mind at ease about this NFL National Anthem prop bet.
When Alison Bonaguro of cmt.com asked Eric about his habit of always wearing sunglasses when he performs, Church answered honestly.
"If I'm not playing shows, I usually don't wear them. But my eyes don't do real well in lights. So if I'm playing shows, I'll have shades on. It doesn't feel right if I don't."
Well, the lights don't get any brighter than performing the National Anthem at the Super Bowl.
I'm sold on "yes" for this Eric Church prop bet.
More Super Bowl National Anthem Props for 2021
The four National Anthem prop bets featured above are the ones I'm locking in. Forget about being entertaining – I see betting value in each and a genuine opportunity to turn a profit.
Having said that, loads of other Super 55 prop bets for the National Anthem exist. Some may pique your interest, some you'll just be amused that they're even being offered.
You make the call.
Coach to be Shown First During the National Anthem
Player to be Shown First During the National Anthem
What Will Jazmine Sullivan Be Wearing For the Anthem?
Pants/Shorts/Leggings
+140
Will Jazmine Sullivan Be Wearing a Hat?
What Style of Shoe Will Jazmine Sullivan Wear?
Primary Color of Jazmine Sullivan's Top?
Will Eric Church Wear a Cowboy Hat?
Will Eric Church Wear a Leather Jacket?
Will Eric Church Wear a Jean Jacket?
Primary Color of Eric Church's Shirt?
How Long Will the Word "Brave" Be?
Who Will Sing the First Note?
Who Will Sing the Last Note?
As you can see, there's a large selection of Super Bowl National Anthem prop bets at your disposal. And the fun doesn't end there.
We've got a slew of Super Bowl commercial props for you to peruse as well.