Betting on the 2021 St. Louis Cardinals Win Total

It's time to start firing away on MLB win totals. Not every site has unveiled odds for all 30 teams, but a few bookies wasted no time stepping up to the plate. The plan here is to zero in on the St. Louis Cardinals and assess where the value lies.
There are multiple factors to consider when targeting MLB futures bets. It starts with finding the best available price.
What's the St. Louis Cardinals Win Total in 2021?
Cardinals Win Total: 86.5
Right off the bat, 86.5 wins seems a tad low. Eight MLB teams have a higher win total in 2021 than St. Louis, a number that seems a wee-bit high. Something to consider is that a few days after Vegas posted the Cardinals win total, the top MLB betting sites adjusted accordingly.
Most places online have installed the Cards number at 87.5. However, BetOnline is letting you in at even money if you choose to side with the over.
As for how this line was originated, that's where things get a bit murky.
St. Louis is the heavy favorite to emerge out of the NL Central, that's consistent wherever your shop your lines. So here's what doesn't add up.
If the bookies are confident that the Redbirds will win their division, why is their win total set at just 86.5? You have to go all the way back to 2007 to find the last time the NL Central winner recorded fewer than 90 victories in a full season.
Win-Loss Records of NL Central Winners since 2008
Year
NL Central Winner
Regular-Season Record
2019
Cardinals
91-71
2018
Brewers
96-67
2017
Cubs
92-70
2016
Cubs
103-58
2015
Cardinals
100-62
2014
Cardinals
90-72
2013
Cardinals
97-65
2012
Reds
97-65
2011
Brewers
96-66
2010
Red
91-71
2009
Cardinals
91-71
2008
Cubs
97-64
To take this a step further, two or three NL Central teams won more than 86 games in the majority of these years. In 2015, three teams won at least 97 games!
Cardinals Records In Recent Years
Ready for some more indicators that tell me pouncing on the over has merit?
In the last 12 full seasons, The Cardinals have won at least 86 games 11 times. The only time they didn't was in 2017, a year they still notched 83 victories.
Cardinals Regular-Season Records Since 2008
Season
Wins
Losses
2020
30
28
2019
91
71
2018
88
74
2017
83
79
2016
86
76
2015
100
62
2014
90
72
2013
97
65
2012
88
74
2011
90
72
2010
86
76
2009
91
71
2008
86
76
This is more evidence that whoever was in charge of setting MLB win totals odds left a few stones unturned. Unless, of course, that person/team of people anticipate St. Louis declining in 2021.
Frankly, I have a hard time believing that'll be the case.
The Cardinals Improved During the Offseason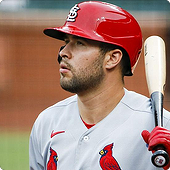 Kolton Wong inked a deal with a divisional foe which isn't exactly ideal. Nonetheless, adding Nolan Arenado to the hot corner is more than just a consolation prize.
Arenado is one of the top players in the league and a big reason the Redbirds are positioned with one of the best lineups in baseball. Set to bat cleanup behind Paul Goldschmidt in the order, pitching around Tommy Edman and Paul DeJong are no longer options. Nolan's presence means Yadier Molina will see lots of pitches with runners in scoring position, as will Dylan Carlson.
Without going too deep into my affinity for Carlson, know that he's poised to be one of MLB's breakout players in 2021. Tyler O'Neil still has a few kinks to work out, but the Gold Glove left fielder seems ready to burst as well.
The Cards front office didn't go out of their way to spend a bunch of money on pitching this winter, but that's more of a reflection of having a reliable staff in place. Jack Flaherty is a perennial NL Cy Young award candidate, Adam Wainwright is back in the saddle, and I must point out Kwang Hyun Kim's dominant rookie season.
Kim lasted 39 innings in seven starts. He sported a 3-0 record and a sparkling 1.62 ERA.
Finally, Carlos Martinez has pitched just 187 total innings since the start of 2018 but is finally injury-free. The 29-year-old right-hander is eager to prove he's got a lot left in the tank.
Carlos Martínez says he enters #STLCards camp feeling 100%, his pitches all feel great and he's all-in on pursuing a spot in the rotation. "I feel great, I feel with power in my arm." #SpringTraining2021February 17, 2021
St. Louis Cardinals Win Total Prediction in 2021
If you're still on the fence about betting on the St. Louis Cardinals win total, let me clear the air once and for all.
The batting order is potent, and it's clear the starting rotation is in good hands. That was covered. What I failed to bring up is that the Cards have arguably the best bullpen in the majors. St. Louis boasted a 2.51 ERA in the 8th inning or later (2nd in the MLB) in 2020 – without the services of Jordan Hicks.
The hardest-throwing right-hander in baseball is set to return after TJ surgery, Andrew Miller is dynamite, and Alex Reyes is ready to be unleashed.
Latch onto one of the bookies that are still offering the Cardinals win total at 86.5 and start slamming money in on the over. My guess is St. Louis surpasses 87 wins with a week or two to spare.