Betting on the 2021 NBA Player Awards – Odds and Predictions at the Halfway Point

Now that the All-Star Game is in the rear-view mirror, it's the perfect time to take stock in the NBA futures odds. Specifically, odds for the individual awards that get handed out when the season is over.
A lot can change between now and mid-May, including the pricing for all of the betting markets. With that in mind, let's assess the current landscape and begin digging for value.
Starting with the tightest race of them all.
2021 NBA MVP Odds
Giannis Antetokounmpo
+1800
If the season ended today, I'd be torn between Embiid and Jokic as my NBA MVP prediction. The two big men are the only two players in the NBA carrying a PER (Player Efficiency Rating) over 30, and here's what's especially impressive.
We know that Joel and Nikola can score and rebound the basketball. We know they create havoc in the paint. But did you expect both centers to clock in at over 41% from beyond the arc?
"The Process" has scored 35 or more points 11 times, 40 or more points five times, and he even dropped a 50-burger in a victory over Chicago. He joins the Greek Freak as the only player in basketball averaging at least 1.2 steals and 1.4 blocks (per game), and he's got Philly sitting atop the Eastern Conference standings. The only reason he's not a shoo-in to win the MVP is because of how influential Jokic has been in Denver.
To go along with 27.1 ppg and 11.0 rpg, "The Joker" is dishing out 8.6 assists and averaging 1.6 steals per game. I alluded to his 41.8% clip from outside, but he's also shooting 56.7% from the floor and 88.1% from the charity stripe. For crying out loud, the dude is a 6'11" center and he's on the verge of joining the coveted 50-40-90 club. Nikola's rung up 32 double-doubles – nobody else in the NBA has more than 25.
I love me some LeBron, but this is a toss-up between the two best big men in basketball.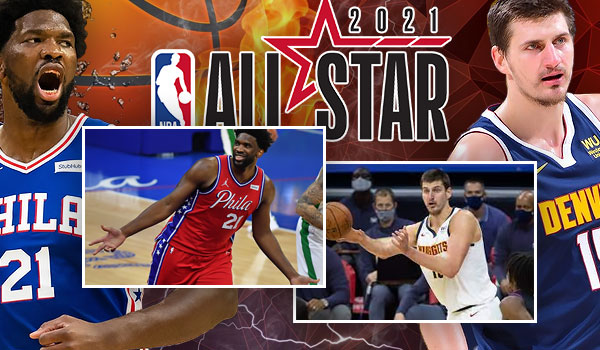 2021 NBA Rookie of the Year Odds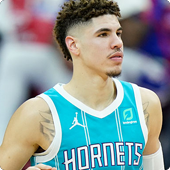 Let's cut right to the chase – LaMelo Ball is running away from the competition. The 3rd overall pick is blowing all expectations out of the water and looks every bit like a superstar in the making. Since being inserted into the Hornets starting five on February 1st, LaMelo is contributing 20.7 points, 6.7 assists, and 6.2 rebounds. He's shooting 44.9% from deep to go with 1.9 steals – enough to draw serious praise from his team owner.
Michael Jordan offered the following to the Associated Press.
"I think Melo has adjusted to the NBA game better than any of us ever thought this early in his career. He has exceeded our expectations so far this season."
Mavs coach Rick Carlisle has offered the following.
"Right now, the way things look, he looks like the NBA rookie of the year to me. He's getting it done statistically, their team is winning. He's got energy, he's got a vibe, he's got swagger. If you like watching players that play with flair, he's right up there."
The only rook who can even sniff Ball's production is Tyrese Haliburton. The 6'5" combo guard has been terrific in Sacramento, and like LaMelo, chips in all over the court. The Iowa State product is averaging 30.1 minutes per game and has been stuffing the stat sheet in the process.
Tyrese Haliburton By the Numbers – Rookie Season
Points
Assists
Rebounds
Steals
FG %
3p %
FT %
13.2
5.4
3.6
1.4
49.4
43.3
83.3
Anthony Edwards is providing a bit of a spark in Minnesota (14.9 ppg, 4.0 rbg), but the fact of the matter is the top pick in November is shooting 37.1% from the field and 30.2% from downtown. That's simply not good enough to hang with Tyrese Halliburton – let alone LaMelo Ball.
2021 NBA Most Improved Player of the Year Odds
Shai Gilgeous-Alexander
+6600
Jaylen Brown, Zach LaVine, and Collin Sexton are all playing fantastic basketball in 2020-21. With that being said, each of those individuals poured in over 20 points per game a season ago and were already on the radar as legitimate studs. Clump Julius Randle into the same boat – he was virtually a 20/10 guy during his first season in the Big Apple. And let's thrown SGA in there as well after he arrived on the scene in 2019.
Dejounte Murray is on the outside looking in, leaving us with three sincere NBA Most Improved POY candidates.
Jerami Grant
Last Season Stats: 26.6 mpg, 12.0 ppg, 3.5 rpg, 1.2 apg
This Season Stats: 36.2 mpg, 23.4 ppg, 5.3 rpg, 2.9 apg
More or less a defensive specialist during his time with the Nuggets and Thunder, Jerami Grant has exploded in what is his first season in Detroit. The Pistons hybrid forward quickly grabbed the reins from Blake Griffin as Dwane Casey's go-to player. The strides he has taken need to be commended.
However, is Jerami really a much-improved player this year, or is his increased volume the sole explanation for his surge in productivity?
| | | | |
| --- | --- | --- | --- |
| Season | Field Goal Attempts/Game | Three-Point Attempts/Game | Free Throw Attempts/Game |
| 2019-20 | 8.9 | 3.5 | 2.8 |
| 2020-21 | 17.8 | 6.8 | 6.3 |
Grant is actually shooting worse from the field (and worse from three-point land) this season compared to last.
Christian Wood
Last Season Stats: 21.4 mpg, 13.1 ppg, 6.3.rpg, 0.9 bpg
This Season Stats: 31.2 mpg, 22.0 ppg, 10.2.rpg, 1.5 bpg
Transitioning from Detroit to Houston has opened the floodgates for Christian Wood. Shooting 56% from the field and over 42% from three, this 6'10" rim protector is in rarefied air.
Giannis Antetokounmpo
Joel Embiid
Nikola Jokic
Nikola Vucevic
Domantas Sabonis
Julius Randle
Christian Wood
You're looking at the only seven players in The Association who arrived at the All-Star break averaging at least 20 points and 10 rebounds per night.
Chris Boucher
Last Season Stats: 13.2 mpg, 6.6 ppg, 4.5 rpg, 1.0 bpg
This Season Stats: 23.6 mpg, 13.6 ppg, 6.5 rpg, 1.9 bpg
Here's your MIP sleeper in 2021. Nothing more than an afterthought in Toronto in 2019-20, Chris Boucher has elevated his game and turned into a consistent piece of Nick Nurse's rotation. "Swatterboy's" PER sits at 22.93 – neck and neck with Zach LaVine and ahead of names like Paul George, Rudy Gobert, Jaylen Brown, Chris Paul, Jayson Tatum, and others.
Worth noting, the Raptors are in the hunt to make the playoffs. The Pistons and the Rockets are in the hunt for the worst record in basketball.
2021 NBA 6th Man of the Year Odds
This blurb can be kept fairly short and sweet as I see very few versions of anyone catching up to Jordan Clarkson. Not only does Clarkson lead all bench scorers with 17.9 ppg; he's leading the NBA in FT % (96.7%) and is a big reason why the Jazz have the best record in the NBA.
Looking at his main contenders, Eric Gordon and Terrance Ross, the Rockets and Magic are in last place in their respective divisions.
Jordan habitually finds himself on the floor during crunch time in meaningful games, and Utah isn't going away anytime soon.
It's likely that Clarkson's 6th Man of the Year odds are only going to get less favorable as time progresses. That means book this wager sooner rather than later.
2021 NBA Defensive Player of the Year Odds
Giannis Antetokounmpo
+1800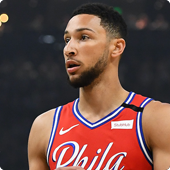 We saw Giannis Antetokounmpo sweep the MVP and DPOY awards last season; it's entirely possible that Joel Embiid does the same thing in 2021. Doc Rivers is lobbying for one of his players to win this trophy, but incidentally, Ben Simmons is the guy that Rivers has been touting.
"Ben doesn't just play five. He plays five, four, three, two, one. He's played every position on the floor. When he's played those positions, he's been able to come up with stops. There are very few players in the NBA that can do the things that Ben does defensively."
Simmons' versatility on this end of the floor is one of the catalysts behind the 76ers success. His ability to guard all five positions on the court certainly makes him stand out.
It's also plausible that Rudy Gobert will capture the hardware for the third time in four seasons – joining Dikembe Mutombo, Ben Wallace, and Dwight Howard as the only players to win the award at least three times.
Myles Turner is leading the league in blocked shots, but the Pacers 16-19 record doesn't help his case.
When push comes to shove, I'll take the 24-year-old Aussie as my NBA Defensive Player of the Year prediction.
NBA Individual Awards Predictions
MVP – Joel Embiid
ROY – LaMelo Ball
MIP – Christian Wood
6th Man – Jordan Clarkson
DPOY – Ben Simmons
With half of the regular season yet to play out, a lot can change in terms of how individual players are viewed. There's plenty of time for LeBron and Luka to jump into the forefront of the MVP discussion, and the MIP and DPOY are truly up for grabs.
On the other hand, go ahead and pencil LaMelo Ball in for the ROY, and go ahead and engrave Jordan Clarkson's name on the 6th Man of the Year trophy. Those are about as surefire bets as you're going to find when betting on NBA Player Awards.