Betting the 2019 Valero Texas Open – Odds, Matchup Picks, and DraftKings Advice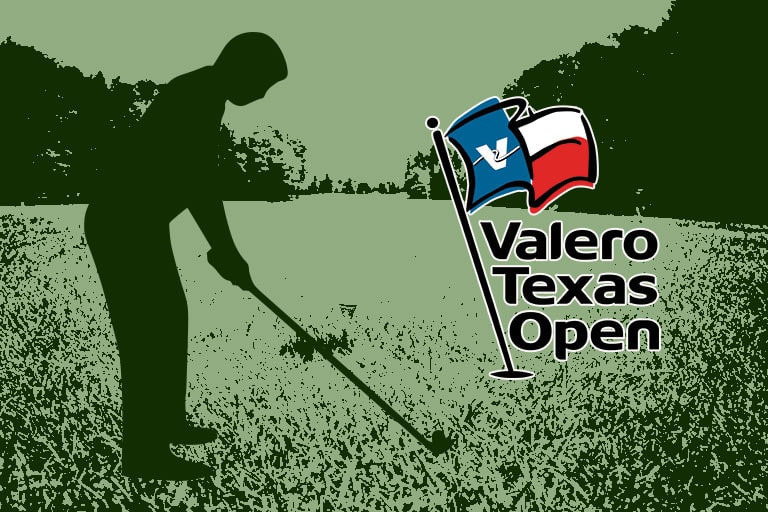 Rickie Fowler and Jordan Spieth headline the field this week at the Valero Texas Open.
Warm temperatures and subtle winds in the forecast mean low scores are coming, although the Oaks Course at TPC San Antonio is hardly what I would consider an easy track.
A total of 144 men will battle to be crowned the champion of the 2019 Valero Texas Open, and I plan on taking a look at some names I believe will be in contention for the win.
I'll also take a peek at the matchups I think we can take advantage of and of course will lend some advice for those playing fantasy golf on DraftKings.
You don't have to wait until the Masters next week to get your golf betting fix in, because the action on the PGA Tour this week promises to be exciting and full of drama.
Let's get started with my Valero Texas Open betting preview for 2019.
Who Will Win the 2019 Valero Texas Open?
Start by glancing at the 23 names MyBookie.ag has priced at +5500 or better.
You'll quickly notice that Rickie Fowler is a pretty heavy favorite to be the last man standing in San Antonio.
2019 Valero Texas Open Odds to Win
If you've read any of my golf blogs before, you'll know how I feel about getting +1000 for an individual to win a golf tournament when 144 guys are competing. The fields are just too deep nowadays for me to feel like I'm grasping onto any legitimate value.
Simply put, too many players are capable of winning.
I'm sure we'll see loads of bettors place money on Matt Kuchar at +1800, a wager that would seem to make sense after "Koooch" played so well this past week in Austin. However, Matt's best finish at the Valero Texas Open over his last three tries is a tie for 40th in 2017 (51st in 2018, 42nd in 2016).
So while I don't see much value in betting on Fowler or Kuchar, I will tell you about three guys I would bet on to hoist the trophy on Sunday.
Abraham Ancer Is Playing Really Good Golf
Abraham Ancer is quietly becoming a killer. It's clear that the confidence he gained from winning the Emirates Australian Open in November has carried over into the 2018/2019 PGA Tour season.
Ancer has already amassed six top 25s, including a pair of top-5 finishes, and he seriously impressed me at the WGC-Dell Technologies Match Play. After losing on day one to Paul Casey, Abraham knocked off Cameron Smith 3&2. The next day, Ancer birdied the first four holes right out of the gate and went on to thump Charles Howell III 5&3.
It's only a matter of time before the 28-year-old Mexican golfer tastes victory on the PGA Tour, so you might want to bet on him winning this week. I suggest heading over to SportsBetting.ag, though, because he's available over there at +4000.
Ryan Moore Has What It Takes
Like Abraham Ancer, here's another golfer listed at +3500 at MyBookie.ag to win the Valero Texas Open. And just like our friend Abe, we can latch onto Moore at +4000 over at SportsBetting.ag and snag some added value.
Ryan hasn't played his best golf in 2019, but he recently flashed some solid golf with a top-20 showing at TPC Sawgrass during THE PLAYERS Championship. And I know he has good memories from this specific venue; that's evidenced by Ryan finishing 18th here in 2017 and 7th in 2018.
Moore ranks 11th in driving accuracy and is 34th in strokes gained: approach-the-green. It's actually the flat stick that has prevented him from playing more consistently thus far in the year. Given that Ryan has historically been a terrific putter, he could catch fire on the greens at any point in time.
Don't forget, Moore is no stranger to the winner's circle on the PGA Tour. He's been there five times before.
My Pick to Win the 2019 Valero Texas Open
If you aren't familiar with the name "Sungjae Im," you are about to get quite the dosage. The South Korean didn't turn 21 years old until this past Saturday, and the tempo of his golf swing might lull you to sleep.
But the fact of the matter is the reigning Web.com Player of the Year has finished 7th or better in four of his last eight starts on the PGA Tour dating back to the Waste Management Phoenix Open in early February. This includes last week in Punta Cana where he held the 36-hole lead.
Im won twice on the Web.com last year and clearly has no qualms about performing on the big stage. Getting him at +2800 in a field that features just one top-10-ranked player in the world honestly seems like a bargain to me. Especially after shopping this line and seeing him listed at +2500 in most other spots.
Setting a Lineup on DraftKings for the Valero Texas Open
Those of you waiting for the Masters Millionaire Maker on DraftKings should still consider playing DFS golf this week. DK is offering a $400k GPP that's awarding $100,000 to whoever wins first place, and here's the best part.
The entry fee only costs you a measly five bucks.
I'll discuss some golfers you should consider rostering below.
Top-Tier = Players priced at $9k and up
Mid-Tier = Players priced from $7,500 to $8,900
Low-Tier = Players priced from $6,000 to $7,400
Only 12 players are in the "top-tier" this week, with bloated ownership promising to fall on Fowler and Kuchar. That anticipated substantial ownership combined with their exaggerated prices is enough for me to want to steer clear.
Here are the "A-list" golfers I'd load up with.
Sungjae Im – $10,100
All you have to do is look at how Sungjae played last week in the Dominican Republic, and you'll be more than happy to build your lineup around him. Im made 22 birdies for the week (10th-most in the field) and wound up in the top 10 in driving accuracy and putts per GIR.
I already knew that Sungjae wore out the center of the clubface on a daily basis, but if he gets his putter going, he could be awful tough to beat.
Billy Horschel – $9,800
It seems crazy to pay $9,800 for Billy Horschel on DraftKings, but that's how depleted the field is the week before the Masters. The fact that Billy is priced so much higher than normal might make the casual DFS player wary of rostering him, which, in turn, makes him a fantastic candidate for your lineup in large-field GPPs.
If you are looking for dependability at the top of your lineup, try this on for size.
Billy hasn't missed a cut on the PGA Tour since the RBC Canadian Open in July of 2018, and he finished 11th at the 2018 Valero Texas Open. The former standout at the University of Florida clocks in at 8th on the PGA Tour in strokes gained: putting and ranks third in proximity from 50-75 yards.
Ryan Moore – $9,100
When I look at last year's winner of the Valero Texas Open and think about the type of player that Andrew Landry is, a guy like Ryan Moore immediately comes to mind.
Neither guy hits it very long, although both are consistent ball strikers and tremendous putters. Ryan has missed four of his last seven cuts, so I can sympathize with anyone who thinks spending $9,100 on him seems a bit absurd.
But then again, the only way to win a GPP like the PGA $400K Drive the Green is to "zig" when everyone else "zags."
Now let's transition into the middle tier of golfers this week because there are more than a few guys worth considering.
Abraham Ancer – $8,900
I've already alluded to Abraham playing stellar golf at the Match Play last week, and I've pointed out that he's logged six top 25s and a pair of top 5s already this season.
What I didn't reveal was why Ancer has been so productive and what parts of his game he has been excelling at. I could tell you that he's 8th in total driving, or I could elaborate on him ranking 3rd in proximity from 150-175 yards.
Or I could just sum things up and tell you that Abraham Ancer has the total package.
Andrew Putnam – $7,600
Andrew Putnam got off to a quick start in Austin by defeating Patrick Reed in the first round of group play. But then he was dusted off by Sergio Garcia and Shane Lowry over the following two days, so what's to make of Putnam's performance at the match play tournament?
I'm not putting too much stock in that either way, aside from the fact that he got his competitive juices flowing as if he was in contention on a Sunday. Andrew sits inside the top 20 in greens in regulation (GIR) and sand save percentage, and he's 9th in strokes gained: putting.
That's the making of a player who's poised to play well week in and week out.
Austin Cook – $7,500
Austin Cook experienced a rough patch of golf as he worked his way back into competition early in the year. Being that Austin's wife gave birth to the couple's first child in mid-January, I think we can excuse Cook's rusty play in February and the bulk of March.
However, Austin resurfaced with a top-10 showing at the Valspar Championship and rested last week. Cook made the third-most birdies among anyone who played in Tampa and led the field in putts per GIR. I highly doubt the recreational player will give much consideration to the 28-year-old winner of the 2017 RSM Classic. But I think he's worth a look at $7,500.
Finally, for some cheap plays who I believe have a high likelihood of outperforming their expectation.
Matt Jones – $7,200
Matt Jones arrives at the Valero Texas Open with plenty of positive momentum, and I wouldn't be surprised at all to see him parlay his recent good play into another good finish this week. Not only is Matt coming off a 13th and 18th over the last two events and competing for the third straight week, but he's now strung together six consecutive made cuts.
The 38-year-old Aussie has always been a great putter, and he's now starting to drive the ball much better. Coming off a bogey-free round of five-under-par to close out the Corales Puntacana Resort & Club Championship, I'm a big fan of inserting Jones into GPP lineups for the Valero Texas Open.
Nick Taylor – $7,200
Nick Taylor has discreetly been producing some steady finishes on the PGA Tour, despite not making a bunch of noise during any particular event. Nick began the final round at the Valspar Championship two weeks ago in a tie for 6th place but eventually dropped back into a tie for 24th.
With that being said, it marked the fifth straight tournament in which Taylor recorded a top-33 finish.
With defending champion Andrew Landry and 2x major champ Martin Kaymer also priced at $7,200, you might even be able to get Nick Taylor at depressed ownership.
Sam Burns – $7,100
It's never a bad idea to fill out your GPP lineup on DK with a "boom or bust" play that most of the public will be ignoring.
I'm in the camp of individuals who are expecting big, big things from Sam Burns. After being named as the Jack Nicklaus National Player of the Year winner, Burns blazed through the 2018 season on the Web.com, leading the Tour in putting average and birdie or better conversion percentage.
After an unsatisfying West Coast Swing, Burns is slowly building some positive vibes to work with. This will be his fifth straight week competing, but don't worry — he's young and limber.
Sam has gotten incrementally better each of the last four weeks: 73rd-54th-30th-12th. It looks like a top-10 could be on the way.
My Lineup in GPPs for the 2019 Valero Texas Open
Sungjae Im $10,100
Ryan Moore $9,100
Abraham Ancer $8,900
Matt Jones $7,200
Nick Taylor $7,200
Sam Burns $7,100
2019 Valero Texas Open Matchup Picks
If you are going to bet on golfers to win the Valero Texas Open and are keen on dabbling in the GPPs on DraftKings, you should really think about attacking the matchups. The head-to-heads are always going to be our best and most reliable way to turn a profit.
Byeong Hun An vs. Abraham Ancer
I've already touted Abraham Ancer plenty in this post, as I really expect him to put on a good showing in San Antonio this week. I actually think Byeong Hun An could play well too, but that doesn't mean I'm willing to ignore value when it is this obvious and it's staring me in the face.
Check out the odds in this head-to-head and then allow me to point something out.
I've seen Ancer listed at -110 in his matchup vs. An on one site, and even saw Abraham at -115 against Byeong Hun at another sportsbook. That's when I knew that grabbing hold of Ancer at +120 at sportsbetting.ag was an absolute must.
Justin Harding vs. Trey Mullinax
Let me get this straight. Trey Mullinax is ranked 238th in the world and hasn't finished better than 51st since Pebble Beach nearly two months ago. Justin Harding is ranked 48th in the world, he's headed to the Masters next week, plus he won and finished second on the European Tour during the month of March.
And you are telling me that Trey Mullinax is the favorite?
I understand that the former Crimson Tide golfer tied for second at TPC San Antonio in 2018, so it's natural to assume that this golf course fits his eye. But based on recent results, it's also clear that Mullinax is searching to find a rhythm.
On the other hand, Justin Harding acquitted himself quite nicely in Austin last week. The 33-year-old South African went 2-1 during group play, suffering his only loss at the hands of Rory McIlroy. I'd have no problem laying -120 on Harding here, so I'll happily jump on at -105.
Rickie Fowler vs. Tony Finau
Rickie Fowler has been resting since THE PLAYERS Championship- as his early-season schedule was built around getting prepped for Augusta. I actually like Fowler as a pick to win the Masters, but that's next week.
Here are Rickie's odds this week in his matchup versus Tony Finau.
First things first- Rickie has never played competitively at the Oaks Course. This is his tournament debut at the Valero Texas Open. Flip the coin and you'll see that Finau was here in 2017- when he finished in a tie for third.
Not only does that make me want to lean toward Finau right away, but then I look at recent form coming in. I mentioned that Fowler skipped the Valspar Championship and the WGC- Match Play event, and his two prior finishes before that were a 40th and 47th.
Tony recorded three straight top 25s before Austin last week, plus he got his heart rate up in nail-biter matches vs Kevin Kisner and Ian Poulter. While Rickie should be easing his way back into action, Tony is locked and loaded to contend for a W.
The bottom line is getting Tony here with some plus money is a pretty good spot to find yourself in.
Some Final Thoughts
There will be plenty of people who wait until the Masters to bet on golf, and there's nothing wrong with that approach. But why skip out on the chance to make some money this weekend by betting on the 2019 Valero Texas Open?
This guide was meant to prep you for all forms of gambling on golf, so it's up to you to place the wagers that caught your eye. I'm betting at least a few things on this page piqued your interest.