Betting the 2019 Rocket Mortgage Classic – Odds, Matchup Picks, and DraftKings Advice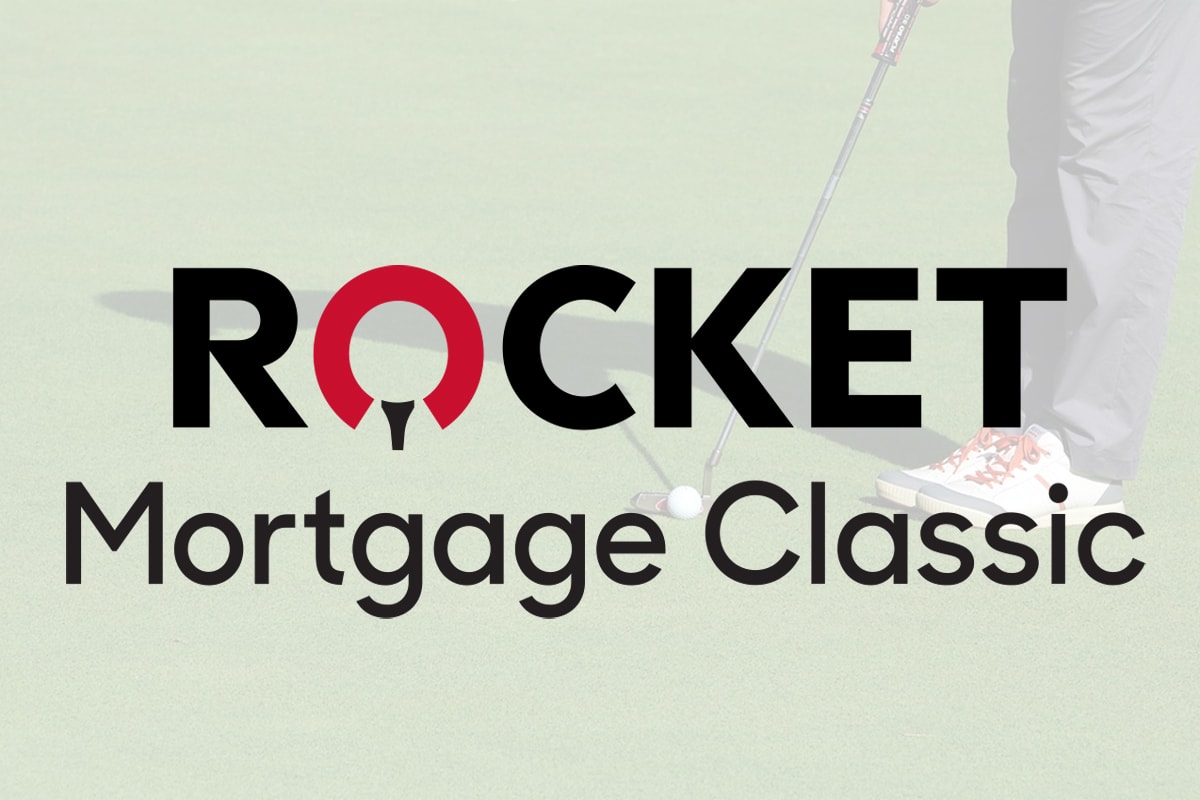 I hope you read last week's PGA Tour betting guide and acted on the advice. In my section devoted to who will win the Travelers Championship, Chez Reavie was the first name I brought up.
Now, it's time to shift gears and focus our attention to this week's event, the Rocket Mortgage Classic. I'll do my best to "deliver the goods" once again, but nothing is promised or guaranteed.
Taking place in the biggest city in Michigan, Detroit Golf Club will host the proceedings. Locals get a taste of PGA Tour golf for the first time ever, and there are plenty of big names they can latch onto.
Not only are Dustin Johnson and Rickie Fowler prowling in the Motor City, but 2019 U.S. Open champ Gary Woodland makes his first start since winning at Pebble Beach.
Given that the most notable event held at this Donald Ross design was the U.S. Mid-Amateur back in 1992, we won't have any course history or prior results to fall back on. However, there is still insight to be gleaned and value to be had.
From odds to win and matchup picks to tips for creating a lineup on DraftKings, here is your 2019 Rocket Mortgage Classic betting preview.
Enjoy.
Who Will Win the 2019 Rocket Mortgage Classic
Chez Reavie emerged as a 70-to-1 longshot this past Sunday at the Travelers Championship. Although coming off his terrific showing at Pebble (T-3rd at the U.S. Open), nobody in the golf industry was surprised to see the 37-year-old Scottsdale resident play brilliantly and outlast the field in Cromwell.
With few players in the world currently playing better, it shouldn't be a surprise that Reavie finds himself listed among the five betting favorites to win the Rocket Mortgage Classic.
2019 Rocket Mortgage Classic Odds to Win
This is the pricing reflected at BetOnline.ag, one of the best online golf sportsbooks you can find. You'll still need to be active and shop your lines to ensure you don't leave any equity on the table.
Can We Trust Reavie Again This Week?
Can he play well and finish inside the top 25? Perhaps. Is Chez worth a look to win for the second straight week at +2500? Not in my book.
Reavie led the field in strokes gained: tee-to-green, and he is clearly swinging the golf club tremendously. But the reason Chez won was because he finished inside the top 10 in putting and ranked second in scrambling.
I'm sure he'll hit lots of fairways and greens, but I don't expect his flat stick to cooperate quite like it did in Connecticut.
Is +600 a Fair Price for Dustin Johnson?
I wouldn't back anyone at +600 with 156 players teeing it up, but that's just me. I won't sit here and create fallacies as to why Dustin Johnson won't perform favorably in Detroit, but that doesn't mean we need to run to the top-rated golf betting sites and lock this price in.
Unfortunately, I snooped around and couldn't even sniff out a "+650 price tag" on DJ. This means that I'll be on sitting on the sidelines with no ticket in hand should Dustin go onto win, but I'd be able to accept that.
Had Johnson been installed in the +1100 range, now, that'd be a different story.
When Will Rickie Fowler Chop Off His Mullet?
Apparently, there is no timetable for Rickie Fowler's mullet to subside. What's inspiring is that Rickie isn't just growing his hair out like a 1980's Rockstar because he's trying to look cool, he's doing it to raise money and awareness for a foundation that's near and dear to his heart.
While Fowler is no doubt concentrated on being the best role model he can be, he sure wouldn't mind a few more trophies to decorate his house in Jupiter.
On the year, Rickie has amassed five Top 10s, eight Top 25s, and has only missed one cut. It's not like the 30-year-old Puma athlete has played lousy golf, he just hasn't found himself in contention as much as he would have liked.
There is nothing to suggest that Fowler won't stripe it at the Rocket Mortgage Classic, and we know the title sponsor would love to see him in the winner's circle. Maybe then they won't play this silly commercial every four minutes on The Golf Channel and instead show Rickie hoisting the hardware!
My Pick to Win the 2019 Rocket Mortgage Classic Is…
In what had been a miserable season all the way through the PGA Championship, Joaquin Niemann is finally hitting his stride. It's only a matter of time until the 20-year-old Chilean golfer puts it all together and wins a golf tournament, and I actually wouldn't be shocked if happened this week.
What makes me so excited about the way his game is trending?
His confidence and self-belief.
After three consecutive events finishing 31st or better, Niemann kick-started his year by producing a top 5 this past week. His efforts were highlighted by a clean card on Sunday and a stat sheet that portrays a guy who is in total command of his entire golf game.
From his accuracy off the tee—and precision with his irons—to his prowess on and around the greens, it's clear to me that Joaquin is a good bet to be in the mix. Everyone is seeing the golf course in a competitive environment for the first time, therefore, none of the veterans have a leg up in that regard.
I've been waiting for Niemann to build up some confidence and start delivering on the golf course, so I could feel good about backing him to win an event.
It's evident to me that the time is right now.
Head to MyBookie.ag and you'll get some added incentive for this bet.
2019 Rocket Mortgage Classic Matchup Picks
Here are the matchups I'll be targeting this week in Detroit.
Brandt Snedeker vs. Ryan Moore
With Brandt Snedeker and Ryan Moore each listed at +3300 to win the Rocket Mortgage Classic, it's natural to assume the two would be evenly matched in their head-to-head.
Instead, MyBookie is allowing us to invest in Moore without laying a single penny of juice.
"Sneds" is having a solid year already having rung up 8 top 25s, but it's possible his energy is waning. After competing in Canada, Pebble, and last week in Connecticut, Brandt is running on fumes now playing his fourth consecutive week.
How much he has left in the tank remains to be seen, but I'm not in love with the idea of laying -120 in a matchup with Ryan Moore to find out.
The former UNLV phenom paced the field in driving accuracy (87.5%) last week in Cromwell en route to a top-15 finish, not to mention, is well rested and ready to pounce. After a 33rd at the Memorial, Ryan took 3 weeks off before appearing at the Travelers Championship a week ago.
Moore loves the look of a tree-lined track as he excels at shaping the golf ball, which is another reason you should fancy his chances in Motown. Detroit Golf Club is a classic Donald Ross design and will offer Ryan a great opportunity to flourish.
Kevin Kisner vs. Sungjae Im
The betting odds signal that it's a toss-up between Kevin Kisner and Sungjae Im, but I'm not sure I totally agree. Kisner might be the more popular of the two, but I'll unveil some data that may surprise many of you.
With no course history at Detroit Golf Club to rely on, the logical thing to do is side with the more consistent guy who is playing better golf.
Well, peek at the table below and then we'll have that discussion.
| PGA Tour Rank | Kevin Kisner | Sungjae Im |
| --- | --- | --- |
| SG: off-the-tee | 53rd | 34th |
| SG: approach-the-green | 87th | 84th |
| SG: around the green | 162nd | 35th |
| Birdie Average | 93rd | 25th |
| Par-3 Scoring | 97th | 61st |
| Par -4 Scoring | 28th | 28th |
| Par-5 Scoring | 131st | 14th |
Survey the strokes gained: off-the-tee statistic and then look at the strokes gained: approach-the-green stat. You can even throw in strokes gained: around-the-green, birdie average, par-3 scoring, and par-5 scoring.
What you'll find is that Im reigns supreme across the board.
That's enough to spark my interest, what about you?
Rory Sabatini vs. Jason Kokrak
Jason Kokrak was playing spectacular golf through the month of May, but it's obvious the 34-year-old bomber has hit a rut. Ponder the line below and then I'll expand.
Jason's streak of hot play has come to a screeching halt, and a lot of it has to do with an extremely balky putter. It all came undone last Thursday when Kokrak 3-putted his first four holes of the tournament, only to then whiff on a three-foot par putt on the very next hole.
The missed cut at the Travelers Championship was the third time in his last four events that Jason has failed to crack the top 60.
As for Rory Sabbatini, the Slovakian golfer is in the midst of playing the best golf he has played in years. Sabbatini has connected on 12 straight cuts- with four of those coming in the form of a top-10 finish.
I might not be a fan of Sabbatini's demeanor, but I can't deny the fact that he's 17th on the tour in scrambling and 13th in overall putting average.
Rocket Mortgage Classic Lineup Building On DraftKings
Who is ready to try turning $5 into $100,000?
All you have to do is submit the lineup that scores the most points in the PGA $600K Drive the Green tournament on DraftKings, and the 100 grand will be yours!
Of course, winning a GPP on DK with more than 142,000 entries isn't easy, and you'll have to generate a unique roster if you want a chance at a six-figure score.
I'll do my best at helping you come up with the "golden ticket."
Top-Tier = Players priced at $9,000 and up
Mid-Tier = Players priced from $7,500 to $8,900
Low-Tier = Players priced from $6,000 to $7,400
As much as I believe that Dustin Johnson will play well, spending $12,000 on a single golfer makes it really difficult to construct a balanced lineup. Personally, I'd pass on DJ.
I'd even ignore Rickie at $11,200 and think you can make a valid argument for skipping over Chez at $9,700. Nevertheless, there are a couple of golfers in the top-tier who interest me in GPPs.
Hideki Matsuyama – $10,200
Matsuyama has always been known as an elite ball striker and is ranked fourth on the PGA Tour in strokes gained: approach the green. A fun fact is that Hideki has his wedges as dialed in as they have been currently leading the PGA Tour in proximity from 75-100 yards.
Billy Horschel – $9,000
Billy Horschel's bank account has been getting more action than an ATM machine during the Holidays. In 20 starts this season, Billy has cashed 19 checks and produced ten top 25 finishes. Horschel hasn't finished worse than 32nd in more than two months could very well be ready to break through in Detroit.
There are a handful of names to consider in the middle-tier, although there are four guys standing out in particular.
Joaquin Niemann – $8,900
Four rounds in the 60s and a bogey-free Sunday lead me to believe the Joaquin Niemann is going to make some noise in Detroit over the weekend. He's got the length, he's got the touch, and now, he's got the belief.
Charles Howell III – $7,800
Is it just me, or does $7,800 seems like a bit of a discount for a dude ranked sixth in GIR and 15th in the FedEx Cup standings? Charles Howell III has missed four of six cuts and is without a top 20 finish since March, but here's the kicker.
A game log like that also means he could be fairly low-owned by the general public.
Matthew Wolff – $7,500
An "MDF" in his professional debut was more than underwhelming for the 2019 Fred Haskins Award winner. It could be enough for the average fan to curb his or her excitement for the time being, but not me.
Hosting an event at Detroit Golf Club for the first time in PGA Tour history, Wolff is on a level playing field. Combine that with his hunger and determination after last's week's disappointment, and I get the sense that he's in for a big, big week.
J.J. Spaun – $7,400
My former teammate at SDSU has been sluggish for a large chunk of the year. With that being said, he has converted on five of his last six cuts and is starting to regain his footing. The "DFS'ers" who got burned by Spaun early in the year won't be ready to give J.J. another chance just yet, which gives you an opportunity to capitalize.
Finding golfers at the cheapest price point who can contribute for all four days is a necessity. Spotting a player or two who winds up on the first page of the leaderboard? Now, that could go a really long way.
Michael Thompson – $7,300
This former Crimson Tide standout is one of the best putters you'll ever encounter. Michael Thompson reeled off five straight top 16 finishes early in the year before cooling off in the spring. With summer officially here and a top 15 his last time out, Thompson could be on the verge of another string of excellent finishes.
Sam Burns – $7,100
It won't be long until Sam Burns is a familiar name across all golf households in America. The 22-year-old recently engaged man has been up and down since finishing ninth at the RBC Heritage, but there's no doubt that he can make birdies and eagles in a flurry.
Robert Streb – $6,800
Forget about Robert Streb missing 12 of 22 cuts and ranking 157th in scoring average. The 32-year-old Kansas State grad quietly placed 35th in Canada and followed with a T-21st in Connecticut. Streb has recorded eight straight rounds of 71 or better and could be a sneaky pick to crack the top 10 in Michigan.
My lineup in GPPs for the 2019 Rocket Mortgage Classic
Hideki Matsuyama $10,200
Billy Horschel $9,000
Joaquin Niemann $8,900
Matthew Wolff $7,500
J.J. Spaun $7,400
Robert Streb $6,800
A Quick Recap
How are you going to bet on the 2019 Rocket Mortgage Classic?
Are you trying to pick a winner or are you allocating all of your funds toward the head-to-head matchups?
Maybe some of you are content just creating lineups for GPPS on DraftKings and seeing how it all will unfold.
Whatever your situation is, I hope this PGA Tour betting preview helps you organize all of your thoughts.
The only thing left is to start firing away!