Hide Bonus Offers
| | | | | |
| --- | --- | --- | --- | --- |
| #1 | Bovada Sports | 50% Up To $250 | Visit Site | Bovada Sports |
| #2 | BetUS | 125% Up To $2,500 | Visit Site | BetUS |
| #3 | MyBookie | 100% Up To $1,000 | Visit Site | MyBookie |
| #4 | Everygame | 100% Up To $500 | Visit Site | Everygame |
| #5 | BetOnline Sports | 60% Up To $1,000 | Visit Site | BetOnline Sports |
Betting on the 2019 NL MVP Race – Odds, Contenders, and Pick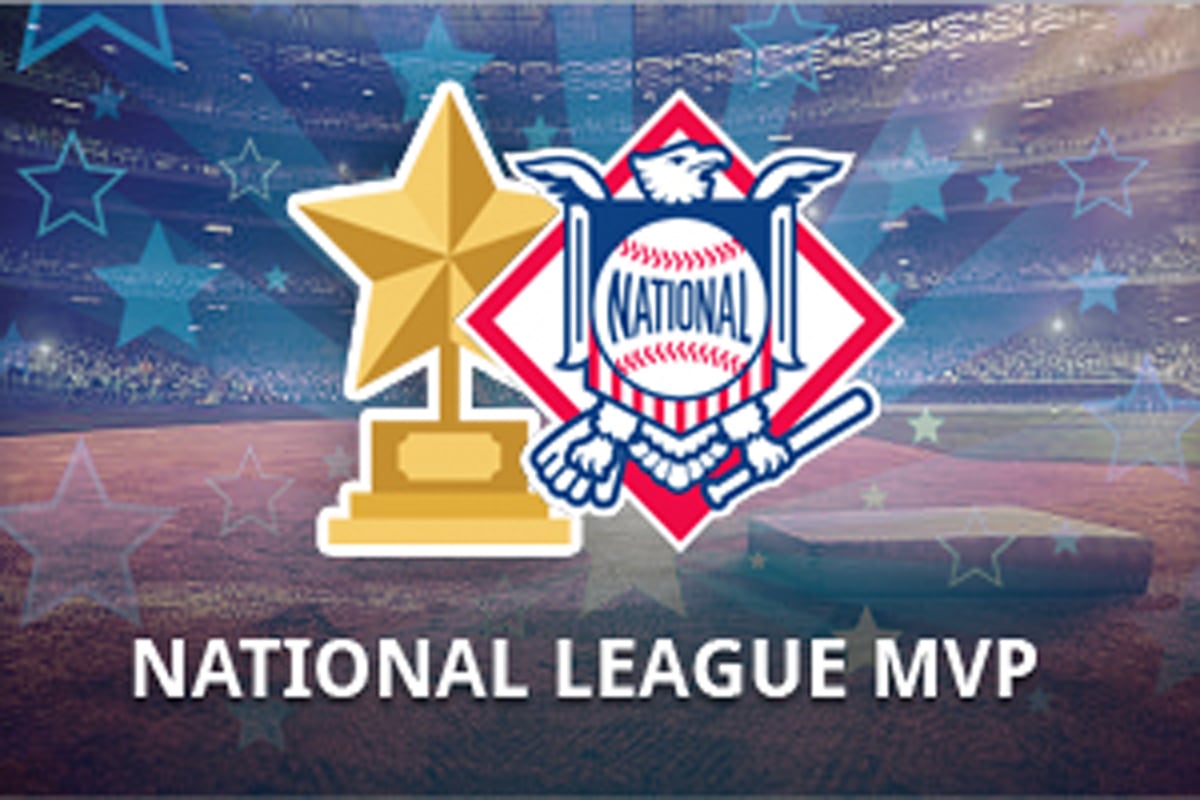 The race for the National League MVP is wide open this year.
I legitimately see eight teams who could wind up representing the NL in the 2019 World Series, and I see even more players who have what it takes to be crowned as the league MVP.
In terms of which guys I have enough confidence in to go through with placing a wager, that comes down to the pricing.
Betting on the NL MVP can be done at many of the top baseball sportsbooks, including one of my favorites, MyBookie.ag.
I want to point out four players who I think should be priced lower than they actually are — meaning they offer value right now if you were to pull the trigger.
I'll close with my prediction for who will reign supreme, giving you a total of five individuals who are worth some heavy consideration.
2019 NL MVP Award Odds
The National League is loaded with star-studded talent. For example, the Nationals have four players listed with odds to win the 2019 NL MVP Award, while the Braves, Cubs, Rockies, and Phillies each have three.
Take a peek at these odds from My Bookie and see if anything jumps out at you.
There are a few things I'd like to address. I'll start with the bad.
Corey Seager is not a sincere MVP candidate to me — not in 2019. The Dodgers SS has struck out more than twice as many times as he has walked, he doesn't play great defense, and his batting average has plummeted every single year he has been a professional.
Not to rain on the Dodgers parade, but I'd need to see Cody Bellinger priced around +7000 before I'd even consider backing him to win the league MVP. At +2800, you might as well just light your money on fire.
Here's a guy who played all 162 games and turned in a slash line of .260/.343/.470, yet he is higher on the betting sheet than Trevor Story and Javier Baez?
That doesn't make a whole lot of sense to me.
As far as the good stuff goes, take a look below.
Christian Yelich at +1600 Is a STEAL
I need somebody to tell me what I am missing. Here's a guy who led the National League in batting average, slugging percentage, OPS, and total bases last season.
Christian also clubbed 36 homers and drove in 110 runs, not to mention stole 22 bases and raked 34 doubles. He received 29 of the 30 first-place votes and ran away with the 2018 NL MVP Award.
So again. Can somebody please explain why there are five players listed ahead of him on the NL MVP betting sheet?
Yelich is just 27 and is still developing as a player. He's as humble as a superstar can be, and he's surrounded by big-time bats in the Milwaukee lineup. Taking everything into account and all that he brings to the table, I view Christian as a top-five player in the Majors.
That's why I was astonished to see him available at +1600 to defend his award as opposed to something in the +800 range. I even shopped the line and found him at +1600 elsewhere, confirming the reality. My advice is to not think twice about placing this bet. It represents as much value as any MLB prop you'll encounter.
Meet MLB's Next Big Thing – Ronald Acuna Jr.
Ronald Acuna was called up in late April of last season, and boy, was his presence felt. In just 111 games, Ronald blasted 26 doubles and 26 homers to go with his .293 batting average. Despite the impressive year from Juan Soto, Ronald was the runaway winner for the 2018 NL Rookie of the Year.
Acuna flashed his speed with 16 stolen bases, and quite frankly, he could probably swipe 40 bags in 2019 if he wanted to. However, it appears that Atlanta manager Brian Snitker is set on Acuna batting cleanup for the Braves this season.
Him batting behind Freddie Freeman and Josh Donaldson not only gives those two guys some heavy protection but also lines Ronald up for a whole bunch of RBI opportunities — something he'd be lacking if he were to hit leadoff.
The 21-year-old superstar-in-the-making has already turned heads with his production during spring training, as he carried a .324 BA with three homers and seven RBI through his first 37 at-bats.
I'm fairly confident this will be the last pre-season you'll be able to place a bet on Ronald Acuna to win a league MVP at +2000. Rather than wait until next year when he could open at +500, grab hold of the +2000 price while you still can.
Could Juan Soto Be Better Than Bryce Harper?
I briefly alluded to Juan Soto in the above segment, but now it's time to elaborate.
I'll start with the fact that Juan Soto's price to win the 2019 NL MVP Award at SportsBetting.ag is +3300. Now allow me to explain why the major discrepancy (+3300 to +5000) is something you shouldn't be ignoring.
I can obviously talk about his power and consistency, but the discipline he possesses for someone who hasn't even celebrated his 21st birthday is pretty remarkable. Not only did he bat .292 in 414 at-bats in 2018, but he walked nearly as many times as he struck out.
Looking at his first 44 plate appearances during 2019 spring training, the Washington outfielder has picked up right where he left off — and then some.
I love his .368 clip, and it's great that he's already smacked 3 homers and driven in 11 runs. But I'm enamored by his 1.191 OPS and his inspiring 7:6 K/BB ratio. To put Juan's OPS in perspective, Mike Trout led the MLB in 2018 with a 1.088 OPS.
I could go on and on raving about Soto's limitless potential, but I think by now you are getting the point.
Book Juan to win the MVP at the appealing +5000 price and be prepared for a fun sweat in August and September.
My NL MVP Sleeper Is Trea Turner
I just finished telling you all about Juan Soto being listed at +3300 in one spot and +5000 in another. That's chump change compared to one of Juan's teammates in the nation's capital.
I'm talking about Trea Turner sitting at +5000 on MyBookie.ag to win MVP honors. When you realize you're only getting +2000 on your money if you bet on the Nationals shortstop winning the NL MVP at BetOnline.ag, you understand the extreme value you can grab hold of.
I want to point out that Trea stayed healthy for the entirety of the 2018 season, ultimately leading the Majors with 664 at-bats.
Turner's 43 stolen bases topped the charts in the National League, and his 19 homers proved he has some pop in his bat.
I go back to Trea's rookie season when he batted .342 in just 73 games, and I'm wondering if he can come close to resembling that type of consistency at the plate. He also accounted for 13 homers and hit eight triples playing less than a half of that season, so I know what type of hitter Turner is capable of being.
Slated to hit second in front of Anthony Rendon and Juan Soto means Turner should find himself among the league leaders in stolen bases and runs once again. If he can maintain a BA around .300 and send 25 or so balls over the outfield fences, look for Turner to be in the conversation for the 2019 National League MVP.
My Pick to Win the 2019 NL MVP Award
Aside from some of the names I mentioned, I think Kris Bryant is due for a big season in Chicago and will be in the running for the NL MVP as well. I'm fine with those of you who want to bet on Bryce Harper to ship the award; he is the betting favorite, after all.
With that being said, the guy lurking right underneath Bryce on the betting sheet is the man I'd pinpoint as the favorite. I've already gone in-depth about why I think Nolan Arenado will win the 2019 NL MVP Award, but I'm happy to share some of the highlights here.
Nolan is the first player in the history of baseball to log four consecutive seasons with 35+ doubles and 35+ home runs. During that stretch, the Rockies third baseman has batted .297 and averaged 126 RBI per year, making him one of the truly elite batters in the game today.
But what boggles my mind about Arenado is that as tremendous of a hitter as he is, his hitting actually takes a back seat to his ability to man the hot corner. Nolan isn't just the best defending third baseman in the Major Leagues in 2019; he's the most dynamic fielding third baseman the game has ever seen — period.
Since entering Major League Baseball in 2013, Arenado has been awarded the Gold Glove at third base every single year. He became the first infielder in MLB history to win the Gold Glove in each of his first five seasons, and now that number has been boosted to six, and I doubt it stops there.
Colorado recognized they had a player they didn't want to ever leave, so they inked him into an 8-year, $260 million deal over the offseason. To be fair, I think the Rockies ended up with a major bargain.
I'll wrap this section up by unveiling how Nolan has finished up in the NL MVP voting in each of the last four years.
2015: 8th
2016: 5th
2017: 4th
2018: 3rd
It's not like I'm going out on a limb here, and I wouldn't have batted an eye if Nolan was listed at +400 to win the award. But that didn't stop me from shopping the lines before I placed the bet. Lo and behold, instead of locking Nolan in at +600, I spotted him at +650 at SportsBetting.ag.
And that was the end of that.
Conclusion
The race for the NL MVP will likely go down to the wire. I couldn't imagine betting on any Dodger outside of maybe Justin Turner, but I love the prices I saw with a couple of Washington Nationals batters.
Christian Yelich at +1600 arguably represents the most value of any player on the betting sheet, but it didn't stop me from going with my gut.
I predict Nolan Arenado will win the 2019 NL MVP Award, and I've already put my money where my mouth is. Now it's up to you to go and do the same!