Hide Bonus Offers
| | | | | |
| --- | --- | --- | --- | --- |
| #1 | Bovada Sports | 50% Up To $250 | Visit Site | Bovada Sports |
| #2 | BetUS | 125% Up To $2,500 | Visit Site | BetUS |
| #3 | MyBookie | 100% Up To $1,000 | Visit Site | MyBookie |
| #4 | Everygame | 100% Up To $500 | Visit Site | Everygame |
| #5 | BetOnline Sports | 60% Up To $1,000 | Visit Site | BetOnline Sports |
Betting the 2019 NCAA Conference Tournaments – AAC, Pac 12, Mountain West, and Big East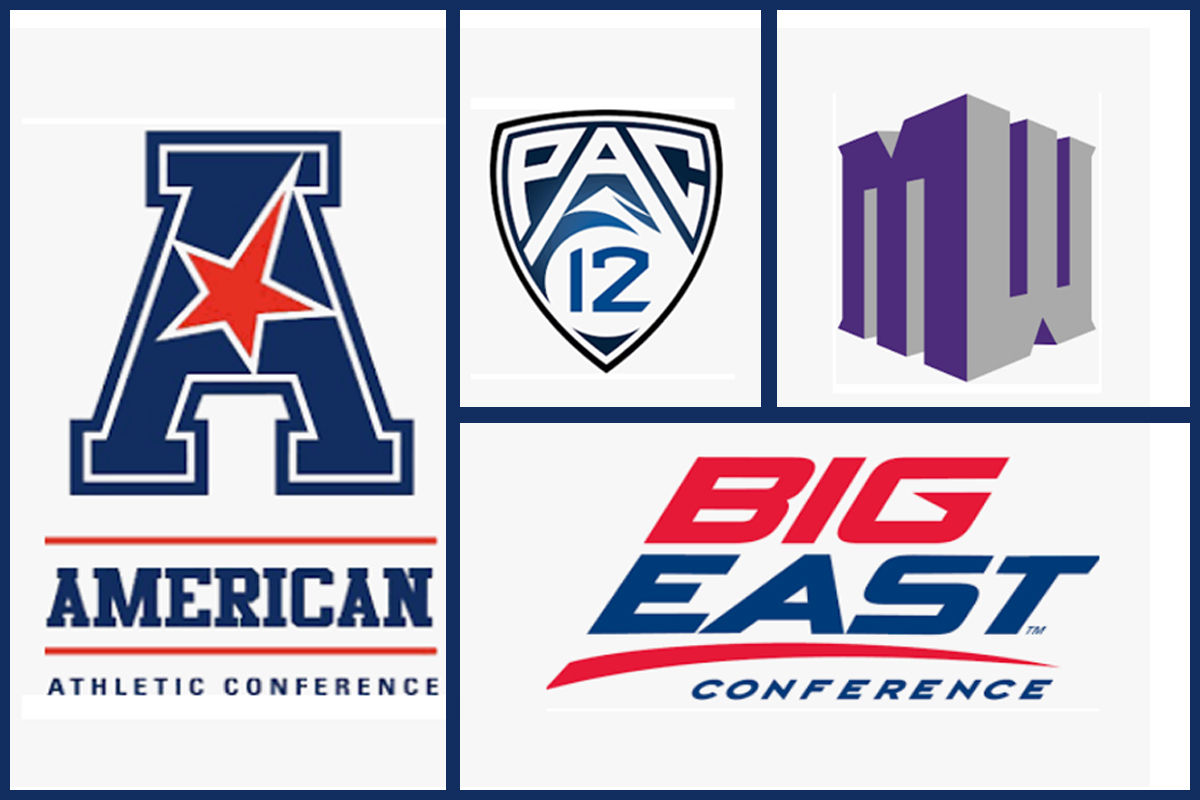 Page updated on March 11
March Madness is here, and the official release of the bracket is just a week away. The NCAA conference tournaments are set to take place, and that means betting opportunities are coming.
I'm here to peek at four conferences in particular and break down what we can expect to see happen. Three teams are currently ranked in the top 25 in the American Athletic Conference, and the Temple Owls look like an NCAA tournament team.
It's been a down year in the Pac-12 Conference, but somebody has to cut the nets down at T-Mobile Arena in Vegas on March 16th. Speaking of Sin City, that's also the home of the Mountain West Conference.
I'll check on how things are shaping up in the MWC, and I'll close by elaborating on who might shine at Madison Square Garden during the Big East Tournament.
Once the odds are released by the top online sportsbooks, I'll update this page with pricing and my formal predictions, but for now, let's take an early glance at how things might play out.
American Athletic Conference – How Good Are the Houston Cougars?
The Houston Cougars are without a doubt the class of the American Athletic Conference, and Kelvin Sampson has a lot to be excited about as we embark on postseason play.
But winning the conference tournament in Memphis isn't going to come easy, as teams like Cincinnati and Temple will have something to say.
And don't count out the Knights just yet, either.
AAC Tournament Odds
Wichita State Shockers
+1600
Tulsa Golden Hurricanes
+5000
East Carolina Pirates
+20000
Houston – We Have No Problems
Houston bounced back from their second loss of the year with a sound victory over SMU on senior night, setting up a marquee matchup at Cincinnati to end the regular season.
The Cougars have been racking up wins all season long and have an outside shot at obtaining a #2 seed in the NCAA tournament. But if they slip up in the American Athletic Conference tournament, seeing them hold firm on the 3-line or even drop down to a #4 is a fairly likely scenario.
Corey Davis Jr. and Armoni Brooks can both beat you off the dribble, and they are both reliable shooters from the perimeter. Corey, who transferred in from San Jacinto Junior College, pours in 16.6 PPG and has scored in double figures in 25 of the team's 30 games.
Being that UCF, Cincy, and Temple all pose as legitimate threats to Houston in the conference tournament, we'll likely be able to get a decent price on the Cougars walking away with the trophy at the FedExForum.
However, you'll be able to find a little more upside in your wager if you decide to back the Knights.
Central Florida Is Peaking at the Right Time
Joe Lunardi is currently projecting UCF as an 8 seed in the bracket, but I think they're deserving of a 6 or a 7. Should they end up winning the American Athletic Conference tournament, a #5 seed could even be in the cards.
They handed Houston their only home loss of the season and then beat Cincinnati the following game. If they can finish the deal at Temple, they'll head into the conference tourney with five straight victories and tons of positive momentum. They've already won a school-record 23 games, so everything from here on out is just the cherry on top.
Does Temple Have More to Prove?
Despite a stout 12-5 conference record and a 22-8 mark overall, Temple still has work to do. Believe it or not, "Bracketology" has them listed as one of the last four teams in.
Fran Dunphy could really use a win over Central Florida in the regular season finale, and I think that should seal the deal. But if they lose that one and get upset early in Memphis, then it could end up being a really long offseason for the Owls basketball program.
My Pick to Win the American Athletic Conference Tournament
I'd rather see the Cougars around +150 to win the American Athletic Conference Tournament, but shopping my lines at least enabled me to book Houston at +125 instead of +110.
Central Florida is the #4 seed and would have to play Houston in the semi-finals, so I'm not in love with their chances. You could take a flier with Temple at +700, as the Owls are currently on the bubble and need to impress the Selection Committee.
But I don't any of those squads, let alone second-seed Cincinnati, getting in the way of the Cougars at the FedExForum.
I was hoping to see plus money on Houston here, and we've found that at sportsbetting.ag
Is the Pac-12 Conference a 1-Bid League in 2019?
The Pac-12 isn't just having a down year in 2019; they're losing credibility as one of the most distinguished conferences in college basketball by the second.
Pac-12 Tournament Odds
Arizona State Sun Devils
+350
Washington State Cougars
+20000
California Golden Bears
+20000
If Washington goes on to win the conference tourney in Vegas, there's a chance that the Pac-12 ends up as a 1-bid league. When you look at the conference standings, it's not that everybody is so terrible; it's just everybody outside of the Huskies is mediocre at best.
Arizona has just 17 wins and is in jeopardy of missing the NCAA tournament for the first time since 2012. UCLA was supposed to be solid this season, but they ended up firing Steve Alford midway through because things were so ugly.
I actually thought Oregon was going to be a top-20 team, but they never really got back on track once Bol Bol was lost for the year with a stress fracture in his foot.
I could go on and on and talk about how disappointing things have been at Stanford and at USC, but I'd rather discuss the teams who are relevant.
What Does ASU Have to Do to Get In?
Things started out so hot for Bobby Hurley and the Sun Devils that folks in Tempe thought they had a Final Four team on their hands. Arizona State won their first eight games of the season, and before Christmas had arrived, they had beaten the Kansas Jayhawks.
But home losses to Princeton and Utah quickly brought things back down to Earth for ASU.
Now the Sun Devils are sitting with 11 conference wins and 20 overall, barely enough to be considered as a #11 seed in the latest mock bracket on ESPN. If they can beat in-state rival Arizona and at least get to the semi-finals in the PAC-12 tournament, I think they will have done enough.
But if they lose to the Wildcats and aren't one of the final four teams at T-Mobile Arena, they're probably bound for the NIT.
What's at Stake for Washington?
Not nearly as much as for every other team in the Pac-12, that's for sure.
Yes, the Huskies are 15-2 in league play, and yes, they have 24 wins on their resume thus far. But not long ago, they lost to a Cal team who sits in the cellar of the Pac-12 with a miserable 8-22 record.
Beating Oregon and winning the conference tournament should be enough to propel them to a #6 or #7 seed, but anything short of that, and they likely wind up in the 8/9 slot out West. If they want to avoid seeing Gonzaga in a potential Round-of-32 matchup, they better impress the Selection Committee during this final week and elevate their stock.
Mike Hopkins came to Spokane after 23 years as an assistant at Syracuse and led the Huskies to the NIT during his first season. Now in year two, he looks ready to take the next step.
My Pick to Win the Pac-12 Conference Tournament
It looks like Bobby Hurley and the Sun Devils have done enough to earn a ticket into the 2019 NCAA Tournament field. ASU won 21 regular season games and navigated through the Pac-12 with a 12-6 mark.
Perhaps they need one more win in Vegas to be safe, but I'm thinking they'll get more than that.
Washington has already secured its place in the bracket, so the sense of urgency for the Huskies could be lacking. Oregon is the hottest team in the Pac 12 having won four in a row, and their backs are up against the wall.
I don't mind splashing around with a bet on the Ducks at +400 at sportsbetting.as, as it's a much better figure than the +330 number over at MyBookie.ag. But I think the Oregon runs out of gas and could even lose to Utah in the Quarterfinals.
Perhaps a team like Colorado or Oregon State can get hot and steal a bid away from the at-large pool, but it's not something I'd count on. What I am counting on is Luguentz Dort and Remy Martin to score a lot of points and for Zylan Cheatham to dominate the glass.
Can Anyone Topple Nevada in the Mountain West?
Nevada has been the one team everyone has been talking about from the Mountain West this season, but it's actually Utah State who is out in front of the conference standings.
The Aggies reeled off seven straight wins to close the year 15-3 during MW play and 25-6 overall, and now they wait to see how the rest of the division unfolds.
Mountain West Tournament Odds
Fresno State Bulldogs
+490
San Diego State Aztecs
+2400
What we know for sure is that if the Wolf Pack and Aggies square off in the MWC Championship game at the Thomas & Mack Center on March 16th, Vegas will need extra security on hand in case another melee breaks out.
All hell broke loose in Logan on March 2nd when Utah State's fans stormed the court after beating Nevada, which actually made no sense to me. The Aggies closed as a minor 1-point underdog and were expected to hang around, if not win the game in the end.
I'm not a fan of this whole court-storming business in the first place, but I'll go off on that tangent at another point in time.
Before we go too deep putting all of our eggs in the Utah State-Nevada basket, all we have to do is look back at the 2018 MWC in Las Vegas to remember that anything can happen.
Can the Aztecs Get Lucky in Vegas Once Again?
San Diego State had a disappointing regular season under first-year coach Brian Dutcher, but the Aztecs caught fire late in the year. They knocked off top-seeded Nevada in the regular-season finale and rode that momentum all the way through the conference tournament, despite being the #5 seed when things began.
If last year's Aztecs squad could throttle the Wolf Pack by 17 points and end up cutting the nets down, then surely this year's SDSU team could do the same.
Jalen McDaniels might be a lottery pick in the 2019 NBA Draft, and Devin Watson is quietly having a solid season. As an alumnus of San Diego State, few people will pull harder than me for the Aztecs to make a run again, but I'm wary that's a bit too wishful of thinking.
They have mismanaged situations time and time again at the end of ballgames, just like in their most recent loss. Leading by eight with under three minutes to play on their home floor, SDSU coughed the ball up and failed to get stops when they needed them most.
Speaking of letting that one slide, the opposition that night is the only other team who even has a shot at contending with the likes of Nevada and Utah State.
And that would be the Bulldogs.
Is Fresno State Equipped to Win the MW Tourney?
The Fresno State Bulldogs haven't done anything special in 2019, which is why they must win the conference tournament if they plan on hearing their name called on Selection Sunday. Braxton Huggins and Deshon Taylor are both dynamic players, and I should retract my original statement and point out that they did win a road game at Utah State in January.
But I'm not convinced that this team can beat Nevada on a neutral floor, which is what will probably have to happen in order for Fresno State to keep chugging along. However, Huggins and Taylor are both seniors, so don't expect the Bulldogs to go down without swinging.
As much as I'll be rooting for San Diego State, another showdown between Nevada and Utah State is what is most likely to take place.
If that's the case, we'll need to get our popcorn ready.
My Pick to Win the Mountain West Conference Tournament
It might not sound super appetizing to lay -145 on a team winning its conference tournament, but I think the Wolf Pack are a fairly safe bet to get it done.
Nevada ended the year by laying a good old fashioned beatdown on San Diego State and without a doubt have the most talented roster in the conference. Jordan Caroline is hungry for some hardware and the Martin twins are going to be too much to handle.
Don't fall into the trap of backing one of the underdogs here, it's not going to be worth your while.
Who Will Rise from the Big East Tournament?
Is it a two-team race? Can anyone outside of Villanova or Marquette challenge for a Big East title?
All ten teams from the Big East will be making the trek to Madison Square Garden, but how many of them actually have a shot at being crowned the champs?
Big East Tournament Odds
Marquette Golden Eagles
+250
St. John's Red Storm
+1000
How Good Is Villanova This Year?
Villanova beat Providence in last year's Big East title game and went on to win the 2018 NCAA tournament. But the Wildcats saw four of their players drafted within the first 33 picks of last summer's NBA Draft, which is why they've "struggled" in 2019.
I put "struggled" in quotes because Jay Wright and his bunch are still 22-8 with a chance to finish the year off 14-4 in conference play if they can beat the Pirates in the finale. But regardless of what happens at Seton Hall, the Cats are going to be a top-2 seed in the Big Apple.
With that being said, they'll be much further down the pecking order when the NCAA tournament bracket is announced. It appears that if Nova is going to defend their title, they'll have to emerge as a #6 seed to do so.
In fact, Joe Lunardi currently has them pegged as the #7 seed in the South, a far cry from being the top seed in the East like they were a season ago.
Does Marquette Deserve to Be the Favorite?
I'm not sure if Marquette or Villanova will be favored to win the Big East Conference tournament, but we'll find out soon enough. The Golden Eagles have stumbled as of late, dropping three consecutive conference games as they get ready to play the Hoyas.
The loss at Villanova was widely expected, so I won't fault them too much there. But then Marquette "dropped the ball" at home against Creighton and followed that up by allowing Seton Hall to score the final 18 points of the game in a loss to the Pirates.
Clearly, the vibes in Milwaukee aren't too positive right now, but here's why I wouldn't write them off just yet.
Markus Howard isn't just running away with the Big East Player of the Year Award — he's one of the ten semifinalists for the men's college basketball player of the year award. The junior guard from Chandler, Arizona, might stand under 6 feet tall, and I doubt he tips the scales at 175 pounds even if he's dripping wet.
But the recently-turned 20-year-old has been terrorizing opponents since game 1 of the season. Howard averages 4 rebounds and 4 assists per game to go along with his 24.9 PPG, not to mention that he shoots over 42% from beyond the arc.
I'll have to see what the lines look like, but jumping on Markus's shoulders and riding the Golden Eagles in New York might be the most logical way to go.
My Pick to Win the Big East Conference Tournament
I'm rolling with the Golden Eagles to be the last team standing in Madison Square Garden, and my main reason is fairly simple.
Markus Howard can take over a game when he needs to, as he has done time and time again.
Villanova comes in losers of five out of their past eight games, and I'm not ready to buy into the hype that Creighton or Seton Hall are going to make any noise.
I'd be ok paying +220 for Marquette to win the Big East Tournament, so you can imagine what I did when the line came out at +250.
The Conclusion
This guide was designed to get you ready for what's on tap this week in the world of college basketball. Fans get a heavy dosage of March Madness with conference tournaments coming at us left and right, and if I were you, I wouldn't miss out on the action.
If you'd rather preview one of the major conferences in a more detailed fashion, check out my SEC men's basketball tournament betting preview. I've fashioned a guide to the Big 12 tourney as well.
You can learn all about the Big Ten Conference tournament on this in-depth page, and the ACC preview is here.
We want you as fully prepared as possible and feeling confident as ever when it comes to betting on March Madness. That's why we leave no stone unturned here at GamblingSites.com.