BetOnline – Our Featured Betting Site for the 2018 Preakness Stakes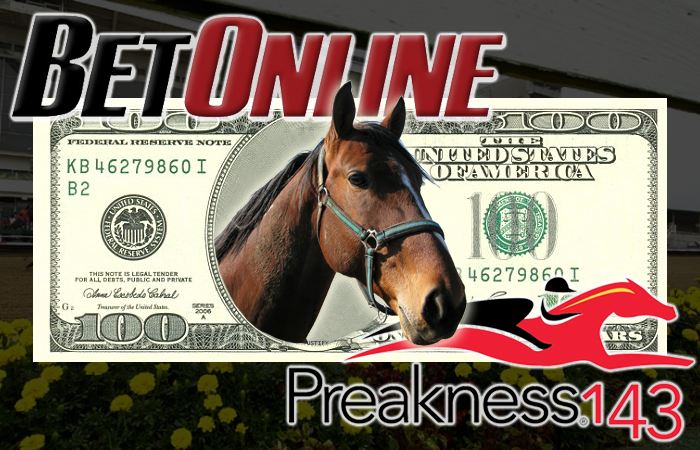 It's time to fill out your second bet slip for the Triple Crown races, as the 143rd running of the Preakness Stakes is scheduled at Pimlico on May 19th.
The "Second Jewel of the Triple Crown" is run at a slightly shorter distance (1 3/16 mile) than the Kentucky Derby (1 ¼ mile). Runners participating in both have just a quick two-week break to recover, and then they need to be race-ready once again.
All eyes will be on Justify this year, as he's only the 9th undefeated horse to win the Kentucky Derby. Justify edged out Good Magic by two and a half lengths to finish first at an official time of 2:04.20. He also became the first colt in 136 years to claim the Derby victory after not racing as a two-year-old.
Early odds have Justify at 2-5 and Good Magic listed at 7-2. The rest of the competition includes Quip, Bravazo, Tenfold, Sporting Chance, Lone Sailor, and Diamond King. It's a 50/50 field of Derby contestants and newbies.
Whether you confine your betting to the annual Triple Crown series or you enjoy wagering throughout the year, we're recommending BetOnline.com for this year's Preakness.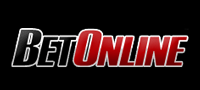 BETONLINE IS OUR FEATURED BETTING SITE FOR THE
2018 PREAKNESS STAKES
BetOnline has been an online bookmaker since 2004, and in 2006, it was ranked as one of the top 60 sportsbooks regarding traffic and registered players. Its doors are open to the United States, and it's evident that its service is geared toward North American punters.
More About BetOnline
In addition to a modern, updated racebook, which we'll get back to shortly, one of the best reasons to use BetOnline is the ease of financial transactions.
Financial Options You'll Appreciate
If you've ever visited a US-servicing sportsbook, you probably noticed that you have to invest a lot compared to players in other countries. Whereas others can get away with $10 or $20 deposits and withdrawals, many American books impose $50 or even $100 minimums.
BetOnline is different, though.
First of all, you're offered a choice of three cryptocurrencies – Bitcoin, Litecoin, and Ethereum. Next, if you use one of those three or you have a Skrill or Neteller account, you can enjoy low minimums for both deposits and payouts.
Another check in the "plus" column is that BetOnline promotes speedy withdrawals, especially through crypto methods. After your payment is approved, you'll have it in hand within 24 hours.
Cryptocurrency has been beneficial for US-based bettors. Whether you prefer Bitcoin, Litecoin, or Ethereum, you know that your transactions will be quickly conducted without an external approval process needed.
More Than a Racebook
The financial side of things is extremely important, but you want a good overall service to go with it. BetOnline provides a sportsbook, a racebook, and a small casino for its players. You can register an account and jump from one betting area to another.
When it comes to horse racing, the bookmaker offers daily updated odds and weekly horse handicapping picks. There are plenty of major and minor tracks, so you have plenty of racing action. It's our recommended betting site for the Preakness Stakes, and you can also return to stake your Belmont predictions as well.
Risk-Free Bets
If you're new to BetOnline, you can take advantage of a $25 risk-free bet.
You'll make your deposit and then stake up to $25. If you win, well, you're a winner, so that's always a good thing. If you lose, though, you're eligible for a refund that will be reimbursed to you as free play with a six-times rollover.
Please Note:
That new player racebook offer isn't good for Triple Crown events. So, you may want to bet on something before the 19th so that you can take advantage of a risk-free bet first. Then you'll be fully registered and set to go before the Preakness, and you won't lose out on the offer.
Rebates and More
Another racebook promotion that may appeal to you is BetOnline's up to 7% daily racebook rebate. You can claim the cashback offer if you make your bets online. If you phone them in, you can claim up to 4%.
The BetOnline sportsbook is also hopping with plenty of promotional offers from $25 risk-free props and live betting opportunities to a $50 mobile player offer.
We have a complete rundown of the entire BetOnline service that you can read.
Triple Crown Contender
The Preakness Stakes is an important race on its own. It's a Grade One contest for three-year-olds and showcases the talents of some of the best Thoroughbred racers.
You can't ignore the Preakness' participation in the coveted Triple Crown competition, though. The Kentucky Derby gets the ball rolling. Once a winner is determined, that horse is the only one that can claim Triple Crown glory for the season. So, coming into the Preakness, a spotlight shines on one contender.
Justify
In 2018, it's all about Justify. If Justify can keep up his perfect win record, then he's off to the Belmont Stakes in a "two down, one to go" scenario.
Justify will have less competition to contend with but is only on a two-week break after his first-place finish at the Derby. While Justify is going in as an odds-on favorite, he's certainly not a sure thing.
Acclaimed Trainer
It does bode well for Justify, though, that his trainer is Bob Baffert. Baffert has trained six previous Preakness winners, including American Pharoah, the 2015 Triple Crown champion.
From 1997 through 1999, Bob Baffert won the Eclipse Award for the outstanding trainer for three consecutive years. Aside from his Preakness experience, Baffert's runners have earned him five Derby wins, two Belmont Stakes, and three Kentucky Oaks.
Derby Challenges
This year's Kentucky Derby was the wettest on record. Justify had to overcome 2.83 inches of rainfall and a downpour that continued throughout the two-minute-and-four-second contest. The weather wasn't the only challenge, though.
Before Churchill Downs, Santa Anita was the only track on which Justify previously made a start. He's also only one of two horses in 143 years to win the Derby with three or fewer appearances in the starting gates.
The May contest was the first for Justify since mid-February. This time, he's only on a two-week break between the Derby and the Preakness.
We only have access to the early odds at this point, but bookmakers currently have Justify listed at 2/5.
The Preakness Stakes
The "Run for the Black-Eyed Susans" broke some records in 2017. A crowd of 140,327 was the biggest in Preakness history.
Record-Setting Betting
Betting was at an all-time high as well. A total of $97,168,658 was staked by excited punters and racegoers who were either excited or very disappointed to see Cloud Computing, ridden by Javier Castellano, finish first.
Tradition
Some things just don't change, though. Preakness traditions like the painting of the colors, the blanket of "faux" black-eyed Susans, and the presentation of the Woodlawn Vase are annual activities that make the Preakness an event like no other.
While Pimlico was the original venue for the Preakness dating back to the inaugural run in 1873, a few other racecourses, like Morris Park and Gravesend, took over hosting duties for a few years in the late 19th and early 20th centuries.
However, the baton was passed back to Pimlico in 1909, and the Baltimore, Maryland, racecourse is yet another part of the Preakness tradition.
Previous Preakness
While 2017 may have been a record-breaking year for the Preakness, it was 2015 that racegoers witnessed the first soon-to-be Triple Crown winner in 37 years.
American Pharoah arrived at Pimlico with a Derby win, recorded yet another first-place finish, and then went on to make it a treble at the Belmont Stakes.
The following are the past few years of Preakness winners:
| Winner | Year | Jockey | Trainer | Official Time |
| --- | --- | --- | --- | --- |
| Cloud Computing | 2017 | Javier Castellano | Chad Brown | 1:55.98 |
| Exaggerator | 2016 | Kent Desormeaux | J. Keith Desormeaux | 1:58.31 |
| American Pharoah (went on to complete the Triple Crown) | 2015 | Victor Espinoza | Bob Baffert | 1:58.46 |
2018 Preakness Stakes Betting Odds
The Preakness field is limited to 14, unlike the Derby that allows for 20 competitors. The early odds on the Preakness Stakes are on eight horses that include four participants from the Kentucky Derby and four who will be making their first appearance in a Triple Crown race.
Good Magic was the runner-up to Justify, finishing at 2 ½ lengths behind. Bravazo came in sixth (eight lengths), and Lone Sailor was two behind Bravazo, finishing eighth overall and trailing at 9¼ lengths.
Quip, Diamond King, Sporting Chance, and Tenfold are the four newcomers to the Triple Crown series. Quip and Justify are both under the same ownership.
The 2018 Triple Crown
The Preakness is the shortest of the three contests and has been wedged between the Kentucky Derby and the Belmont Stakes since 1932.
It's the second-highest-attended race and offers a $1.5 million prize pool.
Over the years, there have only been a dozen Triple Crown winners. The last was the Bob Baffert-trained American Pharoah in 2015.
Here's a full list of the elite 12:
American Pharoah: 2015
Affirmed: 1978
Seattle Slew: 1977
Secretariat: 1973
Citation: 1948
Assault: 1946
Count Fleet 1943
Whirlaway: 1941
War Admiral: 1937
Omaha: 1935
Gallant Fox: 1930
Sir Barton: 1919
Betting on the Preakness Stakes
The day is quickly approaching, but we've got you covered. Horse racing is a permanent fixture on our site, and we are proud to offer plenty of information for anyone new to it as well as for the racing aficionados.
BetOnline is going to provide you with some picks and the how to's you need to place your bet before the runners enter the starting gates.
But you can also find out more about the annual Preakness Stakes as well as the Triple Crown series from our comprehensive guides. We've also got our contribution to the "how to's" of racing.
Additionally, you can study up on bets and wagers, the jargon that accompanies the industry, and plenty of other fun and helpful material that will get you primed and ready for the Second Jewel of the Triple Crown.
Conclusion
The Preakness has its traditions like the black-eyed Susans, the painting of the colors, singing of "Maryland, My Maryland," and a $4 million trophy called the Woodlawn Vase.
If you haven't already, you can start your own tradition by gathering up your family and friends and placing your bets together.
Then take your seats to view one of the fastest televised sports competitions. NBC is once again broadcasting all of the activities from Pimlico.
Oh, and if you're looking for some catering advice, how about making some Black-Eyed Susans? Whiskey, rum, and orange liqueur combine to create something that doesn't even closely resemble the flower. But after a few, you just won't care!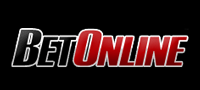 BetOnline Is Our Featured Betting Site for the
2018 Preakness Stakes