Where and How to Bet on Super Bowl 52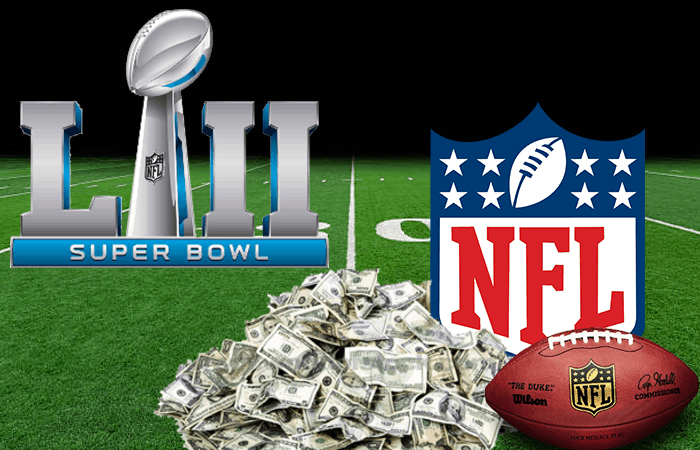 It's no secret that the Super Bowl is the most bet-on American sporting event of the year. According to the American Gaming Association, nearly $5 billion was wagered on Super Bowl 51, and the majority of those bets were placed at online sportsbooks.
With so many people interested in laying down bets, Super Bowl betting sites will all be putting their best foot forward at this time of year, looking to attract as many new players as possible through huge bonus offers and other promotions.
Unfortunately, while there are quite a few NFL sportsbooks that have strong payout histories and are known for treating customers right (like the ones above), there are also lots of sites out there that you need to steer clear of.
It won't do you any good winning money betting on Super Bowl 52 if you don't know for sure that you'll actually get paid, after all.
You don't want to make the mistake of joining a sportsbook that is just cashing in on a bunch of deposits and then will disappear overnight, and you don't want any surprises of accepting a big bonus, then having the betting site renege on their promises.
To be sure to make your best (and safest) bet on the Super Bowl this year, consider the following when preparing your wagers:
Super Bowl 52 Odds
All odds that are referenced in this article were taken from Bovada at 9:27 am CT on 1/8/2018. These odds may have changed since the time of this writing.
Pretty much any sports betting websites you see us mention are reliable and trustworthy, but it should be known they don't always offer the same betting value.
Sports betting sites can be ultra competitive with how they offer odds and when they list them. This also plays into when they update Super Bowl odds, how often they change them and how drastically they alter them.
A great example came weeks ago, when the Philadelphia Eagles (previously #2 behind the Patriots in Super Bowl 52 odds), saw a steady decline after a season-ending knee injury to starting quarterback, Carson Wentz.
A lot of sites still had the Eagles in a decent spot (now 6th at +1400 at Bovada), but not having their top quarterback understandably hurt their odds. Some sites dropped them further, while others noted Philly still had an aggressive defense and a strong rushing attack.
Depending on how sites adjusted, bettors could get some pretty great value if they still felt the Eagles had a realistic shot at running the table.
The bigger picture goes far beyond just the Eagles, of course. You always want the most bang for your buck you can get, so you're going to want to consider the best value plays that offer both stability and upside.
The defending champion Patriots are the favorites (+220 at Bovada), but what if they don't win? Suddenly the other 11 teams in the NFL playoffs potentially offer staggering value. Here are the latest Super Bowl 52 odds, per Bovada:
New England Patriots (+220)
Minnesota Vikings (+375)
Pittsburgh Steelers (+500)
New Orleans Saints (+550)
Philadelphia Eagles (+1400)
Atlanta Falcons (+1400)
Jacksonville Jaguars (+1800)
Tennessee Titans (+5000)
The point isn't necessarily to tell you which team to bet on here, but if New England isn't really the top bet (repeating ain't easy, after all), then the value starts popping up and offering some interesting betting options.
Of course, there's also the idea of flat-out stacking these Super Bowl betting sites against each other.
These are just the latest odds for Super Bowl 52 over at Bovada. Once you start looking around at other reputable sites (like the ones listed in this blog), you'll quickly be able to compare pricing and potentially get more value at some sites, as opposed to others.
A quick example can be seen via the favored Pats. Just look at the different pricing at all of these Super Bowl betting sites for New England, specifically:
Bovada (+220)
GTbets.eu (+160)
BetOnline (+175)
SportsBetting.ag (+175)
5Dimes (+170)
MyBookie (+130)
There are three important things to consider; these aren't the only sites to track, these lines can and will change as the NFL playoffs mature and New England isn't the only team with different pricing.
Overall, though, it's clear that not every sports betting site grades the Pats (or all teams) the same. Based off of this list, Bovada offers the most upside in terms of betting on New England and it's possible they offer more value with other teams, as well.
Locate Value
This brings you to one of the biggest aspects of finding the right site to bet on Super Bowl 52; hold value in high regard.
Whether it's the Super Bowl 52 odds across the board, comparing pricing for specific teams or difference in pricing for Super Bowl prop bets, you're always going to want to find as much value as possible.
It just doesn't make sense to restrict yourself to just one site, as it limits your value and ultimately, can hinder your upside.
How you perceive value is up to you, but it can often be pretty clear and should dictate when and where you place your bets – at least to a certain extent.
Versatility is key here and having more than one go-to Super Bowl betting site can help make the entire process easier. Having numerous options allows you to switch between sites and get you the best possible bet, which should maximize your earning potential if you end up being right.
Safety & Reliability
While you want elite value if you can get it, it's important to never roll with flash over substance. There are a lot of sports betting sites out there that either promise impressive things or offer tantalizing odds – or both.
Unfortunately, they're not all safe and they certainly aren't all reliable.
A site being safe suggests that you can play there with little risk of having your information stolen or used in a negative manner and that any money you put on the site is going to be accounted for.
The reliability aspect applies to the site you choose living up to the perks they say they provide.
Whether that's pristine customer service, the site itself rarely running into crippling issues that prevent you from depositing, placing bets, hunting for value and/or withdrawing your money, the hope is to latch on with sites that live up to the hype.
Getting Your Money
We touched on this to start, and it's probably the biggest thing to consider when betting on the Super Bowl; the site you play at needs to actually pay out your winnings.
There's no point in locking down elite value and nailing that crazy Super Bowl winner that makes you look like a genius if you don't actually get the cash you deserve.
Just like there are a lot of sites that promise faulty bonuses and promotions, there is a long list on the internet that says they'll pay you and they either take forever or ultimately have little intention of getting you your money.
Avoiding scam sites is priority number one, as this is your real, hard-earned cash being put on the line. No matter the number you deposit, this is still your cash and it's incredibly deflating and frustrating when you can't collect after scoring a big win.
We only vouch for Super Bowl betting sites that actually pay their players, as this is really what it's all about.
Value, odds, versatility, safety and reliability only get you so far. Once your bet is locked in and your money is on the line, you also want to have complete confidence you'll actually get your winnings in the end.
Betting on Super Bowl 52
This is a special time of year and the 2017 NFL season specifically has paved a very interesting path for Super Bowl 52. There are several interesting narratives to consider and they all collectively tie into some interesting odds – and hopefully – some exploitable value.
That value can be had at some of the Super Bowl sites in the table above, but all of this information won't do you much good if you don't put in some research and have a really good inclination of how the playoffs might unfold.
For this year specifically, getting to know all 8 remaining playoff teams is step number one:

New England Patriots
The defending champs earned the AFC's top seed and have been the title favorites all year.
Repeating isn't easy and an in-house schism could make them an interesting fade, but they still carry tantalizing value across the board.

Pittsburgh Steelers
The Steelers got the second seed in the AFC and seem to be New England's biggest threat.
A stacked offense featuring Le'Veon Bell and a hopefully healthy Antonio Brown should give the Steelers a good chance at getting back to the AFC title game for the second year in a row, and possibly the Super Bowl.

Jacksonville Jaguars
It sure is tough to trust the Jaguars with Blake Bortles running the offense, but this is still a title contender on paper.
Jacksonville might have the very best defense in all of football and rookie stud rusher Leonard Fournette gives the offense a nasty rushing attack.
Super Bowl winners don't always get elite quarterback play, so the question to ask is if you can see Bortles hoisting the Lombardi Trophy when all is said and done.

Tennessee Titans
Marcus Mariota has been terrible for much of 2017 and it's rather shocking how the Titans found a way into the playoffs. Still, they emerged from a tough environment at Arrowhead Stadium and here they are, ready to battle the Pats.
New England is a totally different beast than the Chiefs, but any bettors looking for Super Bowl betting upside won't find more of it than Tennessee's staggering +5000 odds.

Philadelphia Eagles
Over on the NFC side, the Eagles won out to secure the top seed, as well as home-field advantage throughout the playoffs.
Carson Wentz made this team into a title contender, but it's worth wondering if they remain as such with Nick Foles under center.
The Eagles get to play at home and can keep things balanced with an aggressive defense and elite running game, but trusting Foles won't be easy.
Vegas sure isn't backing him, as the Eagles enter this week's showdown against the Atlanta Falcons as the first ever underdog as a #1 seed.

Minnesota Vikings
Minnesota might actually be the best team in the NFC, as they rode a red-hot Case Keenum and probably the most underrated offensive ensemble to the NFC's #2 seed.
There is always going to be the feat that Keenum implodes in his first ever playoff start, but betting against an elite Minnesota defense doesn't come easy.

New Orleans Saints
The Saints finally turned to their running game to aid their defense and found out they're pretty darn good along the way. Who thought keeping the ball out of Drew Brees' hands would turn this team back into a legit Super Bowl threat?
Even crazier? New Orleans abandoned that rushing attack and rode Brees to the second round of the playoffs. This may just be proof this isn't a team to be messed with.

Atlanta Falcons
Last, but certainly not least, are the Falcons. Atlanta earned their way into the NFC playoffs with a big week 17 win and finished stage one of erasing the ghosts of 28-3.
The Falcons have survived the Super Bowl hangover to this point but simply haven't been as explosive as they were a year ago. If they can recapture that magic, however, they just might be the best pick on the board.
They looked dominant in a win at L.A. in the wild card round, however, and now they'll march into Philadelphia as the favorite despite being the NFC's 6th seed.
By now you're equipped to place bets on Super Bowl 52 and all that's left is for you to decide precisely where you'll be doing that.
As we've gone over, there are a lot of options for you out there.
Just make sure you put in the time to make sure your Super Bowl
betting site is one you can trust.