Should You Bet on the Spartans to Win the 2019 March Madness Tournament?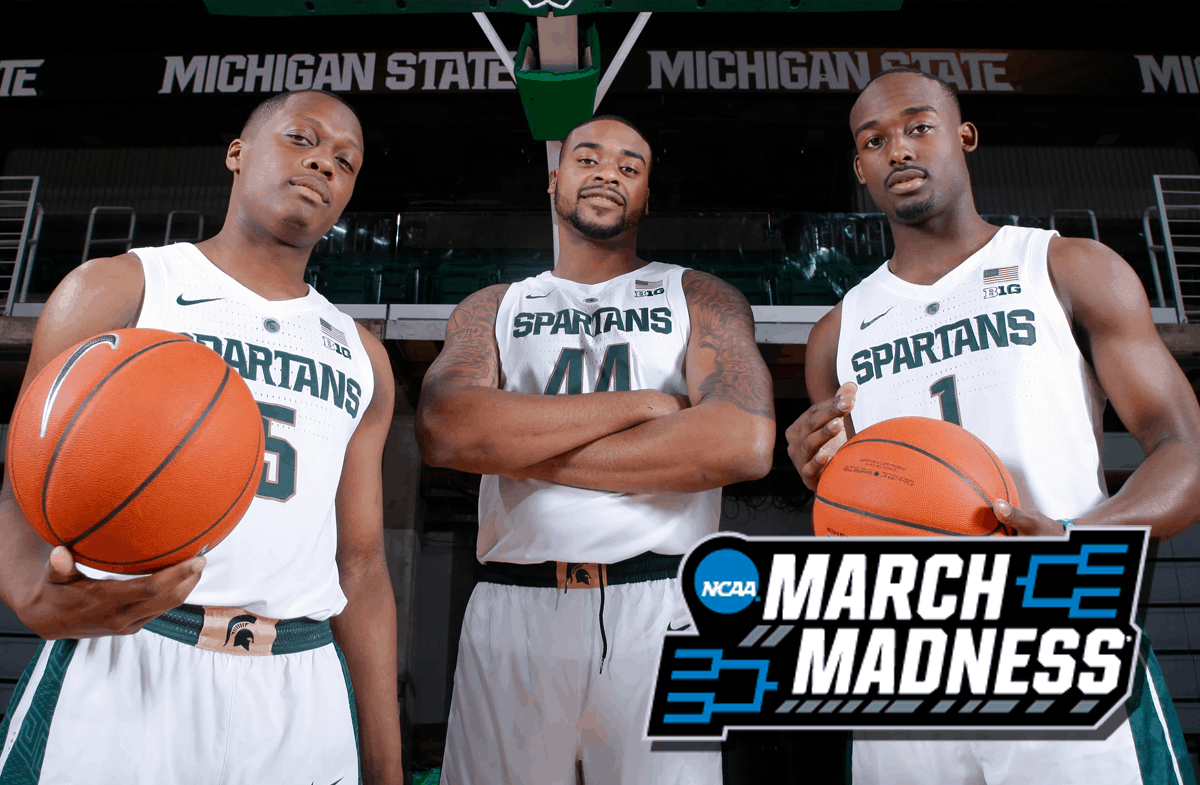 The Michigan State Spartans may have a special team on their hands heading into the 2019 March Madness tournament.
Cassius Winston paces a strong offensive team that is extremely efficient and also plays hard at the other end of the court.
This should surprise nobody with head coach Tom Izzo still calling the shots from the sidelines. Izzo's mere presence seemingly always has the Spartans in the mix for a deep NCAA tourney run, but this could be his best team in years.
Michigan State got bounced early in each of the last three seasons, failing to advance past the second round each time. They aren't that far removed from a Final Four run in 2015, however.
There Michigan State ran into a more talented Duke team, and if the Spartans are to make serious noise during the 2019 March Madness tourney, they may have to meet up with the Blue Devils again.
Sports bettors will have to collect their breath if that happens (Tom Izzo is 1-11 versus Coach K), but they still have a great team and look like a squad to get behind.
Betting on the Spartans
Anyone doing any March Madness betting isn't likely to completely overlook the Spartans.
They might if they quickly glance at their recent lack of success in the tournament, of course, but as they stand, Michigan State is without a doubt one of the better teams in the country.
Weird losses to Indiana, Louisville, and Illinois are head-scratchers, but they might not be as bad as they look. For one, two of those games came inside the conference, and it's not easy to handle Big 10 teams left and right. Two of them were also crazy overtime thrillers that Michigan State simply didn't come out on top in.
This is otherwise a very strong team that gave Kansas (#1 at the time) all they could handle in their first game of the year. They proceeded to go 18-1 before running into a rough three-game skid.
Michigan State kept their composure and has rediscovered their form, though.
The Spartans have won each of their last five games as I write this and are inching towards a potential #1 seed in the men's college basketball tournament.
I don't know if that's going to happen, but it's not impossible as things stand. Even if it doesn't, however, the Spartans are a lock to earn a top-three seed at the very worst, while a strong finish would probably cement them as a two-seed.
Right now, their +1400 March Madness odds at Bovada.lv are quite tempting. There is a lot to love about the Spartans, yet they're priced like a team that doesn't have an amazing shot at winning a national title.
I wouldn't just stop at betting on the Spartans at the first site that you stumble upon. SportsBetting.ag is a great site to bet on March Madness in general, but there are other March Madness betting sites you will want to know about.
Here are some of the best March Madness betting sites and how they price Michigan State's odds to win the national title.
Psych! Okay, so all of the top March Madness betting sites price the Spartans exactly the same at +1400, but this is a great thing.
For one, this is an awesome price, and the betting value associated with a legit title contender is very appealing. The other thing is this gives you five reliable, trustworthy options that could always alter the pricing to hand out even more value.
I could go with any of these options, but given the fact that the pricing is the same everywhere, Bovada stands out the most. There simply isn't a better site to place sports wagers, and they routinely offer some of the best prop bets as well as competitive odds.
Why Michigan State Can Win It All
I agree it's debatable either way, but I've got a few reasons why betting on the Spartans makes good sense going into the 2019 March Madness tournament.
Tom Izzo Is Still There
It never hurts to have a living legend in your huddle. Tom Izzo already has some hardware after leading Michigan State to the 2000 national title, and he has experience in spades with seven trips to the Final Four.
Izzo only made it back to compete for a title just one other time (2009), but he may have a talented enough team to make a real run for it in 2019.
Constantly preaching tenacious defense, team basketball, and rebounding, Izzo has the Spartans in position to battle with anyone. With far worse Michigan State teams that have pushed deep into the tourney in years past, there is reason to believe Izzo could get this squad much further.
Michigan State Is Battle-Tested
Izzo aside, these Spartans aren't going to back down from anyone. They can really do just about everything at a high level, but one look at their schedule shows what a difficult road they've maneuvered through.
Michigan State started the year 0-1 after a brutal showdown with the Kansas Jayhawks, yet they almost won that game. They've had some miscues along the way, but at 23-5 (14-3 in the Big 10), they've been impressive in the face of a tough schedule.
Taking on teams like Kansas, UCLA, Louisville, Texas, and Florida outside of their conference is one thing, but Michigan State has also been largely dominant in the Big 10.
Arguably the toughest conference in all of college basketball (and at the very least one of the best), the Big 10 has propped up numerous roadblocks. Michigan State has mostly passed those tests with flying colors, earning strong wins over teams like Iowa, Wisconsin, Purdue, and others.
Even in losses, the Spartans have still shown tremendous fight and usually stuck to their game. Their ability to win in virtually any type of matchup sets them apart from a lot of March Madness pretenders.
Few Teams Are More Efficient
The Spartans are pretty impressive offensively. Led by star guard Cassius Winston, the offense is extremely efficient and even potent, with 80 points per game (22nd in the nation).
I'm paying more attention to the efficiency, however. Michigan State ranks 14th in overall shooting percentage (48.6%), 16th in effective field goal percentage, 12th in true shooting percentage, and 12th in overall offensive efficiency.
The Spartans also stroke the long ball about as well as anyone. Winston is putting up a slick 42.6% mark from beyond the arc, and he's one of five Spartans hitting at a 40% clip or better from long range.
As a whole, Michigan State works to find the best shot but can also stretch out the defense with their 38% conversion rate as a group, which happens to be a solid 34th in the nation.
Michigan State's only real flaw offensively might be their free throw shooting, but at 74% (63rd in the country), I'm not exactly sure I'd call that a glaring weakness.
The Spartans have a three-headed offensive beast with Winston, Nick Ward, and Joshua Langford all averaging over 15 points per game, yet they also get contributions of 7.5+ points per contest from three other players.
Deep, balanced, explosive, and efficient, Michigan State's offense is not to be trifled with.
The Spartans Defend Very Well
But neither is their defense. Tom Izzo's teams are notorious for rebounding aggressively and playing in-your-face defense, while they're also usually athletic.
This year's team checks all of those boxes and happens to allow just 65.8 points per game (39th in the country). That's made even more impressive after they started the year off by allowing 92 points to Kansas.
Michigan State really buckled down since then, and while they've had a few hiccups, they remain a pretty disciplined unit that could morph into an unstoppable force when March Madness starts up.
That defense isn't just a stingy unit in terms of points allowed, though. They also keep the opposition from lighting them up, as opponents shoot just 37.3% from the floor (3rd in the nation) and 31% from deep (42nd).
Michigan State does well to live up to Izzo's teams of old on the glass, too, as the Spartans dominate the rebound game (4th in college basketball).
I think Kansas and a few other teams proved that the Spartans are far from invincible, but when the intensity and focus are there, Michigan State can play smothering defense and dominate the glass.
Summary
The Spartans don't really have a glaring weakness that teams can exploit. If the right team rolls around and defends the perimeter and/or sends them to the line a good amount and they don't convert, though, I suppose there could be trouble.
Every single team you will bet on during March Madness has flaws, though. The Spartans are otherwise rock solid, as they stem from one of the toughest conferences in college basketball and are coached by a living legend.
Defense and rebounding overcome a lot of issues in a tourney as brutal as March Madness, and Michigan State can be dominant in those two facets of the game. Tack on their elite offensive efficiency, and the Spartans feel like an absolute steal at their current +1400 price tag.