Hide Bonus Offers
| | | | | |
| --- | --- | --- | --- | --- |
| #1 | BetOnline Sports | 60% Up To $1,000 | Visit Site | BetOnline Sports |
| #2 | Bovada Sports | 50% Up To $250 | Visit Site | Bovada Sports |
| #3 | BetUS | 125% Up To $2,500 | Visit Site | BetUS |
| #4 | Everygame | 100% Up To $500 | Visit Site | Everygame |
| #5 | MyBookie | 100% Up To $1,000 | Visit Site | MyBookie |
Bet on the 2019 Super Bowl in the UK – Best Online Bookmakers and Tips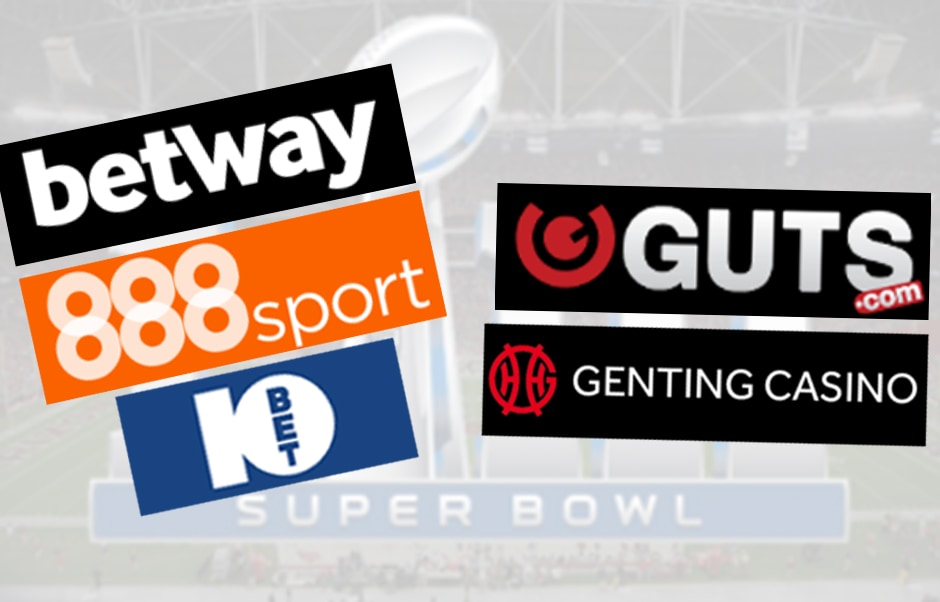 If you have been following our blog recently, you'll certainly have noticed an increase in the posts related to the Super Bowl.
This is because Super Bowl 53 is nearly upon us.
The game will feature the New England Patriots and the Los Angeles Rams and will be the biggest sporting event of 2019 in the USA.
Americans LOVE the Super Bowl, but the game attracts attention elsewhere, too. The international popularity of the NFL is on the rise, with sports fans (and bettors) in several other parts of the world showing an increased interest.
A good example of this is the United Kingdom, as many people there watch the competition. Several NFL games have been played in London in recent years, and this has really helped the league's exposure there.
With this in mind, I decided to write this post and help local bettors with some tips on how to bet on the Super Bowl from the UK.
The main focus will be to explore the best Super Bowl bookmakers for UK bettors. I'll also look at the alternatives to using online betting sites, explore some of the exclusive promotions for the event, and share some tips and tricks that will increase your chances of making some money.
Let's get started!
Top UK Super Bowl Bookmakers
The natural start for this post is to take a look at the leading Super Bowl 53 bookmakers for UK gamblers.
I have selected the following options, as I believe they each have an excellent reputation, provide good odds, and obviously have a license to accept UK customers.
Betway
My first recommendation would be Betway.
Every UK player can bet on the 2019 Super Bowl here, and doing so would be no mistake. This online bookmaker has been around for a while and has a stellar reputation, backed by the proper license.
Betway offers plenty of betting markets on Super Bowl 53, including mainstream options like moneyline, spreads, and totals. There are also some player props and other specials. The odds are solid, and the sportsbook has a nice welcome offer for each new UK customer.
You can get a 100% matched free bet of up to £30. Simply open a new account, make your deposit, and place the qualifying wager. Betway will give you a free bet of the same value. On top of that, the bookmaker has a Free Bet Club that is a constant source of more extra wagers on a weekly basis.
All of this is why I believe that Betway is a good choice if you want to bet on Super Bowl 53 from the UK. You can directly visit the site or take a look at our extended review.
10Bet Sports
Next on my list of recommended Super Bowl betting websites for UK players is 10Bet Sports.
10Bet Sports brings a lot to the table, namely high odds, solid limits, and a lot of markets for the 2019 Super Bowl.
The company has a license from the UK Gambling Commission, so you don't have to worry if this is a legit option or not. Furthermore, 10Bet Sports has been around for years now and has built quite the reputation.
This bookie currently offers close to 100 different Super Bowl betting options to UK gamblers. All the mainstream markets are covered and then some more.
If you are interested in joining 10Bet Sports, you should know there's a 50% first-deposit bonus of up to £100 for UK customers. This is a great reason to open a new account for Super Bowl 53.
It must be noted that the sportsbook is always trying to improve its service, so you can use features like Cash Out, Add2Bet, Pulse Bet, and many more.
If that sounds intriguing, check the following links.
Genting Bet
If you live in the UK, it's almost certain that you have heard about the Genting brand. The company owns a bunch of land-based casinos in the country, but it also has an online sportsbook that accepts UK customers.
It's called Genting Bet, and the NFL is widely covered. The gambling experience of the operator makes it one of the best UK Super Bowl betting bookmakers out there. As it stands, Genting Bet covers the majority of the popular betting markets for the clash between the Rams and the Patriots.
You can take advantage of the £10 First Bet Insurance offered by the bookmaker for joining and take a swing at the 2019 Super Bowl.
888sport
888sport is certainly one of the best bookmakers for UK players to bet on Super Bowl 53.
First of all, the operator has been around for ages and is well-known for its variety of promotions.
You can get £30 in free bets as soon as you open a new account, but there are so many offers that can bring value later on. You could enjoy odds boosts, acca insurances, and many other exclusive deals.
This is not the only reason I believe 888sport is a good place to bet on the 2019 Super Bowl, though.
A quick look at the betting coupon for the event shows 200 different markets available. You can place a wager on the traditional options, but there are also many specials and props to choose from.
On top of everything else, 888sport offers some of the highest odds on the UK market and accepts large bets.
If I managed to catch your attention, the links below will be useful to you.
Guts Sports
The last of my top UK Super Bowl bookies online is Guts Sports. While it doesn't offer anything that unique or special, it's a solid gambling site that has decent odds and plenty of markets on Super Bowl 53.
Guts Sports is part of a complete platform that offers other gambling products as well, so you can try your luck in the casino, live casino, or at the poker tables.
If you want to learn more about the operator, here's how.
Alternatives to UK Super Bowl Bookmakers
I firmly believe that you should be using online bookmakers to place your 2019 Super Bowl wagers, but there are some viable alternatives for UK players.
Let's take a closer look at them.
Betting Exchanges
When there's enough volume, the online betting exchanges are certainly an excellent option for placing your sports wagers. And there will definitely be HUGE volume for Super Bowl 53.
I'm pretty sure you will be able to find any of the markets you are looking for, and the prices will be solid.
Betfair is the best exchange online, and it accepts UK players too.
Betting Shops
There are plenty of brick-and-mortar bookmakers in the United Kingdom, so that's an option too.
Unless you live in a very remote area, it's likely that you'll have at least one bookmaking shop relatively close by. And you can be certain that they'll be offering odds for plenty of Super Bowl betting markets in 2019.
Telephone Betting Services
Another alternative is the telephone betting services that are widely available in the UK. These allow you to instantly place a bet over the phone, provided you have an account open. Payment is usually taken via debit or credit card, with any winnings returned to the same card used.
While all those could work, I'm not sure why anyone would pick them over the best UK Super Bowl betting sites.
The online bookmakers offer a much better service overall, and only the betting exchanges can compare with them to any extent.
Super Bowl Betting Tips and Advice
Since the NFL has only become popular in the UK relatively recently, a lot of bettors from the European country are not exactly experts on how to bet on this league or its showcase game.
Picking one or more of the best bookmakers for betting on the Super Bowl is a good place to start, but if you're new to betting on American football, then you might want to seek a little help.
Fortunately, you can get that help right here on our website. We offer plenty of useful pages with advice on betting on American football in general and on the Super Bowl specifically.
Here are the most important of those pages to look at.
The following two pages are focused on the most popular wagers for the NFL and the Super Bowl. They explain how each one works and include some tips and advice for using them effectively.
This next page is dedicated to betting strategy for the NFL playoffs and the Super Bowl. The playoffs are behind us now, but you'll still learn some useful tricks for placing your Super Bowl 53 wagers.
Super Bowl Exclusive Promotions for UK Players
I've checked most UK internet bookmakers offering Super Bowl betting markets, and they haven't released exclusive promotions for the 2019 edition of the event yet.
I'm a BIT surprised by that, to be honest, but maybe it's a little early still. I expect things will change very soon.
Super Bowl 53 will be a major event for betting sites even in the UK, so I'm sure we'll see things like odds boosters, bonuses, and other special deals to be launched once the game is nearer.
I recommend you stay tuned and be ready to grab all the extra value out there. To help with that, I'll keep this post updated, so any new UK Super Bowl promotions will be added here.
How Did the NFL Become Popular in the UK?
Nowadays, there are tons of UK betting sites that cover the NFL and the Super Bowl, but that wasn't always the case.
How did the competition become so popular in Europe and the United Kingdom in particular?
The answer is rather easy, as the US leagues are among the best-run businesses in the world. They are always trying to conquer new markets, and the NFL is no exception. The owners of the league have been experimenting since the start of this century.
The first NFL game that was played outside the US took place in London in 2007. The start was successful, and the organization has been steadily gathering more attention ever since. There are a couple of deals right now, and the number of games in the UK is getting higher and higher.
There will be four of them in London in 2019. The main venue is the legendary Wembley Stadium, but Tottenham Hotspur's stadium is supposed to host some matches, too.
Most of the time, the arenas are sold out for the London NFL Series, so we could expect more of the same in the near future. Since the current contracts are until the middle of the 2020s, there's no reason to believe the popularity of the NFL won't grow even further.
Follow Our Blog for More on Super Bowl 53
We've already released a bunch of useful posts on the 2019 Super Bowl, including some early odds and analysis on the Patriots and the Rams. We will continue adding more of that in the near future, so take a closer look at our blog on a regular basis.
You will have the chance to see the latest news, analysis, picks by experts, and many other relevant Super Bowl 53 posts.
It's not long until the big game now, so make sure you have everything you need to enjoy it and try to make some money from it.