Best Ways to Make Money Betting on McGregor Fights

Whether it is betting on Conor McGregor's fights in the UFC or wagering on McGregor to win his next boxing match, the Irishman is always a big draw with bettors.
A combat sports legend, McGregor is one of the most recognizable faces on the planet. When he steps into the cage or the ring, he draws the eyes of millions of fans tuning in to watch him win. Or to watch him lose.
Now, this piece is not a dedicated love-in or hate-fest where the polarizing knockout artist is concerned. Instead, it is a compact and super-valuable guide designed to help you make money betting on McGregor fights.
Here you will find tips on the right bets to place, how to place them, how to find the best online bonuses for Conor McGregor bets, and much more.
So, sit back, relax, and I'll talk you through what you need to know!
Bet on McGregor Early
The early bird catches the worm, sure. But the early bettor catches the best odds for Conor McGregor's fights.
In simple terms, the best time to get McGregor's odds online is now. Failing that, as early as you can. This is true in most cases. And by most cases, I'd say more than 90% of the time.
| | | |
| --- | --- | --- |
| Opponent | Opening Odds | Closing Odds |
| Max Holloway | -190 | -385 |
| Dustin Poirier | +190 | -276 |
| Dennis Siver | -588 | -1415 |
| Chad Mendes | -105 | -210 |
| Cowboy Cerrone | -160 | -344 |
Above are examples of the opening odds vs. the closing odds for McGregor in the past. Notice how, in some cases, the change in odds is drastic.
That tells us that people like to bet on the Irishman. So it can be a case of getting in there early, at least in most of his fights.
McGregor has closed as a favorite in every UFC fight he has had, aside from two. His opponents? One was Jose Aldo, a dominant UFC featherweight champion that was unbeaten in ten years. The other was the unbeaten all-time great, Khabib Nurmagomedov.
McGregor has been a lock in some of his UFC fights over the years. Dennis Siver, for example, was clearly not in the surging featherweight's league. But there have been odds online for McGregor fights that don't fit the bill.
Against Donald Cerrone, for example, McGregor's odds closed at -334. This shows that he is heavily backed, even when matched against opponents that have a chance of beating him.
But here's the main point. McGregor opened at -518 and closed at -1415 against Siver. Yes, he closed at -334 against Cerrone but opened at a more favorable -160.
If you had taken McGregor's early odds in either/both of those fights, rather than wagered on fight night, you would have done much better.
Back McGregor to Win by KO/TKO
Conor McGregor has 19 KO/TKOs from 22 wins as a professional mixed martial artist.
They are seriously good numbers. In fact, they would be excellent numbers for a heavyweight boxer, never mind a fighter in MMA.
A major reason for the popularity of McGregor was his ability to leave opponents flat on their backs. With just one shot, CRACK, another one hit the canvas. And when he began to predict the round he'd end his opponents in, "Mystic Mac" exploded onto the world stage.
Take a moment to consider some of the fighters McGregor has knocked out in the UFC. In fact, check out the following list of McGregor's top-five KOs in the promotion.
| | | |
| --- | --- | --- |
| Who | How | When |
| Donald Cerrone | Win by TKO | UFC 246 – Jan 18, 2020 |
| Eddie Alvarez | Win by TKO | UFC 205 – Nov 12, 2016 |
| José Aldo | Win by KO | UFC 194 – Dec 12, 2015 |
| Chad Mendes | Win by TKO | UFC 189 – Jul 11, 2015 |
| Dustin Poirier | Win by TKO | UFC 178 – Sep 27, 2014 |
As proven against Donald Cerrone, McGregor is more than just a left hand. But his fast-twitch response, speed, technical nous, and laser-guided accuracy all combine to make for a serious knockout artist inside the cage.
You will always find better odds for a KO/TKO win for "The Notorious" when compared to what you get on the moneyline. But, the bookmakers take so many bets on McGregor to win by knockout. That means that, if you're looking to make real money wagering on McGregor to win by KO/TKO, shopping around for the best odds is a good idea.
But this isn't the only source of getting top odds for McGregor fights.
Wager on McGregor Props and Specials
You can find some of the best odds and prop bets for Conor McGregor when he is fighting in the UFC.
But, by far, the strangest McGregor props and specials were created before his boxing match with Floyd Mayweather in 2017. You had some downright wacky ones, but a few that were surprisingly great value.
In the UFC, you won't get to see as many creative prop bets for McGregor. But the best sites for betting on Conor McGregor fights will always have at least a few that you can get on. And if you understand what to bet on, you could stand to turn a decent profit.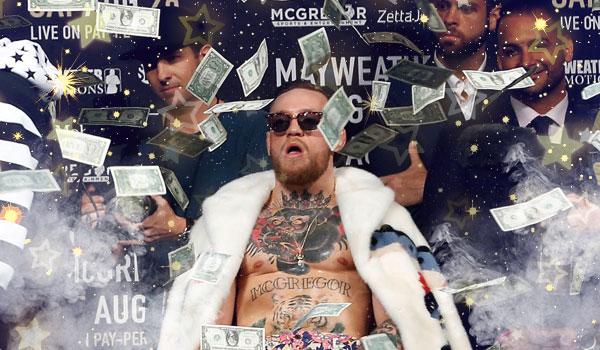 The Best McGregor Props to Bet On
McGregor to Win by KO/TKO
McGregor to Win in Round 1
McGregor to Win in Under 1.5 Rounds
McGregor to Touch Gloves Before a Fight
You will find a few examples of the top prop bets to target for McGregor.
As long as you use the data available on his results, you could do pretty good with these types of wagers.
For example, consider the man's stopping power and his overall record. 12 of his first 16 fights ended in the first round. That included two losses.
Now, look at his record after that and figure out whether it would be a good idea to bet on McGregor's next fight ending in Round 1. Perhaps you can bet on a McGregor KO/TKO in Round 1 and get even juicier odds?!
Study what he does well and what he doesn't do as well. Reading about McGregor's strengths and weaknesses is a good place to start.
Get Your Hands on McGregor Bonuses and Promotions
You can get your hands on multiple bonuses and free bets to make money real money on McGregor fights.
Perhaps more than any other fighter, especially in MMA, online betting sites tend to go overboard with special offers for McGregor fights. That includes bonuses, free bets, promotions, and so much more.
The popularity of The Notorious means more chances to get your hands on bonuses, helping you make money betting on McGregor. That has to be a good thing, in any language!
You see, it's a huge benefit to have additional cash to play with when wagering on McGregor online. Let's say you receive 50% on top of your deposit of $100. That means that you will have an extra $50 riding on your bet.
As it stands, these are four of the best bonuses for betting on McGregor fights right now.
Keep in mind that the top betting sites rotate their bonuses, free bets, and offers frequently. The information above is accurate at the time of publishing, but the bonuses might have changed.
You are probably aware of this, but it's still worth pointing out — you should always check the terms and conditions of bonuses to ensure that you are happy with any wagering/turnover requirements the bookies attach to their offers.
Get the freshest betting bonuses and rewards online by visiting our page dedicated to sports betting bonuses and rewards.
Take Advantage of Live/In-Play McGregor Bets
One of the greatest innovations in the gambling industry was the live/in-play bet function.
Now, you might have bet in-play on a live NBA or NFL fixture in the past. But when it comes to fights, this is a grossly underused feature. And that's a real shame. Because if you brush up on your knowledge of UFC fighters, you could boost your chance of winning money betting this way.
McGregor is the perfect fighter to bet on in-play. If you have access to the best UFC betting apps, you can place money on his fights as they are happening.
Let's put it this way — The Notorious has a ridiculous knack for turning out the lights of his opponents. Quite often, he gets it done early.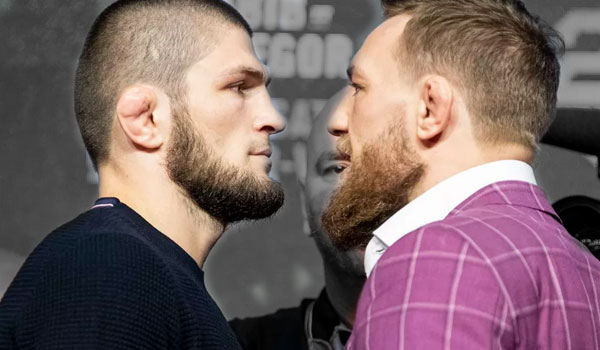 Here are just three examples to consider when betting in-play on McGregor fights.
McGregor almost always wins a fight in the first or second round by KO/TKO
He has never won a fight by stoppage after the second round
All of his losses have come by way of submission
I won't spell out the obvious for you. But what I will say is that if you are betting on a McGregor win — and he fails to stop his opponent early — it might be an idea to hedge your bets. History tells us that the longer a McGregor fight goes on, the higher his chance of losing becomes.
Factor in stuff like the style of his opponent, their gas tank, and their skills on the floor, too.
Making money on McGregor fights doesn't necessarily mean betting on McGregor to win, sure. But if there is a middle ground, using the best UFC betting apps for live and in-play betting is probably it.
More Conor McGregor Betting Advice
In summary, the five points below represent the best ways to make money betting on Conor McGregor fights.
So, the next time a McGregor fight is announced, make sure to tick these off.
Bet on McGregor Early
Back McGregor to Win by KO/TKO
Wager on McGregor Props and Specials
Get Your Hands on McGregor Bonuses and Promotions
Take Advantage of Live/In-Play McGregor Bets
As comprehensive and valuable as the information above is, this is just the tip of the iceberg when it comes to McGregor as a fighter. There is so much to learn about the Irishman, and it's really up to you how deep you want to dive in.
We have a comprehensive guide to betting on Conor McGregor fights that will definitely take your knowledge to greater heights. That is an essential read for anyone hoping to make money on his fights.
Of course, you can always make good use of our dedicated UFC blog and picks sections. You will find everything you could possibly wish for when betting on McGregor's next fights in sections, including odds, best bets, predictions, analysis, and so much more.
Check them both out!
Good luck with your bets!