Best UFC Fights to Gamble on in October 2021

There are plenty of fights in the UFC to bet on in October 2021.
It has to be pointed out, however, that this month is a little more quantity than quality.
In total, five events are spanning five Saturdays, with UFC Vegas 38 starting us off on October 2 and UFC 267 in Abu Dhabi closing it out on the 30th.
Despite the promotion stretching out the talent, there are some great bouts to look forward to. So, if you're betting on UFC fights in October, you're in the right place.
Keep reading to find out more about the best fights you can gamble on in the UFC this October.
UFC Vegas 38
Date: October 2, 2021
Venue: UFC Apex, Las Vegas
Main Event: Santos vs. Walker
The first event of the month marks the beginning of a four-week run at the Apex.
If you're wagering on UFC fights in October, this is the second-best card, in terms of quality. I'll be looking forward to the headliner as well as a few other top-notch scraps on the main card and prelims.
Let's start from the top.
Thiago Santos vs. Johnny Walker
A crucial light heavyweight contest between former challenger Thiago Santos and contender Johnny Walker headlines this one.
I'm definitely looking forward to seeing who comes out on top in this battle of the Brazilians. A win in this fight could see the victor take one step closer to a title shot at 205.
If you're betting on UFC fights in October, make sure to check out the odds for this one on our recommended UFC sportsbooks. You can also find odds and markets for the rest of the fights set to go down during the month.
There is so much on the line for both men, but Santos probably has more to lose at this point.
At 37, and on a three-fight skid, "Marreta" needs to show the boss something new to ensure his place in the promotion is not under threat.
Regardless of who you're backing, it's sure to be a very intriguing fight.
Kevin Holland vs. Kyle Daukaus
Another one of October's top UFC matches to bet on features on the Santos-Walker card.
Holland takes on Daukaus in the co-main event of the evening and will be looking to get back into the win column following back-to-back losses against Derek Brunson and Marvin Vettori.
Daukaus is coming off a decision loss to Phil Hawes in his last fight and will be just as motivated as "TrailBlazer" when the bell rings.
Kevin Holland's Last Five
Opponent
Result
Marvin Vettori
Loss by Decision
Derek Brunson
Loss by Decision
Jacare Souza
Win by KO
Charlie Ontiveros
Win by TKO
Darren Stewart
Win by Decision
The October fight schedule for the UFC is pretty busy, but I'd recommend this one for MMA gamblers.
It's a 50/50 bout that will provide numerous opportunities for bettors, so expect plenty of markets to choose from, depending on how you see the fight going.
Can Holland avoid being taken down and strike his way to victory? Or will Daukaus get back on the horse in style?
Alex Oliveira vs. Niko Price
Another UFC Vegas 38 bout makes my list of the top UFC fights you can bet on this October.
Oliveira vs. Price is another fight that should live up to the hype. These welterweights are well-matched, despite taking very different styles into the cage.
If you're looking to wager on UFC fights in October, Oliveira vs. Price is another one to keep in mind.
Like the main event, there is a lot to fight for in this one.
After all, "Cowboy" is 2-5 from his last seven with back-to-back losses in his last two bouts. Another defeat could see the end of the 33-year-old in the UFC, so he needs to be on point when that first bell rings.
Price is an all-action fighter that fans love to watch. But he must find consistency if he is to climb the ladder at 170-pounds. The best place to get the ball rolling will be the UFC Apex on October 2.
This could potentially be up there with the top fights of the year.
Alexander Hernandez vs. Mike Breeden
I'm expecting Hernandez vs. Breeden to go under the radar.
With that said, knowledgeable UFC bettors might be keener on this wager than the average fan.
With Hernandez's clash of styles with Breeden, there are certainly plenty of angles to approach when gambling on this one.
Hernandez is 3-3 from his last six since losing to Donald Cerrone in January 2019. Breeden is 5-1 from his last six, but faces a very tough test in his promotional debut.
If you're looking to place bets on fights in the UFC this October, add this one to your list.
UFC Vegas 39
Date: October 9, 2021
Venue: UFC Apex, Las Vegas
Main Event: Dern vs. Rodriguez
Although considered one of the weaker cards on the UFC calendar for October, Vegas 39 has a couple of solid fights.
Bettors might be interested in the top fight of the night, at the very least.
Mackenzie Dern vs. Marina Rodriguez
There's no way any Mackenzie Dern fight fails to make my list of the best UFC fights to bet on this month.
You could put the former BJJ standout in the cage with a washcloth, and the betting interest would still be there. That has a lot to do with her profile, of course, but it's also a nod to how highly-rated her jits is.
Luckily for everyone, Dern is not fighting a washcloth. Far from it. She is taking on the very capable Marina Rodriguez at strawweight and will need to be in top form if she is to come away with the win.
Rodriguez is 14-1-2 in MMA, with the only loss of her career coming by way of split decision to the inaugural 115-pound champ, Carla Esparza.
Rodriguez's UFC Record
Opponent
Result
Date
Michelle Waterson
Win by Unanimous Decision
May 8, 2021
Amanda Ribas
Win by TKO
January 24, 2021
Carla Esparza
Loss by Split Decision
July 26, 2020
Cynthia Calvillo
Majority Draw
December 7, 2019
Tecia Torres
Win by Unanimous Decision
August 10, 2019
Jessica Aguilar
Win by Unanimous Decision
March 30, 2019
Randa Markos
Majority Draw
September 22, 2018
This should be the toughest test Dern has had to date in the cage, making the UFC Vegas 39 headliner one of October's top UFC fights you can bet on.
Alexandr Romanov vs. Jared Vanderaa
An exciting heavyweight clash between "King Kong" and "The Mountain" makes my list of the best UFC fights in October to wager on.
Romanov is 14-0 following a technical split-decision win over Juan Espino following a low blow. Although the Moldovan enforcer was unable to earn a third submission win on the night, he was clearly happy just to get the win.
Vanderaa dropped a loss in his UFC debut to Sergey Spivak in February before earning a decision win over Justin Tafa in May. That was a pure dogfight and fans will be hoping to see more of the same.
Add Romanov vs. Vanderaa to your list of the top fights to bet on in the UFC this month.
UFC Vegas 40
Date: October 16, 2021
Venue: UFC Apex, Las Vegas
Main Event: Holm vs. Dumont
Alright. This isn't exactly the greatest card I've ever seen.
But as part of any expert UFC strategy, it pays to separate the fight from the fighters. Furthermore, potentially exciting fights don't always equate to great fights to bet on.
But who can resist Holly Holm?
Holly Holm vs. Norma Dumont
Former women's bantamweight champion Holly Holm makes her return to the cage on October 16.
Holm still harbors ambitions of a title shot, despite falling flat in numerous efforts at both bantamweight and featherweight. A win over Dumont is unlikely to thrust "The Preacher's Daughter" into a rematch with Amanda Nunes, but it wouldn't harm her chances.
Dumont makes her 8th appearance as a pro on the night. 6-1 to date, a win over Holm would be massive for her career.
Are we due an upset on the night? Or will Holm cruise to victory against an opponent she is expected to beat?
We will find out. Either way, this is one of the best UFC fights to gamble on in October.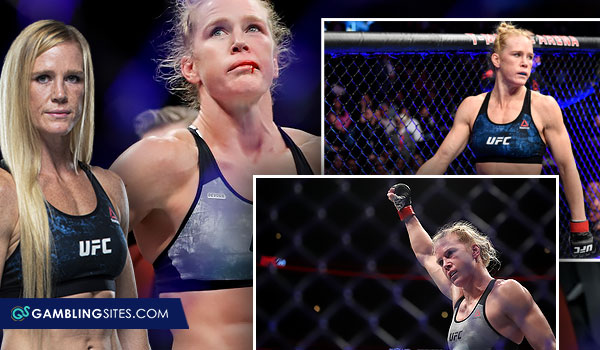 Kennedy Nzechukwu vs. Da Un Jung
This is a fight that will also go under the radar.
But make no mistake, Nzechukwu vs. Jung should be a top fight to wager on this month. The odds are available to bet on, so check out the markets on offer.
Although the card isn't all that, this fight should be among October 2021's best UFC fights that you can bet on.
UFC Vegas 41
Date: October 23, 2021
Venue: UFC Apex, Las Vegas
Main Event: Costa vs. Vettori
As pointed out earlier, the fights this month are more quantity than quality.
But there's an awesome matchup awaiting us in the penultimate event of the month, as well as one that is bound to keep fans at the edge of their seats.
Paulo Costa vs. Marvin Vettori
By far, one of the best fights you can bet on in October.
Paulo Costa is a clear favorite, but is there a chance that Vettori can pull off a shock?
You have a powerhouse of a striker in Costa but a very tough wrestler in Vettori. It's a classic clash of styles and should be a great fight for as long as it lasts.
One year ago today, @stylebender sent a message to the haters ?

Adesanya defended the middleweight crown and handed Paulo Costa his first career loss at UFC 253. pic.twitter.com/tWe45NRZJM

— ESPN MMA (@espnmma) September 27, 2021
Costa will enter the cage for the first time since losing to Israel Adesanya. Vettori fights for the first time since losing to Adesanya.
Alex Caceres vs. Seung Woo Choi
I like this fight.
That should be clear by the fact that I added it to my list of the best bouts to bet on in the UFC this October. But you might be wondering why, so here goes.
Caceres vs. Seung is a top fight in its own right. Still, it is just one of a few bouts that have been announced on this card that is genuinely interesting from a bettor's perspective.
The UFC Vegas 41 card is a little lightweight, admittedly, but I'm definitely excited by this one.
UFC 267
Date: October 30, 2021
Venue: Etihad Arena, Abu Dhabi (UAE)
Main Event: Blachowicz vs. Teixeira
While the top fights to bet on in the UFC this month are equally spread across five events, there's no question that this one is the best of them all.
We have a UFC light heavyweight title fight as well as a showdown for the interim bantamweight strap. Add a couple of other star scraps, and you got yourself a card worth waiting for.
Jan Blachowicz vs. Glover Teixeira
The best fight to bet on in October?
If not, it's certainly the most high-profile bout of the month. At the very least, we're going to see a war between Poland's Blachowicz and Brazil's Teixeira in Abu Dhabi.
These two will go at it for the title of the king of the light heavyweight division. Blachowicz, who makes the second defense of the title, will be up against a rejuvenated Teixeira.
If you plan to wager on UFC fights this month, this is an unmissable scrap.
Petr Yan vs. Cory Sandhagen
What. A. Fight.
A lapse in composure lost Yan the 135-pound strap when he landed an illegal knee on Aljamain Sterling at UFC 259 in March. Sterling's theatrics divided fans, with some believing that he cheated his way to gaining the title.
Others, of course, supported the "Funkmaster" for doing what the likes of Anthony Smith had refused to do against Jon Jones and feigning injury to take the win.
Whatever way you want to look at it, the decision was made. But Sterling's recovery from surgery means that he will not compete against Yan at UFC 267.
Cory Sandhagen gets the nod instead and has a real chance of pushing himself back into title contention following his loss to T.J. Dillashaw in the summer.
This is one of the best fights on the UFC calendar for October 2021 to bet on, and to watch.
Magomed Ankalaev vs. Volkan Oezdemir
This should be another top-class fight to bet on this month.
Ankalaev is clearly the favorite heading into his main card bout with Oezdemir at UFC 267, but the latter will fancy his chances. I mean, he has to, right?
If you're planning your bets for UFC fights in October 2021, see what the latest odds and markets are for this one.
Li Jingliang vs. Khamzat Chimaev
The last of my best fights to bet on in the UFC this month is a good one.
Li vs. Chimaev should be balls to the wall action, which is what fans love about the sport. Both men are big hitters and all-action fighters, so expect nothing but a barnstormer.
The odds for UFC 267's middleweight clash will be in favor of Chimaev. But did his battle with COVID knock him off course a little? Is he there for the taking?
We'll find out on October 30.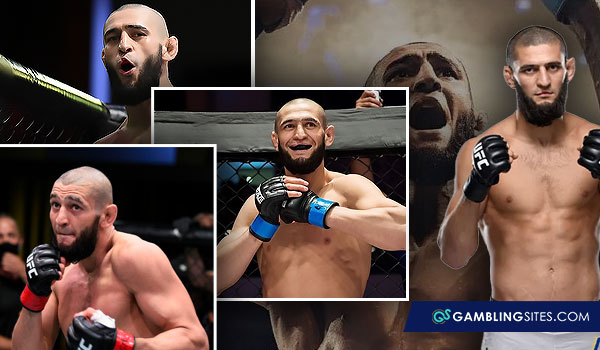 Wrapping Up the Best UFC Fights in October
There are plenty of UFC fights to bet on this October.
But not all of them are going to be up your alley. Therefore, it pays to look through the UFC calendar for the month ahead and pick the best of the bunch.
Of course, that's what I have just done for you.
Now, you might disagree with some of my choices. Perhaps I left something out. If that is the case, you can let me know in the comments section, below.
FYI, you can find predictions and picks for all UFC fights in October in our recommended UFC bets section. That includes individual fight previews and picks, as well as predictions for all fights for each event above.
Make sure to bookmark our MMA betting blog for more insight and useful betting content for UFC fights.
Until next time!
AUGUST
Casino of the Month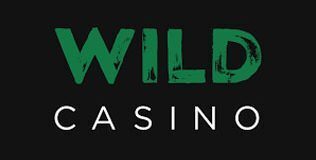 Welcome Bonus
250% up to $5,000
Read Review
Visit Site