Best UFC Fights to Gamble on in November 2021

When it comes to the best fights to bet on in the UFC this November, there's no sign of the promotion slipping on its sky-high standards.
There are three cards in total to look forward to, with several top-class contests scheduled across three weekends of the month. We have two major championships on the line, as well as at least three potential title eliminators to look forward to.
More importantly, there are ten huge fights in the UFC to bet on in November 2021. And I've put them all together, so you don't have to.
Below, you will find information for all three fights cards and the fights to target. I have also added odds for most fights, except for those that have not been released at the time of writing.
Enjoy.
UFC 268: Usman vs. Covington 2
Date: November 6, 2021
Venue: Madison Square Garden, New York
Main Event: Kamaru Usman vs. Colby Covington
It doesn't get much better than this.
If you're set to bet on UFC fights in November 2021, the chances are that you are already picking apart the odds for Kamaru Usman vs. Colby Covington 2.
The promotion's #1 pound-for-pound fighter takes on the biggest heel in mixed martial arts in what should be a classic. The hate is real between these two, so expect fireworks at The Garden on Saturday, November 6.
Just before Usman vs. Covington 2 is a rematch between Rose Namajunas and Zhang Weili for the UFC strawweight title. That fight needs no introduction.
The same can be said for Justin Gaethje vs. Michael Chandler. In fact, there are also a couple more of the top UFC fights you can bet on in November 2021 that just so happen to go down on the night.
Here's a look at the best fights on this card.
Kamaru Usman vs. Colby Covington 2
Has there been a bigger fight than this in 2021? Personally, I don't think so.
There is so much riding on the line in this bout between the world's best welterweights. Forget about the title, this is war. These two men are vying for the top spot at 170-pounds and will throw absolutely everything at each other to ensure they have their hand raised when all is said and done.
The Usman vs. Covington is not just one of the biggest UFC fights you can bet on in November. It is, at least for me, the most important fight of the year.
Revenge Is A Dish Best Served Cold ????? #UFC268 pic.twitter.com/nHnW4FVaOL

— Colby Covington (@ColbyCovMMA) October 27, 2021
A win for Usman could elevate him to a whole new level, while a victory for Covington would set up arguably the most highly-anticipated rubber match in the history of MMA.
If this sounds like hyperbole, you have not been paying attention.
Check out my breakdown of the odds for Usman vs. Covington 2 to understand how crucial this one is.
Rose Namajunas vs. Zhang Weili 2
The lead-up to their first fight saw Namajunas win the mental battle over then-champion, Weili.
A head kick straight out of the textbook knocked the Chinese star out, making the American the first-ever two-time strawweight titlist in the promotion.
But like the headline fight of this card, there is a distinguishable scent of revenge in the air. And regardless of who you are, a fully-focused and pissed Zhang Weili is one of the last people you want on your tail.
I spoke about this clash in a breakdown with odds and analysis for Namajunas vs. Zhang 2 in October. Feel free to check that out once you've had a look through the rest of the best UFC fights to bet on in November 2021.
Justin Gaethje vs. Michael Chandler
Can you imagine how useless you'd feel if it was your job to sell this fight?
I mean, its akin to advertising free cool, fresh water in the middle of the Sahara desert. The bottom line is this one sells itself.
Two of the greatest lightweights on the planet will lock horns at UFC 268, in what should be one for the ages. These guys are former NCAA Division I All American wrestlers that can knock heads from shoulders.
A fight of this magnitude deserves to be a headliner by itself. Not only does that highlight how awesome it should be; it also proves that this card is stacked with some of the best UFC fights this month.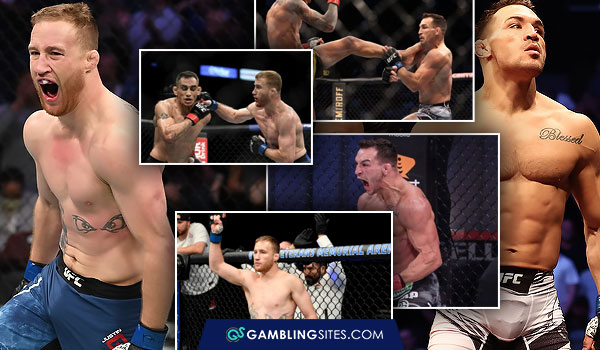 Frankie Edgar vs. Marlon Vera
Former UFC lightweight king Frankie Edgar makes his first appearance at MSG since beating Jeremy Stephens five years ago.
Things aren't exactly going as well for "The Answer" at this stage of his career. The New Jersey-native is 1-4 from his last five and could leave the promotion if he fails to get a win in his next bout.
Marlon Vera is looking to add a big name to his resume having failed to beat Jose Aldo in 2020.
Anyone looking to bet on the best fights in the UFC in November can get on the odds for the fight right now. Edgar is the favorite as things stand, but that could change a little closer to fight night.
UFC Fight Night: Holloway vs. Rodriguez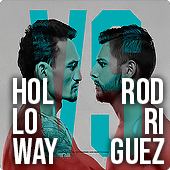 Date: November 13, 2021
Venue: UFC Apex, Las Vegas
Main Event: Max Holloway vs. Yair Rodriguez
UFC 268 has the lion's share of the best fights to bet on in November.
But let's not pretend that it's the be-all and end-all of UFC events you can gamble on this month.
The headliner of this event should be absolute fire. Some of the supporting fights aren't too shabby, either.
Max Holloway vs. Yair Rodriguez
As a longtime UFC fan, there are fewer fighters that I would class above Max Holloway.
Not just as an exceptional fighter, but as a human being. This dude exemplifies what it means to be a warrior and is just one of the most likable fighters on the planet.
It just so happens that he's an absolute savage inside the cage. And if Yair Rodriguez is to get anything out of this fight, he's going to need to bring a performance of the highest quality.
Especially if Holloway is operating on the same level as his last fight.
| | | | |
| --- | --- | --- | --- |
| Holloway vs. Kattar | Significant Strikes | Significant Strikes Landed | Totals |
| Max Holloway | 445 of 744 | 59% | 447 of 746 |
| Calvin Kattar | 133 of 283 | 47% | 134 of 284 |
Former featherweight kingpin Holloway (22-6) and Rodríguez (13-2) were set to fight in the summer, only for "Blessed" to pull out with injury.
The good news is that the bout has been given the green light for November and should be another unmissable event.
Rodriguez is looking to secure the next shot at Alexander Volkannovski's title, while Holloway is gunning to get another chance to reclaim the strap the Aussie took from him in 2019.
One of the biggest UFC fights to bet on in November? You bet.
Kennedy Nzechukwu vs. Da Un Jung
This Nzechukwu guy looks promising, right?
Standing at 6'5″ and weighing in at 205lbs, the "African Savage" is a colossal specimen with serious knockout power.
Born in Nigeria and fighting out of Texas, Nzechukwu is looking to follow the likes of Kamaru Usman, Israel Adesanya, and Francis Ngannou in joining the exclusive club of African-born UFC champions.
Standing in the way of his ambitions is the equally-scary Da Un Jung.
Da Un Jung's Record in Recent Fights
Result
Opponent
Event
Date
Win by Decision
William Knight
UFC on ABC: Vettori vs. Holland
April 10, 2021
Draw
Sam Alvey
UFC 254
October 24, 2020
Win by KO
Mike Rodríguez
UFC Fight Night: Edgar vs. Korean Zombie
December 21, 2019
Win by Submission
Khadis Ibragimov
UFC Fight Night: Andrade vs. Zhang
August 31, 2019
Win by TKO
Sasa Milinkovic
HEAT 44
March 2, 2019
The Korean is just one inch shorter than his opponent on the night and brings some serious pop into the cage. He is the favorite to get the win and take one step closer to a shot at the light heavyweight championship title.
If you're looking to gamble on UFC fights in November, I'd recommend penciling this one in on your calendar.
Ovince Saint Preux vs. Philipe Lins
Some of the best fights to wager on in the UFC in November aren't exactly, like, the most exciting on paper.
There are exceptions, of course, with Saint Preux vs. Lins promising to be an interesting one.
Both men enter the fight with back-to-back losses from their last two. Another defeat on either side could see the UFC's guillotine come crashing down, making this a crucial bout for both.
Will OSP get the job done? Or will Lins overcome his underdog tag to pull a win out of the bag?
UFC Fight Night: Vieira vs. Tate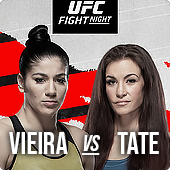 Date: November 20, 2021
Venue: UFC Apex, Las Vegas
Main Event: Kelten Vieira vs. Miesha Tate
The final card of the month has a few of the best UFC fights to be on in November.
The headline bout between Vieira and Tate is bound to catch the most attention, with the former bantamweight champion looking to make one last run at a championship.
Again, there are other fights to wager on beyond the main event of a card. But let's start with the bill-topper.
Kelten Vieira vs. Miesha Tate
Vieira was a perfect 10-0 until she was knocked out cold by Irene Aldana in 2019.
Since then, she is 1-1 with a unanimous defeat to Yana Kunitskaya in February a major setback in her efforts to get a title shot at 135-pounds.
Needless to say, a win over Miesha Tate would be a positive move in the right direction. The former champion is not considered to be as sharp as she was in her heyday and is certainly there for the taking.
Tate will have other ideas, however, and will back herself to get the win.
Having lost her UFC bantamweight strap to incumbent champ Amanda Nunes in 2016, victory on the night could see a rematch on the horizon.
Well, if she can convince the promotion's top brass that she wouldn't be slaughtered, that is.
Can Tate prove she still has it?
Michael Chiesa vs. Sean Brady
One of the best fights to bet on in the UFC this November is Chiesa vs. Brady.
Chiesa is coming off a submission loss to Vicente Luque in his last fight, which snapped a solid four-fight win streak. That loss will have been a bitter blow for "Maverick," who was edging towards title contention.
Sean Brady earns a shot the biggest name of his career on the night, putting his perfect 14-0 record on the line.
Can he get his fifth career finish on the ground against Chiesa? Here is what he's done so far.
| | | | |
| --- | --- | --- | --- |
| Event | Opponent | Submission | Date |
| UFC 259 | Jake Matthews | Arm-triangle Choke | March 6, 2021 |
| UFC Fight Night: Smith vs. Rakic | Christian Aguilera | Guillotine Choke | August 29, 2020 |
| CFFC 65 | Mike Jones | Guillotine Choke | October 21, 2017 |
| CFFC 60 | Tanner Saraceno | Rear-naked Choke | May 20, 2017 |
The Philadelphian submitted Jake Matthews in March to keep an impressive run in the UFC going, with back-to-back sub victories earning him a shot at Chiesa.
Like Vieira vs. Tate, the odds for the fight were not available at the time of writing.
Augusto Sakai vs. Tai Tuivasa
The last of November's best UFC fights to bet on happens to be the first heavyweight entry on the list.
Sakai vs. Tuivasa should be an explosive matchup where someone ends up on their back. That alone makes it an exciting one to anticipate.
Sakai is 0-2 from his last two, having been stopped by Alistair Overeem and Jairzinho Rozenstruik. While there is no shame in being bettered by two of the top heavyweights in the world, a loss to Tuivasa would be devastating for the Brazilian.
Tuivasa is no joke, however. The Aussie has earned three straight first-round stoppages having teetered on the brink of the cut line with three consecutive losses before then.
This fight is going to be wild and could really light up the final UFC card of the month.
Another shoey, anyone?
Shoey on ??????? ??

? The commentator angle of @BamBamTuivasa's win at #UFC264 is everything.

[ @DC_MMA | @JoeRogan | @Jon_Anik ] pic.twitter.com/WC5hplEKdZ

— UFC (@ufc) July 22, 2021
Where to Bet on UFC Fights in November
If you want to get your bets for November's UFC fights down at any point, you have options.
You can discover the choices available to you by visiting our recommended sites for betting on MMA.
Also, if there is time, think about shopping for the best lines across these sites. This will help you increase your potential profit margin by the time all three events have come to an end.
Oh, and don't forget to visit the following sections of our site! You will find the latest bets for the UFC as well as gambling insight and more crucial content to help you with your bets.
That brings a close to my look at what November has to offer.
While we're a bit light on major heavyweight bouts this month, Francis Ngannou should be back in the new year.
Until then, why not relive some of the greatest knockouts of his UFC career, so far?