11 Best UFC Fights You Can Bet on in May 2022

Looking to bet on the best UFC fights in May 2022? Of course, you are. Otherwise, why would you be here?
Having explored the UFC calendar for the month ahead, I've curated the 11 top fights in the UFC to win money on. Providing you get your picks right for these fights, you could have many reasons to celebrate over the coming weeks.
From Charles Oliveira vs. Justin Gaethje to the return of Holly Holm to the Octagon, strap yourself in, and I'll reveal the top UFC fights to bet on in May 2022.
UFC 274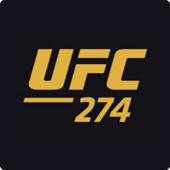 Date: Saturday, May 7
Venue: Footprint Center – Phoenix, Arizona
Broadcaster: ESPN PPV (North America)
Headline Fight: Oliveira vs. Gaethje
There's no doubt about it that the best UFC card of May 2022 is the first one up.
I am, of course, talking about UFC 274. To say this card is stacked is akin to pointing out that water is wet. There are some awesome MMA fights to bet on this May, and many of them will go down in Arizona on the first weekend of the month.
Here's what to expect.
Charles Oliveira vs. Justin Gaethje
The UFC lightweight title is just about as good as it gets in the world of mixed martial arts.
Charles Oliveira currently runs the show in the promotion's 155-pound division, which is widely considered the most dangerous domain in the sport. Wall to wall with talent; it takes a special fighter to win this title. Keeping it in a division full of sharks is no mean feat.
Oliveira vs. Gathje is the pick of the best fights in the UFC you can bet on in May 2022. This Brazil vs. United States showdown takes place in the American's home state of Arizona. Suffice to say, Gaethje will have the lion's share of support at the Footprint Arena.
Of course, being a fighter of Oliveira's magnitude will take much more than packing an arena with a raucous home crowd.
I put a piece together detailing my predictions and picks for Oliveira vs. Gaethje. While the odds have changed slightly since this hit the site, the rest of the material is still as fresh as a daisy. If you're struggling to make a pick for one of the top UFC fights of May 2022, give it a read!
Rose Namajunas vs. Carla Esparza
On May 7, the UFC strawweight title will be up for grabs.
I don't know if you're aware of this, but when Rose Namajunas and Carla Esparza meet in Phoenix on the co-main of UFC 274, it will be the second time they have fought. The first time they met was back at The Ultimate Fighter Season 20 finale. That night, Esparza submitted Namajunas to win the inaugural 115-pound strap.
That's a great story to latch on to ahead of this showdown. But with Namajunas now the greatest fighter at her weight on the planet, is it fair to expect a different result? Don't let that distract you from the chance that if "Thug" Rose gets the win, we could see another rematch on the cards.
First standing arm triangle submission in UFC history.

If Rose beats Esparza, I'm all for Namajunas vs Andrade 3 pic.twitter.com/0eZan7tYPz

— The MMA Dude™ (@philthemmadude) April 24, 2022
One of the best things about betting on the odds for UFC fights in May 2022 is deciding which way to go. Will Rose avenge her loss? Head on over to the top UFC betting sites if you think she will. Fancy Esparza, to do Namajunas for a second time? Those same sites will have odds for that scenario playing out.
It will be a fierce night of fights in Phoenix this May 7. But if you thought that was it for this card, wait until you get a look at this next fight!
Michael Chandler vs. Tony Ferguson
Again, the lightweight division is an absolute jungle. As backed up by the official UFC rankings, the depth is unreal at 155-pounds, with Michael Chandler and Tony Ferguson rated at just 5th and 7th.
Chandler is a former, multiple-time Bellator world champion who fought for the vacant UFC title back in May 2021. The winner that night was not "Iron" Mike but Charles Oliveira. Justin Gaethje then beat Chandler in his most recent matchup.
Now, if the Nashville-native is to have any chance of becoming one of a select few fighters to hold titles in both promotions, he needs a win. The man tasked with ending those aspirations is none other than the perennial contender himself, Ferguson.
An unfortunate set of circumstances prevented "El Cucuy" from getting his shot at the title. Having been matched up with Khabib Nurmagomedov no less than five times to meet a grand total of never, this was arguably the most cursed sports event in history.
When Nurmagomedov was forced to withdraw from their final meeting, Ferguson — who was on a 12-fight win streak at that time — accepted an interim lightweight bout with Justin Gaethje. He was battered by the Arizonan in the first of three straight defeats.
Can Ferguson finally get his title shot with a win over Chandler? Although unlikely, I would not rule it out. This is just one reason to promote this as one of the best UFC fights you can bet on in May 2022.
Mauricio Rua vs. Ovince Saint Preux
A battle between two of the old guard of the light heavyweight roster is another one of the most fun MMA fights this May.
Former divisional champ "Shogun" Rua faces off with former title challenger Saint Preux on the night. It's been a while since Rua or "OSP" has been in title contention. And you wouldn't expect that to change after this fight.
With a combined age of 79, these two are nearing the end of their respective careers. Unfortunately for fans, Father Time remains undefeated.
But that shouldn't have much bearing on how fun this one could be. If you're betting on UFC matches in May 2022, I'd recommend adding this one to your list!
Donald Cerrone vs. Joe Lauzon
Who doesn't love "Cowboy" Cerrone? What old-school fan of the Ultimate Fighting Champion will not involuntarily turn their head toward the TV at the sound of "J-Lau" Lauzon being announced by Bruce Buffer?
Right. And that's what makes this both one to tune in for and one of the top UFC fights to wager on in May 2022.
#UFC274 is going to be ??? pic.twitter.com/PY2A0EDSv2

— UFC (@ufc) April 24, 2022
Like Rua and OSP, both Cerrone and Lauzon have seen better days. You could argue that this fight is a gift from the promotion to Cowboy, who has never shirked or ducked anyone in his career. Will Cerrone retire after this one? Perhaps. He should be primed for a good send-off if that is the case.
Now, don't get it twisted. No fight is a given. Lauzon was a bona fide animal back in the day but hasn't fought since October 2019's victory over Jonathan Pearce. That ended a three-fight skid for the Brockton, Massachusetts man.
Whatever way you look at it, this one should be a great matchup and one that jumps off the page when you see the UFC calendar for May 2022.
UFC Vegas 54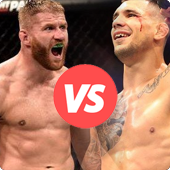 Date: Saturday, May 14
Venue: UFC Apex – Las Vegas, Nevada
Broadcaster: ESPN+
Headline Fight: Blachowicz vs. Rakic
The second UFC card of the month takes us back to Las Vegas.
What a fight we have in the main event of the evening. It's Poland vs. Austria in the main event, with a former UFC light heavyweight champion returning to the cage.
This card has a couple of other top fights in the UFC in May 2022. We'll get to those after I take a quick look at the main event.
Jan Blachowicz vs. Aleksandar Rakic
Blachowicz is back.
Having been submitted by Glover Teixeira at UFC 267, losing his title in the process, what can we expect from the Pole? Will he be fired up and motivated to get that strap back around his waist? Or is he simply showing up to collect a check?
No one who knows this guy would even dare to suggest that it's the latter. And with Rakic looking to earn some clout from his name, I believe we will see the former king of 205 coming out of the blocks as a man possessed.
????????? ?????? ????? ™ ??

? #OnThisDay in 2019 – @JanBlachowicz shut it down.

[ via @UFConThisDay ] pic.twitter.com/AKRTQkI34R

— UFC (@ufc) July 6, 2021
Will that be enough to secure Blachowicz the win over Rakic? Or will there be an explosive performance from the "Rocket" coming our way?
There's only one way to find out. Just make sure to put a red circle around this one in your May 2022 UFC fights calendar.
Katlyn Chookagian vs. Amanda Ribas
Alright, I get it. Not everyone is going to love this fight.
But one thing I would like to emphasize when curating the best UFC matches to bet on in May 2022 is this — a great fight doesn't always mean it's a good one to wager on. The same can be said in reverse.
Although Chookagian vs. Ribas is unlikely to be the fight of the year, I reckon it will be a good stylistic matchup.
You have two fighters hungry to push themselves into contention for a shot at Valentina Shevchenko's flyweight crown, and you could make a strong case in favor of either coming out with the win.
Although not released at the time of writing, I'm expecting the UFC odds for May 2022 to have the line for this one pretty close. Still, if you are looking to bet on the fights, always make sure to indulge yourself in a bit of line shopping to get the best bang for your buck.
Ryan Spann vs. Ion Cutelaba
Speaking of big bangs, Ryan Spann is back.
The American welcomes Moldova's Ion Cutelaba to the Octagon in what should be one of the more exciting UFC matches this May 2022. Spann is looking to bounce back from a submission loss to Anthony Smith, but "The Hulk" will not be a walkover.
Cutelaba beat Devin Clark by unanimous decision in September, following his split draw with Dustin Jacoby in May 2021. He will be looking to put his first streak together since stopping Henrique da Silva and Gadzhimurad Antigulov in back-to-back bouts in 2017 and 2018.
This one should be a belter.
UFC Vegas 55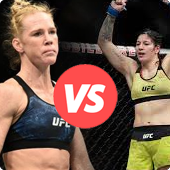 Date: Saturday, May 21
Venue: UFC Apex – Las Vegas, Nevada
Broadcaster: ESPN+
Headline Fight: Holm vs. Vieira
The last and final fight of the UFC cards in May 2022 features a headline bout in the women's bantamweight division.
The former titleholder, Holly Holm, is looking to get her maulers on one last shot at the crown. Standing in her way is another title hopeful in Ketlen Vieira.
Although the bill topper should be a great watch, the co-main event will be just savage. If you're betting on UFC fights this May, don't write this event off!
Holly Holm vs. Ketlen Vieira
Holm hit spot number 13 in my list of the most overrated UFC fighters of all time.
As a boxer, she was phenomenal – one of the best in the female game. As a mixed martial artist, "The Preacher's Daughter" has had her moments. But other than that sensational knockout of Ronda Rousey — I'll give you one guess where "Rowdy" ranks on that list — the New Mexico native has flattered to deceive.
Here's a list of her losses in the promotion.
Loss to Amanda Nunes by TKO – UFC 239 – July 2019
Loss to Cris Cyborg – UFC 219 – December 2017
Loss to Germaine de Randamie – UFC 208 – February 2017
Loss to Valentina Shevchenko by Decision – UFC on Fox – July 2016
Loss to Miesha Tate by Submission – UFC 196 – March 5, 2016
Other than Tate, that's a murderer's row right there.
Nunes, Cyborg, and Shevchenko are the greatest of all time. You could put de Randamie somewhere in the top ten. Tate though? Other than being a pioneer, she wasn't much. So, in a nutshell, Holm has lost to every great and top-level fighter she has faced.
However, the good news for her fans is that she is 2-0 from her last two. Decisions over Raquel Pennington and Irene Aldana have pushed her up to 7th in the official UFC rankings at women's bantamweight, and one more victory could see her back in the top five.
Ketlen Vieira is no joke, and she won't be coming to play. The Brazilian wants her first shot at UFC gold and will back herself to win what should be one of the best fights in the UFC to gamble on in May 2022.
Santiago Ponzinibbio vs. Michel Pereira
I have so much hope for this fight. On paper, at least, it should be absolutely mental.
Ponzinibbio was a fighter I had expected to go far just a few years back. Things haven't worked out that way, with the Argentine's seven-fight win streak being snapped by Li Jingliang following a three-year layoff. A win over Miguel Baeza put him back on the horse, only for Geoff Neal to beat him by split decision back in December.
To those in the know, Pereira is an absolute madman inside the cage. I mean, have you ever seen anything quite like this?
Michel Pereira back to his usual antics ? #UFCVegas9 pic.twitter.com/fwItI0pTgU

— UFC (@ufc) September 6, 2020
About as unorthodox as a glass hammer, you never know what to expect with the Brazilian. That equals excitement, folks. And if Ponzinibbio brings his A-game, we could be in for a potential classic.
One of the top UFC matches to bet on in May 2022. Fact.
Felipe Colares vs. Chase Hooper
The final fight on this list of the best fights in the UFC to wager on this May, Colares vs. Hooper, is more interesting than you might think.
Colares is 2-3 from his five fights in the promotion. A split decision loss to Chris Gutierrez puts the Brazilian in a very inauspicious position — a loss could mark the end of his run inside the Octagon. Needless to say, he needs a win.
Hooper was thought to be one of the brightest young stars on the roster until Alex Caceres handed him his first loss in 2020.
In December of that year, he bounced back with a win over Peter Barrett but lost to Steven Peterson in his last fight at UFC 263 in June 2021. Can he live up to his promise? Or will he be another hype train that ran into the canvas?
Both of these guys need wins. That should be all the motivation required to make this one of the best MMA fights you can bet on in May 2022.
Where to Bet on UFC Fights in May 2022
That's my list of the top UFC fights you should bet on in May 2022, done and dusted.
If you have already signed up with the best MMA betting apps, you'll be free to get your hands on top odds and markets for the fights. If you need to look for an app or site, make sure to check out our rankings.
Among the top sites to bet on MMA fights is BetUS. Feel free to check them out and compare odds for UFC matches this month with one of our other suggested sites or apps.
Bet on May's Best Fights at BetUS
I have a further recommendation for you to bookmark our UFC betting blog and MMA picks sections. Alongside odds, suggested bets, and even advice for the MMA DFS side of things, you will find plenty of content that will catch your eye.