Best Super Bowl Halftime Show Prop Bets for 2021

The Weeknd headlines the Halftime Show at the 2021 Super Bowl. That much we know.
As far as if any other notable figures will make a cameo on stage, that remains uncertain. In terms of which of The Weeknd's mega-hits will be performed first, that's information only a select few are privy to.
Be that as it may, we can bet on all of the above.
While not all bookies have unleashed a crop of Super Bowl 55 Halftime Show props, some of the top Super Bowl betting sites have come through with flying colors.
Take a look at some of the halftime prop bets you can place right now.
Will Ariana Grande Appear with The Weeknd?
This wager, along with the next four Halftime Show props for the Super Bowl, feature odds heavily favoring "no." However, it's highly unlikely The Weeknd performs solo the entire time, meaning there's a good chance one (if not more) of these bets cashes in.
Remember, J Balvin, Bad Bunny, Emme Muniz all made guest appearances at Super Bowl 54.
Now let's examine how/if Ariana Grande fits into the puzzle for Super Bowl 55.
Grande is one of the most popular female artists in the country, and she's been linked to The Weeknd on multiple accounts. Ariana teamed up with The Weeknd to deliver Love Me Harder (2014), and more recently, they collaborated on Off the Table in 2020.
I'm by no means confident that Grande will make an appearance, but +600 odds are awfully juicy to pass up given their intense chemistry. I'll go with "yes."
Will Doja Cat Appear with The Weeknd?
Another female artist The Weeknd has put out a collab with is Doja Cat. The 25-year-old rapper from Los Angeles was included in a remix to In Your Eyes that was released on May 21, 2020.
That version alone has well over 22 million views. I've seen other iterations with more than 11 million clicks, and it's worth noting that the original version of this song that The Weeknd's uploaded onto his account is sitting with north of 83 million views.
The point being – In Your Eyes is a massively popular track. If The Weeknd decides to sing it in Tampa Bay, there's a decent chance we see Doja Cat contribute her portion.
Will Drake Appear with The Weeknd?
Drake and The Weeknd appear to have squashed their beef. Drake quickly came to the defense of The Weeknd over the 2021 Grammy's Controversy, pointing out that he believed The Weeknd "was a lock for either album or song of the year."
With that being said, it hasn't always been cordial between the Toronto natives.
It started when The Weeknd chose to sign with Republic Records when he burst onto the scene in 2012 – instead of signing with Drake's label, OVO. Drake aired out his displeasure on Twitter, stating, "You won't just get away with a thank you…you owe me a favor."
And there's more.
The Weeknd's on-again, off-again relationship with Bella Hadid has been well documented, so it didn't help the "brotherhood" when Drake was rumored to be romantically linked to Bella.
Imagine being Bella Hadid and having both The Weeknd and Drake writing songs about you. Some people really do have it all

— Ellen Durney (@ellendurney) June 29, 2018
From multiple references in the track Finesse to all sorts of gossip on social media, this obviously rubbed The Weeknd the wrong way. Hence, The Weeknd later released Lost in Fire, where he dissed Drake on numerous accounts.
Perhaps the beef is fully squashed, or maybe there's some lingering resentment, but here's what's indisputable.
Drake is too big of a star to be a "secondary performer" on the biggest stage of them all. I'm not in love with a -900 price tag, but this seems to be one of the safest Halftime Show prop bets for the Super Bowl.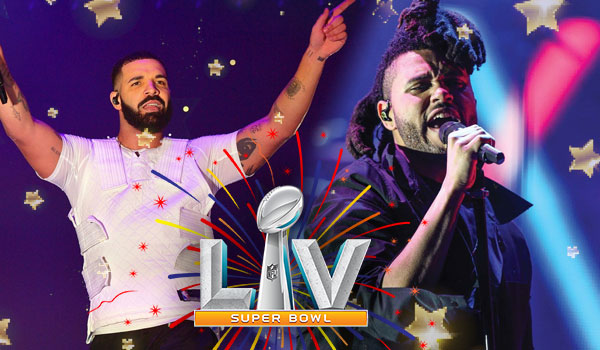 Will Kenny G Appear with The Weeknd?
In case the younger generation has never heard of Kenny G…
Kenneth Bruce Gorelick is a 64-year-old saxophonist who has sold more albums than any other instrumental musician in the modern era. He's slated to perform live five times from now until next May.
Kenny G – Upcoming Concerts
Date
Venue
Location
3/23/21
Florida Theatre
Jacksonville, FL
6/12/21
Steven Tanger Center for the Performing Arts
Greensboro, NC
12/2/21
Genesee Theatre
Waukegan, IL
12/12/21
Sound Board Theater (MotorCity Casino & Hotel)
Detroit, MI
5/21/22
Steven Tanger Center for the Performing Arts
Greensboro, NC
Now let's shift gears to what Kenny G has to do with The Weeknd.
You've seen this movie before if you watched the 2020 American Music Awards in November. Kenny G played the sax alongside The Weeknd singing In your Eyes and Save Your Tears. Check out the performance below.
In fact, Kenny G and The Weeknd were together on stage performing In Your Eyes just prior (9/22/20) at the Time100 live event.
Something tells me Jay-Z and the crew producing the Halftime Show are seeking something a bit more original – not something we've seen twice in the last few months.
On that note, here's my suggestion.
BetOnline delivers one of the best Super Bowl betting apps in the industry. Grab your phone, log in, and dial this bet in!
Will a Michael Jackson Hologram Appear with The Weeknd?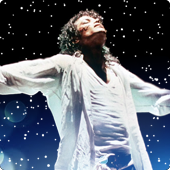 This is one of the Super Bowl 55 Halftime Show prop bets that's difficult to glean any substantial insight into. Sure, we know Abel Tesfaye's (The Weeknd's birth name) musical career was largely inspired by the work of Michael Jackson, and publications have even gone as far as saying The Weeknd is Michael Jackson reborn.
However, this goes back to Jay-Z and his team not playing copycat.
A performance-centered around Michael Jackson's hologram is featured on The Strip in Vegas. I've actually been fortunate to see "One by Cirque du Soleil" in-person, and it's absolutely fantastic.
And then there's the 2014 Billboard Music Awards where "The King of Pop's" hologram was the major talking point of the entire evening.
As much as Jay-Z would love to pay homage to Jackson, mimicking something that has been done before isn't his cup of tea.
Of course, there's no real money to be made by coughing up -5000. In that sense, you're probably best steering clear of this wager, especially in light of all of the other Halftime Show props for the 2021 Super Bowl.
What Song Will The Weeknd Perform First?
We all knew this bet was coming as I alluded to this exact wager in December when I blogged about who is performing at the Super Bowl 55 Halftime Show.
Before we make a selection from The Weeknd's list of hits, let's have a glance at who opened with what song in the 10 most recent Halftime Show performances.
First Song Performed at the Super Bowl Halftime Show
Year
Artist/Group
Opening Song
Billboard Peak
2020
Shakira/Jennifer Lopez
She Wolf
7
2019
Maroon 5
Harder to Breathe
18
2018
Justin Timberlake
Filthy
9
2017
Lady Gaga
God Bless America
Cover
2016
Coldplay
Yellow
48
2015
Katy Perry
Roar
1
2014
Bruno Mars
Billionaire
4
2013
Beyonce
Run the World
29
2012
Madonna
Vogue
1
2011
The Black Eyed Peas
I Gotta Feeling
1
You can see a balance of #1 hits and some "lesser-known" songs. The Weeknd has four #1 tracks on his resume, although three of those four songs (Beauty Behind The Madness, After Hours, My Dear Melancholy) are not part of the odds list.
Starboy is (peaked at #1 on the Billboard chart in December of 2016), and it happens to be my choice for this Halftime Show prop bet.
I fully anticipate Blinding Lights and Pray For Me being part of the set, and it'd be surprising if The Hills wasn't included. Nevertheless, the beginning of Starboy has the perfect rhythm and energy to get the atmosphere rocking. I could even see The Weeknd being lowered onto the stage dramatically as the beat kicks in.
More Super Bowl Prop Bets to Attack in 2021
Surely some of these Super Bowl Halftime prop bets in 2021 caught your attention. Considering the budding friendship between Ariana Grande and Doja Cat, doubling down on both of these women participating in the halftime festivities has plenty of merit.
.@ArianaGrande shares "34+35" remix with Megan @TheeStallion and @DojaCat.https://t.co/ceToejxQt4 pic.twitter.com/owBxH0OlyC

— The FADER (@thefader) January 15, 2021
Lurking at +600 and +500, respectively, even being correct on one out of two sets you up for a profit.
I don't think we'll see Drake or Kenny G, and don't hold your breath waiting for a Michael Jackson hologram to appear at Raymond James Stadium.
The SB Halftime Show prop that intrigues me the most is the one revolving around which song The Weeknd will perform first. I went with Starboy, but one of my colleagues offers up a different opinion in the post below.