Best Super Bowl 56 National Anthem Props – Money Making Tips for the Anthem

To the novice bettor, even the concept of betting on the national anthem at Super Bowl 56 might sound bizarre.
To those of us accustomed to the craziest props for the Super Bowl, this is lightweight. In fact, wagering on how long The Star-Spangled Banner will last will be a popular way for bettors trying to win real money on Super Bowl 56.
How do I know that? Well, the bets are already flying in. And despite this seeming like a niche market to some, there is more than one way to gamble on the national anthem at Super Bowl LVI.
Grammy-nominated country star Mickey Guyton is tasked with singing the anthem at this year's edition of the Big Game. Los Angeles' own Jhené Aiko will take on America the Beautiful. The good news is that you can find tons of betting specials for the Super Bowl 56 national anthem props that could land you a nice profit.
Ready to look at the latest props for the national anthem at Super Bowl 56? Great. Let's do it.
How Long Will It Take Mickey Guyton to Sing the US National Anthem?
How long does it take for the national anthem to be sung at the Super Bowl?
That, right there, is a very good question. An easy counter to that question is how long is a piece of string?
In other words, there is no set timeframe for a performer to get through The Star-Spangled Banner, which makes this one of the more intriguing props for Super Bowl 56 for novelty bettors.
Rather than trying to guess the exact time, which would be a lot tougher than you might think, many of the best sites for betting on Super Bowl 56 online have provided fans with an over/under market to work with.
Over 1 Minute And 38 Seconds
-115
Under 1 Minute And 38 Seconds
-115
So, will you be wagering on the over/under markets for the 2022 Super Bowl?
If so, which way to go? Given the numbers here, it's only fair for me to point out some of the things to consider when betting national anthem props for Super Bowl LVI.
For example, do you even know what the average length of the Star-Spangled Banner is at the Super Bowl? Keep reading and I'll talk you through the reasons for my pick before I reveal what it is.
What Is the Average Length of the National Anthem at the Super Bowl?
As you can see, the line has been set at 1 minute and 38 seconds. Or, 98 seconds in total.
Admittedly, this seems pretty short when you consider the fact that the average time of the national anthem in the Super Bowl comes out at just over 1 minute 43, or 103 seconds for those who like to work in that base unit of time.
And when I reference the average length of The Star-Spangled Banner at the Super Bowl, I'm counting every single one. All the way back to the first-ever Super Bowl, when The Pride of Arizona, Michigan Marching Band, and the UCLA Choir clocked in at 1:16.
Previous Results for the SB National Anthem Props – The Over/Under
Edition
Performer
Time
Over or Under
Super Bowl 55
Jazmine Sullivan and Eric Church
2:17
Over
Super Bowl 54
Demi Lovato
1:49
Under
Super Bowl 53
Gladys Knight
2:01
Over
Super Bowl 52
Pink
1:52
Under
Super Bowl 51
Luke Bryan
2:04
Under
Super Bowl 50
Lady Gaga
2:22
Over
Super Bowl 49
Idina Menzel
2:04
Over
Super Bowl 48
Renee Fleming
2:03
Under
Super Bowl 47
Alicia Keys
2:36
Over
Super Bowl 46
Kelly Clarkson
1:34
Push
Super Bowl 45
Christina Aguilera
1:53
Under
Super Bowl 44
Carrie Underwood
1:47
Over
Super Bowl 43
Jennifer Hudson
2:10
Over
Super Bowl 42
Jordin Sparks
1:54
Over
Super Bowl 41
Billy Joel
1:30
Under
Back then, you couldn't legally bet on the length of the national anthem at the Super Bowl online.
For a start, the internet didn't exist. The rest, you can probably work out for yourself. For that reason, I have cut the table above down to the first-ever time props for the Super Bowl national anthem were offered.
Given Guyton is a country singer with elements of R&B and pop, I believe we can expect her to hit the over in this market.
I'll explain a few more things to consider when placing wagers on national anthems props later, and share some more, but my pick in this market is 100% on the over.
More to Consider When Betting National Anthem Props for Super Bowl 56
When it comes to the question of should you bet on the over or under national anthem market at Super Bowl 56, it's really up to you.
But there are things to consider, other than the average time of the anthem, that could potentially win you some cash.
I've mixed some tips in with some additional Super Bowl trivia that is exclusively based on the anthem, and to help you crack these bets.
Consider the Artist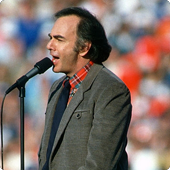 Of all the artists that have sung the national anthem at the Super Bowl, cringe master general Neil Diamond has the shortest time at 62 seconds.
Alicia Keys holds the record for the longest Super Bowl anthem at 156 seconds, just shy of three minutes. So, why is there such a discrepancy between the times it takes one artist to complete the anthem when compared to another?
First, you must consider the artist's style. Diamond, for example, is a very basic vocalist who is straight to the point. Keys, on the other hand, is a slow, soulful warbler that hangs on her notes and takes a more tactile approach when delivering them.
The Super Bowl National Anthem Is a Big Deal
When compared to years gone by, this is a huge thing for an artist to be tasked with.
Not only will most singers look to embrace the moment by taking their time; they will also want to be careful not to let the giant occasion lead them into slipping on notes or phrasing that will turn them into internet memes overnight.
Remember that Carl Lewis moment? The one when he sang TSSB an NBA clash between Chicago Bulls and the New Jersey Nets in 1993? Here, let me remind you.
Skip to 1:08 for the, erm, you know.
Anyway, you would not get away with that at the Super Bowl. That's why artists are carefully selected to have the honor of performing the national anthem of the United States.
If they do well, they can see their stock rise as high as the rockets' red glare. Screw up, and it's akin to bombs bursting in the air.
OK, that's arguably the worst thing I have ever written. But you get the drift.
Did You Know there Is a Code to Adhere to?
One thing that gets majorly overlooked by those looking to bet on how long the national anthem usually takes at a Super Bowl is the code that governs its use.
This is less known than the flag code for the US, and something that has not — and dare I say will not, at least this Sunday — be something that will be broken.
In short, there are rules governing the key that the anthem should be played in. This prevents the likes of Daft Punk from performing it in F♯ minor, or some desert rock band blasting it out in B♭ Minor at 102 BPM.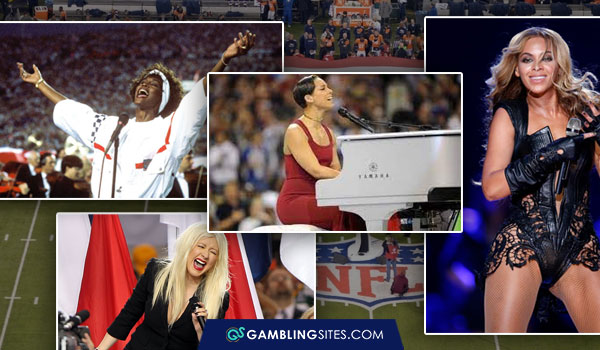 You'll notice that most vocalists who perform The Star-Spangled Banner at the Super Bowl are highly trained professional females with major ranges. This ensures that screw-ups are less common, but they do happen, especially if sung in the key of C.
This is because the highest note to hit is a G which equates to an octave and a 5th above the song's third note, which is the lowest in the composition.
At Super Bowl 56, the anthem will likely be in B-Flat major, which will ultimately make it easier to sing. If it's easier to sing, the likelihood is, in my opinion, that Guyton will be able to comfortably handle the task. Thus, embracing the moment and, quite rightfully, enjoying herself to boot!
That's not meant as a knock-on Guyton, who I'm sure will smash it! What I'm getting at is that the key will determine how sweeter the sound is for all of us and, most importantly, dictate her attack and the time it takes to get from start to finish.
My knowledge of musical theory is far from expert level. But hopefully, the basics above should help you make up your mind about what bets to place.
Some bets, of course, are not going to be as easy to call. Making predictions for the national anthem length at the Super Bowl is more straightforward than some of the options below.
Let's look at some more betting markets for the national anthem for the Rams vs. the Bengals.
Any Scoring Drive Shorter Time than Anthem Length
Those placing wagers on the top sites for betting on Super Bowl 56 might have encountered this one.
It's a simple yes or no that is required here. The bookies appear to believe that there will be a scoring drive that is less than the time it takes for the anthem to be sung. But I'm not majorly sold on that, with all things considered.
Let's put it like this — the anthem will likely be over 1 minute and 38 seconds. So, to be conservative, let's round things up to 1 minute 40, for the sake of illustrating a point. That means that we are looking at 100 seconds. Will there be a scoring dive shorter than that?
Given any scoring drive under that figure will more than likely come at the end of either the 2nd or 4th quarter, based on how the game is flowing, the yes is the safer bet.
But with the sheer offensive and defensive talent on both sides of the line, the plus money odds for the national anthem prop bet in question might be worth a shot.
This is not one of the craziest props for Super Bowl 56, so I wouldn't hate you for giving it a shot.
Color of Mickey Guyton's Outfit During the Anthem
One of the least predictable national anthem props for Super Bowl 56.
I mean, how is anyone meant to guess the color that Guyton will wear during the anthem? It's random, although you can use the process of elimination to remove some of the options.
First, I think the odds for Mickey Guyton's outfit at the Super Bowl being white are far too low at +250.
The Rams will be playing in their white jerseys, with blue and yellow sleeves, as visitors in their own stadium. The Bengals will be in black jerseys, white pants, and orange jerseys.
Talk about a glow-up. If you know, you know…#RuleItAll | #SuperBowl pic.twitter.com/Xf8zwRw8J5

— Cincinnati Bengals (@Bengals) February 2, 2022
To keep things objective, I doubt that the national anthem performer at Super Bowl 56 is going to want to dress in a costume that nods to either of the obvious colors of either side. I could be wrong, of course, but am simply trying to eliminate the possibilities.
I'll be honest, I like to dress well, but I have no idea about matching outfits to handbags or heels. That stuff goes right over my head.
You can see some of Guyton's fashion preferences here, if you're keen on gambling Super Bowl 56 national anthem props based on the color of her outfit.
As this is ultimately a random market with little science to factor in, I won't even bother making a pick. Instead, if you're looking for bold predictions for Super Bowl 56 that don't involve the color of Guyton's outfit, check out this following piece.
Guyton to Forget or Omit a Word During the National Anthem
Aside from facing the wrath of every proud American, screwing up The Star-Spangled Banner at Super bowl 56 is going to catch you some major media heat on Monday morning.
Although it's nailed on that this highly professional and competent vocalist will get it right, I would check the terms and conditions of the market for full disclosure of what counts as a forgotten or omitted word.
On a base level, it's simple — the market is geared toward Guyton suffering a brain fart and forgetting something such as the "sing," part from the first sentence. Or thinking the word "perilous" should be discarded altogether.
It's equally as unlikely that she will forget or omit a word as it is that any bookie will pay up for something that borders on a slip of the tongue.
Where everything is concerned, I'm not sure I'd be willing to bet $3000 to win $100 on any of the Super Bowl 56 national anthem props. Overextending your exposure on these types of bets is certainly among the biggest things to avoid when betting on Super Bowl LVI, so keep that in mind.
Will Mickey Guyton Show Cleavage During the Anthem?
Ahem. A little awkward, no?
Again, who knows what Guyton will wear? I'm pretty certain that, whatever she chooses to wear, she will be looking to avoid Janet Jackson's famous "nipplegate" fiasco at all costs. Especially during the national anthem.
Sharp #SuperBowl action on Mickey Guyton NOT to have cleavage during National Anthem at +135.

No cleavage is now -130.

Have to always root against those pesky sharps….

And of course root for cleavage pic.twitter.com/fDCagwq4qS

— Dave Mason (@DaveMasonBOL) February 8, 2022
The odds for no cleavage were set at -130 with BetOnline before moving out to -175. Expect it to go well past the -200 mark soon.
Other National Anthem Props for Super Bowl 56
If you just can't get enough of these props, the good news is that there are plenty out there. Here are a few more popular national anthem props markets for Super Bowl LVI.
Number of Planes During the Flyover
Last year, fans watched three planes fly overhead before the Chiefs vs. Buccaneers game. The B-1, B-2, and B-52 bombers were on full display.
The flyover at the #SuperBowl. ✈️ pic.twitter.com/isvpUtsu34

— Super Bowl LVI on NBC (@SNFonNBC) February 7, 2021
This year, the formation for Super Bowl 2022 includes a P-51 Mustang, A-10C Thunderbolt II, F-16 Fighting Falcon, F-22 Raptor, as well as an F-35A Lightning II.
That doesn't guarantee that there will be more than five planes flying over. However, with this year marking the 75th anniversary of the Air Force, we could see a very special display.
Pick: Over 5 Planes (+125)
To Be Shown 1st During the Anthem
This is a case of taking your pick.
McVay has been to a Super Bowl as a coach before, having fallen to the Pats back in 2019.
Perhaps this could play a part in who is shown first. But ultimately, it's random. If you're set on betting this national anthem prop for Super Bowl 56, why not take the plus money odds?
Will Joe Burrow or Matthew Stafford Be Shown First?
Again, this is a random bet, at its base level.
Burrow is the star man, however. With the fairy tale story punctuated by his efforts this season, the cameras will be all over him.
Whether that will be enough to see him make the big screen before Stafford is unknown. But he will likely be the face most neutrals will be looking to see.
More Super Bowl 56 Props and Betting Advice
That's it for my look at the Super Bowl 56 national anthem props bets and markets.
There's a little bit of science to apply where some of the odds are concerned. Conversely, others are pretty much random shots. Not everyone will be happy to bet real money on the Super Bowl with little to support their bets. But to those who are, good luck.
If you haven't already done so, please make sure to check out our Super Bowl betting guide. It's jam-packed with valuable info and advice that could come in crucial when trying to win your wagers.
I'll leave you with one of our popular reads from our Super Bowl betting blog. Those interested in more props will have a wide range to choose from, but again, exercise good judgment and caution when gambling on props for the Big Game.
Good luck!