Best Sites to Bet on the 2018 NFL Playoffs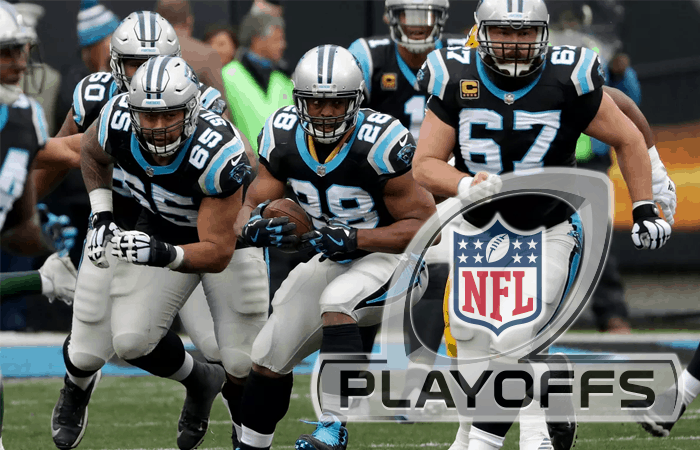 The NFL playoffs is one of the most exciting times of the year to be a sports bettor.
Sure, you no longer get to enjoy the all-you-can-eat buffet of an NFL regular-season Sunday, but you get to see every snap of every game since they aren't played simultaneously (great for live betting). You also don't need to handicap motivation, since every player is guaranteed to be giving 100% in a win-or-go-home scenario and can instead just place your wagers on which team you think is the best value against the point spread.
Just in case you haven't yet dipped your toe in the sports betting waters, or if you have an account at just 1 or 2 betting sites and don't know what you're missing, here's my list of the 5 best sites to bet on the NFL playoffs 2018:
But what good is a list without explaining why these sites are on it? So read on to see exactly why I believe these 5 sportsbooks are the best (and safest) for you to use when betting on some postseason pigskin.
1. Bovada
Unless you're wagering thousands of dollars on your average bet, Bovada is another great site to use for betting on the 2018 NFL playoffs.
That's because Bovada, a recreational book, has limits that are lower than other betting sites that cater to professional players.
Their limits are still high enough to accommodate the average player (up to $5,000 on NFL spreads and up to $2,500 on NFL moneylines, totals and parlays), but pro bettors will likely need another option.
Other than that, Bovada's got everything that you might be looking for when betting on the NFL playoffs. They've got the standard -110 pricing on sides and totals, plus a great selection of props as well. In fact, when I wrote this piece, Bovada already had various prop odds up for the 2018 NFL season, such as who the Broncos starting quarterback would be on opening day (anyone other than Brock Osweiler, Trevor Siemian and Paxton Lynch is a -150 favorite) or if Jon Gruden would be a head coach at any point in 2018 (the Yes paid +150).
Bovada's live betting also adds a lot of fun to NFL games. You aren't just limited to point spreads or totals at Bovada, you can also wager on things like what the outcome of the next drive will be.
As of December 28, 2017, Bovada was offering a welcome bonus of $250 on your first cash deposit. But if you were to deposit with bitcoin, you could take advantage of a one-time 50% match bonus up to $500 on your first bitcoin deposit. That offer expires on February 3, 2018, which just happens to be when the NFL playoffs come to an end.
2. SportsBetting.ag
SportsBetting.ag has a lot of similarities to BetOnline because they are owned by the same company. But it's still worth joining SportsBetting.ag to bet on the 2018 NFL playoffs because a) you can cash in on even more bonuses, and b) some of those bonuses are different.
When I wrote this article, SportsBetting.ag was offering a 75% welcome bonus up to $1,000 on your initial deposit (remember, BetOnline was offering 50%). You could also get the 100% bitcoin deposit bonus up to $1,000, the 25% bonus for life offer on all reloads (up to $1,000 per shot), and the $25 live betting free play and $50 mobile betting free play offers that BetOnline had.
You'll still get the same odds and betting options at SportsBetting.ag that you will at BetOnline, and the banking options are essentially the same as well. But again, I strongly recommend you sign up at both books just to take advantage of all that free cash. It's a great way to inflate your bankroll just in time for Super Bowl 52.
3. BetOnline
The most obvious reason to sign up and deposit money at BetOnline before the NFL playoffs start is the bonuses. I don't know any other betting site that offers bigger and better bonuses than BetOnline, and their rollover requirements (the minimum amount you need to bet before you're allowed to withdraw money) are player-friendly as well.
As I wrote this article (on December 28, 2017) roughly a week before the NFL playoffs were scheduled to begin, this was the list of the bonuses being offered at BetOnline:
50% welcome bonus on your first-ever deposit (up to $2,500 in free plays)
25% lifetime bonus guarantee on all subsequent deposits (up to $1,000 in free plays per deposit)
100% bitcoin deposit bonus on your first-ever bitcoin deposit, up to $1,000 (using promo code BTC2017)
$25 live betting free play to use on your first-ever live bet at BetOnline
$50 mobile betting free play to use on your first-ever mobile bet at BetOnline
You always need to make sure you check out the terms and conditions before you accept bonuses, just so there are no surprises. But the point is that BetOnline will reward you over and over with free plays and other bonuses just for being a member.
In addition to the bonuses, BetOnline is also often one of the first betting sites to post odds (giving you a chance to bet openers before the sharps move the lines) and always has a wide selection of futures and props.
Their live betting is also one of my favorites to use.
Depositing and withdrawing money at BetOnline is pretty easy as well. Their preferred banking method is bitcoin, but you can also use your credit card, various e-wallets or even a cashier's check to make a deposit. And when it comes to withdrawals, they promise that "we'll get you your money faster than anyone else."
4. MyBookie.ag
This betting site hasn't been around as long as many of its peers, originating just 3 years ago out of Costa Rica. But MyBookie.ag is quickly building itself a reputation as a sportsbook that is fun to play at and, more importantly, one that pays winners. You also may have heard MyBookie.ag starting to advertise on various media, including ESPN podcasts. That's a pretty strong sign that they are looking to grow their brand and are committed to staying around for a long time, something you can't do if you stiff your customers.
Just like it was at the other books, a big reason to join MyBookie.ag is the bonuses you can get as a new player.
As of December 28, 2017, MyBookie bonus offers included standard things like up to 50% on your first deposit, a $20 risk-free bet and a 25% reload bonus up to $500 (for existing customers). But a unique bonus that caught my eye was their "No Fun Refund" bonus, where your wager can be refunded if the NFL team you bet on is flagged for excessive celebration following a touchdown in the final 5 minutes of regulation, then goes on to lose. (Check out their website for full details of that promotion as well as the rest of the MyBookie bonuses.)
MyBookie's unique offerings aren't just limited to bonuses, either. They've also got prop betting options that many other sites don't have, such as betting on specific future Super Bowl matchups (going into Week 17, a Vikings/Patriots Super Bowl matchup was the favorite at +300 odds) or what team Eli Manning would start 2018 with (the Jaguars are the +300 favorite there, although retirement also pays the same +300 odds.)
5. 5Dimes
5Dimes is another one of the best betting sites to use for betting on the 2018 NFL playoffs.
The big reason I say that is because of their odds. 5Dimes is one of the few online sportsbooks that offer "reduced juice" on NFL sides and totals, meaning that you can make your NFL playoff point spread and Over/Under wagers at -105 odds instead of -110. Getting 5% more on every bet you win (or risking 5% less on every wager you place) adds up to some serious cheddar over the long run. It's like the equivalent of a free bet every 20 wagers.
If odds aren't that important to you and you'd rather get a big bonus, 5Dimes offers that too. Reduced juice is just one perk that you can sign up for when you get a 5Dimes account, but you can opt instead for free plays, cashback on losses, less juice when buying points or other rewards. (You'll need to choose one specific bonus/reward when you sign up, and reduced juice is the default selection.)
5Dimes offers betting lines on pretty much everything you can imagine on an NFL game, including team totals, as well as point spreads and over/unders on every quarter of the game.
They've also recently made great improvements to their live betting, such as the Live Betting Ultra and Live Betting Extra features on their site.
Deposit options are limited to bitcoin and credit card, but fortunately, those are two efficient and cost-effective methods for players. 5Dimes also pays withdrawals via bitcoin, and cashier check, promising to process all requests within 48 hours.