Best Players in the National Women's Soccer League for the 2021 Season

The National Women's Soccer League (NWSL) is home to many of the best female soccer players on the planet.
Of course, the United States' leading women's soccer division contains a host of American stars. But thanks to the league's popularity, it is also able to attract tons of top players from around the world.
From USWNT legends like Tobin Heath and Christen Press to iconic overseas players such as Sam Kerr and Nahomi Kawasumi, the NWSL has always hosted world-class stars.
In this post, I examine the best NWSL players operating in the 2021 season. I cover a couple of Brazilian superstars, some legendary USWNT names, and an up-and-coming prodigy.
Here are my top 8 players in the National Women's Soccer League.
Julie Ertz – Chicago Red Stars
Country: United States
Age: 29
Position: Midfielder
With countless individual, club, and international accolades to her name, Julie Ertz is undoubtedly one of the best NWSL players in 2021.
Julie Ertz's Individual Honors
US Soccer Female Player of the Year: 2017, 2019
CONCACAF Women's Championship Golden Ball: 2018
IFFHS Women's World Team: 2019
FIFA FIFPro Women's World 11: 2015, 2019
The 29-year-old has spent the entirety of the professional career at the Chicago Red Stars, operating as both a defender and midfielder over the years. Not only is she versatile, but she is also a dead-ball specialist.
Best known for her deadly set pieces, Ertz has netted countless free-kicks for both club and country across her illustrious career.
Although she has yet to guide the Red Stars to NWSL glory, Ertz remains among the top players in the National Women's Soccer League.
Marta – Orlando Pride
Country: Brazil
Age: 35
Position: Forward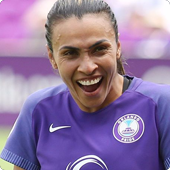 Even at the ripe old age of 35, Marta is still one the best NWSL players around.
The legendary Brazilian has played in almost every corner of the earth. From her homeland to Sweden, and from Los Angeles to New York – it's fair to say that Marta has been around the block.
After representing a handful of US sides in the old professional leagues, Marta spent five years in Sweden. Since returning to the States with the Orlando Pride in 2017, she has lit up the NWSL.
The tricky forward has been named the FIFA World Player of the Year on no fewer than six occasions, including five in a row from 2006 to 2010. She claimed her most recent accolade in 2018, underlining her longevity.
Marta's athleticism and creativity make her one of the most lethal forwards in the game.
Crystal Dunn – Portland Thorns
Country: United States
Age: 29
Position: Wing-Back/Winger
You simply cannot talk about the top players in the NWSL without throwing Crystal Dunn's name into the conversation.
The versatile New York native is comfortable in almost every position on the field. From starring at left-back for the USWNT to shining in an advanced midfield role for the Portland Thorns, Dunn never looks out of place.
With over a century of international caps under her belt, the 29-year-old could go on to break all kinds of records in the coming years.
CRYSTAL DUNN'S CAREER BY THE NUMBERS
Team
Games
Goals
Washington Spirit
54
17
Chelsea
15
3
North Carolina Courage
35
15
Portland Thorns
11
1
USWNT
123
24
Dunn started her professional career at the Washington Spirit before moving to English club Chelsea. She then returned to the States with the North Carolina courage before teaming up with Portland in 2020.
Having already claimed a couple of trophies with the Thorns, Dunn's silverware cabinet is bustling!
Megan Rapinoe – OL Reign
Country: United States
Age: 36
Position: Midfielder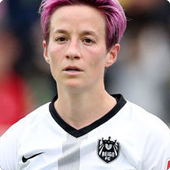 At 36, Megan Rapinoe may not be the player she once was. Even so, she is still one of the best NWSL players of her generation – and all-time for that matter!
You don't need me to tell you what Rapinoe has done for women's soccer both on and off the field.
The Californian has changed the face of the women's game, advocating for equal pay, LGBT rights, and other important causes.
On the pitch, her achievements are equally as impressive. Rapinoe has even played in Australia and France, but she has now settled at OL Reign in Tacoma, Washington.
Oh, and let's not forget that she also boasts 185 (yes, 185!) USWNT caps.
Eugenie Le Sommer – OL Reign
Country: France
Age: 32
Position: Forward
Although Eugenie Le Sommer is technically on loan at OL Reign, I think we can still name her among the best National Women's Soccer League players in 2021.
The iconic French national team star has played 334 league games for European giant Lyon, netting a phenomenal 276 goals in the process. Unsurprisingly, she is Lyon's all-time leading scorer.
Eugenie Le Sommer's Individual Honors
UNFP Female Player of the Year: 2009-10, 2014-15
FIFA Women's World Cup All-Star Team: 2015
Algarve Cup Best Player: 2015
France National Championship Best Striker: 2009-10, 2011-12, 2016-17
UEFA Women's Champions League Best Striker: 2011-12
UEFA Women's Champions League All-Star Team: 2013
FIFA FIFPro World XI: 2015, 2016
As well as being one of the best natural finishers in the game, Le Sommer is extremely strong on the ball. You often see her combining those two attributes, shrugging off an opponent before firing the ball into the net.
In previous years, players of Le Sommer's stature may have opted to stay in Europe. But the NWSL is now able to attract the best in the business to the States.
Debinha – North Carolina Courage
Country: Brazil
Age: 29
Position: Forward
For fans of US soccer, it's a shame that Debinha spent so many of her early professional years in her homeland. In fact, the 29-year-old only moved to North Carolina in 2017.
Since then, however, the Brazilian magician has wowed everyone with her unrivalled trickery and sharp shooting.
Debinha led the Courage to three straight NWSL Shields between 2017 and 2019, clinching the Championship in 2018 and 2019. She was also named the NWSL Championship Game MVP for her troubles.
With Marta in the twilight of her career, Debinha has become Brazil's leading light in recent times. She has a lot to live up to, of course, but it feels like she is ready to fly the flag for her country.
Alex Morgan – Orlando Pride
Country: United States
Age: 32
Position: Forward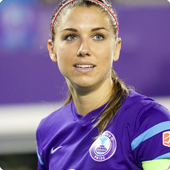 It is easy to forget that Alex Morgan is still just 32. I mean, that is by no means young for a soccer player. But when you consider what she has achieved, she could easily be well into her forties!
Morgan rose to prominence at Portland, leading the Thorns to the NWSL Championship in 2013. She then moved to Orlando in 2016 before enjoying stints in Europe with Lyon and Tottenham Hotspur.
The striker returned to the Pride ahead of the 2021 season and swiftly picked up the NWSL Player of the Month award in May – emphasizing her seemingly never-ending talent.
Morgan is closing in on a double century of appearances for the USWNT, too. She has netted over 100 goals for her country since her international debut back in 2010 – and she is destined to bolster her tally in the coming years.
Alongside Rapinoe, Morgan has transformed women's soccer over the past decade.
Sophia Smith – Portland Thorns
Country: United States
Age: 21
Position: Forward
If the early stages of Sophia Smith's career are anything to go by, USWNT head coach Vlatko Andonovski doesn't need to worry about finding another striker for at least another decade.
As a teenager, Smith starred for Stanford University – guiding her side to the national title in 2019. Oh, and she also scored a whopping 24 goals in 33 games that season!
Portland selected Smith as the top overall pick in the 2020 NWSL College Draft. The rest, as they say, is history.
The prodigy bagged six goals across her first 16 league appearances for the Thorns, cementing her place in Mark Parsons' starting XI in the process. Combining speed, technical ability, and intelligence, she is already one of the best players in the NWSL.
Having won both the NWSL Challenge Cup and International Champions Cup with Portland in 2021, nobody would be shocked if she capped off her maiden pro season with an NWSL Championship medal.
Final Word on the Best NWSL Players
That concludes my take on the top players in the National Women's Soccer League.
It goes without saying that I could have included a host of other names on my list – and they would not have looked out of place!
Players like Lynn Williams, Christin Sinclair, and Becky Sauerbrunn deserve a mention, but I'm sure you will agree that my selection of the best NWSL players is seriously strong.
If women's soccer if your thing, make sure you go through the top 15 female soccer players in 2021.
September
Casino of the Month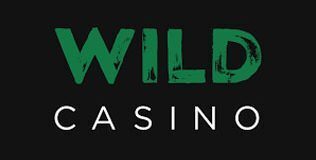 Welcome Bonus
250% up to $5,000