The Best Player for Every MLS Team in 2021

The new Major League Soccer season is just around the corner. So, I thought it would be fun to pick the best player for every MLS team in 2021.
Following a standout campaign, Toronto FC's Alejandro Pozuelo won the MVP award last season. But this year, the league's top performers will be looking to knock Pozuelo off his perch and become the best MLS player in 2021.
There are a few obvious names on my list, but I have also included a few surprise selections. I wanted to keep things interesting, although I couldn't leave certain stars out.
Read on to see the best player for every MLS team in 2021.
Atlanta United – Josef Martinez
After missing the entirety of the 2020 season through injury, Josef Martinez will not only be looking to re-establish himself as Atlanta United's best player in 2021, but also as one of the top performers in Major League Soccer.
We all know that the Five Stripes endured a campaign to forget last year. However, with Martinez back in the team, the Georgia outfit will almost certainly by challenging for a playoff berth this time around.
I mean, just look at his record for Atlanta!
JOSEF MARTINEZ FOR ATLANTA UNITED (2017-2020)
Games
Goals
Assists
Goal/Assist Per Game
103
90
12
0.99
Austin FC – Alexander Ring
Of course, picking Austin FC's best player isn't easy, given that the expansion team hasn't even kicked a ball in MLS just yet. But we all know what Alexander Ring is capable of, right?
The former New York City captain racked up over 100 appearances for the Boys in Blue before swapping the Big Apple for Texas back in December.
Austin has acquired a number of overseas imports recently, signing South American stars such as Tomas Pochettino, Cecilio Dominguez, and Rodney Redes. Still, Ring stands out from the crowd.
CF Montreal – Romell Quioto
When I decided to look at the best player for every MLS team in 2021, there wasn't a CF Montreal player that instantly stood out.
I could have gone for Victor Wanyama, while Samuel Piette was another option. But I think Romell Quioto deserves the accolade.
The Honduras international bagged ten goals and seven assists in 25 appearances for the Canadian club last season. Without his steady contribution of goal involvements, Montreal would not have qualified for the postseason.
Chicago Fire – Robert Beric
Having scored goals all over Europe, Robert Beric was expected to hit the ground running when he arrived in Chicago last year. Thankfully for the Fire, that's exactly what he did.
As it turned out, only one man – Diego Rossi – finished ahead of Beric on the 2020 Golden Boot leaderboard. The Slovenian striker equaled MLS greats like Gyasi Zardes and Raul Ruidiaz in the goalscoring charts last season, making him Chicago Fire's best player.
2020 MLS GOLDEN BOOT RANKINGS
Player
Team
Goals
Diego Rossi
LAFC
14
Robert Beric
Chicago Fire
12
Gyasi Zardes
Columbus Crew
12
Raul Ruidiaz
Seattle Sounders
12
Colorado Rapids – Cole Bassett
It is no secret that Colorado's roster is stacked with exciting young prospects. Sam Vines and Jonathan Lewis are just a couple of the Rapids' up-and-coming stars, but in my eyes, Cole Bassett is the pick of the bunch.
Despite only featuring in 15 games last term, the 19-year-old still managed to chalk up five goals and five assists, largely from central midfield.
Bassett is already one of the best young USMNT players in 2021, so I can see him further enhancing his glowing reputation when the new MLS campaign gets underway.
Columbus Crew – Gyasi Zardes
Lusic Zelarayan, Artur, Darlington Nagbe, Pedro Santos, Jonathan Mensah – you get the picture!
When it comes to choosing the Crew's best player, plenty of names are worthy of consideration. The reigning MLS Cup champs have even added guys like Bradley Wright-Phillips and Kevin Molino to their squad during the offseason, making my task even harder.
But at the end of the day, it is difficult to overlook Gyasi Zardes. Following another stellar season, the forward now sits on 48 goals and nine assists in 90 appearances for Columbus.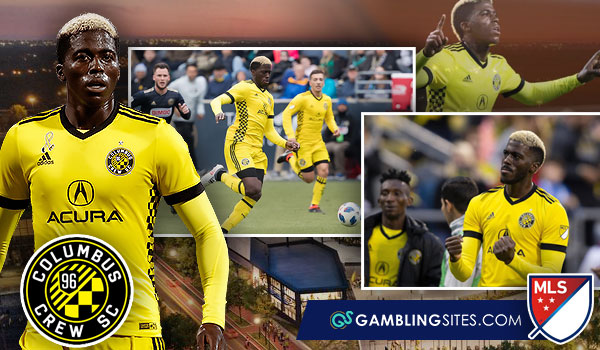 DC United – Edison Flores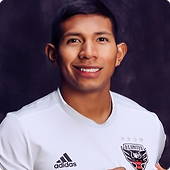 DC United heads into the 2021 MLS season on the back of one of the worst campaigns in the club's history.
With that in mind, picking the team's best player is no easy job.
Based purely on his goalscoring record, I believe Edison Flores is DC United's best player in 2021.
The Peruvian didn't enjoy the best maiden season in Major League Soccer, although he certainly has the ability to prove his doubters wrong this year.
FC Cincinnati – Brenner
FC Cincinnati has not had much to cheer about since joining the league in 2019. In fact, Jaap Stam's side ranks among the worst teams in MLS history.
Players such as Jurgen Locadia and Frankie Amaya have so far failed to live up to expectations, so far that reason, I have selected one of the new signings as the club's best player.
Brenner arrives in Cincinnati having netted 22 goals for Sao Paulo last season. Let's face it, the young Brazilian – who cost $13 million – won't have to do anything special to become Cincinnati's best players in 2021.
FC Dallas – Jesus Ferreira
Technically, Bryan Reynolds is still a Dallas player. But given that he is currently on loan at Roma, I didn't think it would be fair to name him as the Toros' top performer.
Instead, I'm going with Jesus Ferreira.
After enjoy a breakout season in 2019, the young forward had a quite 2020 campaign. But having bagged two goals and three assists in the USA's 7-0 thrashing of Trinidad and Tobago in February, I'm expecting Ferreira to rediscover his best form in 2021.
Houston Dynamo – Darwin Quintero
Houston Dynamo only scored 30 goals last season – and Darwin Quintero had a hand in 14 of them (seven goals and seven assists).
When you consider that statistic, it's safe to say that Houston would be lost without Quintero.
The veteran Colombian may turn 34 this year, but he is still the Dynamo's best player.
Inter Miami – Gonzalo Higuain
Gonzalo Higuain needs to step up in 2021, there is no doubting that. I mean, the former Real Madrid star only contributed one goal in nine appearances for Inter Miami last season following his transfer from Italian giant Juventus.
Still, few could argue that Higuain isn't Inter Miami's best player.
Given that Higuain has scored over 300 career goals while playing for some of the biggest clubs in world soccer, he simply has to be the Herons' leading light.
LA Galaxy – Sebastian Lletget
The fact that I view Sebastian Lletget as the Galaxy's top performer speaks volumes about Javier Hernandez's recent fall from grace. "Chicharito" should be the best player for LA Galaxy, but he flopped massively last season.
Conversely, Lletget managed to notch up six goals and three assists in a struggling Galaxy team last term. There was talk of the USMNT midfielder leaving the club, but everyone in Carson is hoping that doesn't happen.
LAFC – Carlos Vela
Move over, Diego Rossi – Carlos Vela is back!
I know what you're thinking – how can last season's MLS Golden Boot winner not be his team's best player? Well, that's because Vela spent the majority of 2020 sidelined due to injury.
Rossi may have netted 14 goals last term, but Vela produced the most prolific Golden Boot-winning season of all time in 2019. In all honesty, I can't wait to watch the magical Mexican get back to his best this year.
CARLOS VELA FOR LAFC (2018-2020)
Games
Goals
Assists
Goal/Assist Per Game
80
60
25
1.06
Minnesota United – Emanuel Reynoso
Emanuel Reynoso only joined Minnesota United midway through the previous campaign. However, the Argentine ended up chipping in with 12 assists in just 16 MLS appearances in 2020, as well as a couple of goals.
Robin Lod, Ethan Finlay, and Michael Boxall each played a key role in the Loons' fourth-place finish in the Western Conference last season. But it could be argued that Reynoso outshone all of his team-mates.
Nashville SC – Walker Zimmerman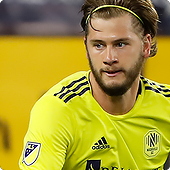 It's not very often that a center-back is viewed as the best player in a team. If we're being honest, it's usually the goal-scoring forwards who get the bulk of the credit.
Having said that, I truly believe that Walker Zimmerman is Nashville's best player in 2021. Zimmerman was nothing short of immense for NSC last term.
Not only was he named the 2020 MLS Defender of the Year, but he also led his side to the Conference Semifinals.
New England Revolution – Carles Gil
It is no coincidence that New England made a slow start to the previous campaign.
After all, Carles Gil spent the majority of the regular season on the treatment table. But when their talisman returned, the Revs clearly improved.
Gil racked up two goals and three assists in four postseason matches at the end of 2020. If he picks up where he left off last term, he will easily be the best player for New England in 2021.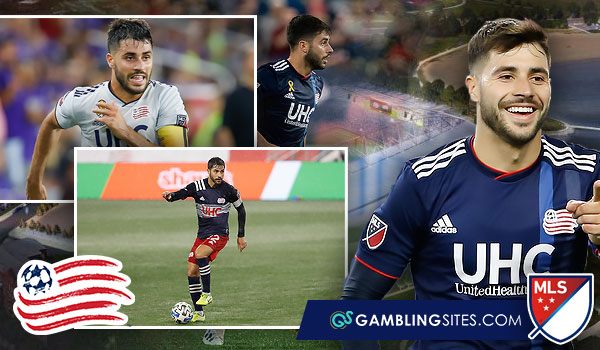 New York City – Valentin Castellanos
Just like Gil, Valentin Castellanos ended 2020 on a high. The Argentine bagged six goals and two assists in his final seven regular-season appearances, including a memorable hat-trick in the Hudson River Derby.
At just 22, Castellanos still has plenty of time to develop his game. But in my opinion, he is already staking a serious claim to be NYCFC's top performer.
He also found himself among the MLS stat leaders last season.
New York Red Bulls – Aaron Long
It's fair to say that the Red Bulls have endured a series of indifferent seasons in recent times. Still, Aaron Long has remained a bright spot in an otherwise testing period for the New York club.
The 28-year-old – who now has over a century of MLS appearances under his belt – is widely regarded as one of the best center-backs in Major League Soccer, in addition to being the Red Bulls' best player in 2021.
Orlando City – Chris Mueller
I think we can all agree that Orlando is home to some impressive soccer players right now. The Lions recently added ex-AC Milan forward Alexandre Pato to a roster that already boasts the likes of Nani and Andres Perea.
But in my eyes, one guy stands out from the rest – Chris Mueller.
The winger was a constant threat throughout 2020, adding ten goals and six assists to his tally. On top of that, Mueller's consistent performances earned him a USMNT call-up at the end of last year.
ORLANDO CTIY'S TOP SCORERS (2020 MLS SEASON)
Player
Games
Goals
Assists
Chris Mueller
28
10
6
Nani
25
9
5
Daryl Dike
22
8
3
Philadelphia Union – Andre Blake
The only goalkeeper on this list, Andre Blake has been one of Philly's best players for several years. But following a standout 2020 campaign, I think he can now be classed as the Union's top star.
The reigning MLS Goalkeeper of the Year posted a league-best save percentage of 77.8 last term, as well as conceding the fewest regular-season goals. Better still, he guided Philadelphia to a maiden Supporters' Shield triumph.
Guys like Kacper Przybylko and Sergio Santos deserve a mention, yet Blake is the U's best player in my book.
Portland Timbers – Diego Valeri
Even at the ripe old age of 34, Diego Valeri is still posting unrivalled numbers for Portland. The midfield maestro contributed nine goals and eight assists last season – and I'm not expecting him to slow down in 2021.
With one MLS Cup triumph, one MVP award, and three MLS Best XI appearances to his name, Valeri can't be overlooked when it comes to discussing the Timbers' greatest player.
Real Salt Lake – Albert Rusnak
Real Salt Lake finished second from bottom in the Western Conference last season, netting just 25 goals in 22 games. Having chipped in with three goals and two assists, Albert Rusnak stood out in Freddy Juarez's lackluster side.
I almost went for Damir Kreilach here. After all, the Croatian scored nine goals in 2020. But I feel as though Rusnak's all-round game – and overall contribution to the RSL team – is greater than Kreilach's.
San Jose Earthquakes – Cristian Espinoza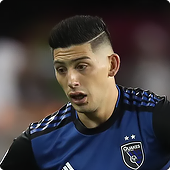 You wanted me to pick Chris Wondolowski as the Quakes' best player, didn't you?
Look, in the grand scheme of things, there is absolutely no denying that "Wondo" is San Jose's greatest-ever player. But given that he turned 38 in January, his impact on the team is obviously dwindling.
For me, Cristian Espinoza's creativity makes him San Jose's leading player. The Argentine has notched up 21 assists in 58 appearances since arriving in California in 2019, making him one of the most productive wingers in Major League Soccer.
Seattle Sounders – Raul Ruidiaz
With Jordan Morris sidelined for the foreseeable future, you can't help but think that all of the Sounders' attacking play will go through Raul Ruidiaz this year.
Alongside Ruidiaz and Morris, Nicolas Lodeiro was also named in the 2020 MLS Best XI. That tells you that Seattle isn't short of top-quality forwards, but Ruidiaz is arguably the club's most important asset in 2021.
SEATTLE SOUNDERS' TOP SCORERS (2020 MLS SEASON)
Player
Games
Goals
Assists
Raul Ruidiaz
24
14
4
Jordan Morris
29
12
9
Nicolas Lodeiro
25
8
8
Sporting Kansas City – Alan Pulido
Sporting KC put in a colossal team effort to finish atop the Western Conference last season. Players like Johnny Russel and Tim Melia consistently dished up eye-catching performances throughout the campaign, yet Alan Pulido was arguably the star of the show.
Despite only featuring in nine regular-season games in 2020, the Mexican clocked up five goals and two assists. Just imagine what he could do with a full campaign!
If Pulido can stay fit in 2021, he could become a genuine Best XI and MVP candidate.
Toronto FC – Alejandro Pozuelo
It only makes sense that the reigning MVP is his team's best player, right?
TFC playmaker Alejandro Pozuelo enjoyed a memorable 2020 campaign, bagging nine goals and ten assists along the way. On top of that, he also led the rankings for chances created and game-winning goals last season.
It goes without saying that Toronto fans will be hoping for more of the same from Pozuelo in 2021.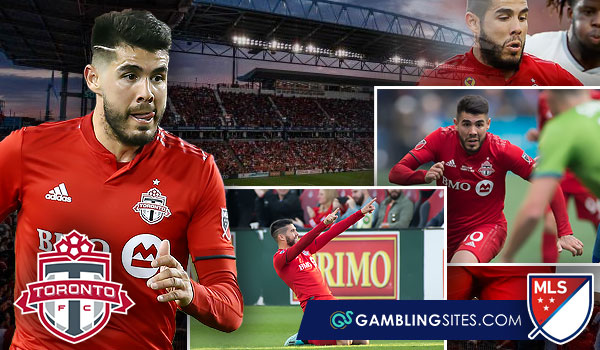 Vancouver Whitecaps – Lucas Cavallini
Lucas Cavallini made an instant impact for the Whitecaps following his move from Liga MX side Puebla last year, so much so that he instantly became one of the best players for the British Columbia outfit.
Vancouver finished the 2020 campaign fourth from bottom in the Western Conference, but Cavallini's six goals almost helped his side to qualify for the playoffs. I'm expecting the Canada international to take his game to another level this year.
Closing Thoughts
I fully understand that this post is bound to dish up plenty of talking points. You can't really argue with some of my selections, but at the end of the day, it is a subjective topic.
If you feel like sharing your thoughts on the best player for every MLS team in 2021, feel free to discuss your ideas in the comments section below.
If you enjoy wagering on Major League Soccer, make sure you check out our MLS betting guide.
September
Casino of the Month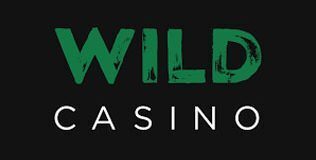 Welcome Bonus
250% up to $5,000