Best NFL Rookie Prop Bets for the 2021 Season

The 2021 NFL Draft brought loads of hype and anticipation, but now that it is in the rearview mirror, the shine is slowly coming off some of the top prospects in college football.
Those guys are now professionals, and going forward, it is less about their potential, and more about productivity.
It may be some time before we find out who was worth the trouble and who is a bust, but sports bettors can cash in on the play of these top rookies right away.
The best sites for betting on the NFL are offering props dealing with NFL rookies, asking which will do the best, and what type of production can be expected.
This is helpful for fantasy football and for other NFL betting markets, but the fact that we can simply bet on how NFL rookies will fare is awesome.
Here are some of the best 2021 NFL rookie prop bets I think are worth targeting right now.
DeVonta Smith Over 900 Receiving Yards (-120)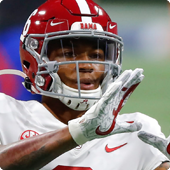 The Philadelphia Eagles made the Heisman Trophy winner their top pick in the 2021 NFL Draft, and his arrival coincides with the departure of Alshon Jeffery and DeSean Jackson.
There isn't one guaranteed roadblock for Smith going into his rookie year, and it's arguable a middling (if not bad) Philly team will be forced to air it out quite a bit in 2021.
Either way, Smith has the jets to take any touch to the house, and he projects as a key fixture in this passing game.
After watching guys like Justin Jefferson and CeeDee Lamb eclipse this yardage plateau in year one last season, Smith is a good bet to follow suit with an additional game added to every team's schedule.
Ja'Marr Chase Over 7.5 Touchdowns (-120)
Joe Burrow got his guy. The Cincinnati Bengals star quarterback is still rehabbing a gruesome knee injury from last year, but all signs point to a week one return.
Awaiting him will be college teammate Ja'Marr Chase, who caught 84 balls for 1,780 receiving yards and 20 scores in 2019.
Ja'Marr Chase ?? Joe Burrow

The Cincinnati Bengals reunite the No. 5 pick with with his former LSU QB. #NFLDraft pic.twitter.com/jbtbqI9rVK

— SportsCenter (@SportsCenter) April 30, 2021
Chase was downgraded by some after opting out of last year, but based on how LSU played, he probably made the right call. Now he is going back to the magic man, as both guys are destined to feed off of each other.
Chase is the instant alpha in Cincy, too, as A.J. Green and John Ross are gone, and the likes of Tyler Body and Tee Higgins aren't about to keep him grounded.
I can see Burrow dividing things up enough to keep me away from Chase's receiving yardage prop, but this guy is a baller. He is going to score 8+ touchdowns as a rookie.
Kyle Pitts Under 775 Receiving Yards (-130)
The Twitterverse is collectively a massive fan of the ultra-athletic Kyle Pitts, but we may need to slow down the hype train just a tad.
Pitts has the talent to wreck the league from day one, but here is a little logic to consider.
Tight ends historically struggle to adjust in the NFL
Atlanta has mouths to feed
The Falcons probably desire more balance
If you want to throw the whole "rookie tight ends struggle" idea out the window, that is okay. Pitts does get an extra game with a 17-game schedule on the way, too.
It's still true, however, as even gods like Rob Gronkowski, George Kittle, Travis Kelce, and Tony Gonzalez took some time to dominate at the highest level.
That could be the same for Pitts, while the Falcons also should still spread the ball around a bit. Hayden Hurst is still in town, Julio Jones hasn't been traded yet, and Calvin Ridley remains a boss.
If Pitts works his way around all of that, there is the question of volume. Atlanta was a miserable rushing offense last year, and the path to being a playoff threat again may require more focus in that arena.
Ultimately, I think Pitts has a taller hill to climb to get to 760 yards than some may think.
Najee Harris Over 8.5 Rushing Touchdowns (-120)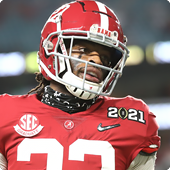 I may be tempting fate with some of my 2021 NFL rookie player prop bets so far, but this one feels like a slam dunk.
The Pittsburgh Steelers had such a massive need in their offensive backfield that the pick of Najee Harris was perhaps the most telegraphed move of the 2021 NFL Draft.
As obvious as it was, Harris crushing as a rookie might be even easier to see coming.
James Conner is gone, and the Steelers drafted the bruising (and impressively versatile) Harris for a reason. He's the big dog in the backfield, and a formerly one-dimensional Steelers offense is going to feed him the rock.
I know, Alabama running backs historically struggle in the NFL, but I'm not worried here. Pittsburgh is going to be in scoring position plenty in 2021, and if Conner could get six scores last year, Harris could be in for quite the rookie year.
Najee Harris Over 975 Rushing Yards (-120)
The story remains the same here. I will say that predicting Najee Harris will rush for 9+ touchdowns doesn't necessarily have to go along with him busting out for 976+ rushing yards, but I think it will.
James Conner was arguably the slowest running back in the NFL last year, and he still toted the rock enough to rack up 721 rushing yards in a pass-happy offense.
Pittsburgh is bound to run the ball much more, and Harris is a far more explosive back than Conner.
There are whispers that the team believes he's as dynamic as a young Le'Veon Bell, too.
That's obviously saying something, but I don't need off-season hyperbole to get me psyched about this bet. Barring injury, Harris has the talent, role, and the extra game to easily hit this mark.
Trevor Lawrence Over 12.5 Interceptions (-140)
This may be a tough sell, just because Trevor Lawrence is regarded as the most tantalizing quarterback prospect since Andrew Luck.
He's the expected savior for the Jacksonville Jaguars, so betting on him coming in and tossing 13 picks feels like a mild reach.
Of course, he could have that 17th game to worry about, and dominating as a wide-eyed rookie quarterback just isn't that easy.
Here are a few factors contributing to the Over bet standing out for me.
17th game
Jaguars aren't good
Rookies throw picks
AFC South is underrated
I touched on the extra game, and that's just math. If he's even close to 13 picks, one extra game could easily be the difference. Jacksonville is also entering 2021 with a new regime, a new system, and new weapons.
Some of it looks good on paper, but it's all new for Lawrence, and the expectations are through the roof.
Rookie quarterbacks also just throw interceptions. They often have issues reading defenses, they panic under pressure, or they just flat out make the wrong throw.
There has been improvement in that arena for a lot of young passers, but the recent history still isn't that encouraging, overall. Here is a quick look at some big-name quarterbacks and their interception numbers during their rookie season.
| | | |
| --- | --- | --- |
| Player | Interceptions | Games Played |
| Justin Herbert | 10 | 15 |
| Kyler Murray | 12 | 16 |
| Baker Mayfield | 14 | 14 |
| Sam Darnold | 13 | 15 |
| Daniel Jones | 12 | 13 |
| Josh Rosen | 14 | 14 |
| Josh Allen | 12 | 12 |
There are other quarterbacks who don't really figure into the equation because they didn't play enough, but most of these guys hovered right around averaging a pick per game.
Lawrence never threw more than eight picks in a season at Clemson, but history really isn't on his side here. If he plays all 17 games as a rookie, I think the Over is the right call.
Zach Wilson Over 3,750 Passing Yards (-120)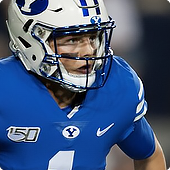 You can roll with that same bet when it comes to Zach Wilson, but his over/under interception bet starts at 14 picks. Due to the higher threshold, I'd prefer to just bet on Lawrence there.
I do like the idea of betting on Zach Wilson passing for more than 3,750 passing yards, though.
New York will also probably try to make life easier on their franchise passer by running the ball, but the Jets still look like a team that will lose a good amount in 2021.
With the Jets likely trailing in a lot of games, Wilson could be asked to air it out a bit more than New York would prefer. Even if that's not the case, his talent married with the 17-game schedule makes the Over pretty tempting here.
The 3,750-yard mark is way lower than Trevor Lawrence's passing yardage total, too.
Trey Lance Will Start Before 49ers Bye Week (+300)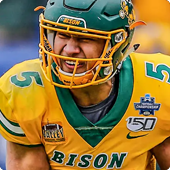 On top of these other 2021 NFL rookie prop bets, you can bet on when certain players will actually take the field for the first time.
You can also bet on when Justin Fields will play, while the same prop exists for Mac Jones and others. So far, BetOnline and other NFL sportsbooks favor a lot of these rookie passers riding the pine for a bit.
The vibe from the San Francisco 49ers is that Trey Lance will sit behind Jimmy Garoppolo for as long as possible, too.
While I (kind of) buy that, Jimmy G is still a threat to be traded or cut at any moment, and something tells me the Niners didn't trade up to draft Lance without the possibility of playing him immediately in the back of their mind.
I don't think that is what happens, but I do see why it'd be a good idea.
The notion is fine, but the 49ers had been distancing themselves from Garoppolo and this is a guy that has started just 25 of his last 48 possible games in the Bay Area.
Lance is raw and he didn't play last year, but his upside is obvious. The nice part here, too, is that you're not betting on him debuting in week one. You're just betting he's starting by the time the 49ers get their bye.
That offers a little more wiggle room than the other NFL rookie quarterback props, and at +300, I'm game to roll the dice a little.
Betting on NFL Rookies in 2021
There are other NFL rookie prop bets to target. For more options, head over to BetOnline or your favorite NFL sportsbook.
I hand-picked my favorite 2021 NFL rookie player prop bets, whether it be due to value or the prop feeling like a no-brainer to me.
That does not mean it will feel the same to you, and it's always possible I missed a great bet that you'd be high on. Be sure to search for other props, and make sure you're getting the best price possible, as well.
As for advice for betting on NFL rookies this year, be sure to track player development, and try to gauge when players will play, and what their surrounding environment will look like.
One more big tip for betting on NFL rookie stats in 2021? Remember we are dealing with a 17-game schedule for the first time ever.
That's one more game for records to be broken, and it also may mean that stats we otherwise wouldn't jump on may demand our attention.
Whatever you decide, hopefully this look at NFL rookie props serves you well. Happy betting!