Hide Bonus Offers
| | | | | |
| --- | --- | --- | --- | --- |
| #1 | Bovada Sports | 50% Up To $250 | Visit Site | Bovada Sports |
| #2 | BetUS | 125% Up To $2,500 | Visit Site | BetUS |
| #3 | MyBookie | 100% Up To $1,000 | Visit Site | MyBookie |
| #4 | Everygame | 100% Up To $500 | Visit Site | Everygame |
| #5 | BetOnline Sports | 60% Up To $1,000 | Visit Site | BetOnline Sports |
The Best NBA Players Who Could Get Traded This Season

The drama with Kyrie in Brooklyn has reached a boiling point. Not long-ago Ben Simmons was adamant he wanted to be traded, same with John Wall who's stated that he has no interest in suiting up for the Rockets.
Moving any member of that trio is going to be hard given the nature of their bloated contracts. However, stars whining and complaining until ultimately forcing their way out of their situation is sort of becoming a thing in the NBA.
As the 2021-22 campaign gets set to tip-off, let's address the best NBA players who could be traded this season.
Damian Lillard
Rumors of Damian Lillard wanting out of Portland have been swirling for months. I highlighted this topic back in June a couple of weeks before Chauncey Billups came on board.
I have no concerns about how Dame and his new head coach will get along; my qualms are related to how good the Trail Blazers will actually be.
Other than grabbing Larry Nance Jr. in a sign-and-trade and inking Tony Snell to a one-year deal, Portland did very little this offseason to convince Lillard that going after a championship is a priority.
And that's all Lillard has asked of GM Neil Olshey.
In the event that the Blazers start off a bit shaky, expect more Damian Lillard trade rumors to come to light.
Kristaps Porzingis
For whatever reason, marrying Luka Doncic and Kristaps Porzingis just hasn't panned out.
Dallas managed to win their division in 2021, but a second consecutive first-round exit in the playoffs has to have Mark Cuban irked.
Luka's entering his prime as one of the five best players on the planet. Cuban's aspirations are much deeper than just qualifying for postseason play.
In a perfect world, the Mavericks would find a suitor for Porzingis who would be willing to exchange another All-Star caliber player. The Mavs extended Luka to the supermax and are roped into paying Tim Hardaway Jr. north of $21 million in the upcoming year.
Unfortunately, Cuban and his staff don't have a lot of wiggle room.
Tyler Herro
After playing so well in the postseason as a rookie, the consensus is that Tyler Herro declined in year two. I beg to differ, as do the numbers.
Tyler Hero NBA Stats – By the Numbers
Season
Minutes
Points
Rebounds
Assists
FG %
PER
2019-20
27.4
13.5
4.1
2.2
.428
12.53
2020-21
30.3
15.1
5.0
3.4
.439
13.42
The trajectory points at a 21-year-old player who's still developing. Cleveland could be willing to part ways with one of their budding guards (Collin Sexton, Darius Garland) in exchange for Herro, but don't expect an "A-List" player to be offered for Herro straight up.
Despite Tyler's extraordinary confidence, he's simply not in the same conversation as the other elite young point guards in this league.
Tyler Herro has spoken ?️ pic.twitter.com/vlpCF9ckfA

— ESPN (@espn) October 13, 2021
Ben Simmons
Can the relationship between the 76ers and Ben Simmons be mended? It's certainly not a good sign when just a couple of days before the season the head coach is guessing on Ben's availability.
When asked what the status of Simmons is moving forward, a frustrated Doc Rivers did his best to assess the situation.
"I'm assuming he's going to play, but who knows? I can't get in anyone's head."
Philly has made it clear they have no interest in swapping Simmons for Kyrie Irving at this stage of the game, but let's not act like teams are lining up to pursue Ben's services either.
Simmons' playoff struggled in 2021 were well documented. He's been a headache for the Sixers front office and is coming off as a selfish dude. Is this guy really worth nearly $150 million over the next four years?
Ben Simmons' Contract
2021-22: $33 million
2022-23: $35.45 million
2023-24: $37.89 million
2024-25: $40.34 million
This is a situation we'll be monitoring until one side decides to budge.
Pascal Siakam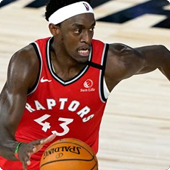 Masa Ujiri isn't afraid to roll the rice, we saw that when he went all-in for Kawhi Leonard knowing it was likely that Leonard would leave after one season.
While trading Pascal Siakam was a far-fetched idea at the start of last season, a lot has happened north of the border over the last 12 months.
A shoulder injury that cut Siakam's season short is lingering into the year, Pascal is likely to miss the first 10 or so games recovering.
This is going to give the organization a chance to see how the lineup reacts without Siakam in the fray.
Remember, Precious Achiuwa arrived in Toronto as part of the Kyle Lowry trade to Miami. Achiuwa has impressed during the preseason and could be on the verge of breaking out.
The team's committed to hybrid forward OG Anunoby and rookie Scottie Barnes, and it's clear that Chris Boucher is going to log a lot of minutes in the post.
Suddenly, Siakam becomes expendable.
Kevin Love
Is this the year that the Cavs finally move on from Kevin Love? The writing sure seems to be on the wall based on Koby Altman's actions.
The Cavaliers signed Jarrett Allen to a five-year/$100 million deal. They drafted Evan Mobley with the third overall pick in the 2021 NBA Draft. They love Isaac Okoro (5th pick in 2020) and are excited about acquiring Lauri Markkanen from the Bulls.
In other words, there's simply no room nor need for Love on this roster.
Kevin's been hobbled by injuries dating back to 2017 (hasn't played more than 60 games in a season since 2016); he's 33 years old and no longer a viable frontcourt option.
The problem is he's got two years and $60 million left on his deal.
Concessions will have to be made, but Love getting shipped out of Cleveland is one of the NBA trades to watch for in 2021-22.