Ranking the 9 Best Rookie Seasons in MLB History

The MLB isn't like other sports when it comes to a rookie season. Players don't come straight from college to the majors. They have to work their way up through the minor leagues before joining the major league team.
It's not easy to make an immediate impact, but some MLB players have exceeded expectations to have one of the best rookie seasons.
The best MLB rookie seasons feature standout players that started a superstar career. Check out my rankings for the top 9 MLB rookie seasons of all time.
9. Dick Allen (1964)
The best MLB rookie years extend well beyond the 21st century. Dick Allen played a few games in 1963 with the Philadelphia Phillies, but it wasn't enough to qualify him as a rookie. Allen returned in 1964 with a big rookie season.
Allen started the 1964 season with multiple hits in four of his first five games. That stretch featured one of the best games of his rookie season. He went 3-5 with two home runs and three RBIs.
His strong play continued throughout the season. Allen didn't make the all-star game, but his great season earned him Rookie of the Year honors.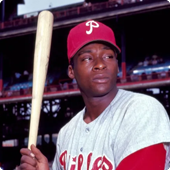 .318 batting average
.382 on-base percentage
.557 slugging percentage
29 home runs
91 RBIs
13 triples
125 runs
Allen was in the top five in multiple offensive categories while leading the majors in triples and runs.
It's not easy to compare players from different eras. If you want to know how incredible his rookie season was, check out his WAR. His 8.8 WAR is the third-best in MLB history for a rookie. There's no doubt he was an impact player.
8. Albert Pujols (2001)
There's no doubt Albert Pujols is one of the best players of his generation, but that wasn't the expectation. He was a 13th-round pick in the 1999 MLB draft, but that didn't stop him from having a top MLB rookie year.
Pujols joined the St. Louis Cardinals for the 2001 season. It didn't take long to see he would have a great rookie season.
#OTD 2001 – Albert Pujols makes his MLB debut when the Cardinals play the Rockies at Coors Field.

Albert would go 1 for 3 batting sixth and playing left field.

On this day, his path to the Hall of Fame begins. #STLCards pic.twitter.com/LiDRnyPMEG

— Augie Nash (@AugieNash) April 2, 2022
His power was on full display, hitting 20 home runs by June. Pujols didn't sacrifice his contact, with his batting average reaching .362 in mid-June. A tremendous first half earned him an appearance in the all-star game.
Pujols continued his strong play through the remainder of the season. He finished the season by hitting .329 with 37 home runs and 130 RBIs. He won Rookie of the Year, the Silver Slugger award, and finished fourth in NL MVP voting. His 130 RBIs set an NL rookie record.
It's crazy that someone like Pujols fell to the 13th round. There's no doubt he made teams feel dumb for passing on him.
Pujols' great rookie season almost didn't happen. He likely would've started the season in the minors if not for Bobby Bonilla's hamstring injury in Spring Training.
7. Ted Williams (1939)
Ted Williams is one of the early MLB legends, so it's no surprise that he has one of the best rookie seasons. There was a lot of hype surrounding Williams' rookie season, and he didn't disappoint.
It took him less than ten games to have one of his best games of the season. He went 2-4 with two home runs and five RBIs in a victory over the Detroit Tigers. That performance should've foreshadowed one of the best MLB rookie seasons.
Williams failed to make the all-star team, but his numbers improved over the second half of the season. His batting average was as low as .270 on June 21. He closed the season with a .327 batting average.
Check out his other rookie season numbers.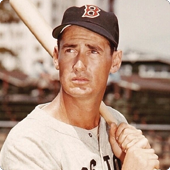 31 home runs
145 RBIs
44 doubles
11 triples
64 strikeouts
107 walks
Williams led the AL with 344 total bases, while his 145 RBIs led the majors and set a record for rookies. Honestly, I'm not sure if there was a weakness in his game. You can say that for his whole career.
It's only fitting that someone of his caliber had one of the best rookie seasons in MLB history.
6. Shoeless Joe Jackson (1911)
Unfortunately, most people remember Shoeless Joe Jackson for his involvement in the Black Sox scandal. That ended a stellar career that started with one of the top MLB rookie seasons.
Jackson played three years in the MLB before 1911, but he only appeared in 30 games. The 1911 season marked his official rookie season.
He wasn't much of a power hitter, but Jackson was an unbelievable contact hitter. It took him two months to have back-to-back hitless games. That only happened once in his rookie season.
70 years ago today, Shoeless Joe Jackson passed away at the age of 64. He still holds the rookie record for the highest batting average at .411 that was set 110 years ago. pic.twitter.com/jtlW4bWmMB

— Miles Commodore (@miles_commodore) December 5, 2021
His seven home runs and 83 RBIs might not be on pace with other top MLB rookie years, but how many rookies can say they slashed .408/.468/.590? Jackson's .468 on-base percentage led the majors.
Jackson would've led the majors in batting average, hits, doubles, and runs if it weren't for Ty Cobb. That could've made an already impressive rookie season look even better.
The MLB didn't have a Rookie of the Year award at this time, but I can't imagine someone beating Jackson in 1911. Cobb won the 1911 MVP, with Jackson finishing fourth.
Jackson's rookie season showed you don't need many home runs to make a significant impact. His 9.2 WAR is second-best for a rookie.
5. Dwight Gooden (1984)
Dwight Gooden is the lone pitcher to make the list of best MLB rookie years. Gooden joined the New York Mets as a 19-year-old, and he quickly became one of the best pitchers in the majors.
Gooden didn't have the best start, allowing six or more runs in two of his first six starts. However, he followed that up with his first complete-game shutout. Gooden continued to impress, making the all-star game.
He kicked off August with a pair of rough starts, but that was the extent of his struggles. He pitched at least seven innings in his last nine starts, allowing more than one run twice.
Gooden also struck out at least nine batters in all nine games. That helped him set a rookie record with 276 strikeouts. That mark also led the majors.
He nearly won Cy Young after posting a 2.60 ERA and 1.07 WHIP. He has the best rookie year in MLB history among pitchers. There's no doubt it would take a lot to top his season.
A few years later, Gooden was a part of one of the best MLB pitching rotations. Even that season couldn't top his stellar 1984 numbers.
4. Fred Lynn (1975)
Fred Lynn foreshadowed a big rookie season in limited action in 1974. That season, he hit .419 in 15 games. His power numbers were nothing special, but there wasn't much not to like about his game.
Honestly, the biggest surprise of his rookie season was starting 0-8 with three strikeouts. He followed that up with 15 hits in his next eight games. That marked the start of one of the best MLB rookie seasons.
We never saw Lynn slow down. Check out his final rookie season numbers.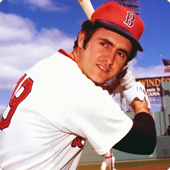 .331 batting average
.401 on-base percentage
.566 slugging percentage
21 home runs
105 RBIs
47 doubles
103 runs
Lynn led the majors in doubles, slugging percentage, and on-base plus slugging. His 47 doubles led the AL. He was also great in the outfield, winning a Gold Glove with the Boston Red Sox.
All those great numbers contributed to Lynn becoming the first rookie in MLB history to win MVP. It wasn't much of a battle, as he had 22 of the 24 first-place votes. It's no wonder we recognize this as one of the best MLB rookie years.
3. Aaron Judge (2017)
Aaron Judge played 27 games before the 2017 season, but a .189 batting average didn't exude confidence. That tone quickly changed, as Judge had one of the top MLB rookie seasons.
Judge struggled in his first few games, but he ended that by going 6-11 with three home runs and six RBIs in a three-game stretch. He had his first two-homer game a month into the season. A great first half propelled him to the all-star game.
His batting average dropped in the second half, but his power numbers remained consistent. Here are his overall 2017 numbers.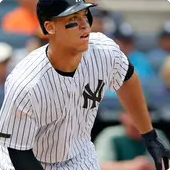 .284 batting average
52 home runs
114 RBIs
128 runs
127 walks
208 strikeouts
Judge set the then-record for most home runs in a rookie season. He led the AL with 52 home runs and 128 runs. It's not often you see a player lead the majors in walks and strikeouts, but Judge accomplished that as a rookie.
He won Rookie of the Year and earned the Silver Slugger Award. Judge nearly became the third rookie to win MVP but finished second to Jose Altuve. His power numbers make this one of the top MLB rookie years.
2. Ichiro Suzuki (2001)
Ichiro Suzuki's rookie season is unique from other MLB players. The 2001 season was his first in the MLB, but the 27-year-old spent nine seasons in the Japanese Professional League. However, that shouldn't stop you from recognizing this as one of the best MLB rookie seasons.
Ichiro was a fantastic contact hitter. He didn't have consecutive games without a hit until after the all-star break. Ichiro made the all-star team after hitting .345 in the first half of the season.
He struggled immediately after the all-star break, going 5-39 in his first nine games. That was the only hiccup in his stellar rookie season.
Ichiro finished his rookie season by leading the majors with 242 hits and 56 stolen bases. His .350 batting average was the best in the AL.
His fantastic season earned him Rookie of the Year, Silver Slugger, Gold Glove, and AL MVP. I don't think you can use his professional experience against him. Whether it's a 21-year-old rookie, 27, or 34-year-old, this is one of the best rookie seasons.
Ichiro came to the MLB and became the best player in baseball. How many players can say that?
1. Mike Trout (2012)
Mike Trout is one of the modern MLB greats. Does it surprise anyone that he owns the best rookie season in MLB history? Trout gave us a glimpse of his potential in 2011, but it was nothing compared to 2012.
Trout didn't make his 2012 debut until late April. Even missing a month couldn't stop him from making the all-star team. He kept up his strong play down the stretch. The Los Angeles Angels didn't make the playoffs, but that was through no fault of Trout.
Please take a look at his rookie season numbers.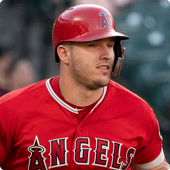 .326 batting average
30 home runs
83 RBIs
129 runs
49 stolen bases
5 WAR
Trout led the majors with 129 runs and 49 steals. His 10.5 WAR is the highest for a rookie in MLB history. It's fair to wonder why he didn't begin the season in the majors.
Obviously, Trout won Rookie of the Year. He was also a Silver Slugger while finishing second in AL MVP voting. That was the last time Trout surprised anyone, as he went on to have a great career.
It all started with his stellar rookie season.
Betting on MLB Rookie Seasons
It's not often you'll see a young prospect come into the MLB and have immediate success. It's rarer when that player puts up great numbers to become an MVP contender.
Being able to spot the next great rookie season can be profitable, however. If you pinpoint it perfectly, you can spot the next MLB Rookie of the Year winner and cash in at the same time.
The players above had the best rookie seasons in MLB history. If you saw their amazing runs coming ahead of time, you could have cashed in.
Hopefully, we'll see more players join this list in the future. If you want to bet on which youngsters excel immediately, feel free to visit the best MLB betting sites to wager on MLB rookies and more.