Hide Bonus Offers
| | | | | |
| --- | --- | --- | --- | --- |
| #1 | Bovada Sports | 50% Up To $250 | Visit Site | Bovada Sports |
| #2 | BetUS | 125% Up To $2,500 | Visit Site | BetUS |
| #3 | MyBookie | 100% Up To $1,000 | Visit Site | MyBookie |
| #4 | Everygame | 100% Up To $500 | Visit Site | Everygame |
| #5 | BetOnline Sports | 60% Up To $1,000 | Visit Site | BetOnline Sports |
Ranking the 5 Best MLB Offenses of All Time

Many people attribute good pitching to a successful team. At the end of the day, it's the offense that puts up runs. Many factors go into having a great offense. Batting average, home runs, and runs batted in are the main ones.
It's interesting to look back because many of the great offenses came from the 1920s. In fact, there isn't one offense on this list from the 21st century.
So, let's go back and check out the best MLB offenses of all time.
5. 1995 Cleveland Indians
Believe it or not, the 1995 Cleveland Indians are the most recent entry on this list.
Throughout the late 1990s, the Indians were one of the best teams in baseball. A big reason for that was their imposing offense. Players like Albert Belle, Carlos Baerga, Kenny Lofton, and Manny Ramirez led the charge. They all made the all-star team.
It's hard to pick one guy that stood out but if I had to, I'd go with Belle. He led the AL with 50 home runs and 126 RBIs. Belle also had a .317 batting average.
Belle nearly won AL MVP but finished second to Mo Vaughn. Honestly, I'm not sure why Vaughn won because Belle had better numbers in every category except stolen bases.
Cleveland's other power hitter was a 23-year-old Ramirez. He slugged 31 home runs and 107 RBIs in his third season. He also had a .308 batting average.
Lofton and Baerga weren't big power hitters, but they made elite contributions.
| | | |
| --- | --- | --- |
| | Kenny Lofton | Carlos Baerga |
| Batting Average | .310 | .314 |
| Home Runs | 7 | 15 |
| RBIs | 53 | 90 |
| Stolen Bases | 54 | 11 |
Lofton's 54 stolen bases led the NL.
I also can't forget to mention Eddie Murray and Jim Thome. Neither player made the all-star team, but they both hit over .310 and had 20+ home runs.
All in all, Cleveland led the majors with 840 runs, 1,461 hits, 207 home runs, and 803 RBIs. Cleveland won 100 games in a strikeout shortened season.
Unfortunately, that dominant offense had nothing for the Atlanta Braves in the World Series. Atlanta won the series 4-2, as they held the Indians to a combined 19 runs. In the series-clinching Game 6, Cleveland had one hit.
Cleveland earned an honorable mention among my best teams to never win a World Series.
It was a disappointing end, but we can't forget about their accomplishments in the regular season. I don't think their offense had a weakness.
4. 1929 Philadelphia Phillies
Here is our first look back to the 1920s. There were a lot of great offenses in this era. You could make an argument that the 1929 Chicago Cubs could be on this list. However, I'm giving the edge to the Philadelphia Phillies.
The leader of this offense was none other than Chuck Klein. Klein was only in his second season, but he already looked like one of the best hitters in the game.
.356 batting average
43 home runs
135 RBIs
54 walks
Klein was their top player, but he was far from their only contributor. Lefty O'Doul finished second in MVP voting after leading the AL with a .398 batting average, .465 on-base percentage, and 254 hits. He also had 32 home runs and 122 RBIs.
Second-year player Don Hurst was their other primary power hitter. Hurts hit 31 home runs and 125 RBIs. He also had a .304 batting average and 10 steals.
Pinky Whitney, Fresco Thompson, Bernie Friberg all hit over. 300. Whitney also added in 115 RBIs.
Surprisingly, Philadelphia wasn't in the top-five in runs scored. They did lead the majors with 1,693 hits and 153 home runs.
The Phillies had one of the best offenses of all time. However, their overall team finished under .500 thanks to a terrible pitching staff.
That season, they had an MLB worst 6.13 ERA, 1.75 WHIP, 1,743 hits allowed, and 122 home runs allowed. Philadelphia allowed 100 more runs than the second-place team.
It's a shame because their offense was on another level. If their pitching was even okay, they likely would've competed with the Chicago Cubs.
At least everyone knows their offense was among the best of all time.
3. 1976 Cincinnati Reds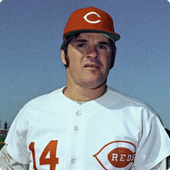 In the 1970s, the Cincinnati Reds dominated the MLB. In turn, they earned the nickname "Big Red Machine."
When you have a lineup that features Pete Rose, Joe Morgan, Johnny Bench, and Ken Griffey Sr., how can they not be one of the best of all time?
Even with all those players, George Foster was their best power hitter. He led the team with 29 home runs and 121 RBIs. Foster also had a .306 batting average.
Morgan came into the season looking to win his second straight MVP. That's exactly what he did with these impressive numbers.
.320 batting average
27 home runs
111 RBIs
60 stolen bases
114 walks
He hit .320 and somehow ranked third on the Reds in batting average. Rose hit .323 and had a major league-leading 215 hits and 130 runs. Then, there was Griffey.
Griffey wasn't much for the power numbers with six home runs, but he did have 74 RBIs. He also contributed 34 stolen bases and led the team with a .336 batting average.
What's crazy about this offense is it could've been even better. Bench had one of the worst seasons of his career.
He hit .234 with 16 home runs and 74 RBIs. That was the only time from 1969-1980 he hit less than 20 home runs. His batting average was also the second-lowest of his career.
Still, this guy was one of the greatest players from the 1940s to 1980s.
Unlike a few other top offenses, Cincinnati had no problems in the postseason.
In the division era, the Reds are the only team to sweep the postseason. They scored at least four runs in all seven wins. Oh, and when it comes to their regular-season numbers, the Reds led the majors in runs, hits, doubles, triples, home runs, RBIs, and walks.
If Bench had a better season, we could be talking about this offense as the greatest of all time.
2. 1953 Brooklyn Dodgers
In the late 1940s and early 1950s, the Brooklyn Dodgers dominated the NL. They made the World Series six times in 10years, with possibly their best team being the 1953 squad.
When you look at this lineup, Jackie Robinson has the name recognition, and he had a great season. However, he wasn't the best player on the Dodgers that season.
That honor goes to Roy Campanella. Campanella won MVP for the second time in three seasons. Check out his numbers.
.312 batting average
41 home runs
142 RBIs
67 walks
So, Robinson must've been the second-best player, right? I believe that honor goes to either Carl Furillo or Duke Snider
Furillo led the MLB with a .344 batting average, while also adding in 21 home runs and 92 RBIs. Snider hit .336 with 42 home runs and 126 RBIs. He also led the majors with 132 runs.
Instead of talking about each player one by one, why don't I show you a table with their other contributors?
| | | | |
| --- | --- | --- | --- |
| | Gil Hodges | Jackie Robinson | Pee Wee Reese |
| Batting Average | .302 | .329 | .271 |
| Home Runs | 31 | 12 | 13 |
| RBIs | 122 | 95 | 61 |
| Walks | 75 | 74 | 82 |
| Stolen Bases | 1 | 17 | 22 |
Brooklyn's offense was miles ahead of the competition. Their 955 runs were 154 ahead of the New York Yankees. Brooklyn also led the league in hits, home runs, RBIs, and stolen bases.
They won the NL by 13 games with a league-leading 105 wins. That matched them up with the Yankees in the World Series.
New York went on to win the World Series in six games. The Dodgers offense showed up with 27 runs. However, their pitching couldn't stop the Yankees.
In the end, it was another great offense that came up short of winning the World Series.
1. 1927 New York Yankees
There won't be many arguments with this selection. Nothing stands out like looking at a lineup that features Babe Ruth and Lou Gehrig.
Of course, both players are among the early legends in the MLB.
Ruth broke his own home run record with 60 in 1927. He also had a .356 batting average and 165 RBIs.
With all the success Ruth had, Gehrig was the one who won MVP. He hit .373 with 47 home runs and a major league-leading 173 RBIs.
While these two players are legends, it takes more than two to make up the best offense of all time. That's where Earle Combs, Bob Meusel, and Tony Lazzeri come in.
Lazzeri was the best power hitter of the three with 18 home runs and 102 RBIs. He also hit .309 and stole 22 bases.
Let's check out Meusel and Combs numbers.
| | | |
| --- | --- | --- |
| | Bob Meusel | Earle Combs |
| Batting Average | .337 | .356 |
| Home Runs | 8 | 6 |
| RBIs | 103 | 64 |
| Walks | 45 | 62 |
| Stolen Bases | 24 | 15 |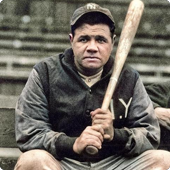 New York's vaunted lineup earned the nickname "Murderers' Row."
Like the 1953 Brooklyn Dodgers, the Yankees led the MLB in runs by over 125. They also had 49 more home runs than any other team.
Overall, this team had no problem winning games. They won the AL by 19 games with a 110-44 record.
In the World Series, they faced off with the 94-win Pittsburgh Pirates. With all due respect to the Pirates, there was no way this Yankees team was losing the World Series. They went on to sweep the Pirates, scoring 23 runs across the four games.
Everyone knows about Ruth and Gehrig, but Lazzeri and Combs also went on to become Hall of Famers.
There's a reason a lot of people consider the 1927 Yankees the greatest team of all time.
Other Great MLB Offenses
1930 St. Louis Cardinals
1999 Cleveland Indians
The 1930 St. Louis Cardinals didn't have any players hit over 30 home runs. Their offense succeeded with eight players hitting over .300. They ultimately lost in the World Series.
In 1999, the Cleveland Indians offense continued their dominance. Manny Ramirez finished third in AL MVP voting after hitting .333 with 44 home runs and 165 RBIs.
Watching teams hit the ball out of the park is the most exciting thing about baseball. It's not a full proof World Series strategy but it could earn you a spot among the greatest offenses of all time.
Speaking of the World Series, check out a few comebacks and upsets.