Hide Bonus Offers
| | | | | |
| --- | --- | --- | --- | --- |
| #1 | BetOnline Sports | 60% Up To $1,000 | Visit Site | BetOnline Sports |
| #2 | Bovada Sports | 50% Up To $250 | Visit Site | Bovada Sports |
| #3 | BetUS | 125% Up To $2,500 | Visit Site | BetUS |
| #4 | Everygame | 100% Up To $500 | Visit Site | Everygame |
| #5 | MyBookie | 100% Up To $1,000 | Visit Site | MyBookie |
Best League of Legends Betting Resources

The popularity of esports has skyrocketed in the past several years and they are following the path of traditional sports. One of the consequences is that many of the fans engage in real money betting nowadays.
One of the esports that generates the most wagers is League of Legends. The game is extremely popular all across the globe and the action continues pretty much throughout the entire year.
If you are one of the many who are trying to make some money, you should learn how to prepare for every wager. One of the most important factors is to use the right sources. That's why I've prepared a list of the best LoL betting resources available on the internet.
They are all free and deliver information that can improve your results if used correctly.
LoL on Twitch.tv
All major LoL tournaments are available for free on Twitch. The platform allows you to watch various matches live or on replay which is crucial for everyone that wants to bet on the game.
That's the easiest way to learn about the different teams, their strong and weak sides, as well as their current form. On top of that, most matches are dissected by top-notch casters who have excellent knowledge of League of Legends.
Their analysis can help you improve your own understanding of the game, the current meta, and the top teams in the world.
You can also benefit from watching some of the many LoL streamers. There are plenty of top players that offer their insights while they are playing. Twitch provides an excellent opportunity to get into the mind of the best performers and see how they view the game.
On top of everything else, the experience certainly is entertaining for anyone who loves League of Legends.
Here are several LoL streaming channels on Twitch that can be useful, but you can find many more.
YouTube League of Legends Channels
The benefits of YouTube are pretty similar to what Twitch has to offer. You can find plenty of live streams for big events and videos of older LoL matches that can help you get familiar with almost any team or player in the world.
Another reason why the website is on my list of top LoL betting resources are the countless channels that provide tutorials, insights, champion guides, and more useful information. You can expand your knowledge on every aspect of the game such as item builds, farming neutrals, killing Baron, and everything else. Here's an example.
If you are willing to invest some time to dig deep, YouTube can be priceless for anyone who is looking to improve his LoL betting skills. There are tons of options out there, but here are some that I like the most.
The Best LoL Betting Sites
If you want to make money by betting on LoL, you should certainly stick to the best sportsbooks out there. They have higher odds than the rest, as well as some juicy bonuses and promotions for League of Legends.
The list above features my recommendations and they also deliver fast payments, a safe environment, a smooth mobile version, and plenty of other perks.
You can also visit our page dedicated to the top LoL betting sites for more options and a detailed explanation of how we rate the sportsbooks. Every online bookmaker there is trustworthy and offers good value for your money.
Leaguepedia
The League of Legends Wiki section of Gamepedia.com certainly deserves your attention. It's probably one of the most useful resources out there in terms of raw data.
For a start, you can find plenty of information about the game itself. You can learn every little detail related to each item, monster, or champion, starting from the lore and getting into the numbers behind every ability.
The sub-pages is updated regularly after each patch, so it stays accurate. Simply put, if you have a question about the LoL gameplay, Leaguepedia will deliver.
Furthermore, the page is an excellent source of information about the different tournaments, teams, and players. Every sub-page comes with facts about the topic, including dates, history, results, and much more.
For the competitions, you can find out what the schedule is, the rules, and everything else that might be relevant.
The portal is a great starting point that can help you prepare for your LoL bets.
GamblingSites.Com LoL Betting Resources
I believe that the following two pages on GamblingSites.com can serve as excellent LoL resources, so I recommend you to check them out.
Esports betting tips – check out our esports betting tips that cover the fundamentals that apply to every game, including League of Legends
Esports betting picks – out esports betting picks section includes free previews and predictions for various games. We often cover League of Legends there, so make sure to check it every now and then.
League of Graphs
If you are interested in some stats about non-competitive LoL, League of Graphs is the place to find it. The website provides plenty of data on the win rates of the various champions, their popularity, and more.
As the name suggests, there are countless graphs and charts included. The best part is that you can not only check the current numbers but also explore historical data.
It can help you understand how a champion has developed over time and what the current meta is. It must be mentioned that the site covers general information for all players, so the esports meta could be different which leads us to the next entry to my list of top resources for betting on LoL.
Games of Legends
Watching the best teams regularly and following how the LoL meta evolves is crucial for your success. Developing that game awareness that allows you to recognize what's going on and why at any given moment is just mandatory.
The same applies to data analysis. You should always explore the numbers that can expand your knowledge of every single team and player. One of the best places to find stats is Games of Legends.
Just browse around and find the organization or player you are looking for. The portal will send every numbers geek in ecstasy with its vast database.
There's also information about specific matches and games. Here's an example of how the simple summary looks like.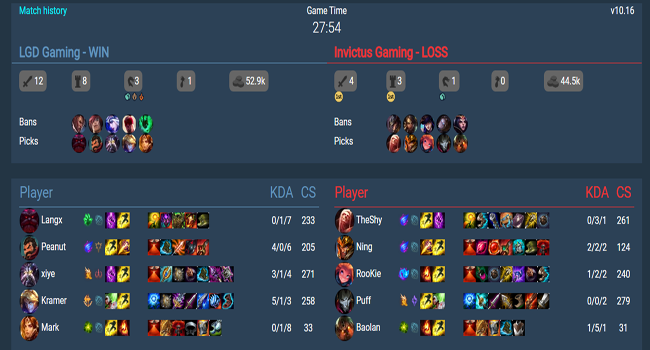 There is more information about each clash, so you can get the full picture behind the final outcome.
Gosu Gamers Lol Section
Another website that is good for stats is Gosu Gamers. The bonus here is that you get some extra content like videos, LoL news, and more. It serves multiple purposes at once and while it might not be the best for some of them, it still saves time.
Another advantage of Gosu Games is that the site covers other esports too. If you like Dota 2, CS:GO, or several more popular games, you can have access to useful info for them in the same place.
The Score Esports
I must admit that I don't use LoL news sites too often, as I mostly find out what's going on from Twitch, Twitter, and YouTube. And yet, I believe that a page like that has to be included in my list of the best LoL betting resources.
There are plenty of options on the internet, but I decided to go for The Score Esports for one simple reason. The website is not only a good source of the latest LoL news, but it also produces its own short documentaries that are both fun and informative.
Final Words
I hope that my list of betting resources for LoL can help you do better with your wagers in the future. If you believe that other sites or apps belong here, I would love to check them out, so feel free to use the comments section below.
I also recommend you to check out my LoL betting tips for more advice on how to make money by betting on League of Legends.