Hide Bonus Offers
| | | | | |
| --- | --- | --- | --- | --- |
| #1 | BetOnline Sports | 60% Up To $1,000 | Visit Site | BetOnline Sports |
| #2 | Bovada Sports | 50% Up To $250 | Visit Site | Bovada Sports |
| #3 | BetUS | 125% Up To $2,500 | Visit Site | BetUS |
| #4 | Everygame | 100% Up To $500 | Visit Site | Everygame |
| #5 | MyBookie | 100% Up To $1,000 | Visit Site | MyBookie |
Ranking the 10 Greatest Jockeys in Horse Racing History

There have been plenty of famous racehorses. Seabiscuit, Man o' War, Secretariat, Seattle Slew… The list goes on. They all deserve to be remembered and even honored for the champions they were. But what about the top jockeys? What about the men and women on the other side of the saddle?
Professional jockeys are athletes in every sense of the word—and they work harder and longer than athletes in other sports. A football or a basketball pro might retire in their thirties. Jockeys are riding today that have pictures of their grandkids in their lockers.
And this isn't a two-minute job. Well, for the horse, maybe. But it's not uncommon for jockeys to ride a half-dozen mounts a day, with each ride a different trainer and a different owner, all of whom expect nothing but the best.
The more you know about horse racing history – including reading up on the best jockeys of all-time – the better your wagers will turn out at the best sites for horse racing betting.
Let's direct our attention, and maybe even some admiration and respect, to a few of the top jockeys in history.
Bill Shoemaker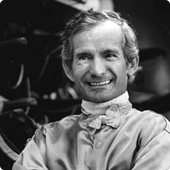 Career Span: 1949-1990
Hall of Fame Induction: 1958
Career Wins: 8,833
Factoid: Shoemaker penned three horseracing mysteries featuring Coley Killebrew, a former jockey who solves crimes.
Whether you knew him as Bill, Willie, or even "The Shoe," William Lee Shoemaker will be remembered as the longest-reigning king of thoroughbred horse racing in the US.
Born in Fabens, Texas, in 1931, Shoemaker—as the story goes— was so tiny at birth that he wasn't expected to survive but did!
By the time he was 19, he was making more than $2500 a week.
That might not sound like much now, but in 1949 you could buy a brand-new two-door convertible Cadillac for $3,497 MSRP. Back then, the median annual income for a family in 1949 was $3,100—and Willie put that much in the bank every eight or nine days.
Shoemaker was a superstar, the ups and downs of his four-decade jockey career a perennial front-page story. He won four Kentucky Derbys, three Preakness Stakes, and four Belmont Stakes—but somehow missed winning them all in the same year.
Laffit Pincay Jr.
Career Span: 1966-2003
Hall of Fame Induction: 1975
Career Wins: 9,530
Factoid: During his four decades in the irons, Pincay suffered two spinal fractures, eleven broken collarbones, ten broken ribs, two punctured lungs, and two broken thumbs.
Born in 1946 in Panama City, Panama, Laffit Alejandro Pincay Jr. was the newest addition to a horse racing family at the time. His father was also a jockey, riding thoroughbreds on tracks in Panama and Venezuela.
At 15, the younger Pincay took a job as a hotwalker at local tracks. He was considered too big to work as a jockey, but he managed to talk the connections of the thoroughbred Huelen to give him a chance. And so it happened that in 1964, he won his first-ever professional race, riding Huelen at the Hipodromo Presidente Remon in Panama City.
In 1966, the 19-year-old convinced horseman Frank Collins to sponsor his move to the United States to ride professionally. Pincay's contract was to ride for Collins for $500 per month.
That sponsorship immediately paid dividends as Pincay won eight of his first eleven races at Arlington International Racecourse. In 1968, he became the second jockey to win six races on the same card at Hollywood Park.
When he retired in 2003, Pincay held the world record for most career wins on the flat track: 9,530.
Lester Piggott
Career Span: 1948-1995
Hall of Fame Induction: 2021
Career Wins: 4,493
Factoid: Piggott initially retired as a jockey in 1985, continuing to work as a thoroughbred trainer. He was found guilty of tax fraud in 1987 and served a year and a day in prison. After his release, he returned to jockeying until 1995.
Lester Keith Piggott was born in 1935 in Wantage, Berkshire, England, the son of a family involved in the horseracing business for nearly two hundred years. His father had ridden three horses to victory in the Grand National, and his mother was the sister of two Derby-winning jockeys, Mornington and Kempton Cannon.
So, it should have come as no surprise that Piggott won his first professional race at the age of 12, aboard The Chase at Haydock Park in Merseyside, North West England.
Tall for a jockey (5'7"), Piggott was often called the Long Fellow, and his boyish good looks earned him the media nickname "the housewives' favorite."
Piggott was 18 when he rode Never Say Die to victory in The Derby in 1954. He would later win eight more Derbys. Piggott wasn't just a jockey in the mid-20th century—he was British horse racing itself, perhaps, even more, the embodiment of success in the sport in Great Britain than his contemporary across the pond, Willie Shoemaker.
Piggott rode Nijinsky in the 1970 British Triple Crown races (the Two Thousand Guineas, the Derby, and Saint Leger)— the first time in 35 years that The Triple Crown had been won. As of 2022, no horse and jockey have since won all three races.
John R. Velazquez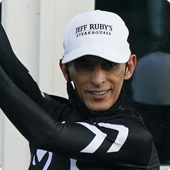 Career Span: 1989-
Hall of Fame Induction: 2012
Career Wins: 6,371 and counting
Factoid: According to Velazquez, he learned to speak English by watching The Little Mermaid with fellow jockey Angel Cordero's daughter for 2-1/2 months.
Born in 1971 in Carolina, Puerto Rico, John R. Valazquez studied the jockeying profession there in his teens, winning his first professional race in 1990 aboard Rodas at Hipódromo Camarero (then known as El Nuevo Comandante) in Canóvanas, Puerto Rico.
That same year, he moved to New York, where he came to the attention of Hall of Fame jockey Ángel Cordero Jr. Cordero became both a friend and mentor to Velazquez, inviting the young jockey to stay with his family in New York. Cordero would later become John's agent.
Velazquez then won his first New York race with My Brother Jay at Aqueduct on March 12, 1990. He won his first stakes race later that same year. In the1991, he won his first graded stakes race. From that point on, his rise to thoroughbred racing stardom continued apace.
On June 13, 2013, Velazquez posted his 5,000th win with a ride on Galloping Giraffe at Belmont Park.
Velazquez is the co-chairman (along with Pat Smith) of The Jockeys' Guild, the trade organization that oversees the working relationships of the nation's thousands of professional jockeys.
He's also been a regular jockey to target at the top Kentucky Derby betting sites, having secured three wins there since 2011.
Victor Espinoza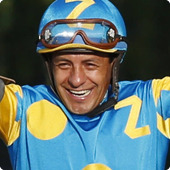 Career Span: 1993-
Hall of Fame Induction: 2017
Career Wins: 3,462 and counting
Factoid: When Espinoza arrived in California, he was dead-broke, and for his first few months in the Bay area, he lived in a tack room at the stables.
Born in 1972, the eleventh of twelve children,Victor Espinoza grew up on a small family dairy farm in Tulancingo, Mexico. He followed an older brother to Cancun to work as a quarter-horse trainer and, at 17, was driving a bus to pay for jockey school.
He rode a few thoroughbreds at Mexico City's Hipódromo de las Américas in Mexico City but moved to California in 1990. By 1994, Espinoza was the leading apprentice jockey at Bay Meadows and Golden Gate Fields. His skill as a jockey grew slowly but steadily.
He was no wunderkind, no sudden superstar. A trainer Espinoza worked with in those early days, Steve Specht, described him as "just a hardworking kid who was out there every day. But he kept getting better and better, and soon people started seeing the talent he had."
Espinoza himself echoed that assessment in an interview.
"I didn't think about a Triple Crown or Kentucky Derby win. I just wanted to win one race. I could not jump from the bottom to the top, so I took it step by step. Just win one race at a time."
And that one race at a time is how he came to win the Kentucky Derby three times and the Preakness three times. He only won the Belmont Stakes once, but in 2015, the same year, he aced the Kentucky Derby and the Preakness, winning the US Triple Crown aboard American Pharoah.
Russell Baze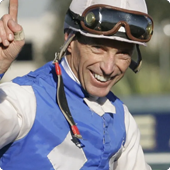 Career Span: 1974-2016
Hall of Fame Induction: 1999
Career Wins: 12,842
Factoid: Baze's birth in Vancouver, British Columbia, gives him dual citizenship in the two countries. His American parents were in Vancouver for a competition at Exhibition Park.
Born in 1958 in Vancouver, British Columbia, Russell Avery Baze continued the legacy of the Baze horse racing dynasty passed to him by his father, top jockey-turned-trainer Joe Baze.
Russell began his own horse racing career in Walla Walla, Washington, in 1974. He won his first race that fall at Yakima Meadows.
In 2006, Russell surpassed Laffit Pincay Jr.'s then-current record for most winning rides. The following year, he won eleven races over two days at Bay Meadows (October 17-18, 2007).
When he retired in 2016, Baze held the world record for the most wins in thoroughbred jockeying history: 12,842. His career average for wins is 23.96%.
Patrick Day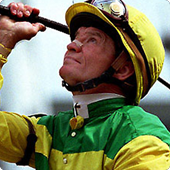 Career Span: 1973-2005
Hall of Fame Induction: 1991
Career Wins: 8,803
Factoid: Before he turned to riding thoroughbreds, Pat Day first tried the life of the professional bull rider on the rodeo circuit.
Born in Brush, Colorado, in 1953, Patrick Alan Day grew up riding horses. His father, an auto mechanic, also broke and trained horses from neighboring ranches. Competitive to a fault, Day joined his high school wrestling team and, in his junior year, won the state championship for his weight class.
A couple of years out of high school, Day took a job at Riverside Thoroughbred Farm in California, intending to become a professional jockey. He quit when he was told that it could be years before he rode in a race.
"I didn't know what I was trying to do," he would later reminisce, "and I didn't have a lot of patience." He moved to Las Vegas, Nevada, but was initially unable to find work there, but in early 1973, he took a job exercising horses at Las Vegas Downs.
Shortly after that, a trainer, Steve Talbot, invited him to travel down to Prescott, Arizona, and it was there another trainer, Karl Pew put him in the irons. Pew put Day aboard Foreblunged that rainy day in July 1973.
"I'd only ridden in 10, maybe 15 races at the very most at that point."
Day would later describe the win as "an adrenalin rush… highly addictive."
By 2005, he had taken nearly 9,000 highly addictive winning rides. He won nine Triple Crown races and a dozen Breeders' Cup matches, including four Breeders' Cup Classics.
Along the way, Day set the Churchill Downs record for most wins on a single card, winning seven of eight races. And in 1989, he set a North American record with eight out of nine rides at Arlington Park.
David A. Gall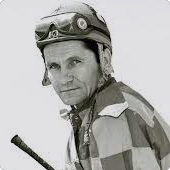 Career Span: 1956-1999
Canadian Hall of Fame Induction: 1993
Career Wins: 7,396
Factoid: Gall was nicknamed " The General" by his fans and the media covering his career at the two southern Illinois tracks he called home.
Canadian David Allen Gall was born in Saskatchewan in 1947. He began his riding career at age 15, and he was soon riding on the Canadian "prairie circuit" of tracks, eventually branching down into the States with tracks in the San Francisco Bay area.
But his move to Fairmont Racetrack in Collinsville, Illinois, across the river from St. Louis, Missouri, marked the beginning of his rise to fame.
Or something very much like it. He wasn't heralded by the press or wooed by starlets like some of his contemporaries.
His biography on the Canadian Horseracing Hall of Fame site notes acerbically that Gall was "king of the $3,000 claimers, baron of the B-circuit."
But when he retired, only three jockeys in the history of thoroughbred flat track racing had won more races than he: Bill Shoemaker, Laffit Pincay, Jr., and Pat Day. And yet, his career earnings were far lower than many of his contemporaries.
"In my mid-30s, I realized I wasn't going to make it big. I never joined the rat race because I wouldn't say I like rat races. I love horse races."
When Gall retired from jockeying in 1999, he was ranked the fourth-highest winning jockey in American Thoroughbred racing history, accumulating 7396 wins in 41,775 starts, according to Equibase.
Perry Ouzts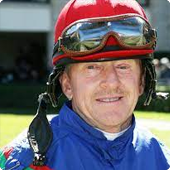 Career Span: 1973-
Career Wins: 7,246 and counting
Factoid: Before moving to Chicago to begin his jockey career in earnest, Perry's riding experience had been confined to Smokey, his Shetland pony.
At an age when most jockeys have already spent some years doting on their grandchildren, 67-year-old Perry Ouzts still saddles winners at Keeneland and Turfway Park.
Born in Arkansas in 1954, Perry Wayne Ouzts wasn't the first Ouzts to excel in the racing game—he had several cousins who were pro jockeys, and one of them, Earlie Fires, is in the Hall of Fame.
Perry began his career at Beulah Park in Grove City, Ohio, in 1973, where he rode his first winner—Rablu. When he was 17, he left town a week after graduating high school and headed for Chicago. He went on to win a record 35 meet titles at River Downs (now Belterra Park) in Cincinnati, Ohio.
In Ironman Perry Ouzts—the award-winning 2015 documentary about his life—Perry answered a question about his longevity in the business with: "I'm gonna ride this train until they throw me off."
Edgar Prado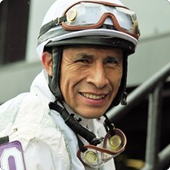 Career Span: 1986-
Hall of Fame Induction: 2008
Career Wins: 7,110 and counting
Factoid: Prado rode spoilers for his two Belmont Stakes victories, denying Triple Crown wins to both War Emblem (2002) and Smarty Jones (2004). Both Prado's mounts were longshots—in 2002 Saravana was 70/1, and in 2004, Birdstone was 36/1.
Born in 1967 to a horse racing family in Lima, Peru, Edgar S. Prado grew up in the business. His father was an exercise rider, and several of his brothers worked as jockeys or trainers.
After jockey school, Prado began riding locally at 16, winning his first professional race in 1983. He was a consistent moneymaker in Peru until he came to the US in 1986. He rode on tracks in Florida, then moved north to Maryland, where he would be a mainstay at Pimlico and Laurel Park for most of his career.
According to Equibase, as of April 17, 2022, Prado has won 343 graded stakes races in the US, starting with the Grade III Hawthorne Derby aboard Pappas Swing back in 1988. He went on to win a Kentucky Derby (Barbara, 2006) and two Belmont Stakes (Sarava, 2002; Birdstone, 2004).
He's also won five Breeders' Cup stakes races, including the 2005 Breeders Cup Sprint aboard Silver Tree—a horse he would ride to victory in no fewer than six graded stakes races.
Prado was the winningest jockey in the US three times (1997, 1998, and 1999), with 1997 being particularly noteworthy because that was the year he became the fourth jockey in US history to win 500 races in a single year (535).
Love horse racing? Consider betting on it, but first stop by our detailed guide.