10 Best Golfers in LPGA Tour History

The LPGA represents the female version of the PGA Tour. We saw professional women's golf leagues in the early 1900s, but 13 women founded the LPGA in 1950. Among the founders were Patty Berg and Louise Suggs.
What goes into being the top LPGA golfer? There are a few factors, and we use the same methods to determine the best PGA golfers. Tournament wins and major championships are the most important factors.
Which golfers make the list of top ten LPGA golfers? Let's check it out.
10. Patty Sheehan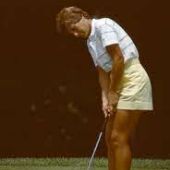 Years Active: 1980-2001
Career Wins: 35 (13th)
Major Championships: 6 (T-10th)
Patty Sheehan was a highly-rated skier at age 13, but she transitioned to golf in high school. That was a good decision, as she became one of the top golfers in the LPGA.
Sheehan won Rookie of the Year in 1981 after winning the Mazda Japan Classic. She won the LPGA Player of the Year in 1983 after winning her first major. Sheehan defended that title, winning the 1984 LPGA Championship by four strokes.
She was a top golfer in the 1980s, but her major championship success came in the early 1990s.
1992 U.S. Women's Open: -4 (1st)
1993 Mazda LPGA Championship: -9 (1st)
1994 U.S. Women's Open: -7 (1st)
1996 Nabisco Dinah Shore: -7 (1st)
The only blemish on her record was blowing an 11-shot lead in the 1990 U.S. Women's Open. She finished four shots behind Betsy King.
The 1996 Nabisco Dinah Shore marked her final LPGA victory. Three years before, she qualified for the World Golf Hall of Fame. That's not bad for one of the top teenage skiers.
Sheehan never won the money title, but it's hard to argue with her legacy as a top female golfer.
9. Juli Inkster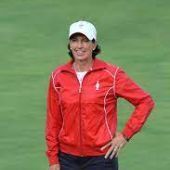 Years Active: 1983-2021
Career Wins: 31 (T-16th)
Major Championships: 7 (T-7th)
We had an indication Juli Inkster would be one of the best LPGA golfers before her LPGA career. She won three consecutive U.S. Amateur titles from 1980 to 1982. She joined the LPGA in 1983, but 1984 marked her first season.
Inkster quickly proved she belonged. She won Rookie of the Year after claiming two majors. What's interesting about her career is she only won one major over the next 15 years.
She turned 39 mid-way through the 1999 season. Inkster proved age was just a number as she was in contention for every major.
ANA Inspiration: -5 (6th)
Women's PGA Championship: -16 (1st)
U.S. Women's Open: -16 (1st)
du Maurier Classic: -8 (3rd)
This marked her best season on the LPGA. She scored five wins, including back-to-back majors. She finished second on the money list after earning over $1.3 million.
Inkster picked up two more major wins, winning the 2000 Women's PGA Championship and 2002 U.S. Women's Open.
It's hard to believe, but Inkster remains active in the LPGA. Inkster played a key role in the Solheim Cup throughout her career. Feel free to check out our guide to betting on the Solheim Cup.
Solheim Cup Betting Guide
8. Betsy Rawls
Years Active: 1951-1972
Career Wins: 55 (6th)
Major Championships: 8 (6th)
We've discussed a pair of golfers from the 1980s and 1990s, but that trend will change. Most of the top female golfers came from the 1940s and 1950s. Betsy Rawls began her LPGA career in 1951.
She didn't start playing golf until she was 17, but she was a quick learner. Rawls finished second in the U.S. Women's Open as an amateur. The following year, she joined the LPGA and won her first major championship.
Rawls won the Women's Western Open in 1952 and U.S. Women's Open in 1953.
Winner of 8 Majors and 55 LPGA events, Betsy Rawls.

Seen here at Wentworth in 1951. pic.twitter.com/2XACBSvCQJ

— TheGolfDivoTee™ (@TheGolfDivoTee) March 13, 2022
The 1959 season was her best on the LPGA. She scored ten victories, including the LPGA Championship and Women's Western Open. Rawls won the Vare Trophy for the lowest scoring average.
Like Juli Inkster, Rawls exhibited longevity. She played into her 40s, winning the 1969 LPGA Championship at age 41. That came nine years after her previous major victory in the U.S. Women's Open.
Three years after her LPGA Championship, Rawls won her final LPGA tournament at age 44. That's more than enough to consider her one of the best female golfers. She was an inaugural member of the LPGA Hall of Fame.
7. Karrie Webb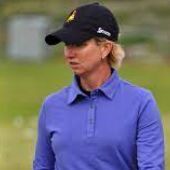 Years Active: 1996-2022
Career Wins: 41 (T-10th)
Major Championships: 7 (T-7th)
Karrie Webb was a star on the Ladies European Tour before joining the LPGA in 1995. She immediately left her mark, winning the HealthSouth Inaugural in her second career start.
Webb won Rookie of the Year and the money title in 1996. She won LPGA Player of the Year in 1999 after winning six times, including her first major championship. The 1999 season began a magical four-year run in the majors.
Check out her numbers in 16 total majors from 1999 to 2002.
5 wins
9 top-five finishes
13 top 10 finishes
Webb had a pair of missed cuts, but she was nearly unstoppable in that stretch. Her victory in the 2001 LPGA Championship made her the youngest player to win the career Grand Slam.
She had a rough patch from 2003 to 2005, winning two tournaments. However, she bounced back with five wins in 2006, including the Kraft Nabisco Championship. That gave her a seventh major championship.
Webb hasn't competed in a major since 2019, but she continues to play in the LPGA. Her most recent victory came in the 2014 JTBC Founder Cup. Webb has done enough to be one of the top LPGA golfers.
6. Louise Suggs
Years Active: 1946-1962
Career Wins: 61 (4th)
Major Championships: 11 (3rd)
We know that the top US sportsbooks are the go-to place for betting on golf. However, we wouldn't have that opportunity without Louise Suggs. She was a co-founder of the LPGA, along with Patty Berg and Babe Zaharias.
Before she helped form the LPGA, she played in events that became a part of the LPGA. Because of that, you'll see her first LPGA victory in 1946. That season featured her first two major championships.
The 1949 U.S. Women's Open remains one of the most dominant performances in golf history. The field had no match for Suggs, as she scored a 14-shot victory.
#ThisDayInGAHistory in 1949 Atlanta-born Louise Suggs won the US Woman's Golf Championship by a record 14 strokes. pic.twitter.com/bsxwYnGxLE

— Today In GA History (@2DayInGAHistory) September 25, 2015
Suggs continued her dominance in the LPGA. She had an insane 25 wins in four years, including three major championships. Is there any doubt about her status as one of the top golfers in the LPGA?
That stretch was from 1952 to 1955. That was far from the end of her career, as Suggs won a major in 1956, 1957, and 1959. Suggs won the money title in 1960 before winning seven tournaments in 1961.
Perhaps the biggest honor of her career was the LPGA naming the Rookie of the Year award after her.
5. Babe Zaharias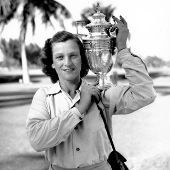 Years Active: 1940-1955
Career Wins: 41 (T-10th)
Major Championships: 10 (T-4th)
Babe Zaharias might not be the best female golf player, but she might be the greatest female athlete of all time. She won a pair of gold medals in track and field in the 1932 Summer Olympics. She was also an excellent basketball and baseball player.
Zaharias won the Women's Western Open as an amateur in 1940, 1944, and 1945. She won her fourth major as an amateur in the 1947 Titleholders Championship. She had won five majors by the time the LPGA formed in 1950.
Ten-time major winner, three-time Olympic medalist and perhaps the greatest multi-sport athlete of all time, Babe Zaharias, is an erstwhile reminder that sport offers the grandest stage for the celebration of the heights of humans. pic.twitter.com/FHMM905o01

— Brandel Chamblee (@chambleebrandel) July 24, 2021
Zaharias went on an unprecedented stretch in 1950. After winning eight tournaments, she was the money winner and LPGA Player of the Year. Those victories included three majors.
She didn't win a major in 1951, but will anyone complain about a nine-win season? She captured 14 wins over the next four seasons, including a pair of major championships.
Zaharias won the final two LPGA tournaments of her career. Sadly, she lost her life at age 45 because of colon cancer. She dealt with the illness in 1953 but continued to play.
It's hard to say there has been a greater female athlete than Zaharias. Her golf game was the greatest aspect of her career.
4. Patty Berg
Years Active: 1937-1962
Career Wins: 60 (5th)
Major Championships: 15 (1st)
We talked about Louise Suggs and Babe Zaharias playing a crucial role in the development of the LPGA. However, the best golfer from that era was Patty Berg. Berg won the Titleholders Championship three times before turning pro in 1940.
Berg dealt with adversity in her career. She shattered her knee after a car accident in December 1941. She also served in the Marine Reserves from 1942 to 1945.
Berg didn't skip a beat in her major tournament career. Check out her numbers from 1946 to 1959.
| | | | |
| --- | --- | --- | --- |
| Major Tournaments | Wins | Top 5 Finishes | Top 10 Finishes |
| Women's Western Open | 5 | 13 | 14 |
| Titleholders Championship | 4 | 11 | 13 |
| U.S. Women's Open | 1 | 8 | 13 |
| LPGA Championship | 0 | 2 | 3 |
The LPGA Championship didn't become an event until 1956. Berg's worst finish in a major during that stretch was a pair of 12th-place finishes. I'd say that qualifies as one of the best golfers in the LPGA.
Berg won Associated Press Female Athlete of the Year in 1938, 1943, and 1955. She won the money title three times, including in 1955. That was one of three seasons she won two majors.
She finished her career with an LPGA record of 15 majors. She's easily one of the best female golfers ever.
3. Kathy Whitworth
Years Active: 1958-1991
Career Wins: 88 (1st)
Major Championships: 6 (T-10th)
We talked about the three golfers that dominated the 1940s and 1950s. However, Kathy Whitworth came in the late 1950s and blew away the competition.
Whitworth didn't have immediate success like other great LPGA golfers. She joined the LPGA in 1958 but didn't earn her first victory until 1962. She won nine events in 1963, but her status as one of the top LPGA golfers began in 1965.
Whitworth won the money title and Associated Press Player of the Year after capturing eight wins, including her first major. She replicated those feats in 1966, including winning LPGA Player of the Year.
Kathy Whitworth used this swing to win 88 times on the LPGA Tour 🤩

Who's your favorite swing in women's golf history?#WomensHistoryMonth pic.twitter.com/e8s8rIzT2r

— LPGA (@LPGA) March 2, 2022
Her legacy grew as she continued to rack up wins. From 1965 to 1973, only once did she fail to win the money title or LPGA Player of the Year. The 1967 season marked the only time she won multiple majors in a season.
Whitworth slowed down as she moved into her 40s, but she won eight tournaments in the 1980s. That gave her an LPGA record of 88 victories.
Amazingly, she has 88 wins but only six major championships. You would think she has more, but that doesn't take away from her legacy.
2. Mickey Wright
Years Active: 1955-1969
Career Wins: 82 (2nd)
Major Championships: 13 (2nd)
Why didn't Kathy Whitworth win more majors? It likely had to do with playing in the same era as Mickey Wright.
Wright joined the LPGA in 1955, but her status as a top LPGA player didn't come to fruition until the 1960s. She won three majors in 1958 and 1959, but I'm not sure the game of golf has seen a dominant four-year stretch like Wright's from 1961 to 1964.
She won 44 tournaments and eight majors in that span. Wright won the money title in all four seasons and won Associated Press Player of the Year in 1963 and 1964. How can you compete with four straight seasons of 10+ wins?
Imagine playing when Mickey Wright was.
2nd most LPGA victories (82)
13 major championship victories.

won 10 times in 1961
won 10 times in 1962
won 13 times in 1963
won 11 times in 1964

RIP Mickey. "She had the finest golf swing I ever saw."-Ben Hogan

— Chantel McCabe (@chantel_mccabe) February 17, 2020
Those major championships weren't against a weak field. She defeated Whitworth, Louise Suggs, Patty Berg, and Betsy Rawls.
Wright didn't have the longevity of other LPGA greats. That dominant four-year stretch came in her 20s. Wright retired at 34 years old in 1969. One of golf's greatest players, Ben Hogan, believed she had the best swing of all time.
She only had 19 wins after turning 30. That's a great career for most golfers, but that's light for her standards. She could've been the greatest LPGA player if not for her early retirement.
1. Annika Sorenstam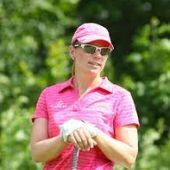 Years Active: 1994-2008
Career Wins: 72 (3rd)
Major Championships: 10 (T-4th)
We've talked about many great LPGA golfers, but the best female golfer is Annika Sorenstam. Sorenstam joined the LPGA in 1994 and kick-started her legendary career by winning the 1995 U.S. Women's Open. That propelled her to win Player of the Year.
Sorenstam won the 1996 U.S. Women's Open, but those were her only majors in her first six seasons. She was winning tournaments, but what about the majors? We saw a dominant stretch from 2001 to 2006.
Check out her numbers in six starts in each major.
| | | | |
| --- | --- | --- | --- |
| Major Tournaments | Wins | Top 5 Finishes | Top 10 Finishes |
| Kraft Nabisco Championship | 3 | 4 | 5 |
| LPGA Championship | 3 | 5 | 6 |
| U.S. Women's Open | 1 | 4 | 4 |
| Women's British Open | 1 | 1 | 1 |
The Women's British Open had her number, but she dominated the other majors. She had three finishes outside the top 10 in the first three majors across those six years.
Sorenstam won the money title and LPGA Player of the Year from 2001 to 2005. Surprisingly, we didn't see much from her after 2006. She scored three victories in 2008 but retired at the end of the season.
Even so, Sorenstam's reputation speaks for itself.
Looking Back on the Greatest LPGA Players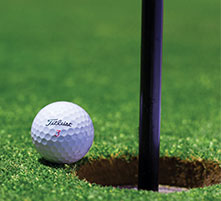 The top LPGA golfers made the LPGA better as a whole. They brought an unforeseen level of competition and dominance to the game. Thankfully, we saw many of these players play in the same era.
I can't speak from experience, but it must've been thrilling to see Mickey Wright battle Kathy Whitworth. It couldn't have been easy to bet on the winner during that era.
Sports betting on the LPGA has been on the rise for years. Feel free to check out the best golf gambling apps to place your LPGA bets below.