Best Francis Ngannou Knockouts in the UFC – Ranking the Top 8

When Francis Ngannou hits you, you stay hit.
The UFC heavyweight champion is regarded as the hardest-hitting fighter in the history of the promotion. That's a special accolade to hold, but it's nothing without evidence of that brutal force in all its glory.
It just so happens that Ngannou's greatest KOs prove he's more than just a heavy bag hero. This guy has put away former UFC champions, leading contenders, and some of the most dangerous fighters in combat sports history.
It's been a while coming, but today's the day when I rank the eight best Ngannou knockouts in the UFC, in descending order.
Let's get started with one from the early days of his career in the promotion.
8. Andrei Arlovski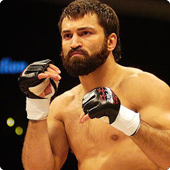 Event: UFC on Fox: Shevchenko vs. Pena
Date: January 28, 2017
Time: Round 1 (1:32)
A good place to begin.
When rating the best Francis Ngannou knockouts of all time, it's difficult to overlook his win over Arlovski.
This was the biggest name that the Cameroonian had faced until then, despite his Belarusian opponent being considered long past his prime.
Arlovski was, after all, a former UFC heavyweight champion and still a decent test for the fledgling heavyweight. Ranked #7 to Ngannou's #10, he was a legitimate threat.
But if there was any pressure involved, it sure wasn't showing on the African's face. He strolled to the Octagon on a cold winter's night in Denver, Colorado, as chilled as the snow that stuck to the ground around the Pepsi Center and Speer Boulevard.
Ngannou's intention was to turn the hype up a notch on the undercard of Valentina Shevchenko vs. Juliana Pena. You could say it was an open-and-shut case from the first bell.
On the antepenultimate slot of the night, Ngannou already looked like the star attraction. His confidence, poise, and that unmistakable aura of invincibility were there for all to see. No issues with confidence, the knockout artist simply sat patiently in the pocket waiting for Arlovski to attack.
Bouncing on his heels just outside of range, "The Pitbull" looked apprehensive in his efforts to close the distance. His lack of confidence was evident to everyone watching, no less the hard-hitting contender.
Nonetheless, he threw a right hand at the -355-betting favorite that was countered by an overhand left by Ngannou. That punch missed its target but the powerful right uppercut coming just behind it landed on Arlovski's chin, sending the 37-year-old crashing to his knees.
At this point, Arlovski's chances of recovering looked slim. Ngannou pounced, throwing shots at his downed opponent before the referee stepped in to call it a night after just 92 seconds of the first round.
Welp. That went as many expected. Ngannou obliterates Arlovski in the first round. KO.

— Brett Okamoto (@bokamotoESPN) January 29, 2017
Although this stoppage would not be as ruthless as some of the others he had and would go on to score, it was crucial to his ascendency at heavyweight. It was his first win over a former champion of the promotion, marking his entry into the top-10 of the division for the first time.
Most important of all, it would earn The Predator his first place on a major card — a battle with Alistair Overeem on the co-main event of UFC 218 in December of that year.
7. Cain Velasquez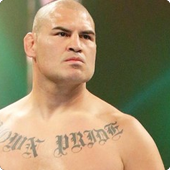 Event: UFC on ESPN: Ngannou vs. Velasquez
Date: February 17, 2019
Time: Round 1 (0:26)
Following the Arlovski win, we fast forward to February 2019.
At that time, there was still an element of doubt about whether Ngannou would attain championship status.
Having lost back-to-back fights against Stipe Miocic and Derrick Lewis in January and July of 2018, respectively, the contender earned a massive knockout win over Curtis Blaydes to signal a crucial turnaround of fortune.
But not everyone was convinced.
Even though the win over Blaydes was one of the top KOs of Ngannou's career, he was facing a true legend of the sport in Velasquez.
This was a guy that had beaten some of the biggest, baddest, and best in his career. A fighter that was lauded by many as the greatest heavyweight of all time.
Velasquez entered the Octagon as a -210 favorite against his man, despite his inactivity. He was approaching three years out of the cage by the time February 2019 rolled around, with chronic back issues keeping the two-time UFC heavyweight titlist on the sidelines.
Regardless, many believed that Velasquez could hand the prospect the second loss of his career. The oddsmakers on the top UFC betting sites echoed that sentiment.
When the returning legend made his entrance to the Octagon inside a packed Talking Stick Resort Arena in Arizona, you could have cut the tension with a spoon.
The buzz was understandable. The same could be said for any jingly nerves inside the colossal African's mind. But once again, Ngannou proved his mettle and got the job done.
Velasquez looked to close the distance against his man by shooting him up against the cage. However, his technique left a lot to be desired. With heavyweight expectations to live up to in such a high-pressure environment, errors are made.
Ngannou capitalized, clipping the legendary former champ with an uppercut that saw him land awkward, twisting his knee in the process. A few more strikes were landed, and the contest was ended after just 26 seconds
The fight was a bit of an anti-climax, given the hype for this one had been huge. But the most important thing for Ngannou, with the benefit of hindsight, was getting the win. Getting in such a quick fashion was a bonus.
One of Ngannou's greatest knockouts. Not so much for the wow factor, but more on account of how integral it was to be in his second run at the title.
6. Junior dos Santos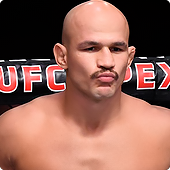 Event: UFC on ESPN: Ngannou vs. dos Santos
Date: June 29, 2019
Time: 1:11
Symbolic.
Literally. I mean, the timing of Ngannou's win over Junior dos Santos features a neat bit of coincidental symbolism for those numerology fans among us.
In his third fight since losing to Derrick Lewis at UFC 226, the powerful Ngannou scored his third straight first-round KO at the 1:11 mark of the bout. In all fairness, it would not have mattered when or how he got the job done, as long as he left the Target Center in Minneapolis with the "W."
As with the two previous finishes on this list of the top knockouts of Francis Nganou's career, this was a crucial test for Ngannou against a former heavyweight champion.
JDS was embarking on his own run at the title and put together three straight wins that peaked with a second-round stoppage of Derrick Lewis just three months before this showdown.
Junior dos Santos' Last Five Before Ngannou Fight
Opponent
Result
Event
Date
Derrick Lewis
Win by TKO (2)
UFC Fight Night: Lewis vs. dos Santos
March 9, 2019
Tai Tuivasa
Win by TKO (2)
UFC Fight Night: dos Santos vs. Tuivasa
December 2, 2018
Blagoy Ivanov
Win by Decision (5)
UFC Fight Night: dos Santos vs. Ivanov
July 14, 2018
Stipe Miocic
Win by TKO (1)
UFC 211
May 13, 2017
Ben Rothwell
Win by Decision (5)
UFC Fight Night: Rothwell vs. dos Santos
April 10, 2016
Although some doubted his chin, it was believed that the Brazilian's strategy and skillset could see him offer a sterner challenge to Ngannou than his former opponents. Of course, things didn't quite work out that way.
Initially, the former titlist fought smart, throwing leg kicks, and circling away from his opponent's powerful right. But things began to unravel when he ate a big shot that looked to affect him.
Rather than fight patiently at range, dos Santos abandoned all caution by throwing a wild right hand that left him open to a counter to the temple. The title hopeful followed up by throwing huge shots at his downed opponent before Herb Dean waved the contest off after 77-seconds.
Ngannou was 3-0 from his last three. JDS would go on to lose his next three fights before being cut by the promotion in March 2021.
5. Curtis Blaydes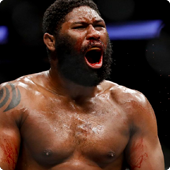 Event: UFC Fight Night: Blaydes vs. Ngannou 2
Date: November 24, 2018
Time: Round 1 (0:45)
How can you forget this fight?
When putting this list of the greatest Ngannou knockouts together, this one was among the first to come to mind.
Blaydes took on Ngannou after his loss to Lewis, which is frequently dubbed the worst fight UFC of all time by fans and pundits alike.
Joe Rogan was commentating that night and later touched upon the farcical bout with Josh Barnett on an episode of his podcast.
Following that fight, many questioned if Ngannou would ever be the same. It appeared the loss to Stipe Miocic at UFC 220 had taken his soul. The once-ferocious knockout king was reduced to a shell of his former self, suffering back-to-back losses in 2018.
This was Ngannou's annus horribilis and Curtis Blaydes — entering as a -250 favorite in the highly-anticipated rematch — looked primed to get his revenge and take the wheels off the Cameroonian "hype train" for good.
But Ngannou had different ideas.
Blaydes' was right to show confidence in this rematch. Still, even a psychologically tainted version of Ngannou was a dangerous man to get sloppy in front of.
A super-powerful right hand burst through the air, landing flush on Blaydes. The ferocity of the shot sent the American to the canvas, with the predatorial power-puncher pouncing on his opponent to finish the job off with follow-up shots.
The relief in his face was plain for all to see. Although it would not be the most brutal Ngannou knockout of all time, it was, until that point, the most important of his career.
4. Lewis Henrique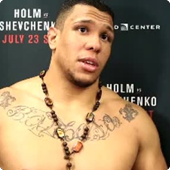 Event: UFC on Fox: dos Anjos vs. Cowboy 2
Date: December 19, 2015
Time: Round 2 (2:53)
Remember this one?
As the world was still processing Conor McGregor's knockout of Jose Aldo at UFC 194, an unknown African heavweight was preparing to make his debut.
Most watching the fight had no idea who he was at the time. But by the end of the second round of the prelim's opener, the colossal puncher would have his first win under his belt in the promotion.
There's no doubt that this is one of Ngannou's best knockouts. It might not be against a fashionable or famous opponent, but it is one of the greatest examples of The Predator's devastatingly beautiful power-punching.
The Batie-native walked into the Amway Center in Orlando, Florida with Enya's Braveheart theme accompanying him.
Although there are over 7,000 kilometers between his hometown and the site of William Wallace's most famous winning battle against the English in Stirling, Scotland, the music was much closer to home for the warrior-minded African.
Thankfully, Ngannou complimented the beautiful soundtrack of his cage walk with Scorcese-eque, brutal contrast.
3. Stipe Miocic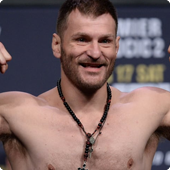 Event: UFC 260
Date: March 27, 2021
Time: Round 2 (0:52)
The one that made history.
Having been absolutely outclassed by the excellent Stipe Miocic in 2018, Francis Nganou was forced to go back to the drawing board.
That loss had been akin to the biblical Samson shaving his head, as evidenced by the poop show performance against Lewis in his next fight. But with the win over Blaydes in their rematch, he started a trend of four first-round KOs that earned him a shot at redemption against Stipe.
This was Ngannou 2.0. Out was the arrogance that bordered on naivety. In was a new philosophy that presented the Las Vegas resident as a readjusted, modified killer that would take out everything in his path en route to his destiny.
Miocic had not just halted the hype train in 2018. His victory would also deprive the Cameroonian of the honor of becoming the first African-born UFC champion.
Nigerian-born Kamaru Usman would instead find his name in the history books, with Israel Adesanya — also born in Ngannou's neighboring country — becoming the second man from the continent to win a strap in the promotion.
To say this was personal would be an understatement. But to admit such a thing would have been counterproductive for the aspiring heavyweight great.
Before the fight, Ngannou admitted to ESPN that there was a deeper desire within him to capture the title, regardless of anything else.
"It might be weird to talk about, but I'm still very unsatisfied about my childhood. I don't find it fun to talk about. It's not happy, it's sad. When people talk about their childhood — friends, cartoons, culture — those are the missing parts of my life. And no matter what I do, I can't really fill that up. In a way, I'm still trying to deal with my childhood — and winning a UFC belt, for me, would be my own way to show these people from my past that, after all, I wasn't bad."
Although Stipe made it to the second round, he suffered a blistering stoppage at UFC 260.
This was one of the most devastating Nganou knockouts of his career, sure. But more importantly, he had finally achieved what he had set out to do. He was a world champion.
I think there is something in my eye…
2. Jairzinho Rozenstruik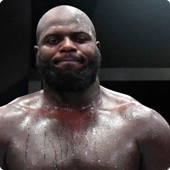 Event: UFC 249
Date: May 9, 2020
Time: Round 1 (0:20)
One word comes to mind here: epic.
Jairzinho Rozenstruik stood between Ngannou and a second shot at the heavyweight crown.
The powerful native of Suriname took a perfect record of 10-0 into the cage, with a last-gasp stoppage of Alistair Overeem earning him a title eliminator against the resurgent knockout artist.
His wins in the UFC before UFC 249 were impressive.
| | | |
| --- | --- | --- |
| Opponent | Result | Event |
| Alistair Overeem | Win by KO (5) | UFC on ESPN: Overeem vs. Rozenstruik |
| Andrei Arlovski | Win by KO (2) | UFC 244 |
| Allen Crowder | Win by KO (1) | UFC Fight Night: Moicano vs. Korean Zombie |
| Junior Albini | Win by KO (1) | UFC Fight Night: Assuncao vs. Moraes 2 |
Although his prospects looked bright, Rozenstruik wouldn't make it past the first minute of the fight. It took Ngannou just 20 seconds to dispatch "Bigi Boi," and earn himself a second showdown with Stipe.
Not only would he be namechecked forever when Ngannou's greatest knockouts were brought up, but he would also suffer one of the most brutal stoppages ever seen in the history of the promotion.
Although the future champion's destruction of Rozenstruik was special, it was not enough to top this list of the top Francis Ngannou KOs.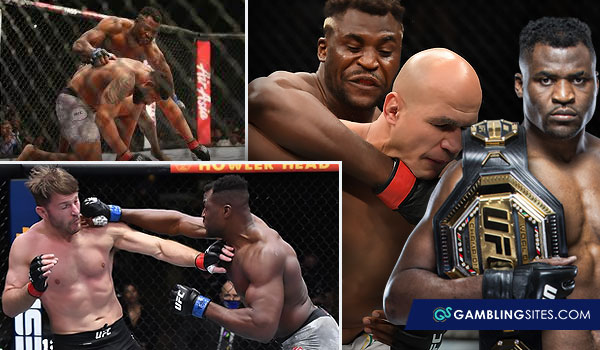 1. Alistair Overeem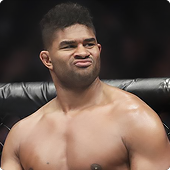 Event: UFC 218
Date: December 2, 2017
Time: Round 1 (1:47)
Who else?
Names like Rozenstruik, Blaydes, and Stipe will always be brought up whenever the best Francis Ngannou KOs of all time are mentioned.
But there is no doubt that his win over Overeem tops the list for sheer brutality. It's arguably the greatest stoppage in heavyweight history and the greatest nod to the African's power that you will find anywhere.
At the time, it was the most important win and stoppage of The Predator's career, given that it catapulted him into the #1 contender slot. As soon as Overeem's back hit the canvas, no UFC fan in their right mind could name a more suitable opponent for Miocic, making the win very special.
Much like any Ngannou fight, this one was seriously hyped up by the promotion. It was clear who Dana White and the gang in Las Vegas wanted to see, given the star appeal and potentially historic nature of a title win for the betting favorite on the night.
Ngannou's Greatest Win?
Overeem, however, was no bum. Sure, he never managed to get his hands on a title in the UFC but was a true legend of combat sports, with titles in Strikeforce DREAM, and K-1 to his name.
On the night, none of that would matter.
Overeem really took it to Ngannou at the start of the fight, with both men exchanging shots to hit the jackpot. The Dutch fighter looked to test his opponent's ground game, but ultimately fell short.
Then, from out of nowhere, fireworks.
Overeem threw a less than convincing left hand that was met with the most insanely powerful uppercut from The Predator that knocked "The Reem" out before he hit the deck.
Never one to leave anything to chance, Ngannou followed up with a thunderous hammer fist to ensure he secured a shot at the title.
There are a few reasons why this one tops my list of the best Ngannou knockouts in the UFC. The most obvious being the sheer brutality involved in that fight-ending shot.
Ouch.
Wrapping up the Top Ngannou KOs in the UFC
You can't deny Francis Ngannnou's status as the most powerful puncher in UFC history.
We'll always have proof of that in the form of many of Nganou's greatest knockouts at the top level. Whether he can add to this already burgeoning list of brutal stoppages is something we will have to hold out to see.
For now, his legacy is solid. I mean, who wouldn't be happy with what The Predator has achieved thus far?
To be remembered as a true champion, however, wins are paramount. Unfortunately, the following fighters failed to get that memo.
AUGUST
Casino of the Month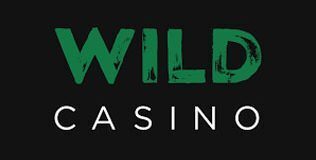 Welcome Bonus
250% up to $5,000
Read Review
Visit Site