Hide Bonus Offers
| | | | | |
| --- | --- | --- | --- | --- |
| #1 | Bovada Sports | 50% Up To $250 | Visit Site | Bovada Sports |
| #2 | BetUS | 125% Up To $2,500 | Visit Site | BetUS |
| #3 | MyBookie | 100% Up To $1,000 | Visit Site | MyBookie |
| #4 | Everygame | 100% Up To $500 | Visit Site | Everygame |
| #5 | BetOnline Sports | 60% Up To $1,000 | Visit Site | BetOnline Sports |
Best Fly-Halves in Rugby for 2022 – Who are the World's Top Number 10s?

Who is the best fly-half in the world in 2022? There are certainly a few names that immediately come to mind.
You would bet on the 2023 Rugby World Cup seeing most of the names below working their magic in France. From reliable veterans to emerging greats, some tremendous number tens are plying their trade in the Northern and Southern Hemispheres.
Today, I'm going to break down the world's best out-halves. Depending on your parlance, you might prefer the term stand-off or first five-eight, but what we can all agree on is that the fly-half is the most important position in rugby. Well, unless you're French, maybe.
The maestro at ten is typically the player responsible for making the backline click and the scoreboard tick over. Akin to the quarterback in football, the responsibilities that come with wearing the #10 shirt ensure the pressure is always on for these guys. But sometimes, that's what brings out the best in these rugby wizards.
Before I reveal my top ten fly-halves in the world in 2022, how about a few honorable mentions.
World's Best Fly-Halves in 2022 – Honorable Mentions
Any of the following players could easily make the final list of the best fly-halves of 2022.
Things might change as the year goes on, of course. For now, they are just outside my top ten.
Nicolas Sanchez – The Argentina and Stade Francais star is one of the most reliable fly-halves in rugby. Sanchez is a record-breaking ten that scored all of Argentina's points in their historic 25-15 win over New Zealand in November 2020.
Joey Carberry – Seen as the natural successor to Jonathan Sexton at 10, Munster and Ireland's Carberry have unfortunately suffered a string of injuries that have hampered his progression. On his day, he is as good as they come.
Quade Cooper – A shock recall to the Australian setup in 2021 was a stroke of genius from coach Dave Rennie. Cooper is one of the most naturally talented #10s there is, and proved that he still has a lot to offer on the big stage.
Jack Carty – While Carberry was tipped to take over from Sexton, Carty can feel very hard done by not to have the shirt already. The Connacht and Ireland ten is a solid, creative, and super-reliable orchestrator.
Owen Farrell – The Saracens man is one of the best fly-halves on the planet. Although he usually plays 12 for England, he is always a top option for the out-half position. With the emergence of Marcus Smith in the international setup, those days might be over.
You might think at least one of the men above deserves to be counted among the best flyhalves on the planet in 2022. But who would you remove from the following list to accommodate their place?
Let's start this list with one of the most exciting young out-halves in the game right now.
Paolo Garbisi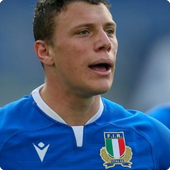 Club: Montpellier
Nation: Italy
International Caps: 13
Born three weeks after the first-ever Six Nations championship in 2000, Garbisi is the youngest man on this list.
Despite being just 21, he has shown tremendous potential in his young career. Having started with Mogliano, he would eventually land a starting spot with Benetton. Garbisi's 129 points from 12 appearances in the green caught the eye of France's Montpellier, where he currently plies his trade.
Garbisi was selected for the Italian national team in 2020 and has scored 82 points in 13 appearances. He is expected to add to that tally and prove to all why he is one of the best rugby fly-halves of 2022. With former Benetton teammate Leonardo Marin breathing down his neck, a further sense of urgency could see him smash existing expectations.
Although the Italians are looking nailed on to break some longstanding Six Nations records in 2022 — most of them being the worst kind — Garbisi will have his moments.
Dan Biggar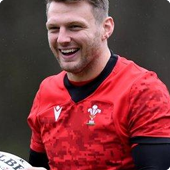 Club: Northampton
Nation: Wales
International Caps: 95
Biggar is set to become a Centurion for Wales this year. Perhaps as early as Wales' final match of the Six Nations.
Still one of the top fly-halves in rugby, the Swansea-native is undoubtedly the first choice ten for his country. Biggar will captain Wales in the 2022 Six Nations, further cementing his claim to the #10 jersey, and closing any debates over whether he will start.
Not that there is much discourse to be had on replacing Biggar, of course. The Welsh have options in his position, but there is no one better than the Saints ten as things stand.
Callum Sheedy, Jarrod Evans, and Rhys Priestland are among the names that are some ways behind the British and Irish Lions out-half.
Biggar will be stepping into the shoes of Welsh icon Alun Wyn Jones this year. Fans will be hoping that such responsibility does not affect his performances on the pitch. A reliable kicker and steady operator, he has been an occasional running threat with the ball in hand for Northampton this season.
While up there with the top fly-halves in the world in 2022, it's unlikely he will lead his nation to glory in the calendar year.
Marcus Smith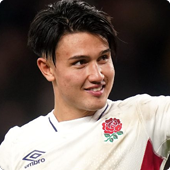 Club: Harlequins
Nation: England
International Caps: 5
The future of English rugby? The man to push his country to a second Rugby World Cup? The savior of all and sundry?
According to some fans, Smith can jump 200 feet from a standing position and shoot balls of fire out of his nostrils. But while his efforts at test level are still yet to match the hype, there is no question that Smith has phenomenal potential.
At this point, I have no reservations about adding the Harlequins ten to my list of the world's best fly-halves in rugby. Since becoming the second-youngest Gallagher Premiership debutant at 18 in 2017, just behind George Ford, the Englishman has shown exceptional flashes of quality.
Smith is the new poster boy of English rugby and will be hoping to play a pivotal part in his team's efforts to win the 2022 Six Nations.
With England second favorites with the best sites for betting on rugby, the 22-year-old might just offer the boost Eddie Jones' men need.
If he can build on an impressive showing in the Autumn Internationals, he could take the championship by storm. Some feel his small frame might work against him. It's Smith's job to prove them wrong and establish his claim as one of rugby's leading fly-halves in 2022.
Jonathan Sexton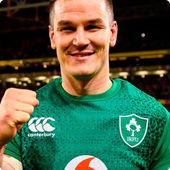 Club: Leinster
Nation: Ireland
International Caps: 101
Jonathan Sexton is one of the most decorated fly-halves in history. Partly because, well, he is Jonathan Sexton.
What I mean by that is Sexton's talents have elevated both his province and nation to the top table of world rugby. The Ireland captain was named the 2018 World Rugby Player of the Year having led Ireland to a Grand Slam, a first win over the All Blacks at home, and a fourth Heineken Cup.
At 36, Sexton's place on this list of rugby's best fly-halves is open to dispute. But if his efforts in last season's Six Nations and Autumn Internationals are anything to go by, there's no argument to be had. Yes, he is old and prone to injury. But the wily Dubliner is still the top dog for Ireland and Leinster.
2021 Six Nations Top Scorers with 25 Points or More
Rank
Player
Nation
Total Points
1
Jonathan Sexton
Ireland
65
2
Owen Farrell
England
50
3
Dan Biggar
Wales
36
4
Finn Russell
Scotland
35
5
Matthieu Jalibert
France
34
6
Stuart Hogg
Scotland
26
7
Duhan van der Merwe
Scotland
25
Sexton contributed to Ireland's 29-20 win over New Zealand and scored a try in his 100th international appearance in his side's 60-5 hammering of Japan. Recently, he appeared in Leinster's record 89-7 hammering of Montpellier.
The Ireland captain has slowed down and is not the running threat he once was. But based on form alone — which should count for pretty much everything — Sexton is still one of the top flyhalves in world rugby in 2022.
Whether he can avoid knocks in the championship remains to be seen. But wouldn't Ireland and Leinster love to have a younger, fresher Sexton to hand? The version that pulled off one of the greatest rugby comebacks of all time would do just fine.
Richie Mo'unga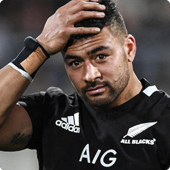 Club: Crusaders
Nation: New Zealand
International Caps: 32
Regarded as one of the greatest fly-halves in rugby in 2022, Mo'unga should be a familiar name to any rugby fan.
The Crusaders' first five-eight has all the attributes that make for a world-class test ten. Highly skilled with bags of creativity, a top kicking game, and the ability to turn a game on its head, the 27-year-old is one of the most dangerous players on the planet.
Mo'unga came in for his fair share of criticism following a poor Autumn Internationals tour in 2021. Although it's widely accepted that he is one of the top out-halves in rugby, some believe that he tends to go missing when things aren't going his way.
That's a fair observation and one reason why he doesn't feature as high up this list as he might have, say if the Kiwis had beaten Ireland and France with the Crusader in fine form.
There is plenty of rugby to be played this year, and we could see Mo'unga establish himself as the best fly-half in rugby by the time Christmas rolls around.
Matthieu Jallibert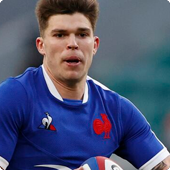 Club: Bordeaux Begles
Nation: France
International Caps: 15
There are fewer players in the world right now as exciting as France's Jalibert.
Already considered one of the best fly-halves in 2022, the Bordeaux ten has years of rugby ahead of him. At just 23, we have yet to see this man hit his peak. That's an exciting thought for France fans, but terrifying for everyone else.
Jalibert finds himself playing at a time when France has two of the top outside-halves in the world. We might get a chance to speak about the other man later, but let's focus on this dynamic number ten for now.
Alternatively, we could just look over this brief montage of his excellence.
If you can't appreciate Matthieu Jalibert, then you can't appreciate rugby…

Full Video: https://t.co/hLW8qCaqV4 pic.twitter.com/44woJt0dS6

— Andrew Forde (@andrewfrugby) January 5, 2022
No rugby purist can help themselves from admiring Jalibert's talents on the field.
Even with scrum-half Antoine Dupont catching most of the attention — and rightly so given that he was recently named the world's best player — some are looking to Jalibert to spearhead France's rugby renaissance.
And that, he just might do.
Finn Russell
Club: Racing 92
Nation: Scotland
International Caps: 57
Although I have been frustrated by what I have seen with this guy at times, Russell is clearly one of the world's best fly-halves of 2022.
He is an exceptional talent that has so much natural talent that it's almost offensive. But he does let himself down with some questionable decision-making at the most crucial of times. That's almost a skill in itself.
With that said, Russell can throw a wayward pass that leads to a try one minute and orchestrates miraculous brilliance the next. Part of why the Scot is one of the top fly-halves on the planet in 2022 is down to his mercurial, unpredictable genius.
A lack of consistency and clinical game management is evident in Russell's game, especially for Scotland. Although Gregor Townsend's side is becoming a force to be reckoned with, the team's two most creative stars — captain Stuart Hogg and number 10, Russell — are also prone to dropping the ball, quite literally at times, when it matters.
But when this gets it right? No player can touch him.
This looks like a chip-kick for the sake of a chip-kick but it's actually a clever ploy to kill the Northampton line-speed. He does two of these and they effectively stop Saints rushing up in defence, giving Russell more time and space on the ball for the rest of the game. pic.twitter.com/LJno97zU3W

— Ben Nurse (@BenNurse8) December 22, 2021
On his day, there are fewer better than Russell. He is clearly one of the most talented fly-halves in rugby right now. If he can continue to minimize the errors while playing with the freedom of a kid in an under-15s cup match, Scotland will benefit.
Although some suggest Russell is overrated, I'm not taking that stand. He's up there with the greatest outside-halves in the world today.
Handre Pollard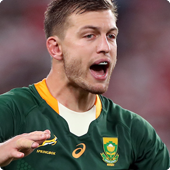 Club: Montpellier
Nation: South Africa
International Caps: 60
There's no way I'm leaving Handre Pollard off my list of rugby's best fly-halves of 2022.
According to some, he just might have one of the easiest jobs in rugby. With a gargantuan pack, all he needs to do is wait for the ball to come his way and smash it up the field. Providing he keeps the scoreboard ticking, he can stand back and admire the crushing brutality that is the South African juggernaut.
I don't think it's quite as simple as that. As we have seen when Elton Jantjies has tried to step in, it's not exactly a walk in the park being the Springboks' ten.
Handre Pollard Stats for South Africa in 2021
Points Scored
141
Tries
0
Meters Made
88
Runs
47
Defenders Beat
4
Passes
120
Try Assists
6
Successful Kicks
68
Conversions
9
Penalty Goals
41
Sure, he does benefit from that added layer of protection that many of his rivals would love to have, but he's been a consistent, world-class fly-half for close to a decade. Impressive. Especially because he won't turn 28 until March.
Pollard currently operates for Montpellier in France but will hook up with England's Leicester Tigers at the end of the current season. The Tigers have been in fine form in the Gallagher Premiership in their current campaign and could move one step closer to a resurgence with the Boks ten running the show.
The 2019 World Cup winner will be eyeing up his nation's defense of the Webb Ellis in 2023. By that time, he will more than likely be well past the 600-point mark in the test arena.
Romain Ntamack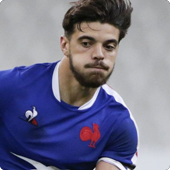 Club: Toulouse
Nation: France
International Caps: 23
In France, the role of the scrumhalf is revered by most. It's a traditional thing that sets the French apart from most other rugby nations.
But France has never been like most other rugby nations. From the maverick flair and temperamental genius to the bizarre running angles and impossible passes, Les Bleus did things their way. When it was good, it was nothing short of beautiful. When it was bad, it was enraging.
The sleeping giants of Europe for so long, the French now find themselves lauded as one of the favorites to lift the World Cup, at home, in 2023.
With an embarrassment of riches from 1 to 15, they are equipped to bring the Webb Ellis back to the Northern Hemisphere for just the second time. One of the men charged with taking them right to the summit of world rugby is Romain Ntamack.
Quite possibly the best fly-half in rugby in 2022, the Toulouse stand-off is fast becoming one of the finest players in the game.
Romain Ntamack's International Tries
Opponent
Tournament
Date
Venue
Final Score
Scotland
2019 Six Nations
February 23, 2019
Stade de France – Saint-Denis, France
27–10
Italy
2020 Six Nations
February 9, 2020
Stade de France – Saint-Denis, France
35–22
Wales
2020 Six Nations
February 22, 2020
Principality Stadium – Cardiff, Wales
27–23
Ireland
2020 Six Nations
October 31, 2020
Stade de France – Saint-Denis, France
35–27
New Zealand
2021 Autumn internationals
November 20, 2021
Stade de France – Saint-Denis, France
40–25
In true French fashion, they have been waiting for a slick and stylish fly-half for over a decade. Two turn up at the same time, with Jalibert competing with the 22-year-old for the coveted #10 shirt. Whether Fabien Galthie will shift Ntamack to #12 to accommodate both players in his side remains to be seen, however.
For now, Ntamack is one of the best fly-halves on the planet. You can expect things to remain that way for the foreseeable.
Beauden Barrett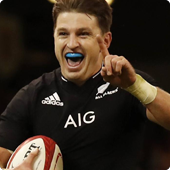 Club: Suntory Sungoliath
Nation: New Zealand
International Caps: 101
Currently, on a sabbatical with Japan's Suntory Sungoliath, Barrett is soaking up the full power of his greatness before returning to Super Rugby.
And why not? Barrett is not just regarded as one of the best fly-halves in 2022; he is considered one of the greatest of all time. A running threat with a trusted boot, the 30-year-old also possesses phenomenal game management skills including a rugby brain that is the envy of tens across the globe.
When iconic Kiwi #10 Dan Carter hung up his boots, the All Blacks lost an all-time great. Perhaps the finest first five-eight of his generation, Carter passed the torch down to Barrett.
And while a lengthy period of domination for New Zealand might be over, the New Plymouth-native will be doing all he can to re-establish his team as the best rugby nation on the planet.
Although he has frequented the full-back in recent times to accommodate Richie Mo'unga, an earlier entrance on my list of rugby's top fly-halves for 2022, recent performances at #10 suggests that Barrett might be shifted back into his favored position.
With the World Cup just around the corner, the Kiwis will be looking for stability and creative excellence at outside half. Who does both better than this guy?
Wrap Up of Rugby's Best Fly-Halves in 2022
That brings us to the end of my list of the top first five-eights in 2022.
Whether you know the guys above as fly-halves, outside-halves, stand-offs, #10s, or by any other moniker, it'll take a strong argument to displace any from this list. Yes, there are a couple of names that might not appeal to everyone, but there's no doubt in my mind that they deserve some attention.
You can always let me know who I missed by leaving me a line or two in the comments section, below. If not, you can check out some more popular material on our rugby betting blog.
Here's one I baked earlier.