Hide Bonus Offers
| | | | | |
| --- | --- | --- | --- | --- |
| #1 | BetOnline Sports | 60% Up To $1,000 | Visit Site | BetOnline Sports |
| #2 | Bovada Sports | 50% Up To $250 | Visit Site | Bovada Sports |
| #3 | BetUS | 125% Up To $2,500 | Visit Site | BetUS |
| #4 | Everygame | 100% Up To $500 | Visit Site | Everygame |
| #5 | MyBookie | 100% Up To $1,000 | Visit Site | MyBookie |
Best Donald Trump Prop Bets Ahead of the 2020 US Presidential Election

By now you are probably already aware that you can bet on the 2020 US Presidential Election. But did you know that there are a chunk of Donald Trump prop bets that you can get your hands on right now?
Not every betting site offers them, and you have to snoop around to ensure you get a grasp of everything that's out there.
After scouring the best political betting sites, here are six Trump props that'll keep you entertained.
Heck, you may end up padding your wallet while you're at it.
Will Donald Trump Drop Out of the Race Before November 1?
The answer is almost certainly no, although there's not a lot of value to be had coughing up -5000. Then again, surely some liberals will be enticed to roll the dice on this Donald Trump prop.
A +1200 price tag is incredibly appetizing, and perhaps this is a way of piling on their hatred toward the current president.
My opinion here is that's highly unlikely Joe Biden's lead in the polls will be so insurmountable by November 1st that Trump would feel compelled to drop out. In all likelihood, Donald will wait this thing out "till the fat lady sings."
Will Trump Win Every State He Won in 2016?
Given the number of states that went down to the wire in 2016 versus Hillary, chances are we'll see a few states "flip-flop" this time around.
The below graphic gives you a visual rundown on which states Trump was victorious in during the last presidential election.
Do you envision at least one of those red states turning blue in 2020?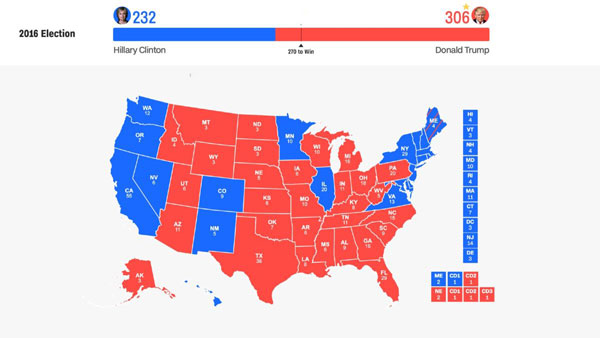 Will Trump Lose Every State He Lost in 2016?
Conversely, will President Trump lose the states he lost in the last election?
Refer to the image above to see exactly which states he lost, but I'll point which "blue states" were the most closely contested in the previous election.
| | | |
| --- | --- | --- |
| State | Votes For Hilary Clinton | Votes For Donald Trump |
| New Hampshire | 348,526 | 345,790 |
| Minnesota | 1,367,716 | 1,322,951 |
| Nevada | 539,260 | 512,058 |
| Maine | 357,735 | 335,593 |
| Colorado | 1,338,870 | 1,202,484 |
| Virginia | 1,981,473 | 1,769,443 |
When Will Trump Be Replaced As President?
| | |
| --- | --- |
| Year | Odds |
| 2020 | +1200 |
| 2021 | -150 |
| 2022 | +3300 |
| 2023 | +3300 |
| 2024 | +5000 |
| 2025 or Later | +200 |
This Donald Trump prop bet I encountered should pique the interest of many.
If you see a scenario of Trump winning this election but not serving out another four-year term in its entirety, you can take a shot at one of the "middle" years.
Keep in mind, some of the top presidential election betting sites are forcing you to lay upwards of -200 if you want to back Joe Biden to win the race. Here's a chance to sneak in at -150 – assuming the changing at the guard goes traditionally as planned.
Will Donald and Melania Trump Be Divorced By 2021?
I'm not here to tackle the trials, tribulations, rumors, or headlines that have dominated Donald and Melania's relationship. I know they were married in 2005, but I'll stay out of the gossip and allow you to formulate your own opinion.
I'm simply shedding light that this is one of the Donald Trump prop bets that's available. You can find it at MyBookie.
Will Donald Trump Be In Russia On February 1?
This final Trump prop bet is a bit off the wall, and I have no inside information as to why the president would visit Russia on the first day of February.
To my knowledge, Donald doesn't own any golf courses in Russia nor does he plan on building any.
Most likely, this prop bet for Donald Trump was installed due to the attention surrounding a document that Trump is attempting to declassify.
The fact that there aren't even any odds available for "No" tells it's own story. But if you happen to have some reason to believe that Trump will be in Russia on February 1, there's obviously some value to be had here.
More on Betting on the Election
If you see any value in these these Donald Trump prop bets, I'd suggest getting your money down right away. Prop bets such as these can disappear at any time, or have their odds changed dramatically.
Regardless of where you stand in the upcoming election, surely you enjoy opportunities to make some money betting online. These Trump props are one way to do that, but there are others, too.
My colleagues are covering the 2020 presidential election extensively, offering all kinds of information and betting advice. I suggest visiting our political betting blog regularly to see what interests you.
In the meantime, here are some must reads if you plan to bet on the 2020 US presidential election.