Hide Bonus Offers
| | | | | |
| --- | --- | --- | --- | --- |
| #1 | BetOnline Sports | 60% Up To $1,000 | Visit Site | BetOnline Sports |
| #2 | Bovada Sports | 50% Up To $250 | Visit Site | Bovada Sports |
| #3 | BetUS | 125% Up To $2,500 | Visit Site | BetUS |
| #4 | Everygame | 100% Up To $500 | Visit Site | Everygame |
| #5 | MyBookie | 100% Up To $1,000 | Visit Site | MyBookie |
6 CrossFit Workouts to Try if You're a Gambler
Do CrossFit and gambling go together? CrossFit features the best athletes in the world, pushing their bodies to the limit. Gamblers push their money to the limit, so you could say there's a bit of a crossover.
People may not realize it, but they are CrossFit workouts that can help with gambling. How does a high-intensity workout help people win money? I'll cover the best CrossFit workouts that prepare you for your next trip to the casino.
Let's discuss the best CrossFit workouts for gamblers.
The Running Sandwich – Spending All Day at the Poker Table
What is the most popular casino game? It's hard to imagine people saying anything other than poker. It's not easy to master, but you can help yourself by reading our guide on how to win at poker every time.
Some people will spend hours at the poker table. Professional poker player Phil Laak holds the world record after spending 115 hours at a poker table. Do you think he conducted any CrossFit workouts at home?
The Guiness World Record for the longest poker♣️♥️ session belongs to a professional poker player🇺🇸 Phil Laak. He played for 115 hours!
⠀
Maybe playing poker will be more enjoyable if your assets are safe?
⠀
Explore more at https://t.co/SgjWM5AYCw!
⠀#blockchain #tokensale pic.twitter.com/3DXYoAu644

— Mr. Lucky Token (@MrLuckyToken2) October 18, 2019
Laak could've benefitted from using a workout called The Running Sandwich. This workout features running, squats, push-ups, and burpees. It's not an easy CrossFit workout, but you can pace yourself.
I recommend this workout for poker players because it helps build your stamina. It'll be tiring to do a 400-meter run, then do a combination of push-ups, squats, and burpees, but you'll develop a rhythm if you do it continuously.
The average person couldn't spend all day at the poker table. You might be on a hot streak, but you'll become fatigued over time. Doing a CrossFit workout for poker players will help avoid fatigue.
Everyone can start at their own pace, but you should see results in a few weeks.
Squats – Sitting in a Chair
My next CrossFit workout can serve as an extension of The Running Sandwich. Poker players know all about sitting in a chair. They could use a strong workout to remain comfortable during a long poker session.
I suggest gamblers do squats because it'll help you in almost every game. Poker, blackjack, slots, and online gambling feature you sitting in a chair. It might not be tiring, but discomfort could throw you off your game. Who wants to accidentally hit when they have 19 in blackjack?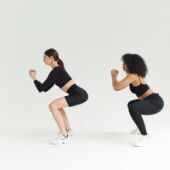 Squats can be a part of any CrossFit workout for beginners. It doesn't have to be a grueling exercise. Honestly, you could do a standalone workout that only features squats.
If anyone isn't familiar with the workout, it features a person standing with their feet wide apart. You lower your body, keeping a straight back while going into a sitting position. It's best to imagine yourself sitting on a chair.
This is a simple CrossFit workout you can do at home. It might not seem like much for a gambler, but how many times have you found yourself in an uncomfortable position at a casino? Squats will help avoid that.
Battle Ropes – Throwing Dice at Craps
When I think of casino games, poker, blackjack, slots, and roulette come to mind. People often forget about craps, but it's a great way to earn money on your next trip to the casino.
There's not much that goes into craps. The most important thing to note is one player will throw a pair of dice. There's no control over each dice's final number, but a top CrossFit workout can change your chances of rolling the dice.
The best CrossFit workout for building strength is battle ropes. There are different workouts with battle ropes, but they all build strength. The most common is the wave.
Battle ropes are fairly inexpensive & allow you to workout every major muscle group on your body❗️🏋🏽‍♂️💥💥#F4L #fitfam #fitness #health #gym #exercise #Training #motivation #blog #workout #Inspiration #weightloss #Crossfit #YogaDay #diet #personaltrainer #fit #ThursdayMotivation pic.twitter.com/gTuKeVg6jo

— Fit 4 Lyfe™ (@_Fit4Lyfe_) June 19, 2020
You will move your arms up and down, making a wave with the ropes. This will develop strength throughout your body, but especially in your arms. That'll give you extra strength to throw dice at the craps table.
How much strength do you need for the craps today? Maybe not much, but it'd be embarrassing if your dice didn't reach the end of the table. One of the top CrossFit workouts would help avoid that.
Feel free to try out battle ropes to help your upper body strength.
Helen WOD – Beat Other Players to the Slot Machine
We've been focusing on workouts for table games. Let's talk about a beginner CrossFit workout that builds a gambler's speed and quickness.
That leads me to the Helen WOD. It's similar to The Running Sandwich because it combines running and pull-ups. Gamblers will conduct a 400-meter run, followed by 21 kettlebell swings and 12 pull-ups.
A beginner could opt for a simpler workout, doing a 200-meter spring with 15 kettlebell swings and nine pull-ups. It would serve as a quick CrossFit workout.
The aftermath of hurricane CrossFit Helen:
3 RFT:
400m run
21KB swings 35#
12 kipping pullups
My time was 11:44 I run at turtle speed
Unbroken on KB swings
Broke pull-ups into 4's

💀💀💀 pic.twitter.com/bxi3zjXwaK

— 💯🏋🏻‍♀️❤️💪🏼Thora Strong 1✌🏼❤️✨💯 (@Thora_Strong1) April 30, 2022
How will this workout help at the casino? Have you heard of a lurker? It's when a person waits for a slot machine to open up so they can pounce. The theory behind it is the previous person lost so many times that it's bound to pay out soon.
It's not proper etiquette at the casino, but people will do it. You can beat people to the punch by developing speed and quickness. This beginner CrossFit workout will help you take advantage of the earliest opening at the slot machine.
Those kettlebell swings and pull-ups should give you the strength to pull the slot handle. This might not help with online slots, but feel free to check out our best online slot casinos.
Simple Burpee Workout – Stay Awake for Late Nights
It's hard to think of an easy CrossFit workout. CrossFit is for the most demanding athletes, so even beginner workouts are tough. Needless to say, it takes a lot of work to get to be one of the best CrossFit athletes in the world.
We know the casino is most popular at night. Most people work throughout the week, so there's little time to hit up the casino. We don't want people doing a taxing workout because they'll be too tired to visit the casino.
Therefore, it makes sense to do a CrossFit workout at home before a late night at the casino. A simple burpee workout should do the trick.
Check out a few burpee workouts that should help you stay awake at the casino.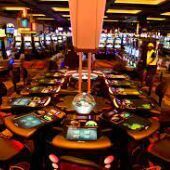 Squats Thrust with Support
Half Burpee
Burpee HIT
A squat thrust with support allows a person to put their hands on a box, so they don't have to go all the way to the ground. A half burpee is the opposite. A person goes to the ground, but they don't do the full jump.
Lastly, you can amp it up with a burpee HIT. You'll go hard for 30 seconds and take a 30-second break over 10 minutes.
AMRAP – Outlasting Poker Players
We've been focusing on CrossFit workouts for beginners that help strength, speed, stamina, etc. However, we can't forget the most important aspect of playing a game like poker or blackjack.
A gambler has to have good mental toughness if they want to outlast other poker players. Why do you think bluffing is one of the most important aspects of the game?
CrossFit is all about building your strength and being fit. They don't have a defined mental workout, but you can strengthen your mental toughness through AMRAP workouts.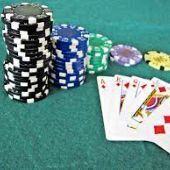 A – As
M – Many
R – Reps
A – As
P – Possible
There isn't one workout for AMRAP, but the constant reps build intensity, endurance, and mental toughness. That'll go a long way towards developing into a mentally sharp poker player.
Most of these workouts aren't easy because of the intensity and lack of breaks. If you can complete them, you'll feel much better about yourself. That extra confidence will help your daily life, including your next trip to the casino.
Poker players are always looking for the upper hand over their competitors. An AMRAP CrossFit workout would be a great start.
The Impact of CrossFit on the Casino
It's interesting to examine how the best CrossFit workouts can help a gambler. It's not a seamless transition, but these workouts can improve your poker, slots, and blackjack abilities.
There aren't many easy CrossFit workouts, but feel free to adjust any to your pace. Everyone has to start somewhere, and finishing the job is the most important thing. That could go a long way towards your next trip to the casino.
Believe it or not, there are betting opportunities for CrossFit. Please check out our guide to betting for CrossFit Games.
Crossfit Games Betting Guide