Hide Bonus Offers
| | | | | |
| --- | --- | --- | --- | --- |
| #1 | BetOnline Sports | 60% Up To $1,000 | Visit Site | BetOnline Sports |
| #2 | Bovada Sports | 50% Up To $250 | Visit Site | Bovada Sports |
| #3 | BetUS | 125% Up To $2,500 | Visit Site | BetUS |
| #4 | Everygame | 100% Up To $500 | Visit Site | Everygame |
| #5 | MyBookie | 100% Up To $1,000 | Visit Site | MyBookie |
Analyzing the 8 Best CrossFit Athletes in 2022

Have you ever wondered just how strong a person could be? Well, look no further than these top CrossFit athletes in 2022. These athletes are some of the most powerful humans and can do extraordinary things.
The CrossFit Games is a perfect way to display these incredible athletes and the incredible weight they can push, pull, climb, carry, and more. Betting on the CrossFit Games is an area that's growing fast as well.
If you are interested in getting into CrossFit betting, you should know who the best CrossFit competitors are for this year. So let's look at 8 of the best CrossFit athletes you should consider betting on for the 2022 season.
Justin Medeiros
Winning the CrossFit Games makes you one of the best CrossFit athletes in the world. The ultimate competition comes down to the best of the best for CrossFit. Hundreds of competitors start in the Open, but only 40 men, women, and teams make The Games.
Justin Medeiros is only 23 years old, but that didn't stop him from winning the 2022 CrossFit Games. He also competed in 2020 and was able to place 3rd as well. He's an extreme athlete and has quite the resume, given his age.
In the 2022 season, Medeiros has continued his success in the CrossFit competitions. He placed 3rd (worldwide) at the Open and 1st (North America) in the Individual Quarterfinals. Medeiros officially began his CrossFit career in 2016 and placed 19th (worldwide) in the Open.
He's steadily improved every year since then, reaching the title of the best of the best last year at the Games.
Of the six events in the 2021 competition, he placed top 10 in all of them. In the final three, he placed 3rd, 2nd, and 1st to seal the win. The last event was the toughest, and he still beat second place by 9 seconds (Saxon Panchik).
Some of Medeiros' success can be attributed to the exit of Mathew Fraser, who dominated the CrossFit Games and won every event from 2016 to 2020. Fraser has since retired, leaving Medeiros as the next best of the CrossFit Games athletes.
Fraser hinted at a return from his one-year break, but he won't be back just yet.
Tia-Clair Toomey
Tia-Clair Toomey is one of the best female CrossFit athletes in history. Fraser and Toomey were the two athletes dominating the CrossFit Games together over the last five years or so. But, unlike Fraser, Toomey is still active and is looking to win her 5th CrossFit Games in a row.
Pre-order today: https://t.co/u5ofbn0Dr4 pic.twitter.com/JGOm6NFCBS

— The CrossFit Games (@CrossFitGames) June 11, 2022
That would tie Fraser for the longest winning streak in the battle of top CrossFit athletes.
The Australian 28-year-old also placed 2nd in 2015 and 2016. That means she's never placed below second in arguably the toughest CrossFit competition.
This year, she placed 2nd in the Open and 1st in the Individual Quarterfinals. She will be the top female CrossFit athlete to look out for in 2022. Here's how her impressive benchmark stats look.
Back Squat: 150 kg (330 lbs)
Clean and Jerk: 111 kg (244.2 lbs)
Snatch: 87 kg (191.5 lbs)
Deadlift: 178 kg (391.6 lbs)
Max Pull-Ups: 50 (58 kg/127.6 body weight)
Toomey is also the only CrossFit athlete to compete in the same year in the CrossFit Games and the Olympics. In the 2021 CrossFit Games, she beat second-place (Laura Horvath) in the last event by a whopping 33 seconds.
That gave her four first-place finishes in the six events. Looking ahead to 2022, Toomey is the top dog of the best female CrossFit athletes and best CrossFit competitors overall.
Samuel Kwant
Even though Samuel Kwant couldn't reach the 2021 CrossFit Games, he's still one of the top athletes in CrossFit. He's qualified for it this year, so he will be looking to prove that he still is a powerful athlete.
Kwant has been to the CrossFit Games 4 times in his career, placing as high as 2nd in his best finish (2020). When the only person that beat you that year is Matt Fraser, that's pretty impressive.
Here's how he finished in each of the six events in the 2020 CrossFit Games.
Snatch Speed Triple: 3rd
Bike Repeater: 4th
Happy Star: 2nd
Swim 'n' Stuff: 1st
Sprint Sled Sprint: 2nd
Atalanta: 5th
Kwant can also deadlift 505 lbs, back squat 445 lbs, clean and jerk 345 lbs, and has a max of 74 pull-ups. He's only 26-years-old and has been competing since 2012, when he was 16.
He's a former cross-country runner, so you know he has incredible endurance. He also made the Games in 2016 and 2017 but had to sit out due to surgery.
In 2022, Kwant placed 25th (worldwide) in the Open and 9th in the Individual Quarterfinals (North America). There's no doubt he has a chance to win his first CrossFit Games and cement himself as one of the best athletes in CrossFit for 2022 (and history).
Brent Fikowski
One of the best CrossFitters in 2022 is Brent Fikowski. Fikowski has a ton of experience in making it to the Games, while not many others can say the same. He's made it to the prestigious event for the 7th year in a row in 2022.
Of his previous six tries at the Games, Fikowski's best placement was 3rd in 2021. He also placed 4th in 2016 and 2018 and never placed lower than 23rd.
Fikowski didn't have a great placement in the Open (992nd), but he stepped it up in the Individual Quarterfinals by placing 21st. His consistent high placings at the most competitive event make Fikowski one of the best CrossFitters in the world.
He also has his own website, where he has a blog, his competition results, a training guide, and more. On his competition results page, you can find that he also placed 1st in 2019 in Dubai.
He's won the CrossFit Championship, 2019 Asia CrossFit Championship, 2018 CrossFit West Regionals, and more events.
His page is an excellent way to get an idea of what it's like to be one of the top CrossFit athletes of all time. One interesting fact from his time as a CrossFit Games athlete was that he ate over 4,000 calories daily.
Gabriela Migała
Next on our best female CrossFit athletes list is none other than 23-year-old Gabriela Migała. Migała's achievements are awe-inspiring when you take into consideration her age. She made her CrossFit debut in 2016 (girls 16-17) and was able to rank 3rd (worldwide) at the Open.
She followed that up with a tremendous performance in the Games by placing 3rd again. Her performance dipped just a little bit in the next couple of years, but she's back and better than ever.
Migała has ranked 1st in her country (Poland) for six straight years in the Open.
She placed 13th in the Open for 2022 and first in the Europe Individual Quarterfinals. This will be her 5th attempt at the CrossFit Games this year, and she is still trying to beat her best try from 2016 (3rd).
She didn't do so hot in 2019 (75th), but she's been one of the top female CrossFit athletes in the last two years. Migała placed 18th in 2020 and 6th in 2021. Her benchmark stats are also pretty incredible.
Back Squat: 145 kg (319 lbs)
Clean and Jerk: 112 kg (246.4 lbs)
Snatch 91 kg (200.2 lbs)
Deadlift: 165 kg (363 lbs)
She does more in the Clean and Jerk and Snatch than Tia-Clair Toomey, who's dominated the Games for years. However, if she can hang with Toomey in the endurance field, she could end up placing very high in 2022.
Phil Toon
Phil Toon is another one of the top CrossFit Games athletes for the 2022 season. He has yet to compete in the Games, but that will change this year. He's put up some impressive stats and has qualified to show us what he's made of.
Toon is just 24-years-old, so he doesn't have much experience in CrossFit events. His first event was in 2020, where he placed 143rd in the Open. Since then, Toon has seen significant improvement and put up incredible measurables.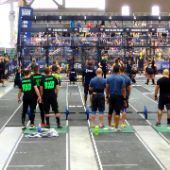 Here's a quick look at his benchmark stats.
Back Squat: 261 kg (575 lbs)
Clean and Jerk: 170 kg (375 lbs)
Snatch: 125 kg (275 lbs)
Deadlift: 300 kg (660 lbs)
As you can see from his numbers, Toon can hang with the best of them. He's also been able to place highly in his 2022 events. He placed 5th in 2022 Open and 10th in the Individual Quarterfinals, right behind Samuel Kwant.
Even though it's his debut in the Games, Toon will be one of the best 2022 CrossFit athletes to look out for.
Be on the lookout for his odds for the CrossFit Games in longshot territory. Check out the best US sports betting sites to do so.
Travis Mayer
Travis Mayer is another one of the CrossFit games stars to consider placing your bets on. Unlike Toon, Mayer has a ton of experience competing at CrossFit events. He's competed at the CrossFit Games 6 times, dating back to 2014.
He's 31-years-old, but he can still hang with the young bucks. Mayer has placed 12th in 3 of the last four years at the Games, while his best finish was 10th in 2016.
He also had a great 2021 campaign, placing 4th in the Semifinals and 1st in the Individual Quarterfinals. Unfortunately, his 2022 events haven't been as impressive at 140th in the Open and 60th in the Individual Quarterfinals, but he has the chance to turn it around in a major way at the Games. Mayer's benchmark stats are also very impressive.
Back Squat: 227 kg (500 lbs)
Clean and Jerk: 163 kg (360 lbs)
Snatch: 134 kg (295 lbs)
Deadlift: 256 kg (565 lbs)
Max Pull-Ups: 85 (93 kg/204 lbs body weight)
The 85 pull-ups are especially impressive, considering his large build. That will help set him apart in rope climbing activities, which are frequent in CrossFit events.
His experience and age could also give him an advantage over other competitors. Mayer should know what to expect, given it's his 7th time at the Games. He has yet to win a competition at the Games, but Fraser's retirement still holds the door open for basically anyone.
Christine Kolenbrander
The last of our best CrossFit competitors is undoubtedly not the least. Christine Kolenbrander will be a name to look out for and could dethrone Toomey if she puts together an all-around performance.
She participated at the Games in 2017 and 2018, placing 12th and 5th, respectively. It will be interesting to see how she returns this year, as her potential is through the roof. Kolenbrander has yet to finish better than 47th at the Open in her career, so why is she on this list?
Her benchmark stats are why she will be one of the best CrossFit athletes for 2022.
Back Squat: 156 kg (345 lbs)
Clean and Jerk: 116 kg (255 lbs)
Snatch: 95 kg (210 lbs)
Deadlift: 191 kg (422 lbs)
Max Pull-Ups: 71 (70 kg, 154 lbs body weight)
She back squats 15 more pounds than Toomey and outperforms her in pull-ups. As we mentioned earlier, that could set her apart in a rope-climbing event.
Kolenbrander placed 26th in the Individual Quarterfinals and will be someone to look out for in the Games. She hasn't been able to rank highly consistently, but her potential makes her one of the top female CrossFit athletes.
Betting on CrossFit Athletes in 2022
Those are 8 of the top 2022 CrossFit athletes, but there are way more that we couldn't get to. The 2022 CrossFit Games will highlight all these athletes and more. So make sure you know where to bet on the CrossFit Games before starting (August 3rd).
Even though there are a ton of top CrossFit athletes to choose from, a handful stands out.
Tia-Clair Toomey has dominated the female field for a long time, and it's not going to be easy to take her down. Some competitors have been able to lift more than her, but it's not all about the amount you lift.
Justin Medeiros will be looking to repeat his victory so that he will be looked at as the top dog for the males. He hasn't had a long reign like Mat Fraser or Tia-Clair Toomey, but maybe it starts in 2022.
If you want to do some gambling while you wait for the CrossFit Games odds to come out, check out the best real money gambling sites on your way out.