The Best Conor McGregor Prop Bets for UFC 257

If you're looking to make money betting on the best Conor McGregor prop bets for UFC 257, I've got some juicy ones right here.
McGregor vs. Poirier 2 is set for this Saturday, January 23, at the Etihad Arena on Yas Island, Abu Dhabi. It's the most talked-about rematch in years, which is unsurprising since it features the biggest superstar the UFC has ever had in "The Notorious."
Online UFC betting sites continue to see a lot of action ahead of the big fight. So much so that they have produced a catalog of McGregor prop bets and specials for everyone that wants to get involved.
No matter who you are, you can get your hands on all kinds of wild and wonderful props suitable for bettors of all types, and I'll be sharing the best of them with you today.
So, if you're hoping to win money on the best Conor McGregor prop bets for UFC 257, I think you'll find something that catches your eye below!
Best McGregor Prop Bets for Beginners at UFC 257
McGregor to Win by KO/TKO/DQ/Submission (-200)
McGregor to Win by Round 2 KO/TKO/DQ (+400)
Betting on McGregor as a beginner? Don't fret. It's much easier than you think.
And that applies to McGregor's prop bets at UFC 257, you'll be happy to learn.
If all of this is new to you, the first thing to do is to familiarize yourself with how to place prop bets. It's really straightforward and is the most exciting way of betting on UFC fights as well as other promotions and sports.
So, I'll cut to the chase here. The bets you see above are the best prop bets for McGregor at UFC 257 for beginners. Why? Well, there are two main reasons. First, they are easy to understand. And second, they come with solid odds for anyone who doesn't really understand the intricacies of wagering on mixed martial arts bouts.
All of McGregor's Knockouts
Opponent
When and Where
Donald Cerrone
UFC 246 – Jan 18, 2020
Eddie Alvarez
UFC 205 – Nov 12, 2016
José Aldo
UFC 194 – Dec 12, 2015
Chad Mendes
UFC 189 – Jul 11, 2015
Dennis Siver
UFC FN – Jan 18, 2015
Dustin Poirier
UFC 178 – Sep 27, 2014
Diego Brandão
UFC FN – Jul 19, 2014
Marcus Brimage
UFC on Fuel – Apr 6, 2013
Ivan Buchinger
CW 51 – Dec 31, 2012
Steve O'Keefe
CW 45 – Feb 18, 2012
Aaron Jahnsen
CWFN 2 – Sep 8, 2011
Artur Sowinski
CG 2 – Jun 11, 2011
Paddy Doherty
IFC 4 – Apr 16, 2011
Mike Wood
CC8 – Mar 12, 2011
Hugh Brady
Chaos FC 8 – Feb 12, 2011
Connor Dillon
Chaos FC 7 – Oct 9, 2010
Stephen Bailey
K.O. – Dec 12, 2008
Mo Taylor
CRC – May 3, 2008
Gary Morris
COT 2 – Mar 8, 2008
McGregor to Win by KO/TKO/DQ/Submission (-200) makes a lot of sense.
Not only does this bet win if McGregor knocks out Poirier at UFC 257, but if he wins by disqualification or submission, too.
Granted, a submission win for McGregor is rare as hen's teeth. But it does give you an extra chance of winning. The best part about this real money McGregor prop bet is undoubtedly the KO/TKO, which is his best chance of winning the fight.
A $200 bet at these odds on the top online UFC betting sites earns you a return of $300. That's your stake returned, plus a $100 profit for your troubles.
If you don't like the sound of that, how about McGregor to Win by Round 2 KO/TKO/DQ (+400)?
McGregor wins most of his fights by KO/TKO. From 22 professional victories, he was won just once by submission and just twice by decision. That's 19 KO/TKOs, which is a great rate.
McGregor's fights rarely get past the second round, too, making this a solid bet for anyone willing to stake $100 for a profit of $400. I talk a little bit more about this in my McGregor vs. Poirier 2 Betting Preview.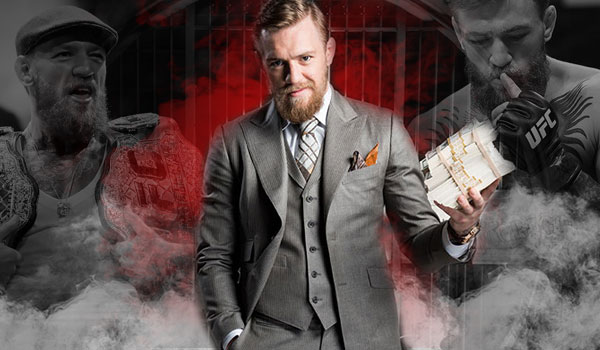 Expert McGregor Prop Bets for 257
McGregor to Win in Round 1 (+175)
Fight to End in Round 4 (+1000)
If you're used to betting on Conor McGregor fights in the UFC, you'll be hoping to turn that knowledge into money with online props for McGregor this Saturday.
The deeper you dig into the online prop bets for UFC 257, the more you will find chances to use the data available from McGregor fights to your advantage.
For example, he has won more fights in the first round than in any other round in his career. Including when he beat Dustin Poirier at UFC 178 in September 2014.
| | | |
| --- | --- | --- |
| Striking Statistics | McGregor | Poirier |
| Significant Strikes Lander Per Minute | 5.43 | 5.57 |
| Striking Accuracy | 49% | 50% |
| Strikes Absorbed Per Minute | 4.4 | 4.18 |
| Striking Defense | 55% | 54% |
Also, consider that the Irishman's fights that end in the first round tend to be followed up by another first-round finish. Then pack in the fact that the only two KOs on Poirier's record came in the first round.
All of this combines to make McGregor to Win in Round 1 (+175) a great bet. At the very least, a comforting one for those with an expert knowledge level who are looking to make a profit betting on the props for McGregor at UFC 257.
Another bet for the expert bettors among us is the Fight to End in Round 4 (+1000).
McGregor is prone to running out of steam when the fight gets past the 2nd round. Poirier has the better cardio and should see his chances of winning improve past this point, especially if you take his 4th round KO of Justin Gaethje in 2018 into consideration. Which was the last fighter he faced with the same level of power as McGregor.
Combine this with Poirier's susceptibility to getting stopped, and you might have one of the best real money props bets for McGregor at UFC 257.
Now, I'm not sure whether a recent civil lawsuit filed against McGregor might change his focus ahead of this fight. But it's definitely something worth taking into consideration.
Most Popular McGregor Props for UFC 257
McGregor to Win by KO/TKO (-200)
McGregor to Win in Round (+175)
From what I have gathered from friends and other guys involved in MMA, the favored bets for McGregor vs. Poirier appear to be a win for McGregor and for him to get it done early.
But the most popular online McGregor props for UFC 257 are not as clear cut.
I was asked recently what everyone is betting on for the McGregor vs. Poirier fight, as well as the props, and you can't really answer that for certain. A lot of the information about who is betting on what is not disclosed by UFC betting sites, so it's really conjecture.
But there are obvious ways to speculate on where the most money is going. If you don't already know, learning how betting odds work will give you a better grasp of things.
From what I can gather, among the most popular prop bets for UFC 257 are McGregor to win by KO/TKO (-200) and McGregor to Win in Round 1 (+175).
Both are very good bets. But they are certainly not where the big money is…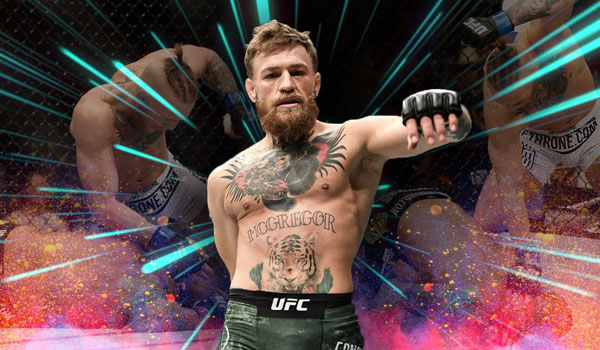 Top McGregor Props for Big Odds
McGregor to Win in Round 5 by KO/TKO/DQ (+2500)
McGregor to Win by KO/TKO via Knee (+2800)
If you're looking for the biggest odds for the McGregor vs. Poirier rematch, proposition bets are where it's at.
Focusing on McGregor's odds, I see the two bets above as being well worth a punt.
By all means, if you want to bet on McGregor to win by submission in Round 5 at +12500, be my guest. But there's more chance of Barney the Dinosaur knocking out Francis Ngannou for the heavyweight title than this happening.
What you should be aiming for are big money props for McGregor, but relating to scenarios that have fairly strong chances of happening. The two bets above certainly have that.
McGregor to Win in Round 5 by KO/TKO/DQ (+2500) is not beyond the realms of possibility, even though The Notorious has never won a fight in the championship rounds. But there is a first for everything, especially where the Dubliner is involved.
It's not exactly one of the most likely prop bets, but the odds for those come with a premium.
The Fighters McGregor Could Not Knock Out
Opponent
Result
Date and Event
Khabib Nurmagomedov
Loss by Submission
UFC 229 – Oct 6, 2018
Nate Diaz
Win by Decision
UFC 202 – Aug 20, 2016
Nate Diaz
Loss by Submission
UFC 196 – Mar 5, 2016
Max Holloway
Win by Decision
UFC FN – Aug 17, 2013
Dave Hill
Win by Submission
CW 47 – Jun 2, 2012
Joseph Duffy
Loss by Submission
CW 39 – Nov 27, 2010
Artemij Sitenkov
Loss by Submission
COT 3 – Jun 28, 2008
But McGregor to Win by KO/TKO via Knee (+2800) is great value, in my opinion.
Remember, McGregor beat Cowboy Cerrone in 40 seconds in January 2020, having landed a knee in the opening exchange of the fight. We expect Poirier to use his superior wrestling against McGregor, which means shooting for takedowns.
Could McGregor, a fighter with excellent reflexes, striking skills, and some of the best timing in the sport of MMA, pull this off?
I'll leave you to think about it for a second.
Fight Island is mine! #5days pic.twitter.com/tlwdcQAqnt

— Conor McGregor (@TheNotoriousMMA) January 18, 2021
My Favorite McGregor Prop Bets for UFC 257
McGregor to Win by Round 2 KO/TKO/DQ (+400)
McGregor in Rounds 3 to 4 (+700)
McGregor to Win by KO/TKO via Knee (+2800)
I've walked you through a nice mix of props for McGregor vs. Poirier, and I think there is definitely something for everyone betting on McGregor at UFC 257.
From McGregor props for beginners to the big money bets that you could yield some serious returns this Saturday, January 23. More than this, it'll add a whole new dimension when watching the fight, just waiting for your prop to come in.
As for my favorite McGregor props online? I think the ones above are the top choices. They make the most sense, at least to me, and the value is on point.
But they are not the only way to win wagering on UFC 257.
More Advice for Betting on UFC 257
That's it for the best McGregor props for UFC 257.
It's been fun going through the top prop bets for the Dubliner, and I hope you've found a couple that you like.
As I pointed out above, I have my favorite props for The Notorious, and I bet I'm not the only one. But what you should always be looking for is value in the odds on offer.
Speaking of which, you can find the latest odds for McGregor vs. Poirier — as well as predictions, best bets, the top sites to bet at, and much more — in our UFC picks and UFC blog sections. If you have designs on winning your bets, make sure to use both to your advantage.
I'll leave you with some content that will help you maximize your chances of success ahead of UFC 257 below.
Good luck with your bets!