Best Chances for the USA to Win Gold at the Tokyo Olympics

Boasting a whopping 1,022 gold medals, the United States is by far the most successful country in the history of the Summer Olympics.
In Rio 2016, the US claimed 46 golds – 19 more than Great Britain – to finish atop the medal table for the fifth time in six Games.
With the Tokyo 2020 Olympics set to get underway on Friday, July 23, hundreds of American athletes will travel to Japan searching for medals. However, some athletes and teams are far more likely to win gold than others.
In this post, I look at the seven best chances for Team USA to win gold at the Tokyo Olympics.
Simone Biles, Gymnastics
When it comes to discussing the USA's greatest gold medal hopes at the Tokyo 2020 Olympics, Simone Biles is right at the top of the list.
I mean, the 24-year-old has completely changed the face of modern-day gymnastics – and she's got the medals to prove it!
Back in 2016, Biles picked up four golds (team, all-round, vault, floor) and one bronze (balance beam) at her first Olympic Games. Oh, and she has also claimed a staggering 25 World Championship medals, 19 of which are gold.
Not only is the Ohio native expected to dominate the individual events at Tokyo 2020, but she is also likely to lead the US women's gymnastics team to the all-around title.
Having already broken countless records, the self-proclaimed "GOAT" (yes, she has a leotard with a goat on it) is destined to bolster the United States gold medal tally this summer.
Women's Basketball Team
Several US teams will almost certainly win gold in Japan, and the women's basketball team is one of them.
Remarkably, the female hoopers head into Tokyo 2020 on a 49-game winning streak in the Olympics. As a result, they have scooped six gold medals in a row.
WOMEN'S BASKETBALL – MOST GAMES WON AT THE OLYMPICS
Team
Games
Wins
Losses
Win %
USA
69
66
3
0.956
Australia
56
40
16
0.714
Russia
39
25
14
0.641
If the current roster is anything to go by, the supremacy won't be ending anytime soon.
Boasting four golds, 39-year-old Diana Taurasi has never lost a game at the Olympics. The WNBA's all-time leading scorer will want to make sure that record is still standing come the end of this summer's Games.
With reigning WNBA MVP A'ja Wilson also on the roster, the US women's basketball team is pretty much a shoo-in for gold in Tokyo.
WOMEN'S BASKETBALL – MOST MEDALS WON AT THE OLYMPICS
Team
Gold
Silver
Bronze
Total
USA
8
1
1
10
Australia
–
3
2
5
Soviet Union
2
–
1
3
Caeleb Dressel, Swimming
First, it was Mark Spitz, then it was Michael Phelps, and now it's Caeleb Dressel's turn to dominate in Olympic swimming.
A butterfly and freestyle specialist, Dressel is more than ready to fill the void by Phelps, who won't be competing for Team USA at the Olympics for the first time this century.
The Florida-born swimmer won two gold medals (4x100m freestyle, 4x100m medley) at Rio 2016 before claiming a record-equaling seven golds at the 2017 World Aquatics Championships in Budapest.
Two years later, Dressel added a further six golds to his silverware cabinet at the 2019 World Aquatics Championships in Gwangju, along with two silvers.
Considering the 24-year-old could swim in as many as seven events this summer, he is undoubtedly one of the best chances for the US to win gold at the Tokyo Olympics.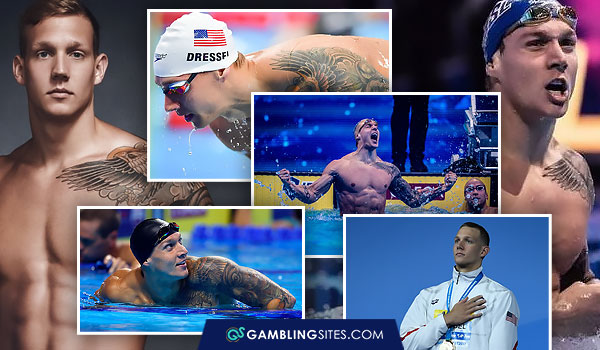 Nyjah Huston, Skateboarding
For the first time in Olympic history, skateboarding will feature at the Games this year – and Nyjah Huston looks set to push for the top of the podium in Japan.
With four World Skateboarding Championship golds to his name, the Californian is among the favorites to win the men's street discipline at Tokyo 2020.
In early June, Huston booked his spot at the Olympics by finishing second at Rome's World Street Championships. Japan's Yuto Horigome snatched first place in Italy, so Huston will surely be desperate to get revenge on Horigome at his home Games.
Having skated since the age of four, Huston has clinched 40+ wins at various competitions and events over the years, with his first major street title coming all the way back in 2005 when he was just ten.
Now 26, Huston is one of Team USA's top Tokyo Olympics gold medal hopes.
Women's Soccer Team
Just like their basketball counterparts, the US women's soccer team has enjoyed unrivaled success at the Olympics. Okay – the USWNT may not have been as dominant as the basketball team. But they are still in a league of their own.
Although women's soccer was only introduced to the Games in 1996, the USA has already secured four gold medals.
WOMEN'S SOCCER – MOST MEDALS WON AT THE OLYMPICS
Team
Gold
Silver
Bronze
Total
USA
4
1
–
5
Germany
1
–
3
4
Norway
1
–
1
2
Brazil
–
2
–
2
Canada
–
–
2
2
China
–
1
–
1
Japan
–
1
–
1
Sweden
–
1
–
1
The Stars and Stripes have reached five of the six finals overall, coming away with silver in Sydney back in 2000. Triumphs in 1996, 2004, 2008, and 2012 make them the most successful women's soccer team in Olympic history.
It is hardly surprising that America has totally dominated women's soccer at the Olympics. After all, many of the best female soccer players in the world were born in the States.
In fact, Crystal Dunn, Sam Mewis, and Julie Ertz all made it onto my list of the top 15 female soccer players in 2021.
Carissa Moore, Surfing
Carissa Moore is so revered in Hawaii that January 4 is officially "Carissa Moore Day" in her home state. Just imagine what would happen if she returned to the Islands of Aloha with a gold medal around her neck!
Well, funnily enough, the 28-year-old surfer is among the favorites to win gold for Team USA at the Tokyo 2020 Olympics.
Not only is Moore the reigning World Surf League champion from 2019, but she also heads into this summer's Games as the WSL's No. 1-ranked women's surfer.
Surfing is one of five new sports at the Olympics this year, so Moore will undoubtedly be eager to lay down a maker when the best surfers on the planet (or the ocean) flock to Japan's Pacific coast.
If the four-time World Surf League champion brings her A-game to Tokyo 2020, the other competitors won't reach the top of the podium.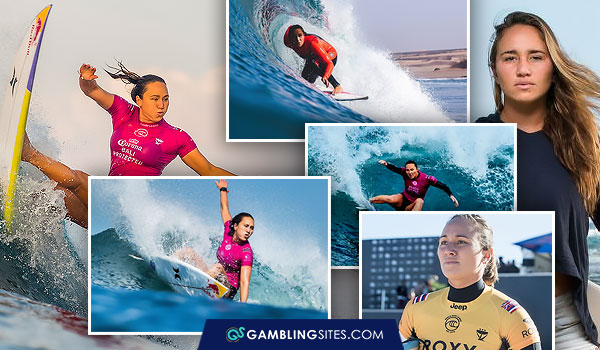 Grant Holloway, 110m Hurdles
When Grant Holloway broke a 27-year record back in February, he instantly became one of America's leading gold medal hopes for the Tokyo Olympics.
The Virginia native clocked 7.29 seconds in the 60m hurdles at Madrid's World Athletics Indoor Tour meeting earlier in the year – beating Colin Jackson's long-standing record by one-hundredth of a second!
Grant Holloway breaks world indoor 60m hurdles record in Madrid #WorldIndoorTour

Stunning hurdling from @Flaamingoo_ to clock 7.29 ?

?: https://t.co/zCi4oRJwyr pic.twitter.com/1oM4G3DKP2

— World Athletics (@WorldAthletics) February 24, 2021
Now, the world's No. 1-ranked men's 110m hurdler has his sights set on breaking more records in Japan.
Having triumphed at the 2019 World Championships in Doha, Holloway is no stranger to winning. In fact, he recently shone at the US Olympic Track and Field Trials in Oregon – clocking 12.96 in the 110m hurdles.
Devon Allen and Daniel Roberts – who ran 13.10 and 13.11, respectively – also stand a real chance of getting on the podium this summer. But there is no denying that Holloway is the pick of the bunch.
Closing Thoughts
Of course, the US will win more than seven gold medals in Tokyo. Having claimed 1,022 golds across 27 editions of the esteemed competition, Team USA averages almost 40 gold medals per Olympic Games.
In all honesty, I could have included more names on my list of the best chances for the US to win gold at Tokyo 2020.
Veteran runner Allyson Felix, swimmer Katie Ledecky, and skateboarder Heimana Reynolds are just a few more American athletes that could find themselves at the top of the podium this summer.
But the seven entries on my list are pretty much sure things to clinch gold in Japan.
If you're looking for more on the Olympics, keep an eye on our Olympics blog. We are covering Tokyo 2020 extensively in the coming weeks, so make sure you don't miss out.
Here are some examples of our Olympic Games content.
AUGUST
Casino of the Month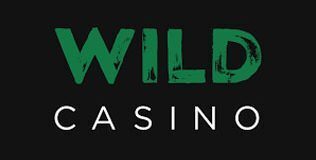 Welcome Bonus
250% up to $5,000
Read Review
Visit Site