10 Casino Drinks That You Can Enjoy While You Gamble (And 5 to Avoid)

There's nothing quite like valet parking your car at the local casino, strolling through the entrance, then ordering your favorite cocktail as you eye the action at the craps table or wedge into the crowd around the roulette wheel.
Sipping a fancy cocktail makes even electronic keno seem sophisticated and adult.
I've put together a list of the best casino drinks you should try (and a few you shouldn't). The list covers signature drinks at various casinos, the standard fare you will find on most gambling floors, and some drinks you will want to avoid (or will—right after you try them).
Please note that I'm not suggesting you drink to excess. That's at the top of the list of the things you should never do at a casino.
We're all adults here, and we know when to say when. Right?
So, let's look at some good suggestions to keep in mind the next time you concerning what you can order in most casinos—and what drinks to avoid.
Skip the Drinks and Gamble at Home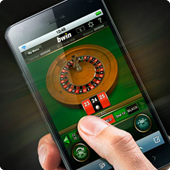 A drink, while you gamble is certainly a good idea, but there's a way to avoid all the pitfalls of overdoing it: Stay at home.
That's right. No embarrassing moments as you stumble to the parking lot, no desperate search for your car. Not even a need to call an Uber. You're already home. You can sip your own drink—prepared exactly the way you like it—while gambling in any way you choose.
Gambling from your home or using the top gambling apps means never having to pay for cab fare, never having to apologize for the stuff you don't remember saying, and never having to add a bail bondsman to your contact list.
Or so I've been told.
Like the logic, but aren't entirely sure where to bet online? Check out this detailed list of the top online casinos.
Best Online Casinos
How We Rate

Safety & Security
You should be able to gamble online without fear. So we only recommend licensed sites that use the latest security and encryption techniques.

Bonuses
Maximize your bankroll with fantastic bonuses. Our recommended sites offer valuable bonuses with fair terms and conditions, including manageable wagering requirements.

Games & Betting
The best sites have the best wagering options. That's why you will find extensive games and betting opportunities on our recommended sites.

Banking
Getting your money to and from your account shouldn't be a hassle. We only recommend sites with a variety of convenient banking methods, including cryptocurrency and e-wallets.
Whether you gamble at the best online casinos above or not, you still probably came here to learn a thing or two about the best casino drinks. Let's go over those now, while also touching on a few beverages you'll probably want to avoid while gambling.
Specialties of the House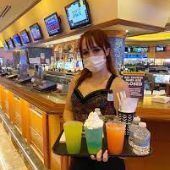 Some of the bigger casinos-resorts have their own signature drinks, and you will certainly want to try them—but probably not all at once.
Unlike drinks offered on the casino floor and in the poker room, these drinks are typically only available in the various bars attached to the casinos. Of course, that shouldn't stop you from asking the cocktail waitress for one.
Cable Car (Bellagio Hotel & Casino)
This drink is similar to the well-known sidecar cocktail but replaces the cognac with spiced rum—DA is a very nice sipping drink.
According to The Spruce Eats the cocktail is a mixture of the following: spiced rum, orange curaçao, and lemon sour, garnished with an orange twist, and the glass rimmed with fine sugar.
Cosmopolitan (The Cosmopolitan of Las Vegas)
Did they name the drink after the casino or the casino after the drink? Or both after the women's magazine? And how does Kramer figure into all this?
These are a few questions you will be asking yourself after you've had a few. Made of vodka, triple sec, cranberry juice, and freshly squeezed lime juice, it is—as Alex Trebek might say—a potent potable.
Hank's Dirty Martini (Hank's Steak House, Green Valley Ranch)
What makes a martini dirty? Glad you asked. It means that a bit of the brine from the olive jar is added to the regular martini. The brine gives the martini a savory flavor.
Usually, the drink is also served with a couple of olives. Oh, and it's made with gin and vermouth.
The Gem (The Gem Bar, Aria Resort & Casino)
I'm not sure what they were thinking, but the result gets a resounding two thumbs up. A blend of champagne, St-Germain (elderflower liquor), Grand Marnier 100, gold-dusted (real gold dust), cranberry, and orange. Rich, expensive, and—like baked Alaska—worth a try.
Drinks On the Floor
Virtually every drink you can order at a regular bar (rather than a boutique bar like the ones you find at casinos) is available for free on the gaming floor. Remember that free is a subjective term since it's only fitting to tip the cocktail waitress when she delivers your "free drink."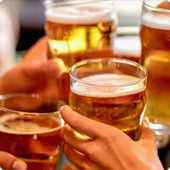 Beer
If you're a beer snob, I should point out that you won't find tap beers served on the gaming floor. But most of us lower forms of life are satisfied with the basics, like Sam Adams, Coors Light, Corona, and Heineken. YMMV.
Bloody Mary
Suppose you've ever stayed at a hotel-casino before. In that case, you're probably already aware of the joy of getting up in the morning, drifting down to the gaming floor, and ordering up a Bloody Mary while you attempt to win at the top casinos with hot drop jackpot slots.
Don't complain if the Bloody Mary's served without a celery stalk. Just be happy you didn't have to make it yourself.
Champagne and House Wines
Whether toasting a new year or celebrating a $20 jackpot (w00t!), a glass of champagne is always welcome, even if the glass is a clear plastic cup and the champagne is room temp. Still, it didn't cost you anything (except for the two-dollar tip you gave the cocktail waitress).
Standard Mixed Drinks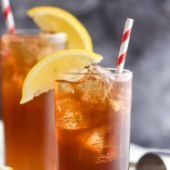 These drinks are served virtually everywhere but elementary schools and the moon. Gin and tonic, Jack and Coke, rum and Coke (Cuba Libre), old-fashioned, margaritas, daiquiris, mojitos, screwdrivers, pina coladas—pick your favorite or try several.
Incidentally, if you're new to this whole drinking thing, you may want to practice at home, where it's less likely live dealer casinos will notice you getting blurry.
And practicing at home is the perfect opportunity to expand your knowledge base without involving the general public in your dissolution. Bonus feature: You will not be asked to define or spell dissolution. You're already a winner!
Irish Coffee
If you're anything like me, you will be too full to eat dessert after you've dined at the casino's steak house, sushi bar, Mexican joint, Asian fusion restaurant, or buffet. So as you waddle back to the gaming floor, think about ordering an Irish coffee. Like Jello, there's always room for an Irish coffee.
Ouzo/Rakı
Like absinthe, these Mediterranean liquors are anis-based, making them black licorice-flavored. Incidentally, you won't find real absinthe anywhere in the US, so stop looking.
In any case, ouzo is from Greece. Rakı is from Turkey—note the "i" is missing its dot because the Turks have more letters in their alphabet than the rest of us, including letters representing sounds nobody this side of the Bosporus makes).
Both are typically served in a small tumbler with an equal amount of water in a separate glass. The liquors are clear until the water is mixed in, at which time it becomes milky.
If you've never had either of these liquors, they taste like black licorice—except black licorice doesn't make you walk funny or fail sobriety tests.
A Word About Tipping at the Casino
Unfortunately, cocktail waitresses are among the lowest-paid workers in the hospitality industry. These ladies are constantly moving, either delivering drinks or seeking fresh orders for more.
Okay, so it takes 20 minutes to get that Corona you asked for, but it gets there, and typically, it's served to you from a bar tray filled with beverages for her other thirsty patrons. An aside here: Look at the muscles on that arm she's using to hold up the tray full of drinks. Do not bet you can beat her at arm-wrestling. I know this now.
Be that as it may, I tip a buck for each drink she brings me—which means I tip two bucks because my wife and I often play slots together. If I'm winning, I might be a bit more generous, but I figure a buck is good.
If you want to know more about tipping, check out my post below for more.
Casino Drinks You Should Really Avoid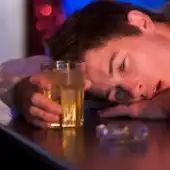 We all have a drink or two we like, and we tend to stick with what we like. On a special occasion, though, we might be willing to be a tad riskier in your choices, and mostly, that's a good idea.
But some drinks are infernal inventions of the devil—beverages designed to do nothing less than shame us for the drunken wall-eyed staggermeisters we become upon imbibing of same. Or maybe that's just me.
But if you're also of the same bent—i.e., a cheap drunk—here's a list of alcoholic beverages you'll want to avoid. If you've been drinking for a few years, you're probably already aware of many of these.
Some of these are mixed drinks initially created as dares. Some are known only by their names—mostly because nobody remembers much of the evening after they drank one or two of them.
You can usually tell by the names that you're better off ordering a glass of water. Names like Screaming Blue Viking, for example. But others have intriguing or deceptively mild names like Fiery German or Long Island Iced Tea.
But regardless of whether they announce their purpose with evil glee or with subtle whispers, they all share one devilish characteristic: They will make you exceedingly drunk very quickly.
By the Shot
There's nothing intrinsically wrong with these; it's just that you might have difficulty getting your chosen brand of whisky (Scotch or Canadian) or whiskey (Irish or American) on the gaming floor: ditto tequila, vodka, and gin.
Also, booze by the shot is for serious drinkers, not serious gamblers. And the gaming floor is no place for serious drinking.
Jägermeister, Everclear, MD 20/20, Peppermint Schnaps
What are you, 17? If you're older than that, you already know to avoid all of these "drunk buffoon starter kits." Even stubborn people give it up by their mid-thirties. Pretty much, anyway.
Call a Cab (Wet Willie's, Tropicana Atlantic City)
I'm not sure this should be considered a daiquiri—it's more like a general anesthetic. A signature drink of Wet Willie's at the Tropicana Atlantic City, it's a strawberry-flavored mixture of 190 proof grain alcohol and Bacardi rum. I think they show the glass a strawberry before they serve it to you.
But that's not really important. It is important to ensure your home address is written somewhere obvious (like your arm or your forehead) so they'll know what to tell the Uber driver.
Fiery German
It is made with equal parts Jägermeister and cinnamon schnapps. You've been warned. This is the drinking equivalent of buying a house that's already on fire.
Long Island Iced Tea
If you've never had one of these, let me satisfy your curiosity right now.
Yes, it does look and taste just like iced tea. And no, you will not be able to feel your legs after drinking one. They have somehow figured out how to make 300-proof alcohol. Next stop: The Twilight Zone.
Maybe Save the Drinks for After You Gamble
I don't know what it is about risking money that ties in beautifully with throwing back a few, but history has told us that it's rarely a good idea.
Sure, it feels good at the time, but if we want to line our pockets with more cash, conventional wisdom suggests checking out thirst at the door and focusing on the very best ways to win at the casino. As mentioned, getting drunk simply isn't one of them.
If you can pace yourself and pick your spots, this list of the top drinks at casinos should still prove helpful (and tasty), while you also know more about tipping and drinks to avoid than you did before you got here.
That said, when it comes to gambling at the casino – whether you're in a land-based setting or holding your phone in your hand – it's best to put the drinks on ice and let them chill.
Once you do, consider checking out this breakdown that analyzes whether online casinos are more about luck or skill. Hint: it's a little bit of both.
AUGUST
Casino of the Month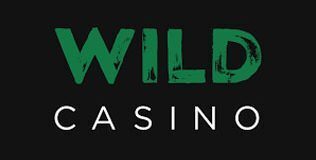 Welcome Bonus
250% up to $5,000
Read Review
Visit Site