Best NFL Games to Bet on for the 2022 Season

We might be looking at one of the most exciting NFL seasons for fans and bettors alike. Many games on the schedule will be very entertaining from everyone's perspective.
The NFL's offseason has been one to remember. It's created so many tough divisions and teams that could have a chance at winning the Super Bowl. Last year's NFL playoffs were already ultra-competitive, but it could be kicked up a notch in 2022-23.
Let's look at 9 of the best 2022 NFL games to bet on using the best online NFL betting sites.
Week 1: Buffalo Bills vs. Los Angeles Rams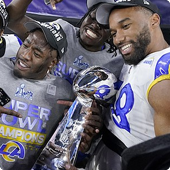 The Week 1 heavyweight clash between the Bills and Rams will be the first game of the NFL season, but it will also be one of the 2022 NFL games for bettors.
Last year, the Los Angeles Rams defeated the Cincinnati Bengals in Super Bowl 56 on their home turf. It was a magical year for the Rams, and their big risks paid off big time. They made tons of moves and went all in during 2021, which worked.
The Rams aren't done yet, though. They've already said multiple times that they want to run it back, and they have a gigantic matchup with the Buffalo Bills right off the bat.
Typically, the previous year's championship winner comes into the following season as the favorite to win the next one. That's not the case for this year's Super Bowl 57 odds. The Rams are not favored to win this year's Super Bowl, but they also face the favored team, the Buffalo Bills.
Buffalo had a strong offseason on top of their already very talented roster. They came up short in last year's playoffs in overtime to the Kansas City Chiefs, which was one of the most heartbreaking losses due to the NFL's overtime rules.
Los Angeles also added some incredible players over the offseason so that they could be even better this year. Bobby Wagner, Allen Robinson, and more will join the party in LA as they look to become the first back-to-back Super Bowl winner since the 2003-2004 Patriots.
Super Bowl slumps are real, though, so I'm giving the edge to the Bills in Week 1.
Best Bet: Buffalo Bills to Win (-110) – Visit MyBookie to Bet on the Bills
Week 3: Green Bay Packers vs. Tampa Bay Buccaneers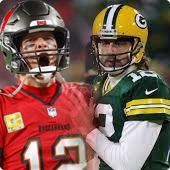 Week 3's matchup between the Green Bay Packers and Tampa Bay Buccaneers will be one of the top 2022 NFL games to bet on and watch. These teams have talented rosters, but that's not the main seller of this game.
The headline will definitely be the head-to-head matchup between some of the greatest quarterbacks: Tom Brady and Aaron Rodgers. These two quarterbacks will be in the Hall of Fame when it's all said and done, which could be sooner than we think.
Rodgers was pondering retirement last season at times, and Brady did retire after last season. It would be an incredible loss for these greats to hang up their cleats, but we are at least getting one more year.
The legendary matchup will be displayed in Week 3 as the Bucs will be hosting the Packers. It could be the last time these two players go head-to-head if they don't meet up in the NFC playoffs.
They've only played each other four total times in their lengthy careers. Here's a quick look at how those games have gone.
| | | | |
| --- | --- | --- | --- |
| Year | Score (Winner) | Rodgers' Stats | Brady's Stats |
| 2014 | 26-21 (Packers) | 368 passing yards, 2 touchdowns | 245 passing yards, 2 touchdowns |
| 2018 | 31-17 (Patriots) | 259 passing yards, 2 touchdowns | 294 passing yards, 1 touchdown |
| 2020 | 38-10 (Buccaneers) | 160 passing yards, 2 interceptions | 166 passing yards, 2 touchdowns |
| 2020 (NFC Championship) | 31-26 (Buccaneers) | 346 passing yards, 3 touchdowns, 1 interception | 280 passing yards, 3 touchdowns, 3 interceptions |
With these two players in the late years of their career, this matchup instantly becomes a potential classic and one of the top NFL games to bet on in 2022.
It will be interesting to see how Aaron Rodgers plays without his top target in Davante Adams this year, so I'll give the early edge to Brady and the Bucs.
Best Bet: Tampa Bay Buccaneers to Win (TBA)
Week 4: Kansas City Chiefs vs. Tampa Bay Buccaneers
How about two back-to-back weeks with the Buccaneers having the best 2022 NFL games to bet on? After the Rodgers vs. Brady showdown, Patrick Mahomes and the Kansas City Chiefs will be coming into town.
This will be a Super Bowl 55 rematch and another head-to-head matchup between Patrick Mahomes and Tom Brady. Mahomes is often seen as the player who can even come close to Brady's career accolades, so seeing them go against each other is always amazing.
Mahomes vs. Brady Part VI: Coming Week 4 on @SNFonNBC #ChiefsKingdom | #GoBucs

📺: 2022 NFL Schedule Release — TONIGHT at 8pm ET on @nflnetwork pic.twitter.com/6ZWdBL7wpv

— NFL (@NFL) May 12, 2022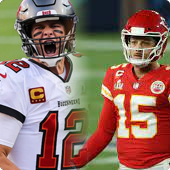 Even though Mahomes hasn't played nearly as long as Rodgers, he's already had 5 career head-to-head games against Brady. Brady has won 3 of the 5 games, including the biggest one in Super Bowl 55.
You can say that any Chiefs game will be must-see TV, but this one is going to be a little extra special. They will look slightly different this year, too, after trading away star-wide receiver Tyreek Hill in the offseason.
In the same year, Brady will face Mahomes and Rodgers, and they will lose a huge part of their receiving core (Hill and Adams). I gave Brady the edge last week, but I think Kansas City could get the win here.
The Chiefs had an incredible offseason and will be a major threat to win another Super Bowl, as they usually are. Hill's absence is something they'll have to get used to, but they were a big winner from the 2022 NFL Draft.
Best Bet: Kansas City Chiefs to Win (TBA)
Week 6: Buffalo Bills vs. Kansas City Chiefs
I told you just about any Chiefs game will be must-see TV, and that is precisely what Bills vs. Cheifs is going to be in Week 6. Bills, Chiefs, and football fans will be very excited to see Josh Allen vs. Patrick Mahomes for years to come.
These two quarterbacks are generational and will be competing in huge games year after year. The Bills are the current Super Bowl 57 odds favorite, but the Chiefs will be very tough this year as well.
The last time these two teams faced off was an insanely wild game. It ended distastefully and was primarily due to the NFL's overtime rules.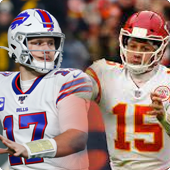 The AFC Divisional Round was with Allen and Mahomes going blow for blow. They seemed to have a big play one after the other, and the game ended up being tied at 36 after the Chiefs drove down the field in 13 seconds to tie the game in the dying seconds.
From there, the Chiefs won the coin toss, drove down the field, and won the game on a Travis Kelce touchdown. Josh Allen and the Bills' offense never got a chance.
It was an incredibly frustrating way to lose the year's biggest game. If the Bills won that game, there's a chance they could have been the eventual Super Bowl 56 winners instead of the Rams.
Instead, they'll have a chance to get their revenge in Week 6 of the 2022 season. I'm expecting this one to be another barn burner with either team having the chance to win.
Week 16: Dallas Cowboys vs. Philadelphia Eagles
How about some love for the divisional rivals? The Dallas Cowboys and Philadelphia Eagles will be fighting for first place in the NFC East this year, so their two matchups will be crucial.
This year, their two games will make up for some of the best 2022 NFL games worth betting on. The NFC East has been lackluster in recent memory, living up to its "NFC Least" nickname.
This year should be a bit different, though, as the Cowboys and Eagles will be tough.
The Eagles had a great offseason and made some big moves in and out of the draft. Their biggest move has to be acquiring former Titan wide receiver, A.J. Brown. Wide receiver has been an area of immense trouble in Philadelphia over the last couple of years.
This A.J. Brown and DeVonta Smith Eagles duo is too scary 👁‍🗨 pic.twitter.com/23w4g7yQiG

— PFF Fantasy Football (@PFF_Fantasy) April 29, 2022
After drafting Devonta Smith and trading for A.J Brown, the Eagles have two talented wideouts for Jalen Hurts to throw to. They also upgraded the trenches on both sides of the ball, so they're a well-rounded team.
If Hurts takes that next step in his development, the Eagles could surprise many people this year with their talent.
As for the Cowboys, their defense took a huge step in the right direction last year. Micah Parsons won the 2021 NFL Defensive Player of the Year and will be a dominant player in his career.
Dak Prescott and company destroyed the Eagles in both games last year (41-21 and 51-26). They might not be ready to give up the NFC East crown just yet.
These two could also match up in playoffs, which would make for another one of the top NFL games to watch in 2022.
Week 7: Indianapolis Colts vs. Tennessee Titans
Two (or three) more of the best NFL games for bettors will also be the division matchup games between the Indianapolis Colts and Tennessee Titans. You can apply the same reasoning to the Philadelphia vs. Dallas games to Indianapolis vs. Tennessee.
The AFC South has been lackluster over the years like the NFC East. But like the Cowboys and Eagles, the Colts and Titans will have some very important games against each other this year.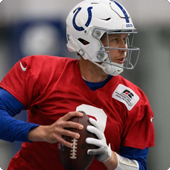 The Titans went 12-5 last year, while the Colts finished 9-8. Tennessee also won both of their head-to-head matchups, one of them being an overtime win (Week 8, 34-31). If we have another thrilling overtime game, that will make for another one of the best NFL games to watch in 2022.
The Colts traded for veteran quarterback Matt Ryan over the offseason. They've struggled with consistency at the signal-caller position, so Ryan will look to end the carousel of QBs in Indy.
Indianapolis was already a tough team without a strong QB. If Ryan can produce at a high level in 2022, they could have a shot at winning the AFC South title over the Titans.
Tennessee traded away A.J Brown and released Julio Jones this offseason. Derrick Henry looked like an MVP candidate, but not being without those two top playmakers can hurt their chances this year.
I have the Colts going over as one of the best NFL win totals bets for 2022, so I'll give them the edge here.
Best Bet: Indianapolis Colts to Win (TBA)
Week 16: Jacksonville Jaguars vs. New York Jets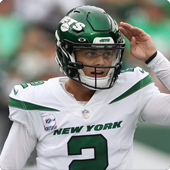 You might not be expecting to see this one of the best NFL games to bet on for 2022, but here we are. The biggest reason why the Jaguars vs. Jets matchup in Week 16 will be memorable is because of Trevor Lawrence and Zach Wilson.
These two second-year quarterbacks have a ton of potential and could be the next superstars to take over the league. They've already had their first career head-to-head game, and it was a pretty entertaining game.
The Jets were able to win a 26-21 win, but the Jaguars sure made things interesting. I would also argue that both teams are looking much better coming into 2022 than last year.
Jacksonville was nothing short of a train wreck last year with the Urban Meyer situation. Every other week that guy was in the news for kicking his kicker or doing some other borderline insane act.
Now that he's out of the picture, Jacksonville can seriously ramp up Trevor Lawrence's development. After all, he was drafted 1st overall in what should be a good QB 2021 draft class in a few years.
New York had an incredible draft this year and will be looking to take things to the next level. I had them among the biggest winners of the 2022 NFL Draft.
Now that these quarterbacks are in their second years, their second career head-to-head matchup could be one to remember. Although, I do think the Jets are a step ahead of the Jaguars, so I have them winning this one.
Best Bet: New York Jets to Win (TBA)
Week 18: Baltimore Ravens vs. Cincinnati Bengals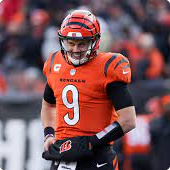 The Baltimore Ravens and Cincinnati Bengals have been a little overshadowed this offseason. Yes, most of the action was in the AFC West, but the AFC North can be a respectable division this year.
After all, the Cincinnati Bengals made it to the Super Bowl last year. They weren't expected to make it nearly that far, but they pulled it off. They've added some quality pieces in free agency to help beef up their offensive line, which many thought was their downfall.
Joe Burrow and the Bengals can make sure that they keep that respect that they earned last year by beating tough teams like the Baltimore Ravens. The Ravens will be on their schedule twice next year, but their Week 18 matchup is looking to be the most important.
This should be a close division race so that every game will matter. I wouldn't be surprised to see a win and get in scenario already, so this might technically be a playoff game in the regular season.
Burrow led the Bengals to two dominating wins over the Bengals with these insane stat lines.
Week 7 (41-17 W): 416 passing yards, 3 touchdowns, 1 interception
Week 16 (41-21 W): 525 passing yards, 4 touchdowns, 0 interceptions
Lamar Jackson is the most explosive quarterback in the NFL, and he's capable of putting the Ravens on his back. They lost an insane amount of talented players due to injury last season, so hopefully, they have a bit more luck this year.
If both teams are at their best, I think the Bengals should still have the upper hand considering last year's massacres.
Best Bet: Cincinnati Bengals to Win (TBA)
Week 18: Los Angeles Chargers vs. Denver Broncos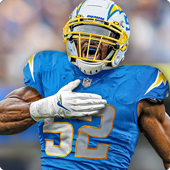 We have ourselves another Week 18 divisional matchup that should be one of the top NFL games to bet on this year. This time it's the Los Angeles Chargers heading to Denver to take on the Broncos.
Russell Wilson probably was the biggest name traded in the offseason, but what about Khalil Mack to the Chargers? The Bears traded him away for salary reasons, and he could be the final piece the Chargers needed.
Mack will be on one side of the line, while Joey Bosa will be on the other. That is an absolutely lethal pass rush attack, which will cause terrors to opposing offensive lines. You will not be able just to double-team one of them and get away with it for long.
Justin Herbert is another quarterback who could be on the same level as Josh Allen and Patrick Mahomes. He has insane talent and developed incredibly fast in his young career. The Chargers came up short of making the playoffs last year, but I don't expect them to miss often with Herbert at the helm.
Like Indianapolis, Denver was often seen as a solid team without a good quarterback. Now that Wilson is there, they could become a very strong team. Here's a quick breakdown of some of their top players.
Russell Wilson (QB)
Courtland Sutton, Jerry Jeudy, Tim Patrick (WRs)
Garett Bolles, Graham Glasgow (OL)
Bradley Chubb, Randy Gregory (EDGE)
Justin Simmons, Kareem Jackson (Safety)
Patrick Surtain II, Ronald Darby (CB)
This division matchup will be huge in the final week of the regular season.
It's a bit tough to predict a winner this far out, so I'll go with the over for what should be one of the top 2022 NFL games to bet on.
How to Choose Which NFL Games to Bet On in 2022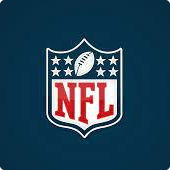 There will be many great games for this NFL season, but these nine are sticking out a bit more than others. If you are wondering how to find the best 2022 NFL games to bet on, you really can make it your own. p>
Start by looking at your favorite team's opponents after the 2022 NFL schedule release. Then you can see what games will be entertaining to bet on for this year. You can also look around the league and see which games are happening in prime time.
There are also some games on Christmas this year as well, so that will be a nice gift for NFL fans who celebrate. At the end of the day, the best NFL games to bet on will be the ones where you win.
Check out our football betting guide for 2022 if you are looking for some more help.