Hide Bonus Offers
| | | | | |
| --- | --- | --- | --- | --- |
| #1 | BetOnline Sports | 60% Up To $1,000 | Visit Site | BetOnline Sports |
| #2 | Bovada Sports | 50% Up To $250 | Visit Site | Bovada Sports |
| #3 | BetUS | 125% Up To $2,500 | Visit Site | BetUS |
| #4 | Everygame | 100% Up To $500 | Visit Site | Everygame |
| #5 | MyBookie | 100% Up To $1,000 | Visit Site | MyBookie |
Best Prop Bets for Nathan's Hot Dog Eating Contest (2022)

The most intense 10 minutes of hot dog eating is back again. Nathan's Hot Dog Eating Contest is ready to go this year and is set for the Fourth of July. There's nothing like celebrating America's Independence Day like watching one of the most iconic hot dog eating contests.
2022 Nathan's Hot Dog Eating Contest prop bets are also available for bettors. If you are looking for a fun way to watch the contest, maybe this will add some spice to your 4th.
Betting on the hot dog contest might not have been something you knew about before, but it's real. You can make some serious cash if you are the ultimate hot dog eating professional (watcher). Right now, BetUs is your best bet if you have interest in cashing in from this year's contest.
Bet on the 2022 Nathan's Hot Hot Dog Eating Contest Props
BetUS gives us the best prop bets that are currently available. Feel free to read a site review before visiting the site.
Odds for Total Hot Dogs Eaten by Men's Winner
The best 2022 Nathan's Hot Dog Eating Contest props have to be the over and under on 74.5 hot dogs being eaten in this year's contest.
First, this is already an insanely high number. The contest is 10 minutes long, so the contestants would have to shove down 7.5 hot dogs per minute to have a chance at the over.
You might be thinking that eating hot dogs couldn't be that hard, but this is an extreme sport. This is not something that the average person can do, and it requires actual training.
There are many dangers to extreme eating contests, and Nathan's Hot Dog Eating Contest is probably the most popular one.
Several of the contestants are part of MLE or Major League Eating.
This is serious stuff, and there's a lot on the line too. There's a $40,000 prize pool at stake, and the winners get $10,000 and the famous Mustard Belt. The contestants will be pushing hard to eat the most hot dogs, and there's a real chance that someone hits the over here.
Joey Chestnut is the star of the show, and he's the only one with a real shot at this. He's broken the world record multiple times in this event.
If he continues to improve every year, it will make sense for him to break his previous record of 76.
Will Joey Chestnut Win the Nathan's Hot Dog Eating Contest?
You'll see Chestnut's name here a lot on the Nathan's Hot Dog Contest prop bets. Like I said earlier, he has broken the world record frequently and has won 13 of the last 14 years. It's no surprise to see him as the overwhelming favorite for 2022.
To put things in perspective, there is a whole list of the top 50 eater's in the MLE. Some fierce competitors out there can hammer down some hot dogs. If you look at the list, you'll see that the contestants are athletic-looking people.
It's an extreme sport and requires a ton of energy and a flexible stomach.
With that being said, one man stands out in this competition. The great Joey Chestnut has dominated for over a decade now and has no signs of slowing down soon. Here's a look at the contest's results over the last 15 years.
| | | |
| --- | --- | --- |
| Year | Men's Winner | Women's Winner |
| 2021 | Joey Chestnut | Michelle Lesco |
| 2020 | Joey Chestnut | Miki Sudo |
| 2019 | Joey Chestnut | Miki Sudo |
| 2018 | Joey Chestnut | Miki Sudo |
| 2017 | Joey Chestnut | Miki Sudo |
| 2016 | Joey Chestnut | Miki Sudo |
| 2015 | Matt Stonie | Miki Sudo |
| 2014 | Joey Chestnut | Miki Sudo |
| 2013 | Joey Chestnut | Sonya Thomas |
| 2012 | Joey Chestnut | Sonya Thomas |
| 2011 | Joey Chestnut | Sonya Thomas |
| 2010 | Joey Chestnut | N/A |
| 2009 | Joey Chestnut | N/A |
| 2008 | Joey Chestnut | N/A |
| 2007 | Joey Chestnut | N/A |
As you can see, Chestnut has only lost one time in the last 14 years. From a bettor's perspective, the only real option is to make some money here in the field (+1500). You would be rooting against Chestnut in that way, but anything can happen.
Nathan's Hot Dog Eating Contest Lead After 30s/1 Min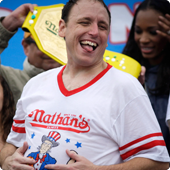 Something you might have a better shot at winning in the prop bets for the 2022 Nathan's Hot Dog contest is within the first minute. There are two available props for this on BetUS, which offer way better odds than the previous prop.
The odds for the leader after 30 seconds are the following.
Other contestants are only going to be close to Chestnut for literally seconds. He's an incredible eater and eats fast with good endurance. With that said, everybody starts at zero. This is when the adrenaline will be pumping for each contestant, and they might not begin to feel the fatigue in this time frame.
Chestnut is still the favorite here (no surprise), but (+200) for any other competitor could be worth a shot. After all, this will probably be the time when someone has the best chance to put the pressure on Chestnut.
After that, Chestnut has even more of a favorite for 1 minute.
This will be when Chestnut starts to distance himself from the pack. He's hardly ever seriously challenged in this event, and he's not going to be down for long. I would say that Chestnut will have to be really off his game if you want to bet against him.
There are two more Chesnut props for the first couple of minutes. You can bet on the over (+110) or under (-150) at 21.5 hot dogs in the first 2 minutes and the over (-115) or under (-115) 30.5 in the first 3 minutes.
I think grabbing value in any spot is a good idea for this event.
Pick: Over 21.5 in 2 Minutes (+110)
Joey Chestnut's Exact Hot Dogs Eaten Odds
Here are some of the best 2022 Nathan's Hot Dog Eating Contest prop bets in terms of value. If you can correctly pick the range Chestnut finishes in; you could be in for a big profit day.
As I said earlier, he's been able to beat his own World Record. Here's a look at how many times he's broken his previous World Record.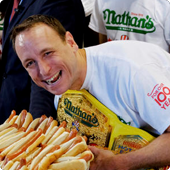 2007: 59.5 (qualifier), 66
2009: 68
2013: 69
2016: 70
2017: 72
2018: 74
2020: 75
2021: 76
In the last two years, he's landed in the 75-76 range, with (+200) odds for this year. Given how many times he's beaten his own record, there's a chance he reaches 77-78 (+900) this time around.
These will be Nathan's Hot Dog Eating Contest's best bets in terms of value if you can correctly pick the range. Lots of people speculated that he wouldn't be able to beat 75, which was in the COVID-19 year with no crowd, and he debunked that immediately.
There's no doubting this man. If you think he has another World Record in him, you could be on your way to quite the payday. 75-76 is probably the safer range, but (+900) odds for 77-78 seem too good to pass up.
Top Threats to Dethrone Joey Chestnut in 2022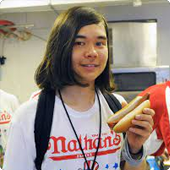 Who is going to be Joey Chestnut's main competitor? This competitor could make for some wild underdog picks.
Chestnut's dominance is well documented, but he did lose in 2015. That was to none other than Matt Stonie, who finished with 62 hot dogs while Chestnut finished with 60.
He snapped Chestnut's 8-year streak of wins, and Chestnut's on a 6-year streak. Stonie is only 130 pounds, but that hasn't stopped him from setting some outrageous records. He's the current record holder for various foods like spaghetti and red sauce, moon pies, birthday cake, pumpkin pie, and more.
The 20 pounds and 13 ounces of pumpkin pie in 8 minutes are probably the most impressive.
With that said, Stonie ranks 4th on the MLE Eating Rankings. Darron Breeden and Geoffrey Esper rank ahead of him at 3rd and 2nd, respectively. Breeden only has two records to his name (cheese curds, milk, and cookies), but he's ranked highly for a reason.
Esper has a bit of experience beating Chestnut in a couple of events. He also has an incredible 13 records to his name with various foods.
One of his incredible records contained the entire The DraftKings Big Game Snackdown Menu (Whole Pepperoni Pizza, 32oz Chili, 25 Pigs In A Blanket, 100 Cheese Balls, 32oz 8-Layer Dip, 25 Boneless Wings, Whole 12″ Sub, 25 Jalapeño Poppers) all in 5 minutes in 43 seconds.
There aren't any 2022 Nathan's Hot Dog Eating Contest props out for anyone other than Chestnut, but they should be live as we inch closer to the contest.
If you think the king is going down this year, bet on these candidates at the best entertainment sites for your early Nathan's Hot Dog Eating Contest picks.
Top Women's Competitors for 2022
Eating an insane amount of food in one sitting isn't just for the men. Some powerful ladies can really hold their own in eating competitions.
Miki Sudo was on a Chestnut-like stretch of dominance that was snapped last year due to her pregnancy. She was on a 7-year stretch of wins at the Nathan's Hot Dog Eating Contest. S
udo uploaded a YouTube video of her first practice in almost two years, so it's looking like she's on her way to competing this year.
Michelle Lesco was able to win the 2021 Women's contest with Sudo out of the picture, so she's going to have a tougher competition this time around. She finished with 30 and 3 quarters hot dogs in the 10 minutes, while Sudo's lowest ever was 31 hot dogs in her winning stretch.
Other women's competitors in the MLE Top 50 Rankings include Sarah Rodriguez (26th), Larell Marie Mele (30th), Katie Prettyman (35th), Holly Titus (42nd), Kathryn Tesch (44th), Joceyln Walker (45th), Kelly Wong (47th), and Mary Bowers (48th).
Sudo will probably be heavily favored to win this year, so keep an eye out for her odds in your Nathan's Hot Dog Contest prop bets for 2022.
Betting on the Nathan's Hot Dog Eating Contest in 2022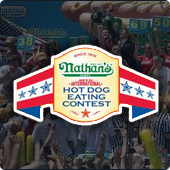 That is all the 2022 Nathan's Hot Dog Eating Contest prop bets currently available, but there will be way more once we get closer to the actual event.
Will it be another year of Joey Chestnut and Miki Sudo dominance? Or are we going to have some underdogs take down the top eaters?
You can't go wrong relying on Chestnut or Sudo to win but look for value in these props. Maybe while you and your family enjoy some fireworks and hot dogs yourself, you can enjoy watching one of the funnest competitions of the year.