Hide Bonus Offers
| | | | | |
| --- | --- | --- | --- | --- |
| #1 | Bovada Sports | 50% Up To $250 | Visit Site | Bovada Sports |
| #2 | BetUS | 125% Up To $2,500 | Visit Site | BetUS |
| #3 | MyBookie | 100% Up To $1,000 | Visit Site | MyBookie |
| #4 | Everygame | 100% Up To $500 | Visit Site | Everygame |
| #5 | BetOnline Sports | 60% Up To $1,000 | Visit Site | BetOnline Sports |
Belmont Stakes 2015 Preview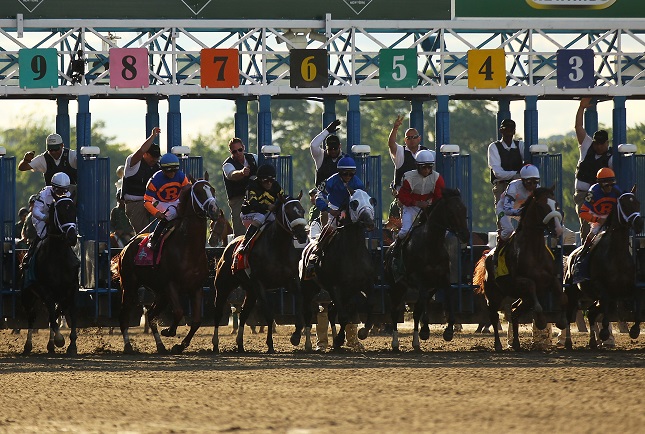 When Affirmed won the Belmont Stakes in 1978, he became the 11th winner of the US Triple Crown of Thoroughbred Racing. Horse racing fans at the time would scarcely have believed that by 2015 there wouldn't have been another winner of the Triple Crown. Nonetheless, nearly forty years on it is Affirmed who remains the last horse to have achieved the feat of winning the Kentucky Derby, the Preakness Stakes, and the Belmont Stakes.
Several horses have come close by winning the first two legs of the Triple Crown, including two in the last three years, but none of them have managed to win all three. It's just possible that this year might be the year though, as American Pharoah is heavily favored to follow up last month's victories in the Kentucky and the Preakness with a win this Saturday. If he makes it first past the post in the 147th running of the Belmont Stakes, the long wait for a Triple Crown will be over.
If the bookmakers are to be believed then American Pharoah's status as a legend of racing is all but established, as they have made him odds on to win the Belmont. He is the clear favorite in a currently confirmed field of eight runners, and many horse racing experts are predicting that this is the horse to finally succeed where so many have failed.
Before you rush to get your bets on though, please remember that this is not the first time a horse has been expected to land the Triple Crown going into the final leg. American Pharoah is undoubtedly one of the best horses to have a chance for a long time, but it would be wrong to assume that his victory at Belmont Park this weekend is a foregone conclusion.
In this preview of the 2015 Belmont Stakes I'm going to start by taking a look at just why it has proved so difficult for any horse to land the Triple Crown over the years. I'll then assess American Pharoah's chances, and those of the other entrants, before offering my thoughts on what bets you should be making.
Why Is The Triple Crown So Hard To Win?
Since Affirmed won the Triple Crown in 1978, a total of 13 horses have won both the Kentucky Derby and the Preakness Stakes. One of those (I'll Have Another in 2012) didn't take part in the Belmont Stakes due to a tendon injury, leaving 12 horses who have started the race with a chance of landing the crown. The following list shows how they all got on.
Spectacular Bid (1979) – Third
Pleasant Colony (1981) – Third
Alysheba (1987) – Fourth
Sunday Silence (1989) – Second
Silver Charm (1997) – Second
Real Quiet (1998) – Second

Charismatic (1999) – Third
War Emblem (2002) – Eighth
Funny Cide (2003) – Third
Smarty Jones (2004) – Second
Big Brown (2008) – Didn't finish
California Chrome – Fourth
Over half of these horses finished in the top three positions, which suggests that we haven't really been that far away from seeing a Triple Crown winner over the last four decades. However, the fact is that no horse has managed to do it – and this begs the question of just why it has proved so difficult.
The main reason in my view is simply that the top horses competing in the three races are generally very close in terms of their abilities. There is the occasional horse that stands out in its age group, but this is quite a rare occurrence these days. As horse racing can be a sport of very fine margins, a horse really needs absolutely everything to go its way across all three races if it is going to win them all. This is unlikely, as anything can happen to stop a fancied horse from getting to the line first. It only takes one misjudgment from the jockey, a slight dip in performance from a horse, or even just a bit of a bad luck.
There are other factors too. Some people would debate how relevant these are, but I (and many others) think that the following all make it very difficult for any horse to land the Triple Crown.
Fatigue
Back in the era of Thoroughbred racing when the Triple Crown was not such a rare achievement, horses were trained and raced fairly hard. Modern horses are generally treated more softly, and as such they are likely to feel the effects of racing three times in the five weeks that separates the first and last leg of the Triple Crown. By the time the Belmont Stakes comes around, any horse that has already won the Kentucky and the Preakness is likely to be feeling some level of fatigue.
Fresher horses
Following on from the above point, it is well worth noting that many horses that enter the Belmont Stakes do so having not raced in both the Kentucky and the Preakness. This means any horse in with a chance of landing the Triple Crown is likely to have to beat horses who are much fresher and therefore are at an advantage.
Longer Distance
At a mile and a half long, the Belmont Stakes is longer than both the Kentucky Derby and the Preakness Stakes. Modern Thoroughbreds are generally bred for pace rather than stamina, and this longer distance can be the undoing of a contender for the Triple Crown. Many horses are used to turning on the pace following the last turn, but at Belmont Park there is still half a mile to go at this stage of the race. It's all too easy for a horse to go too early and run out of energy before the finishing line.
Sandy track
Belmont Park has the nickname "Big Sandy", as the track uses a much sandier mix than most others due to the rain and humidity in the region. While this is not necessarily a major issue, it can affect the performance of some horses.
Can American Pharoah Win The Triple Crown?
I wouldn't be at all surprised if many bettors are put off the idea of backing American Pharoah for the sole reason that it has been so long since a horse won the Triple Crown. While this is probably understandable, there is little doubt in my mind that American Pharoah can take the Belmont Stakes and end the wait for a Triple Crown winner.
Whether he will or not is of course up for debate, but he definitely has what it takes. He's already shown he can win big races against top quality rivals, and also that he can win in difficult circumstances. Against a large and competitive field in the Kentucky Derby, he was behind two front runners coming off the final turn before stretching out and going past both. Against a smaller field in the Preakness Stakes, he hit the front early on a sloppy track and held off all challenges to win by seven lengths.
The manner of these two victories suggests to me that he won't have a problem with the longer distance at Belmont Park. We won't know for sure until we see him over a mile and a half, but I really don't see it being an issue for him. The way he coped with the track at Pimlico would also indicate that he won't be unduly affected by the sandy surface at Belmont Park either.
Fatigue might be an issue of course, although he has looked good in training by all accounts. The biggest worry for his chances probably comes from the fact that he will be up against some fresher opponents. It remains to be seen whether any of them have the class necessary to beat him though.
In summary, what I'm saying is that I think it would be wrong to rule out American Pharoah purely on the basis that it's hard to win a Triple Crown. He is the favorite to win the Belmont Stakes with very good reason, and it would be no surprise at all to see him cross the line in first position. There is definitely a question mark over whether the odds reflect his true chances of winning, as they are very low and there are other runners that are capable of challenging him, but this is an excellent horse for sure.
2015 Belmont Stakes: The Other Contenders
In addition to American Pharoah there are currently seven other horses confirmed for Saturday's race. These are as follows.
Frosted
4/1
Joel Rosario
Kieran McLaughlin
Materiality
5/1
John R. Velazquez
Todd Pletcher
Mubtaahij
12/1
Irad Ortiz Jr.
Mike De Kock
Keen Ice
16/1
Kent Desormeaux
Dale Romans
Madefromlucky
20/1
Javier Castellano
Todd Pletcher
Frammento
25/1
Mike Smith
Nick Zito
Tale of Verve
25/1
Gary Stevens
Dallas Stewart
As the odds above suggest, Frosted and Materiality could both be considered realistic contenders to American Pharoah. These two horses were both highlighted as possible winners of the Kentucky Derby before finishing fourth and sixth respectively. Although neither of them troubled the eventual winner, there were some positives to take out of their performances.
Frosted had been part of the chasing pack for most of the race, following an awkward start, but put in a very impressive finish to closely challenge the third placed horse (Dortmund). Materiality found himself blocked in very early on, and also lost a shoe, but once he found a bit of space he showed a great deal of spirit in his final charge for the line. Neither of these horses raced in the Preakness, so if they can put in strong performances they may well be able to expose any tiredness American Pharoah might suffer from.
Keen Ice (7th), Mubtaahij (8th), and Frammento (11th) also took part in the Kentucky Derby. They weren't exactly embarrassed, but they'll have to put in much improved performances if they are to challenge at Belmont Park. None of them ran in the Preakness though, so they may be able to make the most of their fresh legs. It's also worth noting that Mubtaahij's bloodlines have distance influences, so he may enjoy the longer trip.
Tale of Verve missed the Derby, but he finished second in the Preakness. I don't think too much can be read into this though really; he was seven lengths behind American Pharoah and the sloppy track at Pimlico definitely affected the performances of some of the other runners. I'd be surprised if he managed to match his second place, never mind better it.
Madefromlucky ran in neither the Kentucky nor the Preakness, something he has in common with five of the last eight Belmont Stakes winners. He has raced against American Pharoah before though, finishing six and nine lengths behind him. It is unlikely he will be much closer this time around in my view.
2015 Belmont Stakes: My View
My money was on American Pharoah for both the Kentucky Derby and the Preakness Stakes. If you read my previews for either of those races you'll know that although I wasn't hugely confident in backing him, I did feel that he was the best option each time. My feelings are somewhat similar for the Belmont Stakes. My view is very much that he should win, but I'd be lying if I said I was convinced that he will.
I certainly don't like the odds (around 5/7 seems to be the average at the moment, although you can do a bit better with some bookmakers), and he is again going to have beat a couple of horses that have strong claims. The Belmont Stakes has something of a reputation for surprise results too, which is a little bit of cause for concern.
If you're dead set against backing the favorite, then there are certainly cases to be made for backing Frosted or Materiality. I don't think we saw either of these horses at their best in the Kentucky Derby, and as they both missed the Preakness they will have the benefit of fresher legs. I'd personally be surprised if the winner came from outside the top three in the betting, but this is the Belmont Stakes and longer priced winners are far from unusual.
Overall, though, I feel American Pharoah has enough about him to warrant betting on him once again. I don't think the odds represent great value at all, but sometimes you have to ignore that and just put your money on the most likely outcome. So that's what I'll be doing, and my advice is to do the same.