Odds, Picks, and Predictions for Bellator 283

All eyes turn to the Emerald Queen Casino and Hotel in Tacoma, Washington, this Friday, July 22, for a welterweight clash between Douglas Lima and Jason Jackson.
And as part of this Bellator 283 betting preview, I'll make predictions and picks for the upcoming card. That includes what should be a belter of the main event and the other matches set to feature at the event.
The co-main slot is reserved for a lightweight scrap between Sidney Outlaw and Tofiq Musayev, with Usman Nurmagomedov vs. Chris Gonzalez just behind their counterparts at 155.
I'm also keen to look at the Bellator 283 odds, all of which can be found on US betting sites. You can find the top sites for gambling on the fights below, so feel free to compare prices and markets right now. Or, once you have had a chance to read through my Bellator 283 betting guide.
How We Rate

Safety & Security
You should be able to gamble online without fear. So we only recommend licensed sites that use the latest security and encryption techniques.

Bonuses
Maximize your bankroll with fantastic bonuses. Our recommended sites offer valuable bonuses with fair terms and conditions, including manageable wagering requirements.

Games & Betting
The best sites have the best wagering options. That's why you will find extensive games and betting opportunities on our recommended sites.

Banking
Getting your money to and from your account shouldn't be a hassle. We only recommend sites with a variety of convenient banking methods, including cryptocurrency and e-wallets.
Full Fight Card for Bellator 283: Lima vs. Jackson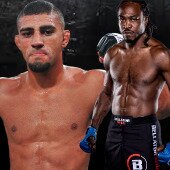 Before we get into my Bellator 283 predictions, it's worth taking a quick minute to see who is fighting on the Lima vs. Jackson card.
Aside from the aforementioned fighters, of course. As you can see, this isn't the strongest bunch of fights that the promotion has ever put together. But that doesn't mean it won't be an exciting card to watch. More importantly, as we get into the Bellator 283 betting odds, you should find plenty of opportunities to win money on the fights.
So, here is the full schedule for Friday's matchups in Washington. The card is split into the main and prelims portions, respectively.
Take a look.
Bellator 283: Lima vs. Jackson Main Card Fights
Welterweight – Douglas Lima vs. Jason Jackson
Lightweight – Sidney Outlaw vs. Tofiq Musayev
Lightweight – Usman Nurmagomedov vs. Chris Gonzalez
Welterweight – Lorenz Larkin vs. Mukhamed Berkhamov
Heavyweight – Davion Franklin vs. Marcelo Golm
Prelims Matches at Bellator 283
Middleweight – Romero Cotton vs. Dalton Rosta
Women's Flyweight – Veta Arteaga vs. Vanessa Porto
Featherweight – Kevin Boehm vs. Akhmed Magomedov
Lightweight – Gadzhi Rabadanov vs. Bobby King
Welterweight – Roman Faraldo vs. Luis Iniguez
Bantamweight – Jaylon Bates vs. Mark Coates
Catchweight (160 lb) – Archie Colgan vs. Bryan Nuro
Douglas Lima is one of the biggest names in mixed martial arts. Once up there with the best MMA fighters to bet on, he has won gamblers a lot of money over the years.
In recent times, however, he has not had a great time of it. Three losses on the bounce have put him in something of a precarious position. But although "The Phenom" has been displaced as the king of 170-pounds, he is still not done.
It's 𝔽𝕚𝕘𝕙𝕥 𝕎𝕖𝕖𝕜!

Douglas Lima 🆚 Jason Jackson | Friday, July 22nd | @SHOSports#Bellator283 pic.twitter.com/5QvVdITgUn

— BellatorMMA (@BellatorMMA) July 18, 2022
I'll make my Douglas Lima vs. Jason Jackson pick a little later. Alongside all of my other Bellator 283 fight picks. So, I'd recommend sticking with me for those if you intend to bet on more than just the main event this Friday.
Before we do that, let's turn this Bellator 283 betting preview up a notch and see what the odds look like.
Latest Bellator 283 Odds for the Fights
Unless you have experience wagering on the fights, the concept of finding the best Bellator odds might go over your head.
If you are a relative newbie to the world of gambling, making Bellator 283 picks might not come naturally. I'm hoping this Bellator 283 betting preview will make things much easier to understand. And as long as you are betting with a reputable site and do your homework on the fighters involved, you should be able to make a good go of it.
So, I've taken the odds for Bellator 283 from the SportsBetting.ag site. These guys are consistently solid when it comes to providing markets for fights in the promotion and fights in other MMA organizations.
Bellator 283 Betting Odds for All Fights on the Card
Fighter
Odds
Douglas Lima
+150
Jason Jackson
-180
Tofiq Musayev
-160
Sidney Outlaw
+130
Chris Gonzalez
+400
Usman Nurmagomedov
-550
Lorenz Larkin
+120
Mukhamed Berkhamov
-150
Marcelo Golm
+190
Davion Franklin
-240
Romero Cotton
+190
Dalton Rosta
-240
Veta Arteaga
+240
Vanessa Porto
-300
Bobby King
+235
Gadzhi Rabadanov
-295
Mark Coates
+400
Jaylon Bates
-600
Luis Iniguez
+500
Roman Faraldo
-700
As you can see, the Bellator 283 odds for Douglas Lima vs. Jason Jackson favors a win for the Jamaican.
Jackson is priced at -180, which means you need to wager $180 to see a $100 return. That is if he wins. While he might not have enjoyed the same dizzying heights in his career, Jackson is a competent fighter and could walk away with a win over a former champion.
Usman Nurmagomedov (-550), Roman Faraldo (-700), and Jaylon Bates (-600) are all heavy favorites to win their fights. That doesn't necessarily mean they will feature in my top Bellator 283 picks. I'm looking for value across this card, and I'm not sure those three represent that.
So, with the odds covered, it's time to move on to Bellator 283 predictions. Let's start with the prelims card first before moving up to the main portion.
Predictions for Bellator 283 Prelims Matches
Dalton Rosta to Beat Romero Cotton by Decision
Vanessa Porto to Beat Veta Arteaga by Decision
Akhmed Magomedov to Beat Kevin Boehm by Decision
Gadzhi Rabadanov to Beat Bobby King by Decision
Roman Faraldo to Beat Luis Iniguez by KO/TKO
Jaylon Bates to Beat Mark Coates by Submission
Archie Colgan to Beat Bryan Nuro by KO/TKO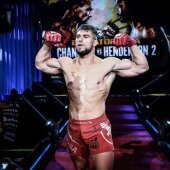 There's no way I'd even dream of leaving out my prelims picks in this Bellator 283 betting preview.
Why? Well, there is an argument to be made that the undercard fights are usually where betting value can be found. The logic is pretty simple — prelims fights don't tend to attract as much action from bettors. A major part of this is because the caliber of the athletes is usually not as good as what you get on the main portion.
The fact that many of these fighters are relatively unknown contributes to some bettors looking elsewhere.
As a committed MMA fan, I like to use my knowledge of some of the 'smaller' names to pounce on potential profits. You can see my picks for the prelims above, so match these up to the odds I provided for you earlier in this Bellator 283 betting preview.
By all means, if you're not comfortable wagering on the undercard, stick to the bigger fights. One of the best things about betting on Bellator fights over those in the UFC is the chance to make money on fighters that come in under the radar.
Naturally, it all comes down to what satisfies you.
It's your money, and you must make the right decisions based on what you want to wager on. If that's the main card fights, let's move on to those. Starting with the main event, of course!
Douglas Lima vs. Jason Jackson Predictions and Pick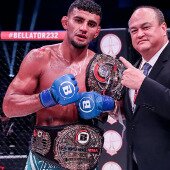 Weight Class: Welterweight
Betting Favorite: Jackson (-180)
Predicted Winner: Jackson by Decision
The alarm bells are ringing for Douglas Lima.
Since moving up to challenge Gegard Mousasi for the middleweight strap in October 2020, the Brazilian has not looked himself. That was always going to be a tall order for The Phenom, who lost a very lopsided decision to the Dutchman.
Lima then defended his 170-pound title against Yaroslav Amosov in June 2021 and was again dominated. The wrestling of the Ukrainian proved to be the difference in this fight, with Lima looking so far out of his depth. A third loss on the bounce to Michael "Venom" Page in London last October means he is in danger of slipping hard with another defeat. I believe he did enough to beat Page in that fight, but the record is all that matters.
So, what does "The Ass Kicking-Machine" bring that Lima has not seen before? Well, in truth, what Lima has struggled to deal with before should be the source of his worries.
Again, I'm looking for value in my Bellator 283 picks.
While Lima is undoubtedly an excellent fighter, he appears to be bereft of ideas when facing a strong wrestler. Not only has Jackson dominated on the floor in his last five, but he has beaten some really solid fighters in the process.
Kiichi Kunimoto – Bellator 260 – Win by Decision
Neiman Gracie – Bellator 255 – Win by Decision
Benson Henderson – Bellator 253 – Win by Decision
Jordan Mein – Bellator 242 – Win by Decision
Kiichi Kunimoto – Bellator 236 – Win by Decision
For Lima to win this fight, he's going to need to show much-improved wrestling defense.
If not, he will struggle. And it's not going to look good at all. By all means, he can catch Jackson out on the feet, but he will be giving up four inches in reach, with the Jamaican coming in with a 78.5″ span.
While he's not certainly not finished, I think we might have seen the best of Douglas Lima inside the cage. His back is up against the wall right now, and this is not a matchup that looks to be favorable to him whatsoever.
If Jackson gets his way, which he should, it will be a five-round beatdown for the favorite. If you'd like to bet on him winning by decision or even KO/TKO, you can check out the latest Bellator 283 props by visiting the top MMA betting apps.
Pick: Jackson by Decision (-115)
More Picks and Predictions for Bellator 283 Main Card Bouts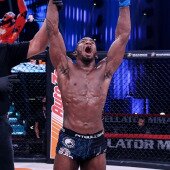 Sidney Outlaw to Beat Tofiq Musayev by Decision
Usman Nurmagomedov to Beat Chris Gonzalez by Submission
Mukhamed Berkhamov to Beat Lorenz Larkin by Decision
Davion Franklin to Beat Marcelo Golm by KO/TKO
We've covered Bellator 283 predictions and picks for Lima vs. Jackson and the prelims. But how about the rest of the main card?
You can see who I'm going for above. Starting with the co-main between Sidney Outlaw vs. Tofiq Musayev, I reckon the smart money is with Outlaw at +130. This is a competitive fight closer to what the oddsmakers have priced it at. The crazy part is that Outlaw had an even higher price at the start of the week.
Khabib and Usman Nurmagomedov reaction to Islam Mamedov escaping the submission attempt from Benson Henderson ..
unfortunately, islam still lost a split decision in a very close fight pic.twitter.com/PD4C3eN8o0

— Pablo_Escobar (@JM97_79) January 30, 2022
I also like the look of Usman Nurmagomedov getting the submission win over Chris Gonzalez. The Russian is looking to improve his record to 15-0 with a win, having tapped Patrik Pietila back in October.
I'm taking Berkhamov to beat Larkin by decision and Franklin to get a knockout over Golm to close out my picks for Bellator 283.
Best Bellator 283 Bets to Target
It's never a bad idea to spread your exposure over some top picks and sleepers/value bets.
But there is simply not enough scope for surprises to justify taking the same approach to my betting picks for Bellator 283 that I would to most cards. So, instead of splitting my bets into the best bets and value plays, I'm lumping four of the top picks together.
These include Bellator 283 props that you can find by visiting the top sites and apps.
Top Bellator 283 Betting Picks
Mukhamed Berkhamov to Win
-150
Usman Nurmagomedov by Submission
-140
Jason Jackson by Decision
-115
As you can see, the Bellator 283 odds for these picks are all under -150.
The only plus money bet for the card is Outlaw. And I'm backing him to win his fight, rather than choosing him and the method of victory. Again, this is a very close contest, so there is clear value in backing the American.
Mukhamed Berkhamov to beat Lorenz Larkin is a good bet. A $150 wager returns $100 in profit if he can get the job done over the former UFC fighter. Which I think he can.
Get on Nurmagomedov to submit Gonzalez and Jackson to beat Lima by way of decision for a solid bunch of bets.
More Bellator 283 Betting Advice to Consider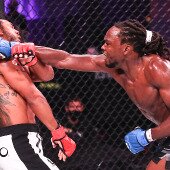 Before I wrap up this Bellator 283 betting preview, I'd like to leave you with a few final nuggets of information.
This card is not what you would call stacked, with plenty of relatively unknown fighters to the casual bettor. That does not mean that it will suck, but it does make it a little more difficult to get a handle on. Experienced bettors who know their MMA will use this to their advantage.
This Bellator 283 betting guide should prepare you for targeting the top wagers up for grabs.
After all, not everyone will have the time to study all the fighters above. If you're not a diehard MMA fan or bettor, this could be the first time you are hearing many of the names we have covered.
To circle back to a point I made a couple of times earlier, you don't have to bet on anything you are uncomfortable with. For example, I don't see much point in digging around for sleeper picks on this card, as it's not likely to produce many upsets.
Of course, there is another major MMA event going down this weekend. It's UFC London and probably has more familiar faces than this. Does that make it a better fight card to bet on? Well, that depends on what you are looking to achieve. But I'd recommend reading the following guide to see if anything catches your eye.
Good luck with your bets!
AUGUST
Casino of the Month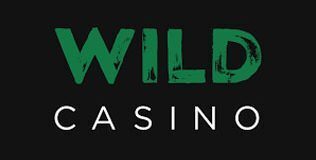 Welcome Bonus
250% up to $5,000
Read Review
Visit Site