Hide Bonus Offers
| | | | | |
| --- | --- | --- | --- | --- |
| #1 | Bovada Sports | 50% Up To $250 | Visit Site | Bovada Sports |
| #2 | BetUS | 125% Up To $2,500 | Visit Site | BetUS |
| #3 | MyBookie | 100% Up To $1,000 | Visit Site | MyBookie |
| #4 | Everygame | 100% Up To $500 | Visit Site | Everygame |
| #5 | BetOnline Sports | 60% Up To $1,000 | Visit Site | BetOnline Sports |
Barcelona vs. Liverpool – Champions League Semi-Final First Leg Betting Preview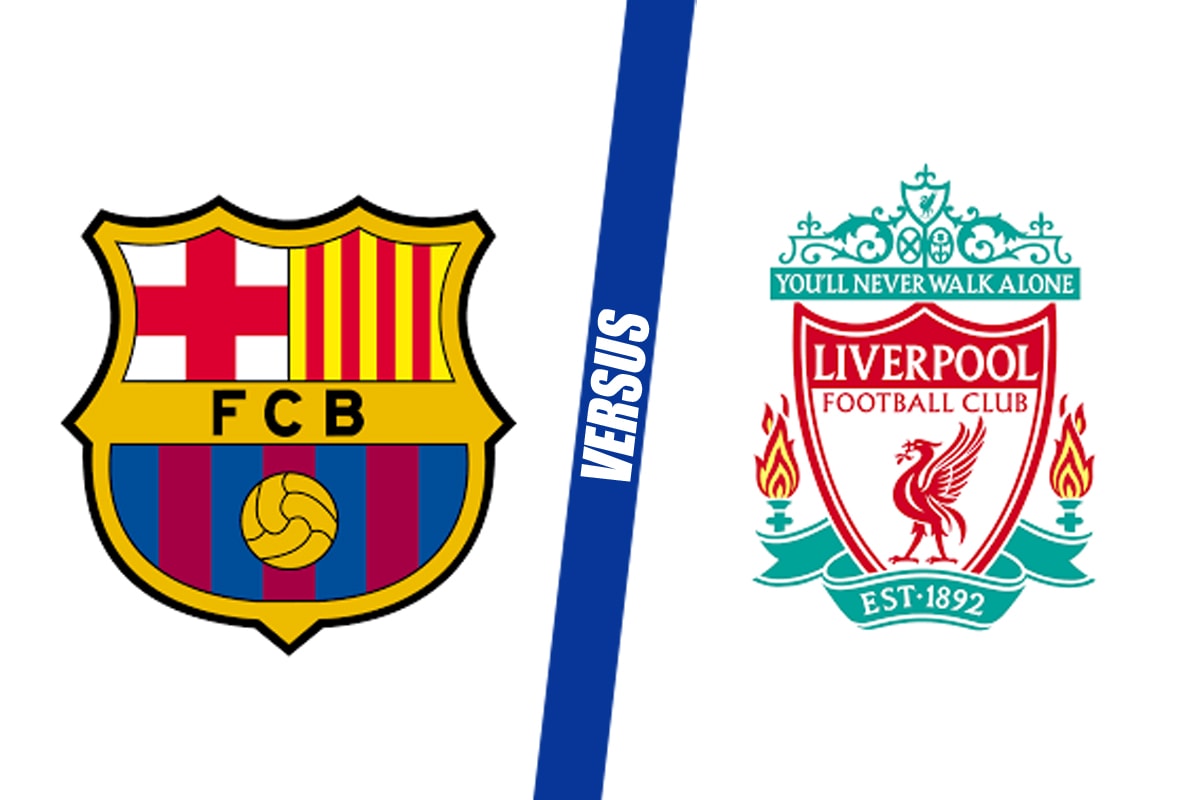 There was very little in the vein of drama to be found in either Barcelona or Liverpool's respective quarter-final campaigns.
Barcelona made light work of Manchester United in the second leg of their tie, brushing Ole Gunnar Solskjaer's men away like an annoying fly on a warm summer's day. Lionel Messi's commanding performance certainly made things look… easy.
The Spanish champions might not be on the same level as vintage Barcelona teams of past, but with arguably the greatest player in the world in their ranks — in addition to a number of other world-class players — it is hard to look past them for glory.
That said, Liverpool is the one team left in the tournament that has the best chance of overcoming Barcelona.
The English club has arguably the best defense in Europe right now. With attacking players like Mo Salah, Sadio Mane, and Roberto Firmino, they also have speed up front that can cause serious damage to Barcelona's hopes of lifting the trophy.
Jurgen Klopp, Liverpool's wily manager, is essentially a few games away from an incredible double of the EPL title and Champions League crown. Will this be too much pressure on the Merseysiders?
With Lionel Messi so important to the Catalans, if he is controlled, will this be the key to overcoming Barcelona?
There are a number of things to consider when betting on Barcelona vs. Liverpool, and I will break these down in a little detail in this preview. I will also be revealing my predictions and a few of the best bets out there for this Champions League semi-final.
First things first, let's take a look at the odds for this game.
Latest Barcelona vs. Liverpool Odds
The first thing that really jumps out about these odds (courtesy of Bovada) is Liverpool at +315.
Granted, Liverpool has not won a major trophy in quite some time, but they are currently battling with Manchester City for the EPL and are in great form.
In 43 games between English clubs and Barcelona at the Camp Nou, only one English team has come away with a victory. Twice.
Can you guess who that team is? Yes, that's right. Liverpool.
While this is a nice statistic to consider when betting on Barcelona vs. Liverpool, it does also highlight just how difficult the Spanish champions are to beat at home.
As such, the odds of -140 for Barcelona to win are pretty much justified. Well, kind of, right?
If Liverpool is to progress to the semis, then they will need to get something out of the first leg in Barcelona. They will, at least, need to score.
This is something Liverpool has done throughout this tournament so far.
How Liverpool Reached the Semi-Finals
Last season's beaten finalists, Liverpool, have enjoyed a campaign that certainly improved as the tournament progressed.
Despite three defeats in Group C, Liverpool's superior goal difference saw them squeeze past Napoli to book a last 16 clash with Bayern Munich. Over the course of two legs, the English team took the spoils with a 3-1 victory on aggregate.
You can argue that Liverpool was fortunate to draw Porto in the next round, given that the Portuguese were widely regarded as the weakest team left in the competition. Rather than drawing the likes of Barcelona, Manchester City, Juventus, Tottenham, Ajax, or Manchester United, Klopp's men would have a clearer path to the semi-finals.
No disrespect to Porto, but they were always going to struggle against a team of Liverpool's quality.
In the first leg at Anfield, Liverpool scored twice and kept a clean sheet to set themselves up nicely for the return leg. Porto, who had failed to hit the back of the net in England and would therefore not have any away goals to lean on, would now have to chase the tie at home.
This gave Liverpool the perfect platform to do what they do best.
A Breeze in Portugal
To say that Liverpool's campaign has been one without anything flashy or worthy of significant press attention would be a good call. They have delivered, at times, in what seems like a very low-key manner.
Traveling to Porto, Liverpool knew that they had a two-goal advantage and that their opponents would invariably have to attack in order to have any chance of progressing on the night.
This allowed Liverpool to wait before hitting back on the counter, as and when they saw fit. Unlike other games they have played in the EPL — where making a single mistake at this point could cost them the league title — Liverpool was not as anxious and played as though they were enjoying their soccer.
This was despite Porto really standing up to their opponents.
They had some excellent fluidity and inventiveness to their attacks, with some absolutely blinding speed capable of unlocking Liverpool's sturdy defense.
However, Liverpool showed the type of rock-solid congruity between van Dijk and Fabinho — in addition to excellent positioning and a refusal to budge — that could see them go all the way this year.
To leave Porto with a final score of 4-1 was very encouraging. Klopp will have been delighted to see an excellent display at both ends of the field.
Looking ahead, it is hard to argue with a more complete team than Liverpool remaining in this competition. Yes, confidence is high, but there is a discernible difference between Porto and Barcelona that Liverpool will be very aware of.
Get it right in the Nou Camp, and anything can happen.
Besides, this Liverpool team should be confident of winning anywhere in Europe, and that includes Barcelona.
How Barcelona Reached the Semi-Finals
Barcelona topped Group B with 14 points from four wins and two draws.
In a group containing Tottenham Hotspur, Inter Milan, and PSV Eindhoven, the Spanish champions scored 14 goals and conceded just five. Lionel Messi and company never really looked troubled throughout the group stages.
A 5-1 aggregate victory over Lyon sent the Catalans to the quarters. Drawn against a resurgent Manchester United, a team many had expected to challenge Barcelona, meant that the Spaniards had to potentially work harder than they had against the French outfit.
However, a 1-0 victory in Manchester set them up nicely for the return leg at home, where Messi's magic inspired the team to a very impressive 3-0 victory and a 4-0 score on aggregate.
Once again, Barcelona found themselves in the semis of the Champions League.
This year, with the winners of the last three Champions League titles, Real Madrid, out of the tournament, they will certainly feel confident of keeping the cup in Spain. Manchester City, the favorite for the title, has also been eliminated.
So, what did we learn from Barcelona against Manchester United?
Barcelona Is the Team to Beat
There is no other way of looking at it.
In terms of their star quality, their pedigree in this tournament, and their ability to win big games and when it matters, there is no better team in the tournament.
Against Manchester United in the second leg of the Champions League quarter-finals, this was evident. Sure, their 4-0 aggregate score was certainly telling, but how they managed to dominate while keeping United at bay was very impressive indeed.
Messi was, predictably, at the center of all things Barca, but there were a couple of statistical surprises that went over the heads of many fans.
For one, this is Barcelona's first semi-final in four years. Additionally, this was the first time Messi had scored in the quarter-finals of the Champions League in 12 attempts.
Put simply, when Messi plays well, Barcelona wins.
Messi did just that as he intercepted Ashley Young's dreadful pass before deftly curling his shot into the net on the 16-minute mark. Another defensive blunder allowed Messi to make it 2-0 in the first half.
Philippe Coutinho's beautiful finesse shot ended the contest then and there to send Barcelona to the next round.
United was low on quality and even shorter on ideas, but you have to say that Barcelona was absolutely spot on. With such magic in the team, Liverpool will no doubt be aware of how dangerous it will be to give them even an inch of an advantage on May 1.
Barcelona vs. Liverpool – Who Will Win?
Barcelona has yet to lose a single game in this year's tournament and has especially looked solid at home.
They are a team playing with confidence and purpose and will be looking to stamp their authority on the game from the get-go. With former Liverpool stars Luis Suarez and Philippe Coutinho in their ranks, they will also have players itching to get one over on their former team.
While Barcelona can certainly lift the tempo at home and go straight for the jugular, they understand the risks involved with doing so against a team like Liverpool.
The English club's combination of a rock-solid defense and a pacey counterattacking threat means that there might be a chance of Barcelona playing with more patience.
Their game effectively relies on possession, so don't expect there to be mad, brainless rushes into the box or loose, long balls and impulsive attacks. For these reasons, I don't believe there will be many goals in this game.
In midfield, Fabinho will be aiming to put out a few fires and get into the faces of his counterparts. If Liverpool can disrupt Barcelona's flow while maintaining their shape, they will limit their opportunities for sure.
The Key to This Game
Lionel Messi.
Stop Messi, and you're halfway there to puncturing a big old hole in Barcelona's balloon. However, with the Argentine being probably the best player in the world right now, this is a lot easier said than done.
Liverpool's defense is, at least on paper, the best in the Champions League. However, it is far from impregnable, and Barcelona will likely score at least once.
That said, Liverpool is more than just solid defense. They have their own attacking talent in Salah, Mane, and Firmino. If they can score early and put the pressure on Barcelona, they can turn the tables on the Catalans and force them into the corner.
Regardless, I can see a correlation between how van Dijk and Matip handle Messi and the end result of this game. If Messi can perform without a harness, then Liverpool will be staring down the barrel of defeat.
However, if Klopp gets his tactics right and the Liverpool players can stand up to attacking threat posed by Barcelona, they could very well nick a win.
I can't see Liverpool winning by more than one goal, however, and I don't believe that Barcelona will go scoreless at home.
Liverpool is well worth a shot at +345, but I believe the value bet here is the draw at +315.
Top Bets for Barcelona vs. Liverpool
Having looked through a number of markets for Barcelona vs. Liverpool, I came across a few bets in particular that really stood out.
I don't believe this game is going to be an absolute goal-fest. Conversely, teams tend to get a little cagier when it comes to the semi-finals of a cup competition as the smallest error can effectively knock them out.
With Barcelona at home, they will know that any goal scored by Liverpool could potentially swing the contest in the English club's favor, due to away goals. As such, expect Barcelona to adopt a more defense-minded approach, especially in the first half.
Liverpool will be pushing for a goal, and I think they could get one before half-time. Odds of Liverpool scoring first are decent at +160. However, if you back Liverpool to score one goal and win the half 1-0, you can get +250.
Liverpool to win this game 1-0 at +1400 does seem a little bit of a longshot, although not the craziest scenario of all time. Those odds, once again, are well worth a punt.
However, given my earlier prediction, I can see this game ending in a draw. After all, Liverpool and Barcelona have solid defenses and will be playing it safe for long periods of the game.
This tie won't be anywhere near as open as the second leg, so odds of the game ending in a 1-1 draw at +650 are very appealing.
Final Thoughts
Barcelona vs. Liverpool is certainly the tie of the round and one that fans of both sides will be looking forward to.
Given Barcelona's strengths, you have to make them favorites to win at home. With Messi, Suarez, Coutinho, and Rakitic in their ranks, they have the creativity and attacking nous to cut up even the best defenses in world soccer.
As it happens, Liverpool's defense is arguably the best in global soccer right now.
With the peerless Virgil van Dijk at the back, the Merseysiders have a newfound sense of belief that has taken them to the summit of the EPL as well as the semi-finals of the Champions League.
There is no doubt that a trophy-less season for Liverpool this year would be absolutely unacceptable, given the circumstances, so expect a big performance from The Reds in Catalonia.
The question is, will such a performance be good enough to stop Barcelona?