Hide Bonus Offers
| | | | | |
| --- | --- | --- | --- | --- |
| #1 | Bovada Sports | 50% Up To $250 | Visit Site | Bovada Sports |
| #2 | BetUS | 125% Up To $2,500 | Visit Site | BetUS |
| #3 | MyBookie | 100% Up To $1,000 | Visit Site | MyBookie |
| #4 | Everygame | 100% Up To $500 | Visit Site | Everygame |
| #5 | BetOnline Sports | 60% Up To $1,000 | Visit Site | BetOnline Sports |
Why Backing Keith Thurman to Beat Manny Pacquiao Makes so Much Sense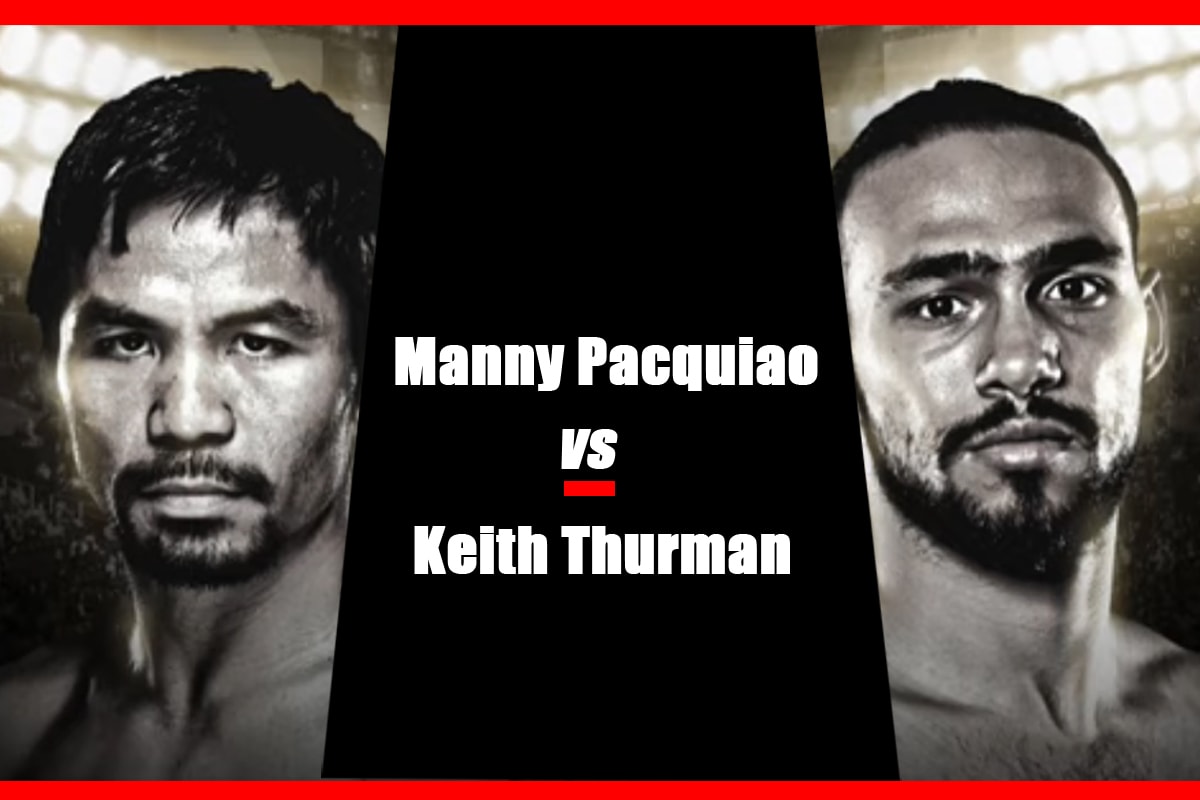 It's official.
Manny Pacquiao will defend his WBA (Super) welterweight title against Keith "One Time" Thurman in front of what sources say should be a packed crowd at the MGM Garden Arena on July 20.
Those of us old enough to remember Pacquiao as a young, fast, hungry fighter may be torn on whether or not he should still be fighting. But with back-to-back wins over Lucas Matthysse and Adrien Broner, Pacquiao has proven he has still got it.
Well, kind of.
It is safe to assume that the betting sites will see a lot of activity on this one, given the profiles of Pacquiao and Thurman.
Being realistic, this will not be the same Manny Pacquiao that blasted through opponent after opponent in the 2000s to earn himself the "Fighter of the Decade" award. At 40 years old, we know that he has little left to give the boxing game, not that he owes anything to anyone.
Well, that statement may not be true. It is perhaps Pacquiao's much-publicized debts to the IRS that has him still lacing up his gloves, but who am I to judge?
All I know is that Pacquiao will be facing a fighter a full decade younger than him in Thurman. One that has the power to knock him out for the first time since Juan Manuel Marquez inflicted one of the most brutal shots ever seen in a ring to fold him in half in 2012.
The Filipino legend is facing a big task on July 20. Let's see how big of a chance the bookmakers give him in this fight.
Latest Pacquiao vs. Thurman Odds
Manny Pacquiao to Win
+110
These are accurate at the time of writing but subject to change. Visit any of the top boxing betting sites to get the latest odds when you're ready to bet.
Okay, first things first. Pacquiao is the defending champion of the WBA (Regular) welterweight strap he won against Matthysse in July 2018.
He showed that he can still get to it inside the ropes against the Argentine veteran and outboxed the controversial Adrien Broner in January this year. Fans of the 40-year-old living legend might think he has enough to do what no one else has in the sport and beat Thurman on the night.
Thurman is -140 to beat Pacquiao, which, for me, just might make this the most valuable bet I have seen this year.
"One Time" is the defending WBA (Super) welterweight strap and is an impressive 29-0 heading into this bout. Thurman has some big wins on his resume, with victories over Danny Garcia and Shawn Porter arguably the most impressive.
Adding Pacquiao's name to his list of victims seems very important to Thurman, and he is certainly the favorite to win this bout.
Tale of the Tape
| Manny Pacquiao | | Keith Thurman |
| --- | --- | --- |
| 61 | Wins | 29 |
| 7 | Losses | 0 |
| 39 | KOs | 22 |
| 2 | Draws | 0 |
| 70 | Total Bouts | 29 |
| 56% | KO% | 76% |
| 5'6″ | Height | 5'9″ |
| 67″ | Reach | 69″ |
| Southpaw | Stance | Orthodox |
| Filipino | Nationality | American |
| 40 | Age | 30 |
Pacquiao comes in at a full 10 years senior to Thurman.
The American also holds advantages in the height and reach department.
Thurman has a 76% knockout ratio in 29 fights, having only gone the distance a handful of times in a professional career entering its 12th year.
The age factor will certainly dominate pre-fight discussions over this bout. When Thurman made his pro debut in 2007, Pacquiao was a four-division world champion who would later become the first man in history to win titles in eight separate weight classes.
Comparing the Recent Form of Pacquiao and Thurman
Given the occasion, it makes sense to take a little look back at what got these two fighters involved in a head-to-head against each other.
Just a couple of years ago, Pacquiao appeared to be staring down the barrel of a no-turning-back retirement from the sport. Yet, it is 2019, and he is aiming to embark on a run that will take him to God only knows where.
Thurman is among a handful of fighters at 147 pounds with a claim to the throne of the best fighter in the division. In order to maximize the full extent of his career, Thurman is seeking big names for as little risk as possible.
There is no question that Pacquiao is taking the bigger chance in this bout, but then again, he has less to lose, right?
Pacquiao's Last Five Fights
Adrien Broner – Win by Unanimous Decision – Jan 2019
Lucas Matthysse – Win by TKO – Jul 2018
Jeff Horn – Loss by Unanimous Decision – Jul 2017
Jessie Vargas – Win by Unanimous Decision – Nov 2016
Timothy Bradley – Win by Unanimous Decision – Apr 2016
Pacquiao's last appearance inside the ropes came against former Floyd Mayweather Jr. prodigy, Adrien Broner.
Given Pacquiao's less than secret desire to earn himself another gargantuan payday against Mayweather, some believed that this fight would precede the rematch that no one is asking for, yet many of us would tune in for.
Still, that didn't happen, and it went a little against the narrative that many had foreseen subsequent to this win for Pacquiao. This was a win that a large number of the boxing community, as it stands, did see going in favor of Pac-Man.
Although Pacquiao couldn't earn a stoppage against the seriously profligate Broner, he did have his hand raised at the end of the bout. That was seemingly enough to stick around and force a fight against one of the big guys of the division.
Prior to Broner, the Filipino congressman dismantled a jaded Lucas Matthysse at the Axiata Arena in Kuala Lumpur, Malaysia. Pacquiao left the ring with the first stoppage win since a TKO over Miguel Cotto in 2009.
Pacquiao had, before then, mostly engaged in 12-round bouts. His controversial loss to Jeff Horn in Brisbane, Australia, was perhaps the most well-publicized of them all. Following that fight, it was assumed that we had seen the last of Pacquiao, so it is a testament to the man that he is still going.
UD wins over Jessie Vargas and Timothy Bradley in November and April 2016, respectively, round out his last five appearances in the ring.
Thurman's Last Five Fights
Josesito Lopez – Win by Majority Decision – Jan 2019
Danny Garcia – Win by Split Decision – Mar 2017
Shawn Porter – Win by Unanimous Decision – Jun 2016
Luis Collazo – Win by RTD – Jul 2015
Roberto Guerrero – Win by Unanimous Decision – May 2015
For a man who goes by the name "One Time" inside the ring, Keith Thurman's lack of knockouts over the past four years means he should probably find a new one.
Against Josesito Lopez in January, Thurman looked, at times, as though he might find himself at the end of a knockout shot.
Shaking off a 22-month layoff following elbow and hand surgeries, Thurman needed rounds. The ring rust certainly showed itself throughout his 12-round performance, with the Floridian looking one-dimensional and blunt as he tried to overcome the unfancied 34-year-old.
Thurman might have registered one of the worst performances of his career but earned a majority decision to keep his title and save his face.
The effort against Lopez was far from the WBC welterweight title-winning split decision win over the previously unbeaten Danny Garcia. Thurman got his tactics spot on that night, as he employed sharp, straight shots and moved quickly to avoid Garcia's famous counter hooks.
Having refused a tune-up bout before taking on Garcia, Thurman ended a nine-month layoff with perhaps the best win of his career.
Prior to this win, his unanimous decision victory over Shawn Porter will have been the highlight of his resume. Thurman rocked Porter on multiple occasions and survived an onslaught to take the win on all three judges' scorecards.
The win over Porter followed two victories in 2015 over Robert Guerrero and Luis Collazo.
Do I Bet on Pacquiao or Thurman?
The bookmakers have this one as a very close bout.
Despite Pacquiao being 40 years old, he is still seen as strong enough to beat Thurman over the course of 12 rounds. There is no way that a win for Pacquiao will come by way of stoppage — that's for sure — so anyone betting on the eight-division champion will need to take this into account.
If you are wondering why Pacquiao can't knock out Thurman, then consider this: Pacquiao has one stoppage in ten years, and "One Time" has never been knocked out.
Thurman has only ever been dropped once in his career, so the chances of Pacquiao pulling a knockout out of the bag are minute, at best.
Yes, anything can happen when two fighters get into the ring, but you should certainly not let nostalgia get in the way of a good bet.
That's what it is, by the way. It's nostalgia. I mean, if you backed Pacquiao to knock guys out ten years ago and made loads of money when he did, you might want to recreate that success.
But please keep in mind that this is not the same Pacquiao as ten years ago.
Not even close.
Thurman Is the Value Bet
At odds of -140, Keith Thurman to beat Manny Pacquiao is a steal.
Backing the latter to win is +140, which is nowhere near attractive enough to even think about. Pacquiao is not fighting Matthysse or Broner here — both men who should have stuck to fighting at 140-pounds — but one of the most dangerous, unbeaten welterweights on the planet.
Other than Terence Crawford, there is no one at welterweight on his level that has never lost a fight.
While Thurman might have looked shaky in his last bout, he was shaking off nearly two years of ring rust. Regardless of his performance, he still got the job done.
When the inevitable southpaw question pops its head up, you can tell anyone and everyone that hasn't done their homework that Thurman has form in beating lefties.
Luis Collazo, Robert Guerrero, Carlos Quintana, Marcus Luck, and Carlos Peña have all been figured out and dispatched by "One Time," and I believe Pacquiao will be added to that list at the end of the fight.
One area where Thurman will be tested by Pacquiao is the state of his conditioning. Pacquiao's swarming, volume punching style could pose a few problems for the younger man, but I believe the Filipino great will be quickly deterred once he feels his power.
For what it's worth, I have always liked Pacquiao and have been a fan since the mid-2000s. At this stage in the game, I don't believe he is fighting for anything other than paychecks.
If Pacquiao's prime motivation for fighting is to make money, then don't feel guilty in backing against him to make some cash for yourself. Get on Keith Thurman at ridiculously good odds of -140 to do the business against Pac-Man on July 20.
Final Thoughts
There are a lot of maybes that can cross the mind when deciding who to back in a big fight.
"Maybe the other guy will win" is one. "Maybe I should have backed a draw," another, or "Maybe I should wait a little closer to the fight to see if the odds improve" is also popular pre-bet anxiety.
With odds of -140 on Keith Thurman to beat Manny Pacquiao, I can't see any of these things coming into play. These odds scream excellent value and should be snapped up prior to the big fight.
Of course, in gambling, there are no certainties. There is a chance that Pacquiao could win the fight. That said, with odds of +110, I don't see his chances coming anywhere near that price.
I know who my money will be on come July 20.