Assessing the Early Betting Lines for Week 7 of the 2018 NFL Season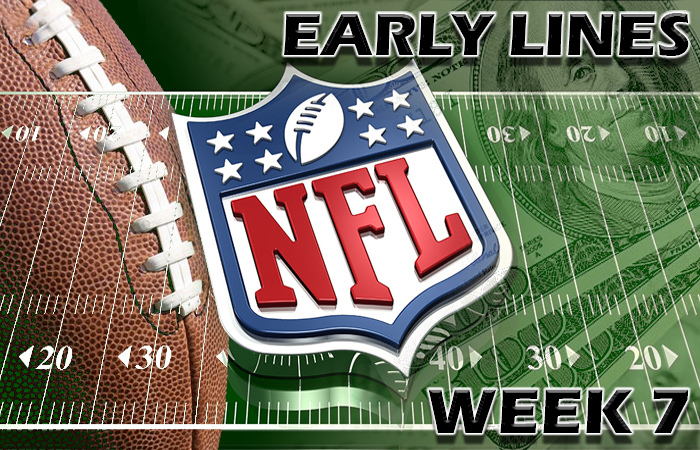 The NFL can be rather tricky. You can try to take advantage of appealing betting value early in the week with initial lines, or you can wait to hop on altered lines after NFL betting sites update spreads and odds based on injuries and matchups.
Sometimes, though, waiting doesn't really change a thing.
Take the Miami Dolphins, for instance. They were always a poor bet to beat the Chicago Bears going into week six. At full strength, Miami was always going to be an underdog in that game, and they probably weren't going to win.
Eliminate an injured Ryan Tannehill from that equation, and they were locks to lose. I mean, Brock Osweiler of all people was stepping up to face an elite defense on short notice.
Had sports bettors waited for that news, I'd imagine 99% of them would have bet even harder on Chicago.
On one hand, betting in favor of the Bears early in the week would have given you the best price and the most upside. The second news broke that Tannehill would be out, the lines shifted again in Chicago's favor after all.
But that's not how the game went in the end. Instead, Miami actually jumped out to an early lead, forced overtime, and eventually won. Line movement or not, the home team underdogs pulled out a win that few really saw coming.
Whether you bet early or late, you probably were pulling for Chicago there, and the Dolphins still won. This tells us two things: home underdogs are always worth a look if the logic is there, and when you bet doesn't always have to matter.
I still think taking a look at early NFL betting lines can be advantageous, though.
Going into last week, I hopped on the early lines and improved upon my 38-36-2 season record, adding a solid 9-6 mark to the pile.
I took advantage of some fantastic prices and really only got burned by the Colts not showing up in New York and the Vikings and Rams both failing to cover the spread.
Miami upsetting the Bears at home was also a surprise, while I missed a couple of other games. I always aim for 60% or better in any sports picks I do, but in today's NFL, anything over 50% seems like it's a success.
Whether you agree or not, the overall 47-42-2 mark is at least above .500, and in week six alone, my insight helped score some decent value.
It's onward and upward come week seven, so let's dive in and see where the early NFL prices should guide us.
Denver Broncos (-1.5) @ Arizona Cardinals (+1.5) Total: 39.5
The Broncos and Cardinals get us started on Thursday Night Football, doing nothing to erase memories of bad TNF games of the past.
The short-week contests have actually been surprisingly good in 2018, but this has the makings of a snoozer. Denver started the year off at 2-0 but have slipped considerably behind a further regressing Case Keenum and an overrated defense.
Todd Gurley completely destroyed Denver's run defense, piling on over 200 yards in a 23-20 Rams win. I don't know if David Johnson does that, but the matchup favors him, and he is bound to pop off eventually.
Arizona gives you fun dog money at home, and I'm going to go with them here. It's rarely easy to win in the desert, and I simply don't trust the Broncos right now. Head coach Vance Joseph might be one more defeat from getting booted, too.
PICK
Arizona Cardinals (+1.5)
-105
Tennessee Titans (+6.5) @ Los Angeles Chargers (-6.5) Total: 45
The Titans got housed by the Ravens last week, and now they have to turn around and play a tough road game in LA. The Bolts did well to survive a cross-country trip to Cleveland, where they smoked the Browns and moved to 4-2.
Normally, I'd point to Tennessee's solid defense and respectable 3-3 start, but they have to go on the road against a better squad. That, and the Bolts simply have way more talent and are now one game behind the Chiefs in the AFC West.
LA has too much going for them to blow this one. I don't like the spread, though, so I'm just taking the Chargers to escape with the win.
PICK
Los Angeles Chargers to Win
N/A
Cleveland Browns (+3) @ Tampa Bay Buccaneers (-3) Total: 49.5
This is a tough one, as the Browns have been largely competitive in 2018 but got absolutely housed at home by the Chargers.
That loss revealed Baker Mayfield's flaws as a passer, and while a matchup with the Bucs is favorable, his downside is still rather prevalent.
Tampa Bay, meanwhile, showed real offensive life in a shootout loss to the rival Falcons in week six. Road division games are not easy to secure, but they put up a fight and almost came away with a win.
The Bucs are back home and get a mild -3 line. I'll take them to get the win by more than a field goal.
PICK
Tampa Bay Buccaneers (-3)
-115
Carolina Panthers (+4) @ Philadelphia Eagles (-4) Total: 45
Here are two teams possibly headed in different directions, as the Panthers got out-classed in D.C. versus the Redskins last week, and the Eagles seem ready to turn things up a notch.
Carolina's defense has slowly been exposed over their last two games, and I don't know how they're going to correct things enough to stifle Carson Wentz and this Philly passing attack.
The Eagles also boast one of the stingiest run defenses in all of football, so a run-heavy Panthers team could be in serious trouble here. I'm not completely convinced this will be a one-sided affair, however, so I'll just grab the Eagles to get the win.
PICK
Philadelphia Eagles to Win
N/A
Buffalo Bills (+6.5) @ Indianapolis Colts (-6.5) Total: N/A
The Bills keep hanging around in games, but their quarterback play continues to be horrendous no matter who steps in under center. Whether it's Josh Allen or Nathan Peterman under center this week, it's going to be awfully tough to trust this Buffalo offense.
The good news for the Bills is that the Colts can't defend, apparently. The Jets put up 42 points against them in week six and also intercepted Andrew Luck three times. Luck did keep it interesting late, however, further illustrating how good he can be with precious few weapons around him.
I hate the spread here, but I love the Colts to get their second win of the year in their own backyard. Luck could get T.Y. Hilton back, but even if he doesn't, this is a matchup the win-starved Colts should take full advantage of.
PICK
Indianapolis Colts to Win
N/A
Minnesota Vikings (-3) @ New York Jets (+3) Total: 47
To this point, I haven't been over the moon for many road teams, but I love the Vikings here. Minnesota is riding high with two straight wins and will march into New York ready to hand Sam Darnold one of his coined turnover-meltdown outings.
Minnesota has looked pretty sharp over the last two weeks, largely because they've had to. A slow start had them behind the 8-ball a bit, and they can't really afford to get tripped up at the moment.
Road wins aren't easy to come by, but I like the value here and think Minnesota can cover this tiny spread.
PICK
Minnesota Vikings (-3)
-120
Houston Texans (+4.5) @ Jacksonville Jaguars (-4.5) Total: 42.5
The Texans are looking pretty good with three straight wins behind them, while they've quickly recovered from an ugly 0-3 start. Going into Jacksonville and taking down a hungry Jaguars team on the road won't be easy, however.
Houston certainly looks like the better team at the moment, as the Jags have gotten completely dismantled by the Chiefs and Cowboys the last two weeks.
While conventional wisdom would have you leaning in favor of the red-hot Texans, I think their run ends against a defense that can still be elite. Jacksonville is just too talented to cough up a third straight defeat, especially to a rival on their home field.
The likely return of star running back Leonard Fournette should propel the Jags to a big win in this spot, and I have no qualms backing them with this 4.5-point spread on their home field.
PICK
Jacksonville Jaguars (-4.5)
-115
New Orleans Saints (+2.5) @ Baltimore Ravens (-2.5) Total: 50
The Saints look as good as anyone, as they crushed the Redskins in week five and come out of their bye week refreshed at a sparkling 4-1.
The only problem here is that they could be a tad rusty after the week off, and they have to take it to the road against a methodical Ravens team that knows how to defend.
I think the Saints are fun underdogs in this spot, but Baltimore admittedly has the edge at home given the style of play they can enforce on opponents. More than anything, I'm just banking on the Saints getting slowed down in this one. They might still win, but I'm shooting for the under in this one.
New England Patriots @ Chicago Bears Total: N/A
There is no line out for this game yet, but it will be an interesting one. The Bears lost in overtime to Brock Osweiler, of all people, while New England just out-lasted the Chiefs in a 43-40 marathon thriller on Sunday Night Football.
Chicago has the vastly superior defense, but the Pats are equipped to handle that, and I don't yet fully trust Mitchell Trubisky. The early lines do us no favor with this one, but whatever the numbers are, I don't see New England dropping a winnable game like this.
PICK
New England Patriots to Win
N/A
Detroit Lions @ Miami Dolphins Total: N/A
The Lions are back from their one-week break, and they get to head to South Beach to battle the 4-2 Dolphins.
I did not anticipate Miami winning their week six battle with the Bears, so a team I felt I had pegged has thrown me for a bit of a loop.
I don't trust either of these teams, but the Lions have more offensive talent and at times have even looked dangerous on defense. This isn't an easy place to grab a road win, but the Fins have largely been frauds in 2018.
I still don't know how Miami pulled that week six win out, but I doubt they do it again in week seven.
PICK
Detroit Lions to Win
N/A
Dallas Cowboys (+1.5) @ Washington Redskins (-1.5) Total: 41
We get a fun NFC East rivalry clash in D.C. in week seven, where the Redskins and Cowboys get to prove who is Philly's true threat inside this division.
I don't think anyone knows the answer to that just yet, as both the Redskins and Cowboys have been very inconsistent to this point.
Dallas has been very tough to trust on the road this year, but the way they completely demolished the Jaguars has me interested. Look for a tight game that goes down to the wire, but Dallas as the road dog is pretty appealing.
This spread is way too tight to roll with, so just go with the Cowboys at a better price to get the win.
PICK
Dallas Cowboys to Win
N/A
Los Angeles Rams (-11) @ San Francisco 49ers (+11) Total: N/A
Teams have started giving the Rams something to think about, but no matter what is thrown at them, Los Angeles seems to have an answer for it. Their resilience is almost as impressive as their dominance, which is one reason why they're probably winning the Super Bowl this year.
The Rams are too good to come into San Francisco and lay an egg. The 49ers are beaten down right now and will be playing this divisional clash on a short week.
This spread is a bit gaudy for a Rams team that has failed to cover lately, but this is one spot to aim high and bank on them getting it. Even better? You're getting elite value at their +100 price to make it happen.
PICK
Los Angeles Rams (-11)
+100
Cincinnati Bengals @ Kansas City Chiefs Total: N/A
Patrick Mahomes and Tyreek Hill are a deadly pairing. They're so good that they almost took down the Pats on the road despite playing just one half of high-level football.
KC heads home to lick their wounds after sustaining their first defeat of the year. Maybe the mystique is gone, but I doubt it. The Bengals look to do the same after losing to the Steelers, but winning in Kansas City is no easy task, and the Chiefs are tough to keep up with.
The over is obviously in play for this one, but I'll keep it simple:the Chiefs are bouncing back at home.
PICK
Kansas City Chiefs to Win
N/A
New York Giants (+5.5) @ Atlanta Falcons (-5.5) Total: 54
The last game of the week is a snoozer at first glance, as the awful Giants head to Atlanta to take on the Falcons. It's only a bummer based on records, though, as the lack of defense could prop this up as a really fun game.
Vegas seems to agree based on the 54 total going into week seven, but I'm a tad shocked to see such a tight spread. New York doesn't have much fight in them, and they are highly dysfunctional.
I'm sure the Giants will put up some points here, but in a hostile environment against a Falcons team that absolutely needs to win this one, I can't imagine them pulling through for bettors.
The over and Atlanta in about every regard are the way to go here.
PICK
Atlanta Falcons (-5.5)
-110
Summary
For the most part, taking advantage of early NFL betting lines tends to work out (assuming you choose your wagers carefully, of course).
In those rare situations where it doesn't, you either need to embrace the volatility of pro football or avoid games where the injury news is so dicey or slow to emerge that it's a strong bet to negatively impact your wager.
Like I said in the introduction, I was never on the Dolphins, and Tannehill being ruled out at the last second would have only pushed me further off of them. You just need to take the lumps and move on.
Fortunately, I pieced together a winning week, so missing out on a huge home dog like that wasn't a big deal.
I hope that last week's picks found you well and that my insight for week seven can do the same. Whether you roll with my favorite week seven NFL wagers or not, I wish you luck.
Enjoy the games this week!