Hide Bonus Offers
| | | | | |
| --- | --- | --- | --- | --- |
| #1 | Bovada Sports | 50% Up To $250 | Visit Site | Bovada Sports |
| #2 | BetUS | 125% Up To $2,500 | Visit Site | BetUS |
| #3 | MyBookie | 100% Up To $1,000 | Visit Site | MyBookie |
| #4 | Everygame | 100% Up To $500 | Visit Site | Everygame |
| #5 | BetOnline Sports | 60% Up To $1,000 | Visit Site | BetOnline Sports |
Assessing the Odds for UK's Next Conservative Party Leader

Boris Johnson's days as the Prime Minister of Britain are numbered.
Johnson's handling of everything from Brexit to the global pandemic has seen his satisfaction rating drop to an all-time low.
If struggles with the protocol in the North of Ireland continue to draw attention from world leaders such as US President Joe Biden, "Bojo" could be gone by 2022.
If that is the case, who is the best candidate to bet on as the next leader of the UK Conservative Party? Several names come to mind. But if the odds for the next Tory Leader are right, it could be a race between Rishi Sunak and Liz Truss.
Join me as I take a look over both Sunak and Truss before exploring the best outside bets to replace Johnson as the leader of the Tories.
Rishi Sunak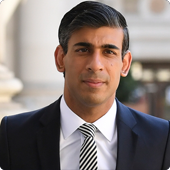 Odds: +190
Current Position Held: Chancellor of the Exchequer
Age: 40
The betting favorite to be the next leader of the Conservative Party in the UK, the Chancellor of the Exchequer looks a solid bet.
Although Sunak has his critics, the fact that he is so popular among his peers helps put him in pole position to replace Boris Johnson.
The NHS ping farce has not affected his popularity with voters who deem his efforts during the pandemic to have been satisfactory, for the most part. In particular, his leadership and commitment to isolate at the early stages of the outbreak was received well.
Instead of opting to follow the "pilot scheme" heralded by Johnson, Sunak made a conscious effort to be seen as taking a more cautious approach.
The Yorkshireman will divide Tory leaders and supporters with his plans to overhaul the controversial universal credit scheme, but it's unlikely that he will opt to make radical changes.
A former Goldman Sachs banker, Sunak has shown proficiency in handling finances during a crisis. And with the road to recovery from the pandemic set to be an arduous one, someone like Rishak fits the bill as leader.
His role in investigating the Greensill disaster, which was connected to the former prime minister and Conservative leader David Cameron, might make him some enemies.
But as the results of the House of Commons Treasury select committee prove, his wishes to explore and reform the appointed representatives' regime, will gain him some allies.
If you're betting on the next leader of the Tories, Sunak appears to be the best man for the job with the top political betting sites.
Elizabeth Truss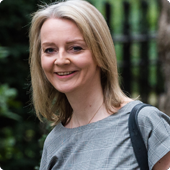 Odds: +400
Current Position Held: Foreign Secretary
Age: 46
It's clear to anyone with a remote interest in politics that Truss is going places.
As evident by her odds to be the next Tory leader, Truss — Secretary of State for Foreign, Commonwealth, and Development Affairs — has a big chance.
Since her promotion to her current position, Trusss has secured a zero-tariff trade deal with Australia. Her focus on making close ties with New Zealand, and green trade should only help her burgeoning popularity.
According to the Conservative Party's Cabinet League Table, Truss is the party's leading candidate by popularity. So, the sky is really the limit as far as she is concerned.
Regarded as outspoken yet stern, Truss will likely cut a divisive figure when it comes to choosing the next leader of the Conservatives.
Although everything is peachy right now, there is no doubt that her plans for a "global Britain" will raise concerns among some of her peers.
Truss's odds to become the next leader of the Tories are good value. But can she beat Sunak to the finish line?
Other Conservative Leader Candidates
You can get more odds for the Tory leader after Boris Johnson.
There is a comprehensive list available on the BetOnline sportsbook worth checking out.
Other than Sunak and Truss, you might want to opt for Sajid Javid (+800). But is the Secretary of State for Health and Social Care the man that the Tories want to lead them into a post-Brexit hinterland?
Javid is popular within the party, with a 62.2% net satisfaction rating as of September. He's certainly an outsider to consider and will be worth looking at.
There's something to be said for considering Dominic Raab's odds to become the next Tory leader? At +1000, he is considered an outsider. But not by much of a stretch.
The Deputy PM and Lord High Chancellor of Great Britain would like his butt in the hot seat, but are his plans and visions in line with the greater scope of his party?
Raab, responding to a callout from Labour's Angela Rayner recently, earned praise for how he handled questions in parliament.
"If she wants to talk about taxes and easing the burden on the lowest paid, I'll remind her whenever a Labour Party has gone into Government unemployment has soared, the economy has nosedived and taxes have gone through the roof. Under this Government we cut income tax, saving every worker £1,200 each year, we have introduced and extended the national living wage so full-time workers are £4,000 better off each year, we have doubled the free childcare for working parents worth up to £5,000 for every child every year. When Labour takes office, unemployment goes up and the economy goes down."
Raab's overall satisfaction rating is 6.1%, which is terrible.
I'm not keen on Michael Gove (+1050). In fact, I see his odds as much too short.
Gove is a little behind the times and is not leadership material. It would take a radical change in direction for him to be considered among the leading candidates to become the next Conservative Party leader.
Ben Wallace (+1250), Jeremy Hunt (+1600), and Tom Tugendhat (+1600) are other outsiders to consider.
Best Outside Bets for Next Conservative Leader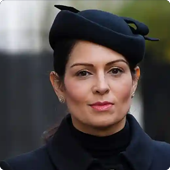 At +2000, Priti Patel is an outside shot.
When we look at her odds, I believe there is value to be had. She certainly fits the bill for what supporters of the party want in a leader.
Although her vocal support of the return of the death penalty and strong opposition to illegal migrants might deter some of the moderates.
But the fact that she is a woman of Indian extraction makes her more acceptable to the hard-right supporters.
A very controversial figure in UK politics, Patel is almost universally despised by the left. But that doesn't hurt her chances of taking over from Boris Johnson.
Patel is married to a white, Christian man. As bizarre as it is to even have to bring that up, that undoubtedly helps to "legitimize" her to some of the more narrow-minded Tories.
Regarded as a jingoistic Brit with strong pro-Israel tendencies helps to project Patel as some kind of new-age Thatcher figure. But one thing working against her is the fact that Truss is the more popular female candidate out there.
Relentlessly vocal and exuding an air of superiority makes her very old-school Conservative. And at a time when the Tories are enjoying more stability than ever, that could push her up the ladder a little.
The odds for Priti Patel to become the next Conservative Party leader are worth some small change at +2000.
Betting on the Next Tory Party Leader
That draws this piece to a close.
As you can see, there are some very strong candidates in the latest odds for the next Conservative Party leader. If the signs continue to point towards Boris Johnson stepping down in the next year, expect many of those prices will fall.
You can get your bets down on who will be the next leader of the Tories now. Alternatively, check out some of the other political gambling opportunities available on our politics betting blog.
I'll leave you with one of the latest popular pieces on British politics.