Assessing the Early Odds for Betting on the Brazilian General Election (2022)

Are you considering betting on the Brazilian presidential election in 2022? If so, you will find some advice and betting tips below that should come in handy.
I'll be taking a look at the early odds for the general election in Brazil and providing key insight that could help you win your bets. That is even if you want to bet on things this far out.
Incumbent president Jair Bolsonaro has suffered a massive dent in his ambitions to be re-elected. The controversial leader has been clashing with key figures in the republic throughout his first term in office, echoing the type of backlash we saw with former US President, Donald Trump.
The re-emergence of Lula da Silva has divided Brazilians with just one year to go until polling. Can the "Pele of Politics" reclaim the presidency, and oust Bolsonaro in the process?
Here's what the top political betting sites are saying.
Early Odds for the 2022 Brazilian General Election
I've taken the odds for the winner of the 2022 Brazilian general election from BetOnline.
Although it's probably obvious, I feel it necessary to point out that the prices above are for the next President of Brazil.
As you can see, there are eight candidates, with prices ranging from the probable and possible to the unlikely. Lula da Silva is the current favorite to win the Brazilian Presidential election, with Jair Bolsonaro now at +200.
Although considered a shoo-in to be re-elected not so long ago, the controversial incumbent has fallen behind his rival. Is there value in betting on Bolsonaro now, or are his days simply numbered?
Former two-term leader, da Silva, is now the bookies' choice to become the 39th President of Brazil. Not so long ago, his odds of taking the keys to the Palacio da Alvorada in Brasilia weren't so strong.
But an apparent loss of confidence in Bolsonaro bodes well for the 75-year-old to win. The latest Brazilian election odds have Sergio Moro +1400. Bolsonaro's former Minister of Justice is a long shot, and it's tough to see any pathway for him to victory.
Naturally, shocks happen. But this close to an election? As I will discuss later, his odds don't exactly suggest that he has a strong chance.
The same applies to the center-left politician, Ciro Gomes (+2500). Although a popular figure in some quarters, he has unsuccessfully run for the presidency on two prior occasions. I'm not sure the old adage of "third time lucky" will ring true for Lula da Silva's former Minister of National Integration.
If you're looking to bet on the Brazilian general election in 2022, I think there is certainly scope to suggest the top candidates. We'll get to those a little later and take a look at the political state of play in the South American powerhouse in the process.
First, here's a little on what you need to know about gambling on the Brazil presidential election.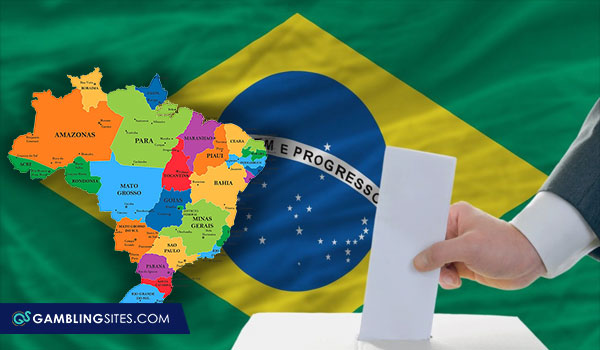 2022 Brazil General Election Date and Key Details
First Round Date: October 2, 2022
Second Round Date: October 30, 2022 (Only if Required)
Estimated Voters: $148 million
Incumbent President: Jair Bolsonaro (Independent)
In Brazil, politics is complicated. Sure, you could argue the same for almost any western democracy. But trust me; when I say things are particularly hard to predict in the republic, I mean it.
Most voters head to the polls next year to vote for Bolsonaro over da Silva, or vice versa. There are a couple of other candidates that could find themselves in the mix, and as I said above, and we'll get to those later.
The big question in Brazilian politics is whether Bolsonarao can maintain power despite his anti-establishment views.
As an Independent, the controversial president requires support from key allies to sustain his authority, and it appears that many are turning against him.
The challenger, da Silva of the Workers' Party (PT), accrued 49% of the pie in voting intention in the first Ipec poll held in July. That put him a massive 26% in front of Bolsonaro who scored 23%. Further opinion polls show that the incumbent's disapproval rating has surged to over 50%.
As it stands, the betting favorite for the Brazilian election is da Silva. Not only is he considered the popular choice among early-surveyed voters, but he is believed to have the backing of crucial figures in the country's establishment.
How Brazilian Politics Work
The Brazilian President operates as both head of state and of the government, which is comprised of multiple parties representing different aims and ideologies.
He is the commander in chief of the Brazilian army and has overarching responsibilities for the political and administrative duties of all 26 states and a federal district, as well as all municipalities.
Although all 26 states run autonomously with individual governments, there is also a federal district, that together, forms the Federative Republic of Brazil.
It's not too dissimilar, fundamentally, to how the United State of America operates.
Without getting too deep into the details here, as this piece is dedicated to betting on the next President of Brazil, it's worth knowing how things operate on a base level.
The executive power, for example, is run through the incumbent President who has a cabinet to advise him.
Another important thing to understand is that legislative power is harnessed by the National Congress which includes the Federal Senate and the Chamber of Deputies.
The judiciary oversees judicial matters, via the Supreme Federal Court, the Superior Court of Justice, the National Justice Council, as well as Regional Federal Courts.
In short, there are a lot of influential voices that could influence who wins the Brazilian presidential election in 2022. If one candidate is not playing bat, there will be a lot of knives being sharpened in the senate, so to speak.
Top 2022 Brazilian Presidential Election Candidates
As the early odds for the Brazilian general election show, it looks likely that this will come down to Bolsonaro vs. da Silva.
That doesn't mean that we shouldn't assess the chances of the others. Political shocks are not uncommon. This time, however, it's unlikely that the script will flip.
Let's start with the betting favorite and prime candidate for the presidency.
Lula da Silva (-200)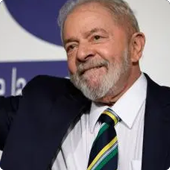 Party: Partido dos Trabalhadores
Ideology: Socialist; Social Democracy
Profile: Former Two-Term President
Described as the "Pele" of politics, and adored by many in the country, da Silva's Lazarus routine is seemingly working.
But is the ever-smiling, former factory worker the messianic figure that can topple Bolsonaro? Or merely a corrupt, company man that the main players know they can use in order to replace the right-wing leader to further their own interests?
That is a matter of opinion. As a non-Brazilian, it's certainly something that I am not qualified to answer.
What I do subscribe to, however, is that facts are facts.
Lula da Silva was not once, but twice, convicted of corruption money laundering charges. Those convictions were overturned, however.
Of course, the side of the fence one occupies will determine whether the conviction or his release was right or wrong. But as a mere bettor on the election, it pays to know what you're up against.
While his supporters claim Sergio Moro, the judge who handed down a nine-year sentence in 2018 was a shady figure, there was enough evidence (at the time) to put the gavel down on his freedom.
In the 2010s and then-president, he was responsible for overseeing vast economic growth and helping to emancipate millions from the chains of poverty.
But is his emergence as the challenger to Bolsonaro a political power play to divide the country, or, as his supporters see it, the culmination of another step towards his "mission?"
If you're betting on da Silva to win the Brazilian Presidential election in 2022, I'd be careful. Even though he clearly has the support of dissenters, and is clearly being used as a tool to simply rid Brazil of Bolsonaro, his past could come back to haunt him at the polls.
While beating the "right-wing dictator" 20 years after winning a landslide election is the stuff of fairytales, things are going to heat up dramatically from now until October 2022.
Therefore, I can't see value in the odds for da Silva right now.
Jair Bolsonaro (+200)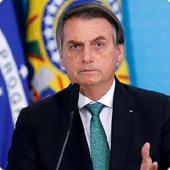 Party: Independent
Ideology: Nationalist; Populist; Conservative
Profile: Incumbent President
Military chiefs stepped down. Moderates and centrists are turning on Bolsonaro by the month.
In a nutshell, there are a lot of key people in the government that are unhappy with how the sitting president is handling the running of the country.
He has been heavily criticized for his response to the COVID-19 pandemic, has continued to shun the Supreme Court, and financial leaders are worried about the economic ramifications of many of his choices.
In September 2021, the centrist Brazilian Social Democratic Party (PSDB) officially joined the opposition, citing concerns about "crimes of responsibility." Under the country's constitution, this could lead to impeachment proceedings. But this is unlikely to happen.
The Social Democratic Party (PSD) also turned on Bolsonaro, which is another blow to his chances of re-election. It is expected that more will follow suit.
But is Bolsonaro really that unpopular with voters? Opinion polls suggest that it is only "older, white males" that champion the incumbent, but that might not be the case. Before he was elected in 2018, the right-wing Bolsonaro proved popular with female and LGBTQ voters.
Those skeptical of the COVID vaccine, as well as many of the middle and upper classes that rejoiced when da Silva was jailed, will also be on his side.
The president continues to lock horns with the judiciary and Congress, however. His appeal to remove the power of social media "fact-checkers" who claim that he is spreading misinformation was overturned recently, which draws eerie parallels with the final stages of the administration of former US President Donald Trump.
It appears that Bolsonaro is, once again, being painted as Brazil's answer to Trump. While a made-to-order and "stable" career politician in da Silva is, conversely, what some see as the country's answer to Joe Biden.
Make of that what you will. As a bettor, however, it's worth reading that statement until a bell rings in your head.
As for betting on Bolsonaro? I'm not sure I would recommend doing so just yet.
Other Brazilian Presidential Election Candidates
The script is written for a battle between Bolsonaro and da Silva.
That makes it highly unlikely that anyone else will get a look in. But is there any value in the early odds for the Brazilian presidential election in 2022 outside of the top two?
Well, if things couldn't get any weirder, how about considering Sergio Moro (+1400) as an outsider?
Yes, that's the same Moro that convicted da Silva of corruption, only for the Brazilian Supreme Court to overrule his decision. If it came down to these two, can you imagine the scenes?
Let's say Bolsonaro steps down and it's a two-horse race between Moro and da Silva. If so, will we have ever seen anything in history quite like it? The chances are unlikely.
With just one year until polls open, the Brazilian Presidential election betting odds for Ciro Gomes (+2500) and Joao Doria (+2500) look like great opportunities.
To throw your money away, that is.
Betting on the Brazilian Presidential Election in 2022
Before you head to the best political betting websites to get your bets down on the election, it's good to know what you are betting on.
Looking at the odds for the Brazilian general election isn't enough. Nor is taking the media's interpretation of things at face value.
In short, politics in Brazil are very, very complicated, and the waters can be murky for anyone looking to make money betting on the election.
Not to mention that the current President of Brazil, Bolsonaro, is unpopular with the media. Keep in mind that we have seen numerous political upsets in recent times.
Hillary Clinton was "a chalk" to beat Donald Trump in the US in 2016, according to most of the media. The same media that laughed at the prospect of Brits voting in favor of Brexit just a few months before.
Still, it's difficult to argue with the early odds for the Brazilian presidential election in 2022. Certainly, when you consider that the powers that be inside the country appear to want Bolsonaro out on his ear.
It's a game of chess right now, but this one could turn ugly. If the sitting president can rally his troops, there is a genuine chance that opposition and dissenters would be forced to put their hands up and take two steps back.
My betting advice is to wait this one out.
There is no early value for anyone looking to place their 2022 Brazilian presidential election wagers, so I'd suggest checking out our political betting blog for better opportunities.
Wagers for Joe Biden, anyone?
September
Casino of the Month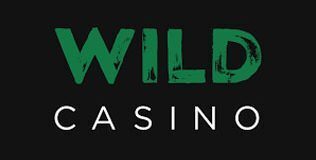 Welcome Bonus
250% up to $5,000