Are the Charlotte Hornets Bound for the 2019 NBA Playoffs?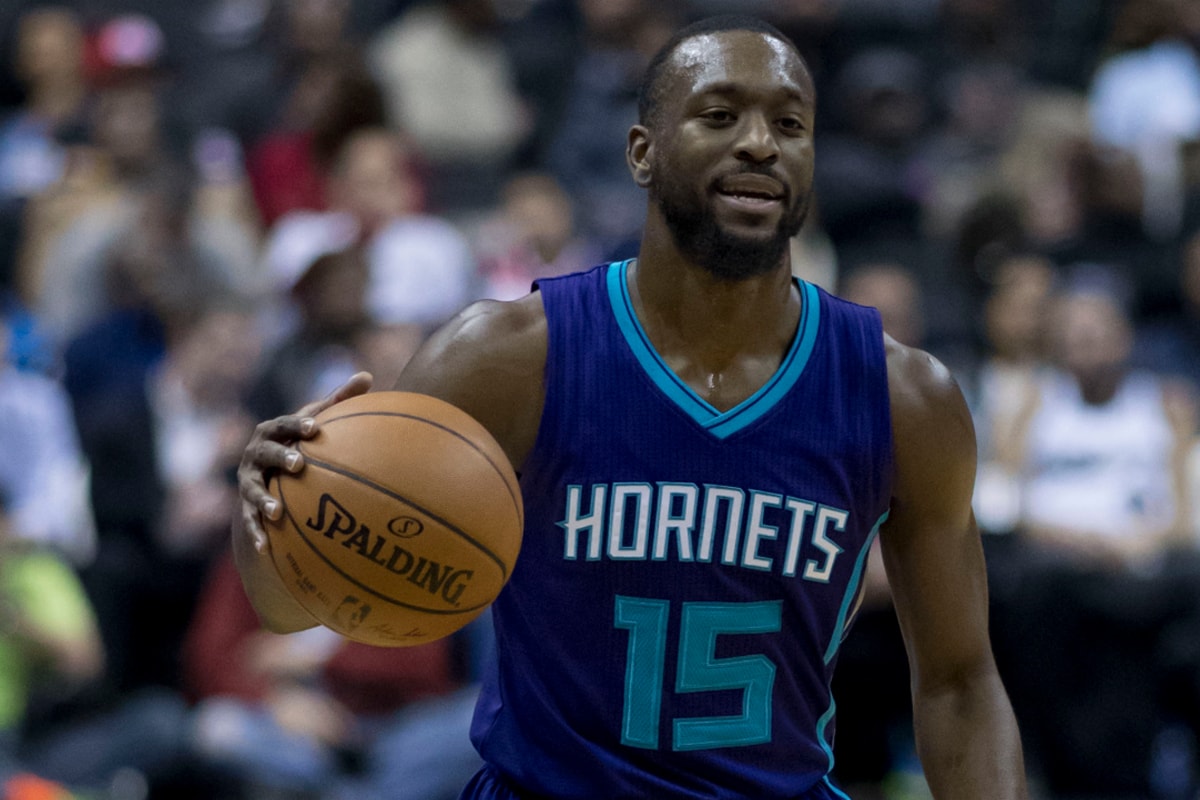 With just 15 games remaining on the schedule, time is running out for the Hornets.
Charlotte needs to make something happen quickly if they plan on seeing their playoff aspirations pan out, and it starts tonight in the nation's capital.
Not only does Charlotte need to beat the Wizards this evening, but Kemba Walker and his crew can ill-afford to lose in Miami on Sunday either. Just how big are these next two division games on the road for the Hornets?
Losses in these next two contests mean Michael Jordan and his squad can pretty much kiss their postseason chances goodbye.
I'll get to how I envision the Southeast Division shaking out, but first, let's find out what Charlotte needs to do to at least give themselves a shot at being the team who winds up on top.
Win 9 of their Final 15 Games
Despite sitting at 30-37 with less than a month left in the regular season, the Hornets are by no means out of the race to win the Southeast Division. In fact, they're right in the thick of it.
Currently trailing the Heat by just two games for the division lead, the Hornets need to play their best basketball of the year coming down the stretch. Otherwise, their April 10th date versus the Magic will be the last time they play until next season.
After studying the computer models and projections at FiveThirtyEight, it appears that a 39-43 record should be enough to capture the Southeast and clinch a berth to the postseason.
Simple math tells us that means that James Borrego needs to guide his team to nine victories over the final 15 games if they want to stamp their ticket to the playoffs.
There is a chance that finishing with 37 or 38 wins could be enough, but I'd say that 39 puts them in the "safe zone."
It doesn't help that Charlotte has the 10th-most-difficult remaining schedule in the NBA in terms of opponents combined winning percentage, but at least Miami has a tougher one. The bad news is Orlando is among the five teams in the league with the easiest remaining schedule.
Take a peek at who the Hornets will face, and let's figure out if they can get to at least 39 wins.
| Date | Opponent |
| --- | --- |
| March 15 | @ Washington Wizards |
| March 17 | @ Miami Heat |
| March 19 | vs. Philadelphia 76ers |
| March 21 | vs. Minnesota Timberwolves |
| March 23 | vs. Boston Celtics |
| March 24 | @Toronto Raptors |
| March 26 | vs. San Antonio Spurs |
| March 29 | @ Los Angeles Lakers |
| March 31 | @ Golden State Warriors |
| April 1 | @ Utah Jazz |
| April 3 | @ New Orleans Pelicans |
| April 5 | vs. Toronto Raptors |
| April 7 | @ Detroit Pistons |
| April 9 | @ Cleveland Cavaliers |
| April 10 | vs. Orlando Magic |
You can see that winning more than half of these games is going to be a daunting task for the Hornets. Not only do they have to play the Raptors twice, but nine of the 15 contests come away from the Spectrum Center.
Charlotte will be a betting underdog in at least three of their six home games, and quite possibly in four or five. Considering that seven of their final ten games are on the road, you can see how important these next two at Washington and Miami are.
A couple of victories, and they'll have a realistic chance of cracking the playoffs. Anything short of that, and they can probably start thinking about having a lottery pick in this summer's NBA Draft.
Get Healthy Now
Too much of a burden is placed on the shoulders of Kemba Walker on a nightly basis. Only James Harden and Paul George attempt more field goals per game than Kemba does, and not all of them are classified as "good shots."
Kemba's only shooting 43.2% from the floor, and he's averaging a career-high 2.7 turnovers per. It's fairly obvious that he could use some help, which is why getting healthy is objective number one.
Cody Zeller has been nursing a sore knee, Marvin Williams missed their last contest with an undisclosed illness, and now Nicolas Batum is dealing with an abrasion over his right eye.
I wasn't counting on Tony Parker being productive, but it doesn't help that Michael Kidd-Gilchrist has missed five of the last six games with a strained left knee.
Miles Bridges will be asked to contribute a bit more, and Frank Kaminsky can step up and fill a void in the middle. And perhaps either Malik Monk or Devonte Graham can grab the bull by the horns and take advantage of the opportunities in front of them.
But the key to taking some pressure off of Kemba Walker is for Jeremy Lamb to step his game up a notch and play the way we all know he is capable of.
Jeremy Lamb Needs to Elevate His Game
Jeremy Lamb has upped his scoring each and every year since being traded to Charlotte in the summer of 2015. Lamb clocks in at 15.1 points to go along with 5.6 rebounds and 2.2 assists per game in 2018/2019, all of which sounds nice on paper.
But I'm confident he can do a lot more, and the truth is, he needs to.
He's playing more minutes than he ever has and has been given the green light by his coaches and teammates. The fact that both his field goal and three-point percentages are down from a year ago isn't exactly alarming, but it isn't a good sign either.
The 6'5" swingman who starred at UConn plays much bigger than his height, in large part thanks to his 6'11" wingspan and incredible athleticism. He doesn't seem to live up to expectations on a regular basis, though.
There is no doubt that Lamb's potential is off the charts, but it's his consistency and motor that I bring into question.
In a recent home game versus Miami that Charlotte desperately needed to win, Jeremy was nowhere to be found when his team was counting on him. Lamb went 2-8 and scored just seven points but managed to turn the ball over five times and commit four fouls.
Before that in a hard-fought two-point loss to the Nets, Jeremy disappointed the home fans in Charlotte by scoring just four points. Even worse, he seemed disinterested on the court.
Quite frankly, he's too gifted of a player to lay eggs like that, especially in conference games on his own floor when his team really needs to win.
Lamb is going to have to start scoring 20 points on a regular basis and play sound defense if the Hornets want to make some noise. Unfortunately, I'm just not sure he has the right mentality to get it done.
A Little Luck Wouldn't Hurt
Charlotte can take care of their own business by winning as many games as they can, but MJ and the Hornets front office wouldn't mind seeing the Heat and the Magic struggle over the final few weeks.
Miami has a demanding remaining schedule that includes a pair of games versus the conference-leading Bucks. They also play the Celtics two more times, on top of playing the 76ers and traveling to Toronto to battle the Raptors.
I could see Miami faltering and losing 10 of their final 15 games, which would land them at a 37-45 record. Passing the Heat is well within the realm of possibility.
The problem is the Orlando Magic get the Hawks twice, plus they get to play Cleveland and New York at home.
The remaining schedule certainly favors Orlando, and it's why the Magic's playoff chances are the best among the trio of teams in this discussion. But that doesn't mean Orlando gets to start counting their chickens before they hatch.
The Hornets can still foil the Magic's intentions and be the team who emerges from the Southeast Division.
But the question on the minds of basketball fans in Charlotte is if they actually will.
Will the Charlotte Hornets Make the Playoffs?
Charlotte's best (and essentially only) shot at playoff basketball in 2019 is to win the Southeast Division. If you look at the lines below, you can see that one site, in particular, seems fairly confident that the Hornets won't win their division.
Charlotte Hornets Odds to Win the Southeast Division
SportsBetting.ag is allowing us to grab hold of Charlotte at a pretty attractive price, especially compared to some of the other leading NBA betting sites.
As much as I'd love to reap the rewards from a +400 wager, I'm lacking the poise needed to pounce on this bet. I believe that Kemba Walker is more talented than any basketball player on the Heat or the Magic, but that doesn't mean I think he can force his team into the postseason single-handedly.
Orlando should have a much easier time racking up victories during this final stretch, which is why ultimately, I give the Magic the edge to win the division.
The Synopsis
It's not over 'til the fat lady sings; that much we all know.
But if Charlotte loses in DC tonight, the fat lady will start warming up her vocal cords. Should the Hornets drop tonight's contest and lose to the Heat on Sunday, we'll start hearing "the obese woman" crooning.
Perhaps Charlotte will ink Walker into a long-term deal and add pieces around him this summer and thus wind up being a contender in the East. But if things end poorly, and they miss out on the playoffs, Mitch Kupchak and the rest of the brass might end up blowing this whole thing up.