Anthony Davis and His Future with the Pelicans – Is He Destined to Join the LA Lakers?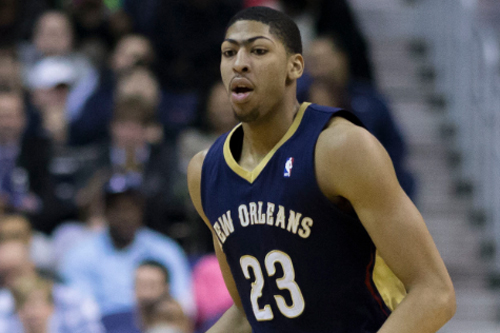 One of the bigger ongoing NBA storylines remains the immediate future of New Orleans Pelicans star big man, Anthony Davis.
The player known as The Brow is scheduled to hit free agency in 2020, but to this point, he has been mum about what lies ahead for him and his current franchise.
For what it's worth, the Pelicans have been pretty blunt about what's happening (or not happening). Head coach Alvin Gentry has flat-out denied any possibility of the team moving their best player.
Davis himself has attempted to block out the noise by suggesting he's here to "turn around" the Pelicans.
Then again, Davis has also beamed over the possibility of playing with LeBron James, who publicly gushed over just the thought of landing a mega star like The Brow.
While I'd love to believe Gentry's claim, he and the Pels need to face a sobering reality: Anthony Davis will be in high demand in 2020, and one of the best talents in the NBA could walk for absolutely nothing.
That's not the type of risk franchises usually take on. Instead, the Pelicans will have to either get some type of verbal commitment from their superstar player, or they'll have to get all they can in a trade that ships The Brow out of town.
Gentry's bold words probably resonate through the rest of this season. However, if Davis rejects New Orleans' max contract offer this summer, they will be facing a ticking clock, and a deal will undoubtedly have to be made.
The Pelicans aren't really going anywhere as presently constructed, either. Unless New Orleans goes all-in on Davis and lures a second star into town, he's bound to get moved. The big question, of course, will be where.
Anthony Davis to Boston?
The big destination everyone is calling for is the Celtics. Kyrie Irving heads a very talented and deep Boston team that has reached the Eastern Conference Finals in consecutive seasons and could again vie for that (or more) this season.
Boston right now boasts solid +1000 NBA Finals odds at SportsBetting.ag, and that's good for third best in the league. If they're able to pull in one of the most tantalizing talents The Association has to offer – depending on what they'd have to give up – they might take over as the favorites.
The whispers around the league suggest Boston has more assets to dangle than anyone else, while GM Danny Ainge has grown infatuated with the prospect of landing such a marquee talent.
The rapid erosion of Gordon Hayward's talent also begs for Boston to make a move. It could take Hayward, Jayson Tatum, and perhaps all the draft picks Boston is willing to throw at the Pelicans to complete a deal.
Maybe New Orleans would even want more, but financially speaking, they could demand (and get) something like this.
Boston Gets: Anthony Davis and Solomon Hill
New Orleans Gets: Jayson Tatum, Terry Rozier, Gordon Hayward, and three-first round picks
If you think it's too much, take off one or two of the draft picks (although I don't). If you don't think it's enough, tack on Jaylen Brown and make the money work by sending Darius Miller to Massachusetts.
The point here is that the Celtics do have plenty of trade ammunition to make this thing happen. Tatum is a very interesting prospect to start over with, Hayward is in theory a fantastic second star, and Rozier is at worst a viable role player off the bench.
The real haul is those three first-round picks, which could turn into anything.
Of course, it's possible the Pelicans don't value these draft picks as much as some would think. They also might not see Hayward, Rozier, or even Tatum as being proper compensation for such a huge superstar.
All roads could ultimately end up leading back to the Los Angeles Lakers, who have been rumored to be one of the top landing spots for Anthony Davis.
Why Anthony Davis Is Going to the Lakers
While some are skeptical the Lake Show can pull off a deal like this, there are quite a few reasons why it could work out. The biggest is the fact that the Lakers have about as many young prospects as anyone that they can deal, and they seem very interested in making a deal work.
Last year, everyone groveled over the potential trade packages to land Kawhi Leonard, but the Lakers didn't bite. Perhaps part of that was the San Antonio Spurs preferring to deal Leonard out of the Western Conference, or the Lakers felt they could get Leonard when he becomes a free agent this summer.
That, and/or the Lakers had a bigger fish at the end of their hook.
Should it be Anthony Davis that they really have their sights on, the Lakers could be saving their top young talents in order to make a major splash move that would give them a LeBron James/Anthony Davis pairing going into next year – or maybe even sooner.
Timing isn't important, so long as the Pels make a deal before next year's trade deadline. That could win you some cash on a number of NBA betting sites, assuming they offer odds for where Anthony Davis will play next year.
Bovada offered a bet specific to the Lakers as recently as late December, where you could get a fat +325 line for Davis going to Hollywood via trade this season.
I'm not really willing to bank on that just yet, but The Brow could very well be on the move if talks with the Pels don't go in a positive direction this summer.
That's the second big thing working in favor of an Anthony Davis trade. The Lakers have need and interest, and it's also quite possible the Pels will have motivation to make a deal work.
Another key factor is what drives Anthony Davis. He's openly admitted that even at just 25 years old, he cares about his NBA legacy. He wants to put up big numbers and be remembered as a league icon, but he also wants to win.
It doesn't look likely that The Brow will be hoisting trophies in New Orleans anytime soon, so his desire to win titles is almost surely taking him out of town.
With all parties down with the notion of a change of scenery making the most sense, this Anthony Davis trade gets a lot easier.
Assuming the Pels aren't completely floored by what Boston has to offer, perhaps they consider the next-best package, which logically appears to be Los Angeles.
Here's one of the better-looking deals they'd be able to put on the table.
Los Angeles Gets: Anthony Davis
New Orleans Gets: Lonzo Ball, Brandon Ingram, Kyle Kuzma, and Kentavious Caldwell-Pope
I know, part of you is thinking this is just a deal involving Anthony Davis and basically all of the Lakers.
It kind of is, but the Pels inherit some very nice young talent here. They lose a superstar, but these four players rolled into a roster that already includes Elfrid Payton, Julius Randle, Nikola Mirotic, and Jrue Holiday could actually form quite the formidable team.
New Orleans would have to keep building from here and make some tough calls (you can't really play Payton and Ball together, for instance), but this allows them to have a real shot at starting over and doing so successfully.
It's not like the Pelicans are some playoff locks or title threats. By making a deal with the Lakers sooner rather than later, they bring in some viable young talent and begin the process of moving on from Anthony Davis.
Summary
The time is now for the Lakers to move on a trade for Anthony Davis. They have all of the assets they need to facilitate a deal, and while they don't have any draft picks on hand to use as ammunition, they have enough players to pile some up if they need to.
The Lakers have been in strike mode ever since they talked LeBron James into coming into town. The second that happened, the Lake Show was back, and LA was exciting again.
They became a legit NBA destination, and with James leading the way, this is a team that can threaten for the NBA Finals (already sitting at +2000 at SportsBetting.ag).
I'm not sure they can really do that as they stand, though. The playoffs are within striking distance, and any team with King James leading the way has a chance, but LA collectively has to know a big move needs to be made to really get anywhere.
Perhaps that involves them chasing down the likes of Jimmy Butler, Kevin Durant, or Kawhi Leonard this summer in free agency. It could also mean they go hard after Anthony Davis in trade talks, either landing a deal now before this year's deadline or figuring out a way to pry him from the Pelicans later this summer.
Either way, the incentive is there for all parties, and there is an argument that what the Lakers can offer is actually better than anything anyone else can.
From a sheer sports betting perspective, though, it's a bit of a waiting game.
There have been Anthony Davis trade rumors for years, but there actually were also a slew of Anthony Davis prop bets involving his next destination. If those pop back up, a few bucks on him going to the Lakers wouldn't be a terrible idea.
And on the subject of Pelicans-related betting, be sure to check out my colleague's recent post previewing today's Pelicans versus Warriors clash. He's provided his insight into that game along with some betting advice.