Andrew Luck and 10 Other Players to Watch in the 2018 NFL Preseason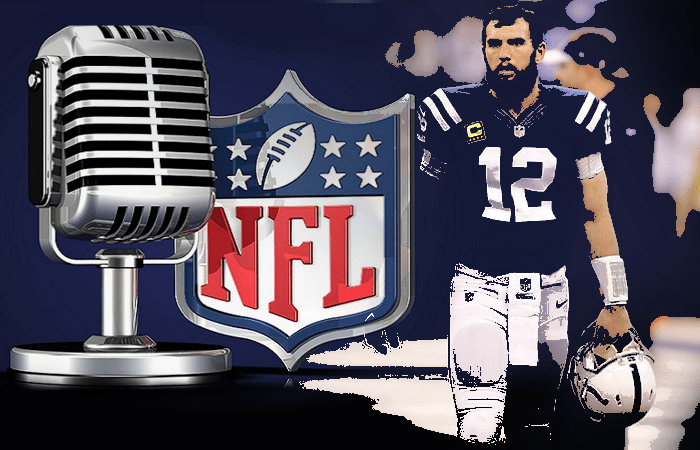 The 2018 NFL season is unofficially back with the NFL preseason rolling out the red carpet in early August. It's not nearly as exciting as regular-season or playoff football, but it's the NFL, and it will have to do for now.
Making it even more interesting is the existence of preseason daily fantasy football contests, as well as the fact that you can bet on preseason NFL games at your favorite pro football betting sites.
Even if you don't plan on betting on football during preseason play, though, there is a lot to look at over the next month. There is a litany of players returning from injury, competing for key roles, or simply trying to make a roster.
Precisely how things go down in these otherwise meaningless preseason games could easily end up dictating how the road to Super Bowl 53 plays out.
The New England Patriots enter the 2018 NFL preseason as the odds-on favorite to win it all (+700 at SportsBetting.ag), but will that still be the case come week one?
It's impossible to know, but I do think how things unfold in August could have some impact on early-season NFL betting. Let's take a look at 11 players who you'll specifically want to keep tabs on.
All odds that are referenced in this article were taken from SportsBetting.ag on 8/1/2018. These odds may have changed since the time of this writing.
Andrew Luck, QB, Indianapolis Colts
Luck really stands out to me just because he sat out the entire 2018 season with a shoulder injury. He's back at practice and has been impressive, but how will he hold up in actual games?
It will be interesting to see how long it takes Luck to shake off the rust and if he can do enough to get bettors in his corner.
Indy looks like a very interesting value bet inside the AFC South division, and if Luck shows the ability to carry them again, they may be worth a look (+550 at SportsBetting.ag).
Deshaun Watson, QB, Houston Texans
It will also be interesting to see how Aaron Rodgers looks in his return from a clavicle injury, but we did get to see him one more time late in the year last season.
That can't be said for Watson, who will be coming back from a torn ACL.
Watson's rehab is pretty key, as the Texans are regarded by some as a bit of a Super Bowl sleeper.
Currently sitting on +2000 Super Bowl 53 odds over at SportsBetting.ag, Houston undoubtedly needs a big year out of their second-year quarterback if they're going to make good on those expectations.
I'm not sure how sold I am, just because the sample size with what we saw out of Watson last year was just so small. That, and the Texans could be hard-pressed to get off to a hot start in 2018 with week one sending them to New England.
Derrius Guice, RB, Washington Redskins
There are a lot of quarterbacks to track during the 2018 NFL preseason, but I will also have my eye on a few game-changing running backs.
Todd Gurley and all of the big names are fun to watch, but depending how good Guice proves to be, he could quickly turn the Redskins into title contenders.
Washington showed they were serious about winning when they traded for quarterback Alex Smith, and they already have a solid defense in place. All this team lacks is a strong running game, and Guice should be able to give them that.
A stud first-round prospect, the former LSU product slipped in the draft and will probably be playing his rookie year with a chip on his shoulder. I think that bodes well for the Redskins and their +10000 Super Bowl odds.
Baker Mayfield, QB, Cleveland Browns
Back to the quarterbacks we go! This is a bit different than watching Watson, Luck, or A-Rod return, as Mayfield is a rookie and for the moment doesn't figure to start early on for the Browns.
It will still be very interesting to see how his game translates to the next level, though, while Cleveland may not want to keep him off the field if he flashed brilliance early on.
Mayfield was the top pick in the 2018 NFL Draft, so with such a huge investment, Cleveland may not wait too long to give him a shot.
The Browns improved their roster across the board, too, so while I doubt Mayfield makes them a title threat, he could potentially upgrade their playoff odds or help them win the AFC North.
Lamar Jackson, QB, Baltimore Ravens
No rookie quarterback has ever won a Super Bowl in their first year in the NFL, but with more and more teams handing the reins over to first-year passers, I get the feeling that streak will eventually be snapped.
I won't go that far with Mayfield, Josh Rosen, Josh Allen, and a few other rookie quarterbacks this year, but Lamar Jackson may be worth a look here.
Jackson is going to be worth watching during the preseason no matter what.
Everyone wants to see him dazzle with his legs and cannon arm, while most want to just see him do simple things that show he can be an effective NFL signal-caller.
Depending on how good he looks, he could end up pushing Joe Flacco for Baltimore's starting gig.
While history would then immediately work against the Ravens when it comes to their title odds (+4000), Jackson's dual-threat ability would be tough for defenses to corral.
Even if Jackson can't lead the Ravens to the league's title game, he'll still be fun to watch all month long.
Bradley Chubb, DE, Denver Broncos
I'm not only looking at the offensive side of the ball this month. There are quite a few defensive additions bettors need to pay mind to, and one of the biggest could be rookie edge rusher Bradley Chubb.
Denver's defense hit a bit of a wall in 2017, and while they lost some pieces, I think Chubb's elite pass-rushing ability could get them back to their normal standard of play.
If that happens, perhaps the Broncos find their footing and rise back up the ranks. They certainly offer appealing value (+3300) as a Super Bowl sleeper option.
Mike Williams, WR, Los Angeles Chargers
Staying in the AFC West, I'm also very interested to see how the Bolts plan to use second-year wide receiver Mike Williams.
Los Angeles is actually pretty stacked in the passing game, but they lost star tight end Hunter Henry to a torn ACL and may want to find a way to factor Williams into the mix.
Williams was a bust as a rookie, but he still has the size, ball skills, and overall athleticism to be a monster.
If Williams can tap into that inner rage for the Chargers in 2018, their already favorable +2000 Super Bowl odds could get a sizable boost.
Los Angeles already looks like a lock to win the AFC West, but Williams blowing up could really take them to new heights in 2018.
Corey Davis, WR, Tennessee Titans
The Titans aren't quite as appealing as the Chargers when it comes to Super Bowl betting, but they absolutely could take their game to the next level if their passing game improves.
Marcus Mariota was not consistent in 2017, but the emergence of the explosive Davis late in the year offers optimism that he could enjoy his best year in Tennessee yet.
Tennessee has oddly had awful luck with high-upside wide receivers in past years, but Davis could mature into a beast. How he plays in the month of August could go a long way in telling bettors if they need to adjust their stance on Tennessee.
Patrick Mahomes, QB, Kansas City Chiefs
There is one more quarterback I'm excited to take a look at throughout preseason play, and that's none other than Kansas City second-year passer Patrick Mahomes.
The Chiefs thought so highly of the former first-rounder that they dealt Alex Smith to the Redskins and immediately handed Mahomes the starting gig.
Mahomes is not wanting for talent due to a huge arm and nice mobility, but he is facing a lot of pressure to try to take a solid playoff contender even further than an experienced veteran could.
Kansas City actually shapes up as a solid value bet right now (+2500 to win Super Bowl 53, +250 to win the AFC West), largely because sports bettors aren't sure how he'll pan out in 2018.
Now is the time to bet on the Chiefs if you want to maximize value, but I get the feeling we'll learn a lot about Mahomes and Kansas City's betting value this month.
Saquon Barkley, RB, New York Giants
This list isn't ranking these players in order of my excitement to see them, nor their value for their respective franchise. If that were the case, Barkley would have been one of the first guys I mentioned.
The former Penn State sensation has the look of a generational talent, and the Giants selected him early in the 2018 NFL Draft because of his elite upside.
New York has struggled with their running game for years, but there is a very good chance Barkley's dynamic ability changes that almost immediately.
Depending on just how good Barkley looks in the NFL preseason, it's possible bettors can be convinced he'll provide an instant upgrade on the ground. If that's to be true, the G-Men (+2500) may have to be taken more seriously as compelling Super Bowl 53 sleepers
Jaire Alexander, CB, Green Bay Packers
Lastly, I can't help but touch on Alexander. Green Bay made the star cornerback their top pick in this year's draft in an effort to shore up an abysmal pass defense.
Alexander isn't by himself in an offseason where the green and gold brought in three fresh bodies at the position, but he's made an impact during training camp and profiles as a week-one starter.
If Alexander is as good as he looks, there's a pretty strong argument Green Bay's defense could make a huge leap in 2018. Combine that with the return of a healthy Aaron Rodgers, and the Packers suddenly look like a major steal (+1400) when it comes to Super Bowl 53 odds.
Summary
Are these 11 NFL players the only ones you're going to want to watch during the 2018 NFL preseason?
Absolutely not. They're not the only players that could exact change on their roster or show bettors a different light on the 2018 season, either.
They are, however, all extremely talented players who should be fun to watch and may play a huge hand in their respective team's efforts to win their division, make the playoffs, and possibly even make a run for the Super Bowl.
It's never wise to believe everything the way you see it during the month of August, but I also don't think it's smart to completely discount it, either.
Soak it all up, enjoy these players, and have fun watching the games in August. The next month is about relaxation, light research, and relishing the return of pro football.
Come week one, you'll be ready to bet on football, and what you learn from these players and others just might help you win big.